If there's one thing the UK loves, it's a BBC-produced drama series. The BBC has pretty much dominated British television, leaving little room for competing companies to shine.
And in recent years, the rest of the world has caught on the greatness of BBC TV, with people across the globe—including America—looking to gobble up the country's unique shows.
Who doesn't love watching fine actors involved in crime plots and murder mysteries with no ad breaks? Here are some of the best BBC drama TV shows to watch right now!
10. Luther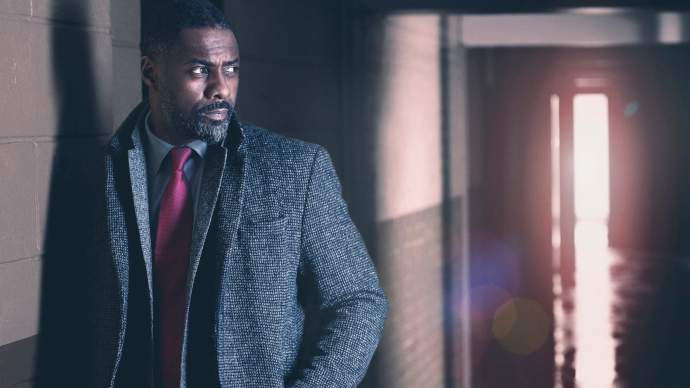 It feels like every other BBC drama is a crime thriller of sorts, and always starring an anti-heroic detective. Or maybe it's television as a whole that's mostly made up of murder mysteries. We aren't complaining though—not when they're as good as Luther.
Idris Elba is John Luther, the tough-but-fair detective for London's Crime Unit. Treading the line between good and bad, Luther's workaholic lifestyle puts him in a vast array of dangerous situations.
Due to lack of evidence, he's unable to arrest the psychopathic Alice Morgan (played by Ruth Wilson)... and they eventually end up solving crimes together. There are five seasons in total, so get stuck in!
9. Vigil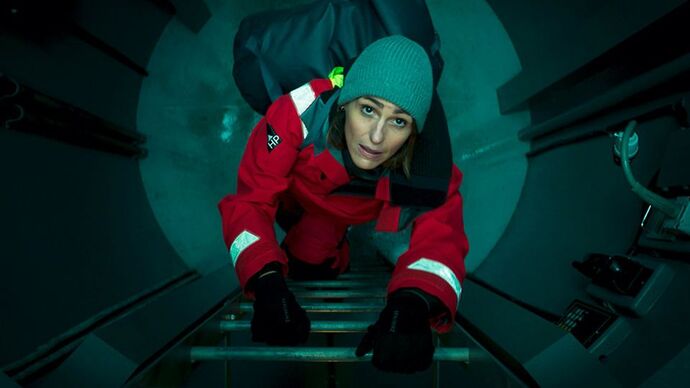 From the producers of Line of Duty (mentioned later in this article), Vigil is a tense police drama that takes place on a submarine. An "anxiety-inducing horror spectacular" as put by The Guardian, Vigil is full of dark twists and turns.
Suranne Jones stars as DCI Amy Silva, sent to uncover the conspiracy behind a recent sailor's death. But the HMS Vigil is not all it seems, and due to the nuclear deterrent, the submarine must remain on patrol.
Some viewers have criticized Vigil for being too implausible, but we think fiction has the right to stretch our imaginations a little. Vigil only recently released on BBC's iPlayer, so catch it while it's still hot!
8. Taboo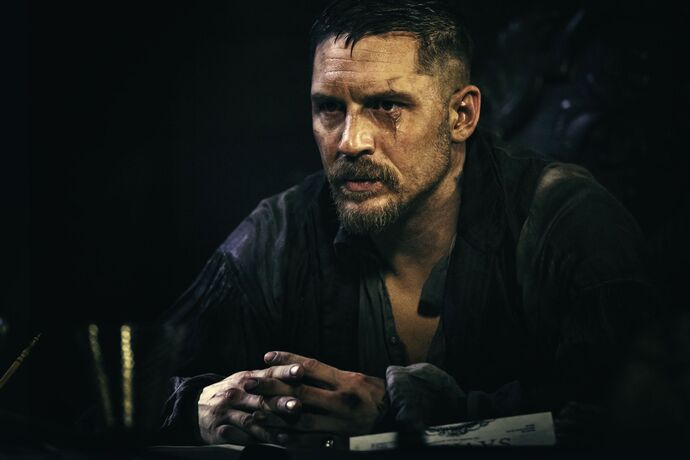 Tom Hardy is the perfect choice for a brooding, macho anti-hero—and that's certainly the case with Taboo. Hardy wrote this period piece alongside his father Chips Hardy and co-creator Steven Knight.
Despite being a bourgeois Londoner, James Delaney (played by Tom Hardy) has a tendency for extreme violence and rebellion. After 12 years in Africa, James returns to London to uncover the shadows that linger over his father's suspicious death.
Take the title as a warning: Taboo might be a bit brutal to watch. It's a gritty slow-burner that showcases a scarred and tattooed Hardy at his finest, who holds the screen with impeccable force.
7. Time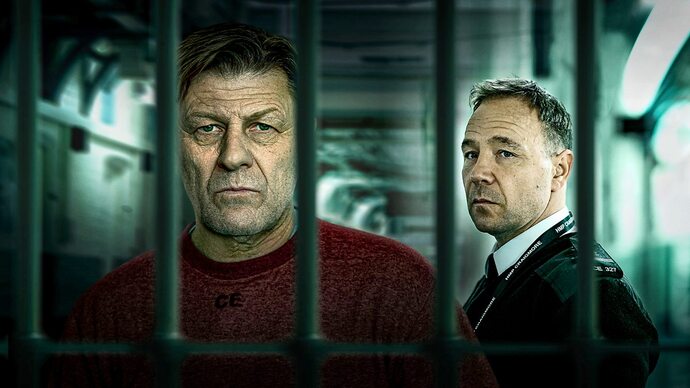 Time is the BBC's latest prison drama series, brimming with suspense and quality acting. But what else would you expect from a show that stars both Sean Bean and Stephen Graham?
Mark Cobden (played by Sean Bean) is consumed by guilt for his accidental crime, while Eric McNally (played by Stephen Graham) is an officer doing all he can to protect his colleagues and family.
Gripping, insightful, and heart-wrenching, Time is a story of redemption and survival behind bars. Bean offers a sense of light and grounding in Time, which is otherwise swaddled in darkness.
It's only three episodes long, so you can binge it in one night. The creators of Time ensured the show was as authentic as possible, giving us a real taste of modern prison life—a dish that we'll politely decline.
6. Killing Eve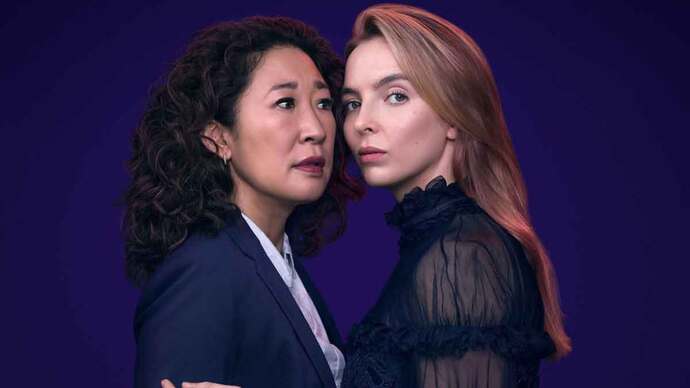 Technically, Killing Eve is a BBC America production, but it still counts in our eyes. After all, the show is quite popular—and that popularity is quite deserved, as you'll soon see. Infused with elements of black comedy, Killing Eve is anything but predictable.
Sandra Oh and Jodie Comer star in this cat-and-mouse chase thriller, forming an unexpected obsession with each other. We instantly fell in love with them: two complex protagonists who breathe deception.
Eve (played by Sandra Oh) is a desk-bound MI5 officer, while Villanelle (played by Jodie Comer) goes on killing sprees in luxury apartments. Surprising and seductive, Killing Eve plays with our expectations and offers a uniquely feminist take on the spy genre.
5. Happy Valley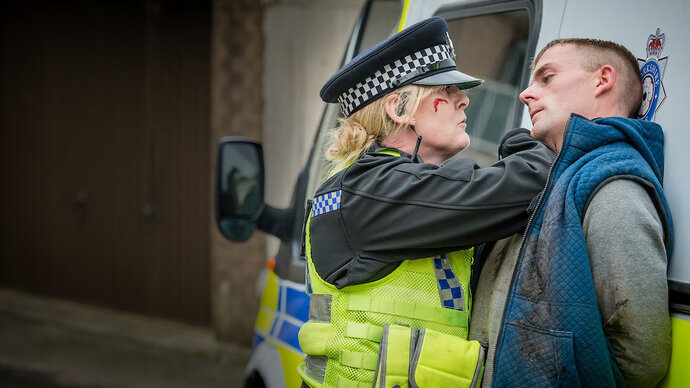 Don't let the title fool you: Happy Valley is anything but happy. Themes of suicide, drug addiction, rape and murder make for one unpleasant Yorkshire village.
Coming to terms with her daughter's recent death, Sergeant Catherine Cawood (played by Sarah Lancashire) becomes obsessed with finding Becky's rapist-killer who was recently released from prison.
We love Catherine because she's hardy and determined—at one point even winning a medal for her bravery.
Happy Valley was a surprise hit for the BBC. It's violent but with purpose, led by an incredibly strong and sympathetic female lead. The show was praised for its realist style of filmmaking, bringing poignant issues to the forefront of mainstream television.
4. The Missing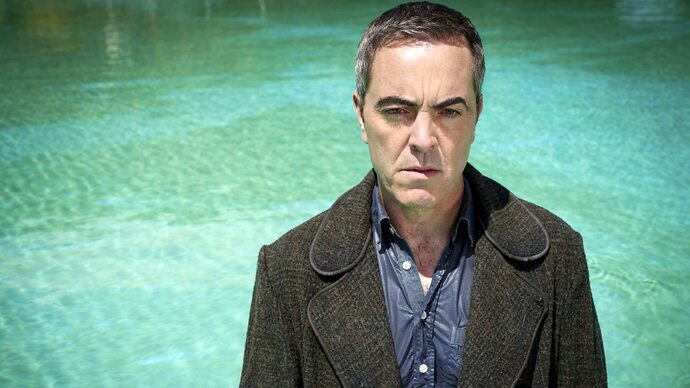 Having your child go missing is undoubtedly the worst thing a parent can face. It's not just a case of grieving loss, but the nagging question of whether your child is still out there and alive.
It's a double-edged sword—even if they are alive, they could be suffering worse fates than death. James Nesbitt perfectly encapsulates this tormented feeling, manically searching for his lost son for eight whole years.
The marriage between Tony (played by James Nesbitt) and Emily (played by Frances O'Connor) doesn't last long after their son goes missing in France. The fact he was lost on holiday makes it all the worse, but Tony refuses to give up.
He acquires the help of Julien Baptiste, a retired French detective who first led the investigation. Tchéky Karyo reclaimed this role in the 2019 spin-off Baptiste, which is evidence of The Missing's success.
3. The North Water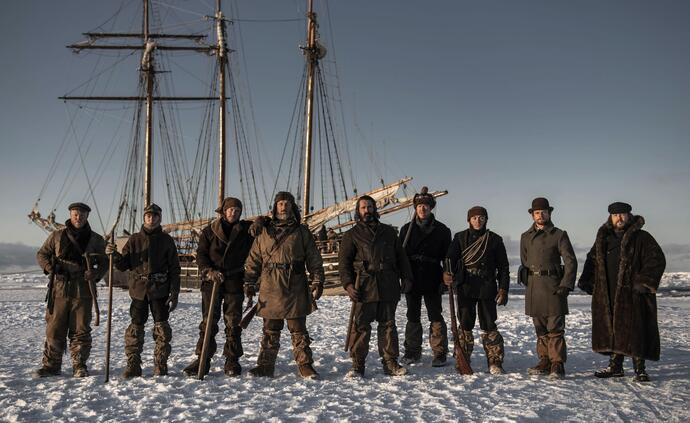 One of the more recent TV shows on this list, The North Water is a startling period drama based on Ian McGuire's 2016 novel. If you haven't read the book, get ready for some jaw-droppers (and if you have read it, you know which scenes we mean...)
When a disgraced army surgeon signs up for an expedition to the Arctic, things go from bad to worse. Jack O'Connell and Colin Farrell particularly impress as two very different men on board the same whaling ship, alongside Stephen Graham and Sam Spruell.
What's remarkable about The North Water is its texture, its graphic gruesomeness, and its historical astuteness. Prepare to get lost in the hardships of a 19th-century sailor's world.
2. Line of Duty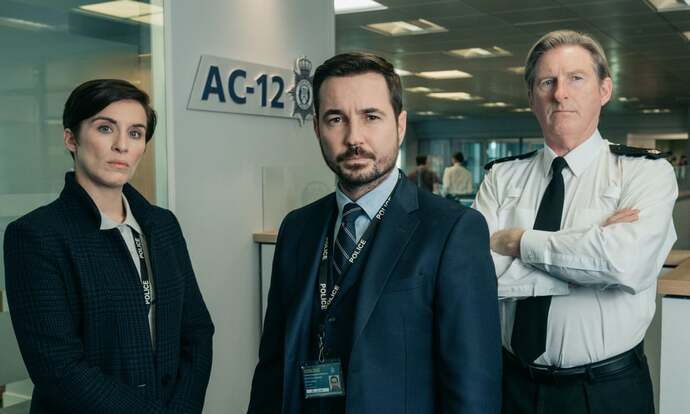 Line of Duty has been a long-standing favorite among the British TV-viewing public. When its sixth season released earlier this year, viewers made it the nation's most-watched crime series of the century, breaking records for its recent finale.
Season 1 begins with a detective sergeant being transferred to an anti-corruption unit—corruption that runs deep in the heart of the force. It's uncovering this corruption that remains at the root of all six seasons.
The cast list for Line of Duty should be enough to reel you in: Vicky McClure, Martin Compston, Adrian Dunbar, Kelly Macdonald, Stephen Graham, Keeley Hawes, Thandiwe Newton, Lennie James...
The list of talent goes on and on, and it's a very very British list. Put your feet up, stick the kettle on, and nestle in for great crime TV.
1. Peaky Blinders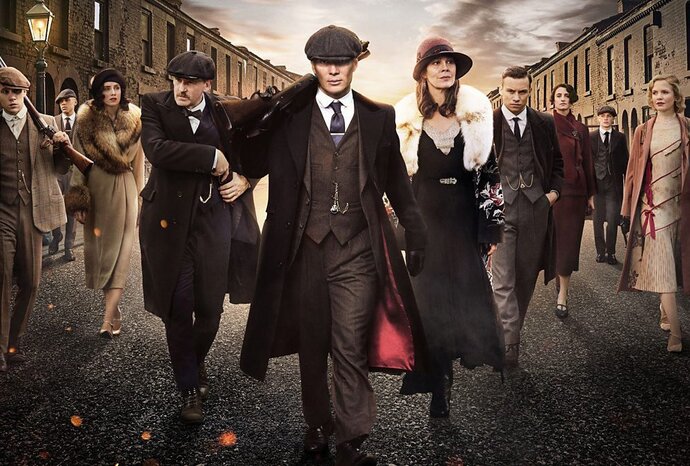 We're sure this show needs no introduction. Peaky Blinders didn't just take the UK by storm, but also swept across Europe and all the way to the US, featuring the Shelby family as they fight, drink, and gamble their way through a criminal enterprise in the Birmingham slums.
Cillian Murphy is the iconic crime boss Thomas Shelby, a moody chain-smoking war veteran we can't help but adore. Helen McCrory, Paul Anderson, Joe Cole, and Finn Cole make up the rest of the family alongside Tom Hardy as the memorable Jewish gangster Alfie.
Peaky Blinders is a masterpiece in every aspect: the script, the filmmaking, the performances. Everything works in harmony, investing viewers in the grit of Shelby's world and its anti-heroic characters.
The Peaky Blinders are based on a real razor-blade street gang, prone to casual violence in the late 1800s. The show is officially back in production for season six, so now's a good time to recap!