The first wave of feminism took place in the late 19th century, so it makes sense that so many feminist movies are set around this time—or just before—in the run up to women reclaiming their voices.
Here are my picks for the greatest period dramas that feature amazing female protagonists, in both cinema and television!
12. Emily (2022)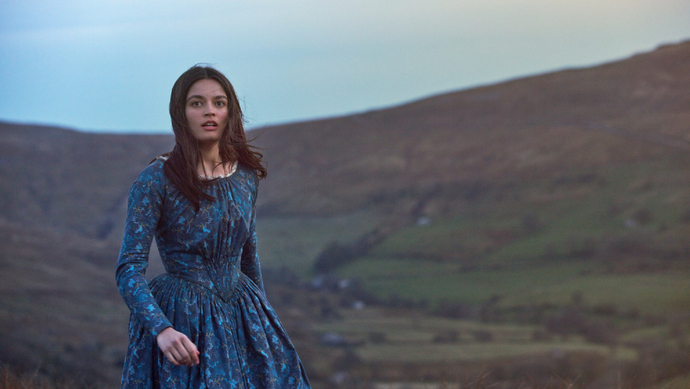 In Emily, Emma Mackey takes the feminist angst she showed in Netflix's Sex Education and applies it to the 19th century as Emily Brontë.
The young real-life author managed to become a legend of literature with a single book, titled Wuthering Heights and published in 1847. Sadly, Emily Brontë met an untimely death at 30 years of age.
Wuthering Heights is a classic novel full of immoral anti-heroes that were seen as scandalous at the time, especially from a woman author! But given how much Emily herself was a rebel, it all makes sense.
In her directorial debut, Frances O'Connor takes us through the misfit's journey to womanhood, a journey that's full of turbulence even as Emily lives her quant countryside life.
As of this writing, Emily is still showing in cinemas, so try to watch it in theaters while you still can!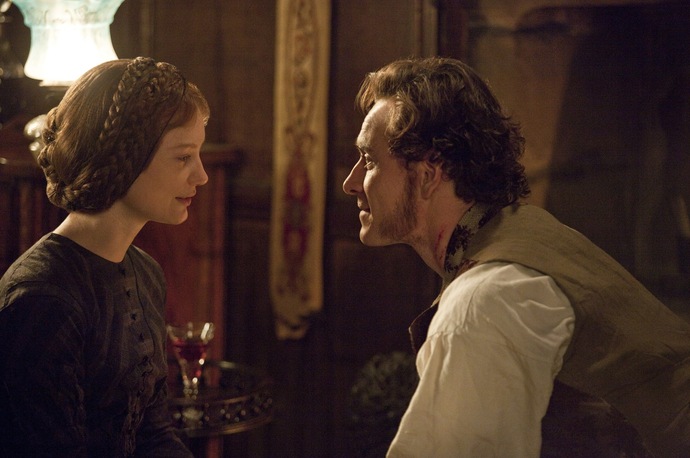 After the death of her sister Emily Brontë, Charlotte Brontë was inspired to ditch her dull (but respectable) teaching job and write her own novel. That novel was Jane Eyre. Talk about a talented family!
Jane Eyre was a revolutionary book at the time—not just for feminism but for literature as a whole, with it being written in first-person and focusing on the psychology and spirituality of its protagonist.
In 2011, Cary Fukunaga adapted Jane Eyre into a surprisingly chilling film, suffused with elements of the supernatural and Gothic.
Stranded on the moors, Jane (Mia Wasikowska) ends up on the doorstep of Moor House after running away from her traumatic wedding with Edward Rochester (Michael Fassbender). A visually stunning and very accurate adaptation of a classic must-read novel.
10. Emma (2020)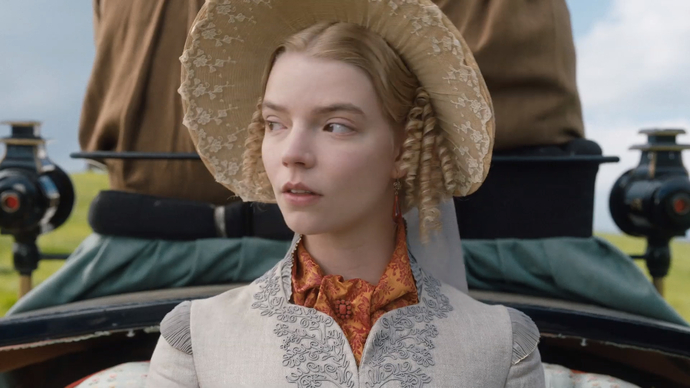 Jane Austen is, like, the queen of period dramas. She often wrote from the point-of-view of unconventional, fight-the-system women.
Her comedy-of-manners story Emma, published in 1815, was given a fun on-screen rendition with Autumn de Wilde's movie adaptation, starring Anya Taylor-Joy as Emma.
Set in the Regency era, Emma spends her days matchmaking for everyone around her but failing to find herself a worthy partner.
Period movies are often melancholy and heavy, what with all the prejudice, early deaths, and forbidden love. Emma, however, is full of a childlike spirit, which De Wilde presents with wit and beauty.
Sally Wainwright is the creator behind this BBC historical drama series that centers on Anne Lister, the "first modern lesbian."
Today, her symbolic marriage to Ann Walker at the Holy Trinity Church in York is held as a sort of shrine for lesbian marriage in Britain. We know all of this from Lister's famous diaries, which recorded her lesbian dealings within a changing society using secret code.
Gentleman Jack is smart, flirtatious, and arguably a kind of parody, telling an intriguing story we didn't know we needed to hear! Suranne Jones gives a fabulous performance as Lister, who talks to the camera directly so we feel in on the big secret.
Fans, including me, are hoping to get a third season of Gentleman Jack after it was suddenly cancelled this year.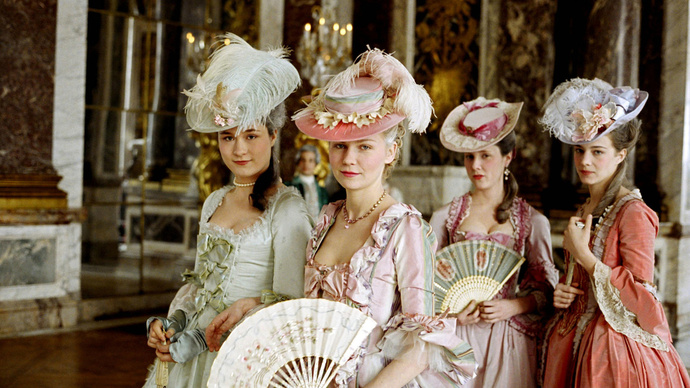 Hollywood didn't exactly make Marie Antoinette factually accurate, but that wasn't really the point of it.
Director Sofia Coppola is a feminist auteur who treats her visuals with as much importance as the plot. That makes for some dreamy, aesthetically pleasing movies! And Marie Antoinette is no exception.
Kirsten Dunst headlines as the French Queen in the lead up to her execution during the French Revolution.
As cute as the pink frosting, puffy pastel dresses and flowers are for us to look at, it wasn't great for French society. While Marie splurged on extravagant clothes, people starved and rioted in the streets just outside.
But don't mistake this movie as lacking substance or emotion. Coppola treats Marie Antoinette as an artistic interpretation of history rather than a boring documentary, and it's a compelling watch.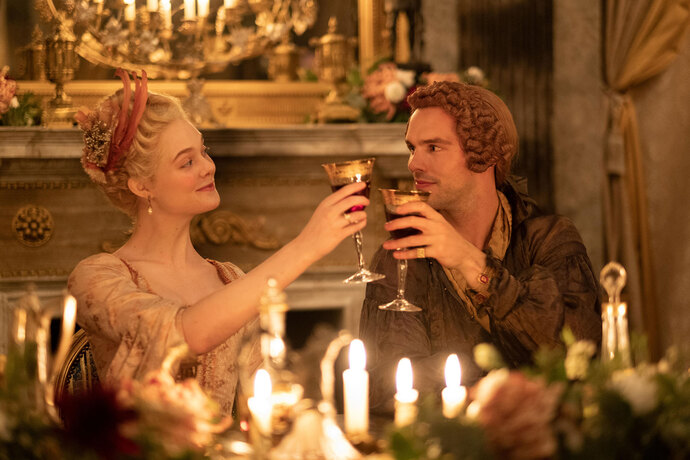 If you watched and enjoyed The Favourite (mentioned later in this article), be sure to check out The Great. Creator Tony McNamara had a hand in writing The Favourite!
Dubbed by Hulu as an "anti-historical" biography of Catherine the Great, The Great: An Almost Entirely Untrue Story opts for fun over fact.
Elle Fanning stars as the naively optimistic "Great" Empress of All Russia, who finds the Age of Enlightenment truly inspiring. Her selfish, materialistic, and arrogant new hubby (Nicholas Hoult) doesn't agree, so... she decides to kill him. You go, girl!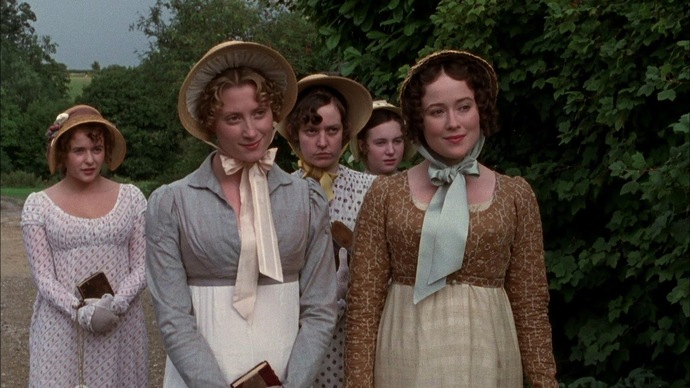 As gorgeous as Joe Wright's 2005 film was, we're picking the TV version of Pride and Prejudice from 1995 for this list, mainly because it was a landmark moment for British television.
Pride and Prejudice is Jane Austen's most famous novel, featuring the bold Elizabeth Bennett and the arrogant Mr. Darcy. It's not just your typical hate-to-love romance story—it's the most iconic of them all!
Andrew Davies's adaptation of the 1813 novel features a high-caliber British cast starring Colin Firth, and it later inspired Helen Fielding to write Bridget Jones's Diary (1996), also starring Colin Firth.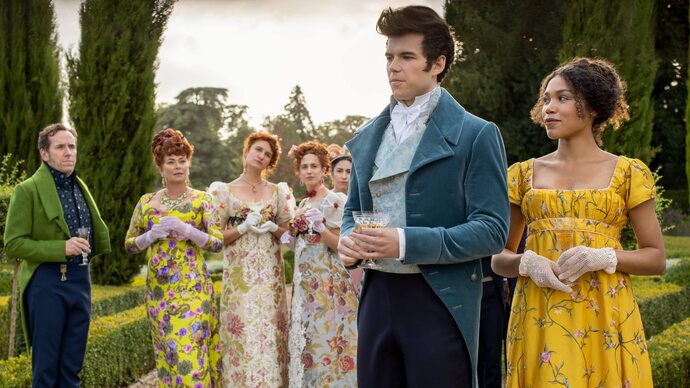 You can never really predict what new Netflix release is going to be the latest buzz. Surprisingly, in 2020, it was a Regency romance drama that surpassed the record for viewership.
Loved by teens and middle-aged women alike, Bridgerton was the most watched English-language TV series on Netflix by season two!
Based on the novels by Julia Quinn, Bridgerton follows six siblings on their quest for love. The sparkly visuals and posh accents make the soap-like drama feel more sophisticated, but still easy enough to binge.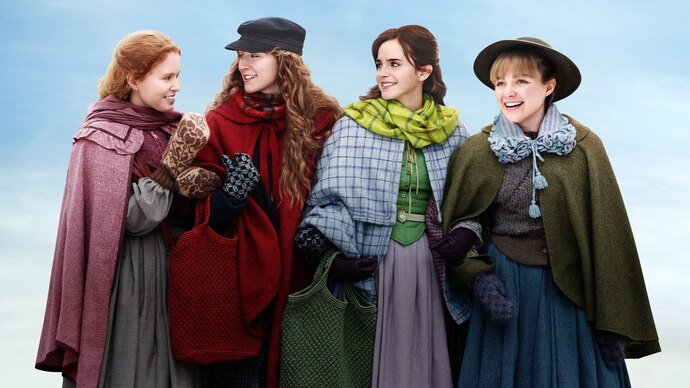 Greta Gerwig is master at presenting the female gaze on-screen, so it's fitting she should adapt a classic book about women—one that's so famously tear-jerking.
Little Women was penned by Louisa May Alcott in 1868, narrating the lives of the March sisters. One yearns for love, one for beauty, one for home, and one for writing. Through this, Alcott showed that there's more to 19th century women than a dowry!
"Women... They have minds, and they have souls, as well as just hearts. And they've got ambition, and they've got talent, as well as just beauty."
Saoirse Ronan pleads as Jo, the writer of the family. Alongside her is a dazzling cast—Emma Watson, Florence Pugh, Eliza Scanlen, and Laura Dern—in a family home we wish we could visit for the holidays!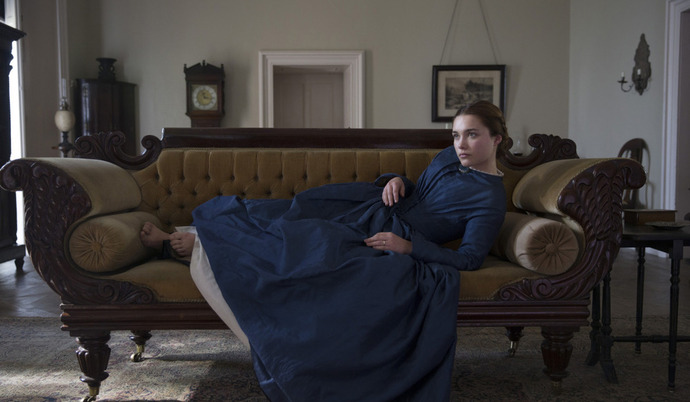 Before she played a March sister in Little Women, Florence Pugh made a name for herself leading the British indie drama Lady Macbeth.
No, not the same Lady Macbeth from Shakespeare. This one's based on a Russian novella called Lady Macbeth of the Mtsensk District, which draws parallels to the subversive, murder-plotting wife in Shakespeare's tragedy.
Katherine is suffocated by her loveless marriage to an old guy and decides to have an affair. It's not the bulkiest of plots, but Pugh gives a striking performance as a woman on the cusp of madness!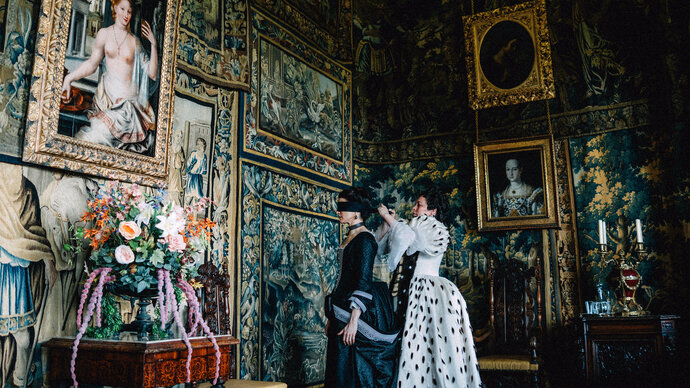 If you're in the mood for an uncomfortably weird yet hilarious movie, try any film by director Yorgos Lanthimos. His filmography is utterly bizarre and unique, full of awkward silences, precise color schemes, and dystopian atmospheres. Even in a historical movie!
The Favourite is set in 1711, featuring a royal lesbian trio that's (very) loosely based on true events, with Olivia Colman, Emma Stone, and Rachel Weisz comprising the triangle of a Queen and her confidants.
The black comedy unfolds at the end of Queen Anne's life, who's in poor health while possessing the demanding personality of a spoiled child. Olivia Colman had a lot of room to play a character this absurd, enough so that she bagged an Oscar for Best Actress!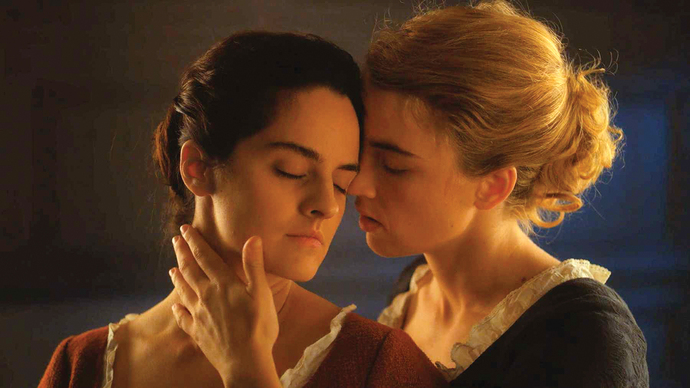 Portrait of a Lady on Fire is neither action-packed nor darkly funny. There's actually quite a lot of sitting around in silence. But don't let that put you off! It sits at the top of our list for good reason.
The French period drama, written and directed by Céline Sciamma, took Cannes by storm in 2019.
Noémie Merlant and Adèle Haenel star as a lesbian couple who must keep their love in the shadows, given that they live in the 18th century.
Marianne (Merlant) is commissioned to paint a portrait of Héloïse (Haenel), a stubborn member of the gentry that no artist can crack.
Héloïse is the "lady on fire" in the title, which is meant both literally and metaphorically in this incredible film that turns traditional, patriarchal views of sex and gender into ash.