Ah, oceans. Islands. Beaches! Often times, those things bring to mind a sunny paradise ideal for vacations. But it only takes one unfortunate event to turn any beach into a potential death sentence.
From murder investigations to strutting lifeguards, there have been all kinds of TV shows set on coastal towns, deserted islands, and sandy beaches. Is winter getting you down? Might want to check out one of these shows that'll transport you to the opposite season.
Here are our picks for the best TV shows that take place on a beach, and what makes each one worth watching.
12. Baywatch (1989)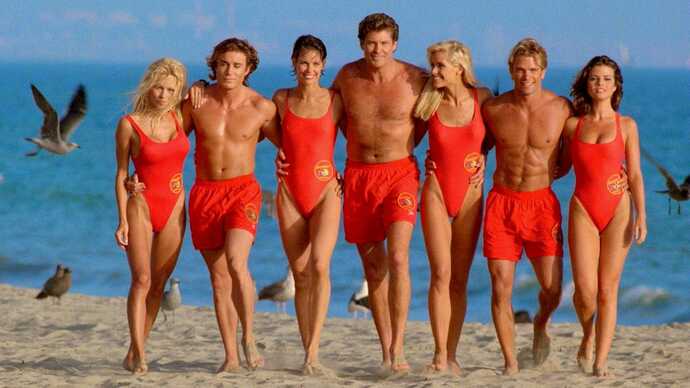 What other location screams "beach holiday" more than California and Hawaii? Despite how often the show is now parodied and mocked in pop culture, Baywatch was once the most-watched television show in the world, with an audience of 1.1 billion viewers every week.
David Hasselhoff and his crew run around the shorelines of Los Angeles, saving lives together in skimpy red swimsuits. Despite being an action-drama, Baywatch isn't a show you should take too seriously.
It was recently remade as a 2017 comedy movie starring Zac Efron and Dwayne Johnson, directed by Seth Gordon.
11. We Are Who We Are (2020)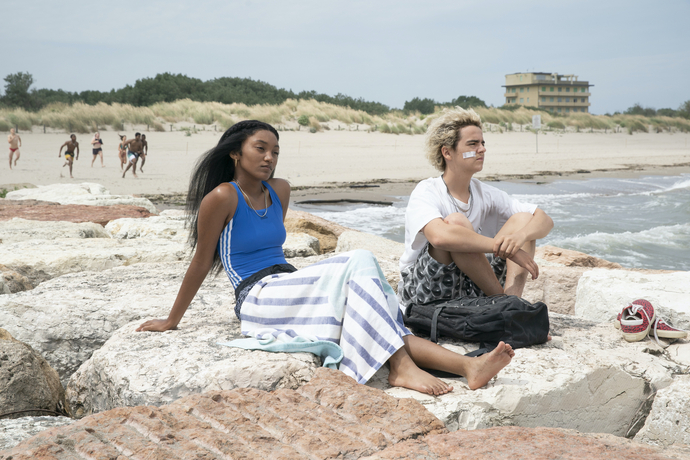 This Italian-American miniseries is set on a fictional US military base in Chioggia, Italy, which is surrounded by blustering, foamy seas. It's a coming-of-age tale as old as time, playing out against a backdrop of intertwining cultures.
Jordan Kristine Seamón and Jack Dylan Grazer star as two 14-year-old Americans who move to the foreign town. The show is tousling with themes of love, friendship, first times, and personal identity.
We Are Who We Are perfectly captures the messy and often unsettling experience of being a teenager, while balancing its subdued drama with moments of pure shock.
10. The Durrells (2016)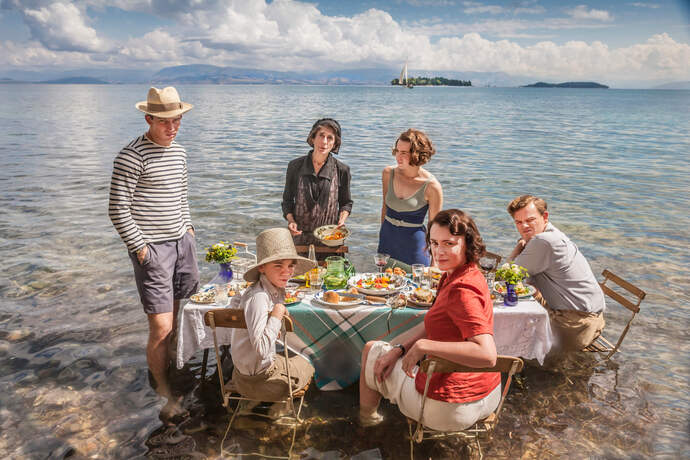 Loosely based on Gerald Durrell's autobiographies, The Durrells (also called The Durrells in Corfu) takes place on the Greek island of Corfu, to which the Durrell family suddenly decides to move.
Worlds away from their British lives in Bournemouth, the Durrells struggle to adjust to their new island lifestyle. Set in the 1930s, this gorgeous sea-swept ITV comedy series follows the dysfunctional family through all the trials and tribulations of starting anew.
Keeley Hawes stars as head of the family and she's simply bursting with charm—an English rose among the foreign tropics.
9. Doc Martin (2004)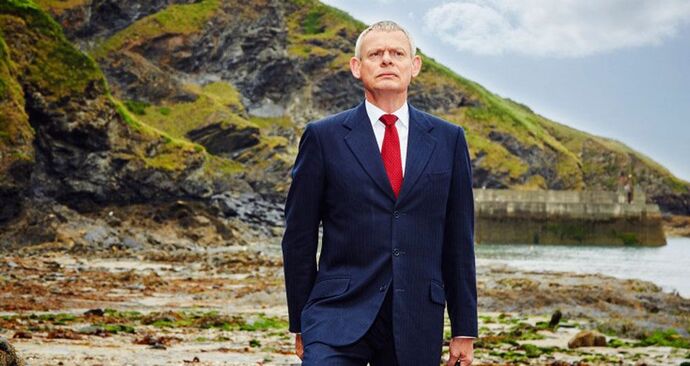 A surgeon with hemophobia? Well, that's inconvenient! Martin (played by Martin Clunes) is a socially awkward (implied autistic) doctor who struggles to fit in with his new small town surgery.
Without the distracting bustle of London to hide within, Martin's blunt nature comes as a shock to the coastal town of Portwenn, where everybody knows everybody else.
Inspired by the doctor in Nigel Cole's Saving Grace, we can't help but fall in love with Martin despite his unusual ways. Dominic Minghella's cozy medical drama is the perfect watch for an easy night in, whisking us off to the picturesque mountains of Cornwall.
8. Lost (2004)
If you enjoyed the movie Cast Away, then this show's premise will be right up your alley. Originally intended to be an adaptation of that film, Lost follows a group of airline passengers who crash-land on a mysterious island in the South Pacific Ocean.
The show was eventually canceled after six seasons, but only due to technicalities with the plot—there's only so much that can happen on an isolated island, after all. That said, each season is packed with drama, character depth, and mysteries that'll keep you hooked.
Over the course of its successful run, Lost won all kinds of awards—because this show (created by Jeffrey Lieber, J. J. Abrams, and Damon Lindelof) isn't just a survival story. There's a shedload of supernatural mystery mixed in around every corner.
7. Don't Forget the Driver (2019)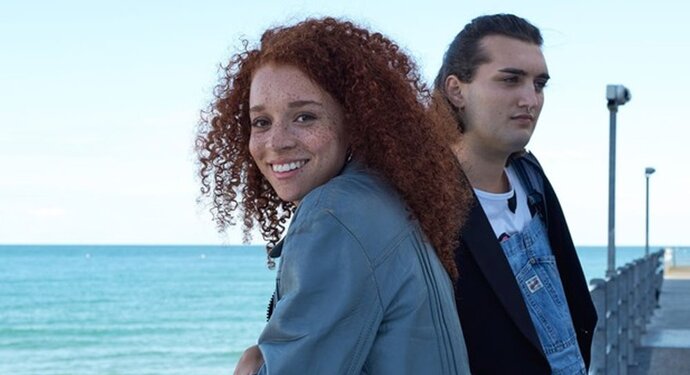 A BBC series written and directed by Tim Crouch and Toby Jones, Don't Forget the Driver takes place in Bognor Regis, which is a seaside resort in West Sussex, England.
Jones stars in the show as a depressed single dad driving around coaches for a living. On one of his jobs, Pete Green discovers an asylum seeker—and in a post-Brexit world, he isn't sure what to do.
A timely tale that uses humor to tackle real pressing issues, Don't Forget the Driver may have slipped under your radar, so we're here to revive it!
6. Outer Banks (2020)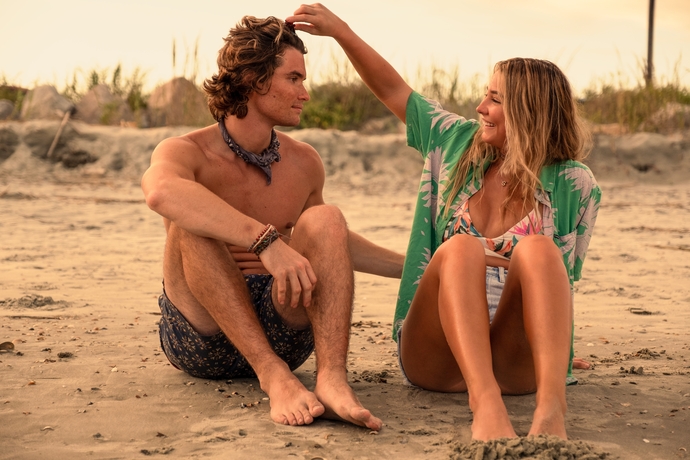 Ah, the blissful beaches of North Carolina... What a shame about the gaping class divide there.
Young John B. Routledge (played by Chase Stokes) is the Pogue ringleader (meaning the working-class locals) and the discoverer of legendary treasure that links to his father's disappearance. Yes, it's all very mysterious and cool.
Madelyn Cline, Madison Bailey, Jonathan Daviss, and Rudy Pankow also star as part of the clan, who together face all the usual woes of adolescence: love, drugs, rebellion, and more.
This mysterious action-adventure Netflix Original TV series has a third season scheduled for release later this year and we couldn't be happier!
5. Sanditon (2019)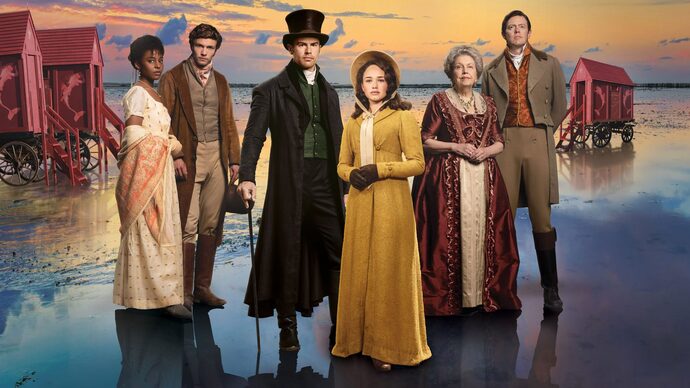 Take a step back in time with this stunning ITV period drama based on Jane Austen's unfinished manuscript.
Sanditon itself is a fictional seaside town, thought to be somewhere along the South West of England. Suitors, secrets, and social change prevail in this two-season story, in which Charlotte Heywood (played by Rose Williams) moves to start an exciting new life.
While a fishing village may not be the usual definition of excitement, the handsome heartthrobs and scheming townsfolk make the whole situation that much more unpredictable. A glistening historical drama that ripples with spirit, Sanditon is a must-watch for any Austen fans.
4. Hinterland (2013)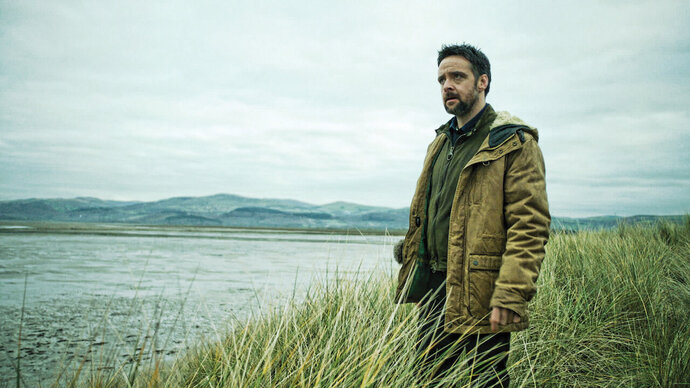 Hinterland (or Y Gwyll in Welsh, which means "the dusk") is your classic murder mystery show, unraveling beside the rolling hills and waves of Ceredigion, Wales.
Intending to introduce more Welsh voices, history, and culture to the BBC, Ed Talfan and Ed Thomas bring us this complex and gorgeously shot drama, starring Richard Harrington as DCI Tom Mathias. Each scene was filmed twice—once in English, once in Welsh—to satisfy all audiences.
Away from the bustle of London, DCI Tom moves to a rural town in search redemption. Infused with elements of the noir genre, Hinterland is one sophisticated piece of coastal TV.
3. Big Little Lies (2017)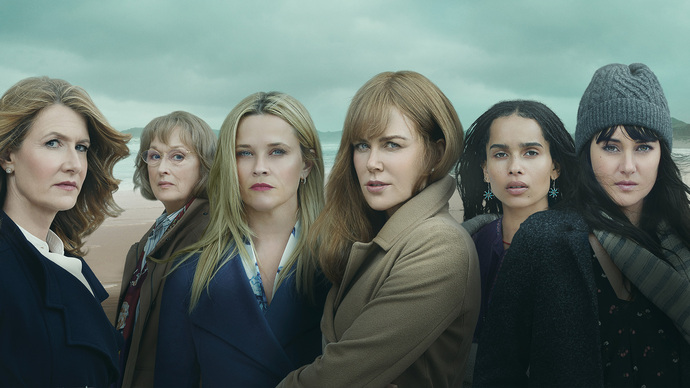 This incredible show's A-lister ensemble cast is what drew most viewers in to begin with, but we all stayed for the juicy drama, gripping plotlines, and dark humor that pervade the series.
Created by David E. Kelley, Big Little Lies received widespread critical acclaim. Set along the plush beaches of California, three wealthy women have their idyllic lives torn apart by murder.
Reese Witherspoon, Nicole Kidman, Shailene Woodley, Alexander Skarsgård, Adam Scott, Zoë Kravitz, Laura Dern, and Meryl Streep are just some of the star-studded cast. From its cinematography to its soundtrack, we're here for this one!
2. Poldark (2015)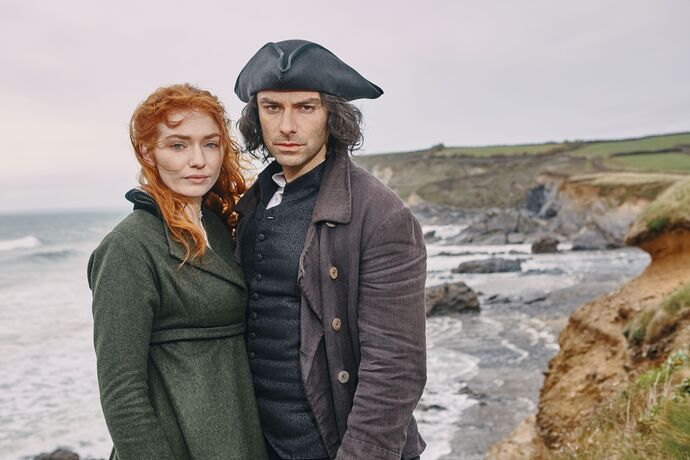 Viewers buzzed when Aidan Turner flaunted his six-pack in this BBC period drama, but we're here for more than just that.
Debbie Horsfield's celebrated series is set in 1783, in which Captain Ross Poldark returns from the American Revolutionary War to his home in Cornwall. But a lot can happen in three years, and the captain finds that he's lost his true love, his father, and his estate...
Based on the book series by Winston Graham, Poldark has been re-adapted from its 1975 version with a little more finesse. If you like anything historical or romantic, then you need to watch this one!
1. Broadchurch (2013)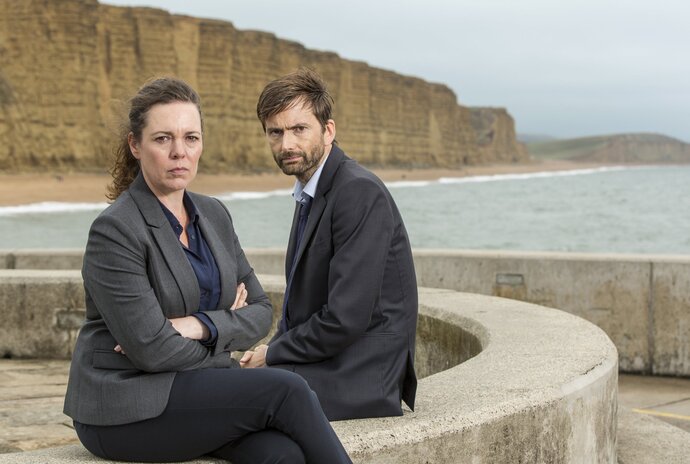 Set along the cliffs of a fictional town in Dorset, Broadchurch is as pretty as it is tragic. You can practically feel the chilly, salty sea air coming off this ITV series, conceptualized by Chris Chibnall.
David Tennant and Olivia Colman star as a detective duo who have a love/hate relationship while tasked with finding the murderer of 11-year-old Danny Latimer.
Cinematically dazzling and tinged with a sort of dreamy melancholy, the trilogy series was hailed by critics and viewers alike. Broadchurch went on to win multiple BAFTAs and launched Olivia Colman from the sidelines of British comedy to the spotlights of Hollywood.