Charles Dickens was among the most prolific authors of the 19th century, alongside contemporaries like Thomas Hardy and Jane Austen. He's widely known—by kids and adults alike—for his detailed stories chock-full of eccentric characters (and a bit of the supernatural).
Writing from his own experiences, Dickens's canon mainly focuses on subjects like class divide, urban poverty, and the social degradation in Europe at the time. Somehow, all of these are still relevant today.
From time-traveling ghosts to coming-of-age bildungsromans, there's something for everyone in Dickens's literary worlds that have been connecting with readers for generations. And, naturally, filmmakers have translated many of them into movies and TV shows.
Here are our picks for the best movies and TV shows that are adapted from or heavily inspired by Charles Dickens.
13. The Mystery of Edwin Drood (2012)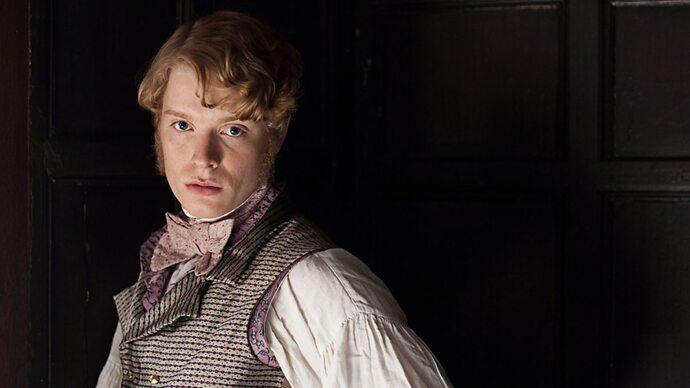 The Mystery of Edwin Drood truly is a mystery, given that Dickens unfortunately passed away before he could complete it.
With only six of the planned twelve installments published, writers and filmmakers have been creating their own endings to the story for decades. But our favorite? Diarmuid Lawrence's delightful BBC miniseries adaptation from 2012.
Freddie Fox stars as Edwin, the nephew of an opium-addicted choirmaster, who's engaged to one of his uncle's students. Annoyingly, his uncle John Jasper (played by Matthew Rhys) is in love with her, too.
A thrilling and supple script that's marvelously acted, this brooding tale is a good introduction to the complex world of Dickens.
12. A Christmas Carol (1951)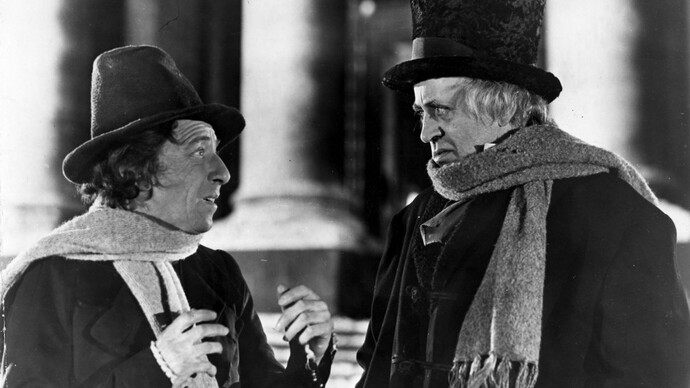 A Christmas Carol is one of the most-adapted stories in cinema history. As of this writing, there have been an estimated 135 movies! So, of course, at least one of them had to appear on this list.
While the 2009 animation by Robert Zemeckis is a solid watch, we're going with the black-and-white classic from 1951, which is better suited to more sophisticated viewers.
You probably know the story of A Christmas Carol already, but in case you don't: three spirits come to haunt the cold-hearted businessman Ebenezer Scrooge toward redemption. Bah! Humbug!
This take on Charles Dickens's 1843 novella was adapted by Brian Desmond Hurst and it stars Alastair Sim as the "tight-fisted hand at the grindstone, Scrooge!"
11. The Man Who Invented Christmas (2017)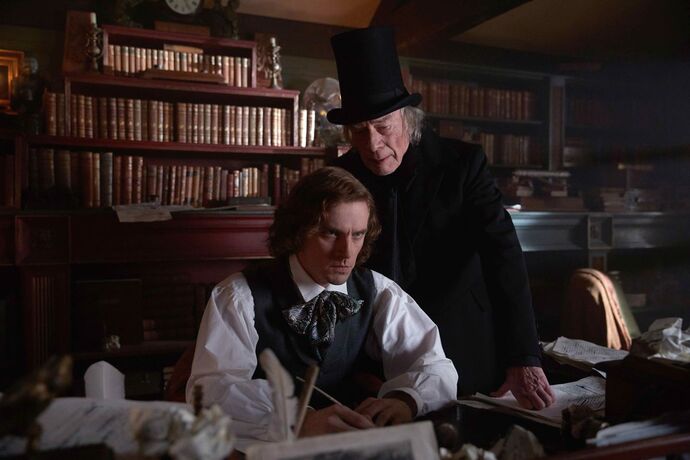 Charles Dickens didn't literally invent Christmas, but he did redefine it. The Victorian era essentially built the blueprint for today's traditional family Christmas: decorated trees, roasted chestnuts, and generous amounts of holiday spirit.
Dickens reinforced these values through his allegorical tales of Scrooge, who rediscovers the true meaning of Christmas. (While penning this famous story, Dickens was actually in the midst of a financial crisis due to his three most recent books being flops.)
All of this is explored in the aptly titled The Man Who Invented Christmas, directed by Bharat Nalluri and starring Dan Stevens as the legendary author, who was inspired by his own father when creating the character of Scrooge.
Based on Les Standiford's 2008 book, The Man Who Invented Christmas treads a steady line between comedy and drama.
10. Little Dorrit (2008)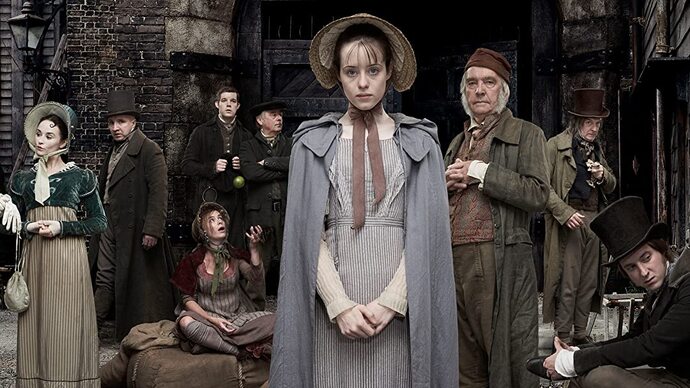 What's a British period drama without Matthew Macfadyen? Especially a BBC one that also stars Claire Foy before she took the throne in another very British TV series (The Crown).
And what's a Charles Dickens story without a prison? The fact Dickens witnessed his own father get sent off to Marshalsea Debtors Prison had a huge impact on the social aspect of his future writing.
This isn't a presumption. Amy (or "Little Dorrit") is a character who's raised in Marshalsea itself. Not a coincidence, is it?
Dorrit spends her whole life looking after her family, despite being just a small 21-year-old girl. Now that she's of age, a worldly love interest rears its head—but does he love her back?
Little Dorrit, which was published as serials in the mid-1800s, fits neatly as a one-off, single-season series today.
9. Great Expectations (2011)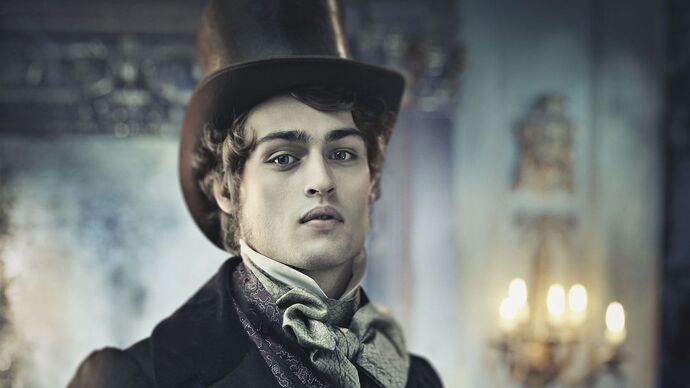 Here's another Dickens tale that's been adapted numerous times to film and TV, and this one's classically haunting. We are, of course, talking about Great Expectations!
This one from 2011 features Douglas Booth, Gillian Anderson, and Ray Winstone, so what's not to love? The British adore a good BBC miniseries, which perfectly matches Dickens's vibe as a figure of great cultural importance.
Brian Kirk's three-parter takes us along the misty moors of London's marshland, where orphaned young Pip (played by Douglas Booth) grows up to be a gentleman. Oh, and there's also a creepy spinster who walks around in old bridalwear.
A melancholy saga featuring some of Dickens's most atmospheric scenes, Great Expectations is more than just a story to learn at school.
8. Bleak House (2005)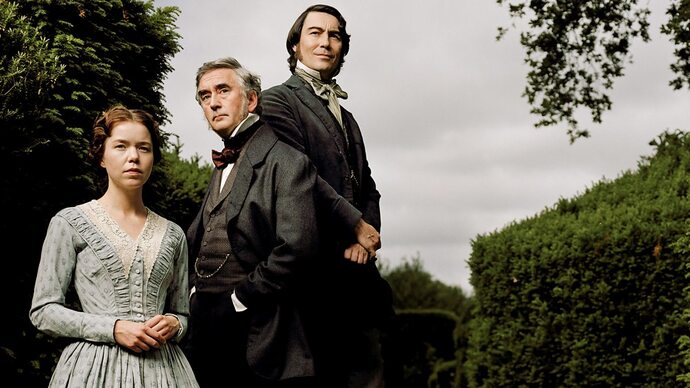 Bleak House is one of those TV shows that flew under the radar, but once you actually give it a watch, you catch yourself recognizing pretty much every cast member!
This one stars the likes of Gillian Anderson, Anna Maxwell Martin, Charles Dance, Carey Mulligan, Burn Gorman, Catherine Tate, Phil Davis, Charlie Brooks, Johnny Vegas, and more.
Several of these actors are British comedians, and a few have even gone on to become big Hollywood names. Regardless, all of them do a great job of bringing Dickens's heroine-driven serial to life.
With a title like Bleak House, it may seem incongruent to star people like Catherine Tate, but don't be fooled by the dreary atmosphere! Bleak House is mainly a comedy—it just happens to be laden with pathos as well, a lot like a Charlie Chaplin movie.
7. The Muppet Christmas Carol (1992)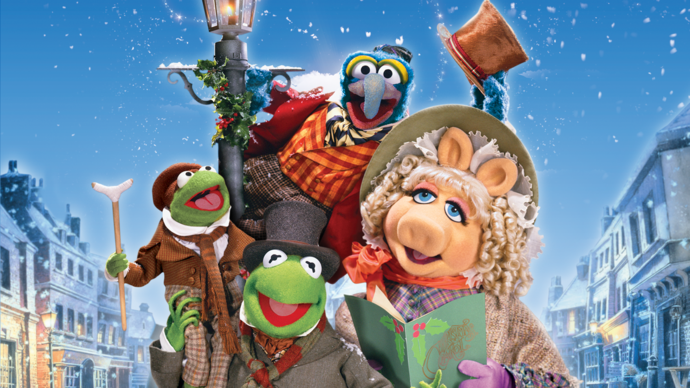 If you're a fan of musicals but find that Ronald Neame's Scrooge (1970) is a bit too dated for you, why not try this fun-filled family gem?
In The Muppet Christmas Carol, the Muppets themselves take on Christmas in their rendition of A Christmas Carol, featuring Michael Caine as the bitter old Ebenezer Scrooge.
Surprisingly true to the original book, Brian Henson's fantasy flick is narrated by Gonzo as if he were Charles Dickens himself. Alongside him is Rizzo, who humorously takes us on a journey through the past, present, and future.
All of your favorite Jim Henson puppets make an appearance in this witty and heartwarming adaptation that's peppered with musical numbers and cheesy gags.
6. The Invisible Woman (2013)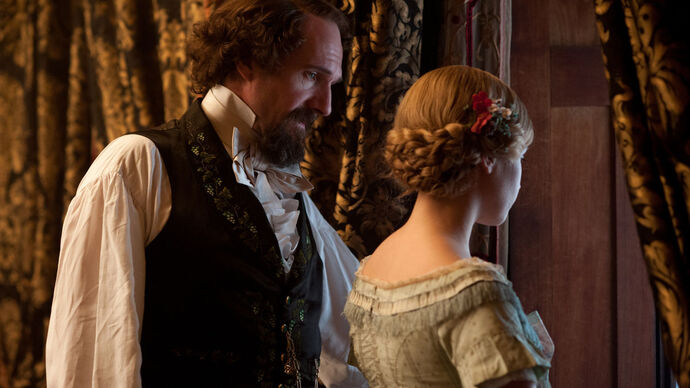 Ralph Fiennes directs and stars in this very British biopic based on Claire Tomalin's 1990 novel The Invisible Woman: The Story of Nelly Ternan and Charles Dickens.
Nelly Ternan (played by Felicity Jones) was a young actress who caught the eye of Charles Dickens during one performance at London's Theatre Royal Haymarket. Despite their age gap, the two end up in a volatile but loving relationship.
The couple's affair was practically wiped from the history books—hence Nelly being dubbed "invisible"—as Dickens burnt all evidence of their correspondence. When traces of it resurfaced, scholars were quick to study this hidden corner of history.
Ralph Fiennes handles the story with extreme delicacy and grace, presenting us with a subtle, emotive, and expertly cinematic drama.
5. Great Expectations (2023)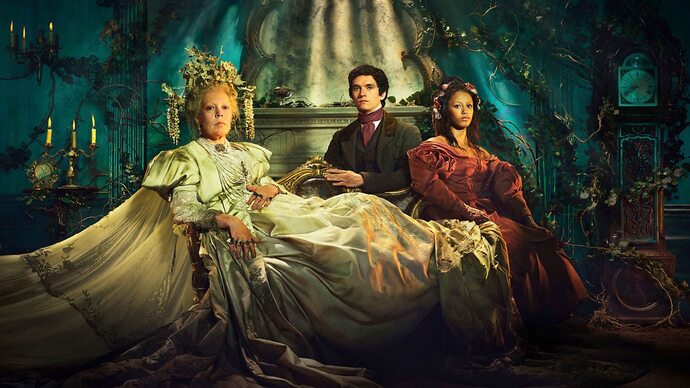 The most recent adaptation of a Charles Dickens novel on our list also happens to be the most daring, the most different and the most controversial. That said, it's still pretty authentic.
In the 2023 version of Great Expectations, Steven Knight lends his accuracy more to history than the novel. More specifically, he blends the story with the Opium Wars of the setting.
Conservative readers of the family-friendly classic weren't too pleased to watch everyone getting high or spanked, but at least it was carried off with style—visually, thematically, and narratively.
Steven Knight has a unique way of combining style with his love of dark period dramas, as evidenced by his work on other period drama series like Peaky Blinders, Taboo, and 2019's A Christmas Carol.
Some critics found Knight to be "trying too hard" with this one. But in a genre as crammed as Dickens adaptations, what hope do you have for standing out if you don't do something really unique?
4. Scrooged (1988)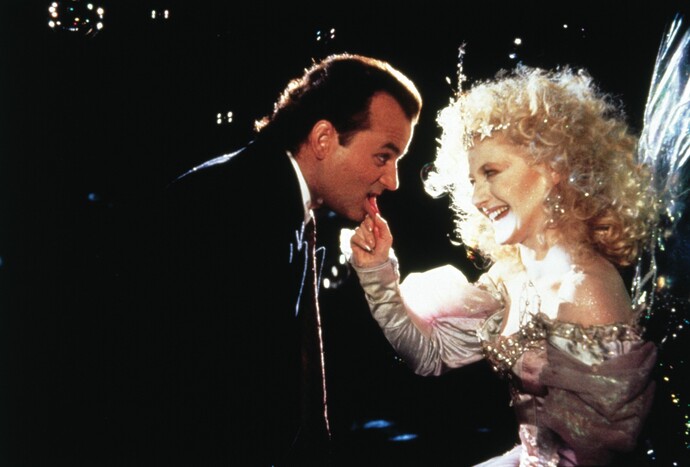 This is the last Scrooge film on our list, we promise! Although in this one, he isn't called Scrooge—he's called Frank.
Frank Cross (played by Bill Murray) is a cynical and materialistic TV executive in charge of IBC's production of A Christmas Carol. But as you can guess from the title, Frank is himself "Scrooged" by three ghosts.
Bill Murray puts his own Bill Murray spin on the famously selfish protagonist, able to make viewers laugh with even the simplest of facial expressions. Meanwhile, Richard Donner's frantic modern retelling is bursting with energy and wit as it explores Frank's weird experiences.
Scrooged avoids showering the audience with too much sentimentality, meaning it's that much more effective when it wraps up.
3. Dickensian (2015)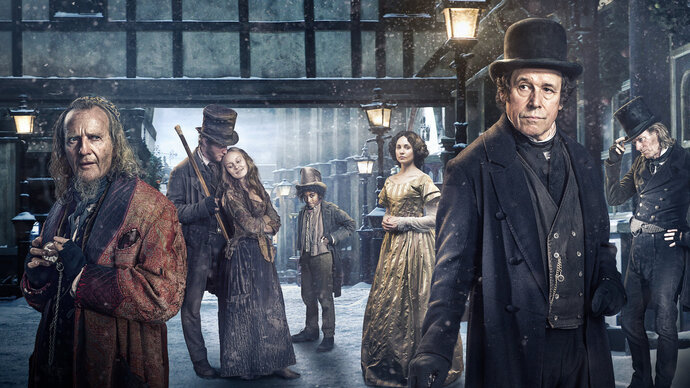 Here's one for the truest of true Charles Dickens fans. A wholly unique and original concept, Dickensian is a BBC series that combines all your favorite Dickens characters into one brilliant show.
In the style of the author's own writing—who loved to interweave myriad characters—Dickensian is one big Victorian web as protagonists from one book cross paths with those from other books.
Creator Tony Jordan has Inspector Bucket from Bleak House investigate the murder of Scrooge's old partner Jacob Marley. And who should he happen across? Well, everyone! From Bill Sikes to Miss Havisham.
With its beautiful 19th century setting studded with beloved characters, Dickensian went down a treat with UK viewers.
2. Oliver! (1968)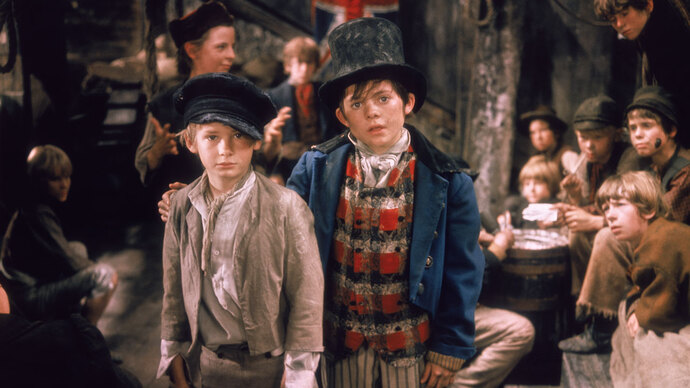 A classic musical that pretty much everyone on the planet has seen, Oliver! is also a popular West End stage play that brings one of Dickens's earlier novels to life with pizzazz.
Winner of six Academy Awards, director Carol Reed gifts us with famous musical numbers like "Food Glorious Food" and "Consider Yourself," all sang with that singular Cockney accent.
Mark Lester plays the title role of a young orphan who escapes the workhouse to become a street urchin.
Step into the grime, violence, and hardship of Dickens's Victorian London as it's soothed over by joyous singing and dancing. Ron Moody, Shani Wallis, and Oliver Reed also star.
1. The Personal History of David Copperfield (2019)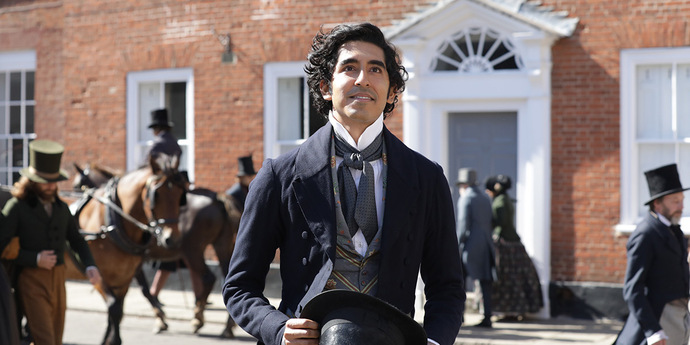 If you've ever read David Copperfield, you know that it's a chunky read—a Victorian bible of tissue-thin paper and tiny font.
Luckily, Armando Iannucci's 2019 adaptation manages to scale it down into a digestible two-hour movie without losing any of Dickens's flavor or character development. Plus, it's so pretty!
A poppy color palette and diversified cast make The Personal History of David Copperfield a pleasure to watch, brilliantly led by Dev Patel. Aneurin Barnard, Peter Capaldi, Hugh Laurie, Tilda Swinton, and Ben Whishaw are also among the great ensemble cast.
The coming-of-age tale accompanies David through evil stepfathers, factory jobs, boxing matches, and sea storms, all with optimistic flourish. The Personal History of David Copperfield is simply a treat.