Most people don't like the hospital. It either means you're sick or someone you love is sick. And for the people who work there? It means long hours, high pressure, and low pay.
In other words, there's always drama going on when doctors and hospitals are involved. Is it any surprise, then, that so many medical TV shows have been made? That so many people keep tuning in to them?
Medical TV shows come in all varieties, whether we're peeking in on the operating table, dealing with emergency room patients, or taking house calls. And across it all, medicine can be both funny and dramatic.
Here are the best medical TV shows of all time that run the gamut from therapeutic to curative to downright destructive.
13. The Good Doctor (2017)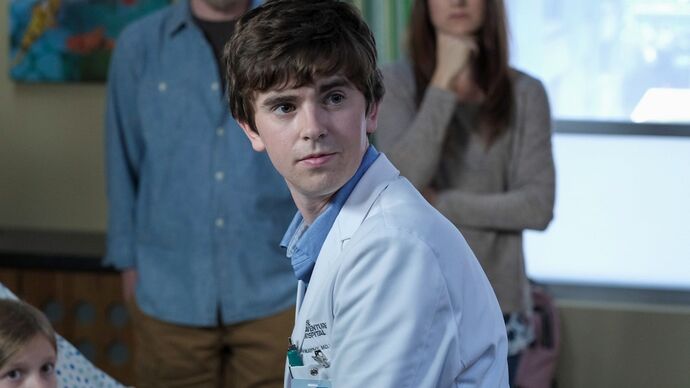 People with savant syndrome are highly intellectual and often possess mental superpowers most of us can't even fathom.
For Dr. Shaun Murphy (played by Freddie Highmore) of The Good Doctor, it means having a mind palace of surgical knowledge and the ability to pick up on symptoms and rare diseases that others overlook.
On the flip side, part of being a doctor is dealing with people at their most vulnerable and emotional. Not something that comes naturally to those on the spectrum.
Across those ups and downs, The Good Doctor takes us through the challenges, breakthroughs, and growth of Dr. Murphy, who learns to work with—not against—his autism.
Although The Good Doctor isn't the most realistic depiction of a hospital, and despite its heavy-handed interweaving of morality plays and political correctness, Freddie Highmore's impressive central performance will melt your heart so much you won't even notice.
12. St. Elsewhere (1982)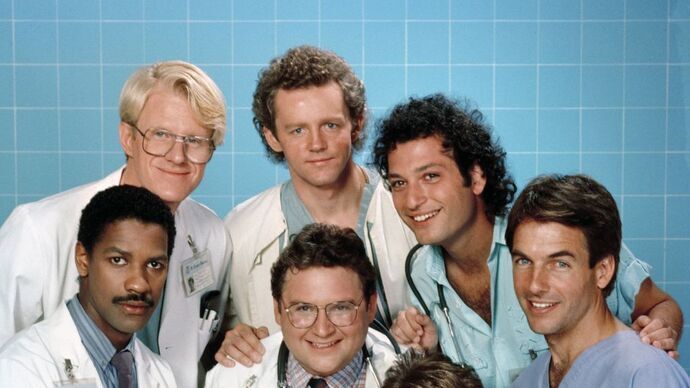 You'll no doubt recognize a bunch of young, familiar faces—including Denzel Washington—in this NBC drama. St. Elsewhere takes place in a Boston teaching hospital, nicknamed "elsewhere" (which is medical slang for the more rundown clinics).
Being less equipped but just as busy, the hospital gives students a range of high-pressure situations to practice in and learn from.
Considered grittily lifelike at the time, St. Elsewhere isn't just packed with wide-ranging characters and subplots, but it also loves pop culture references and clever crossovers. A fun watch when you want to experience the fun of 1980s television!
11. A Young Doctor's Notebook (2012)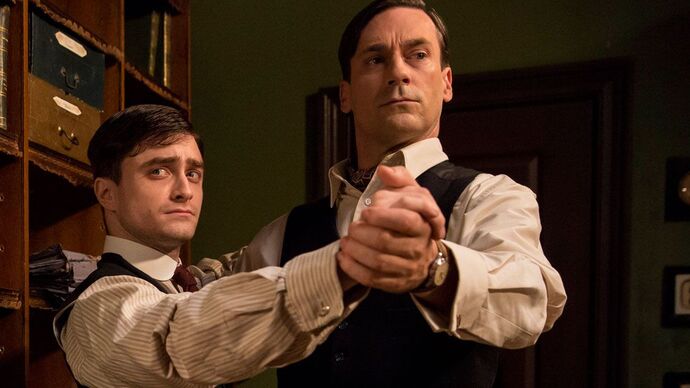 After leaving the Harry Potter franchise behind, Daniel Radcliffe yearned to shake off his wizarding reputation—so he turned to oddball comedies and found he had a knack for them.
Swiss Army Man, Guns Akimbo, and Weird: The Al Yankovic Story are some of the more notable examples, but he also tried his hand at television and proved he had surprisingly good comedic timing.
A Young Doctor's Notebook sees him in action with Jon Hamm as the younger and older versions of Dr. Vladimir "Nika" Bomgard, a morphine-addicted doctor in the middle of a barren 20th century Russia.
Nika is based on the real Russian doctor-turned-writer Mikhail Bulgakov, who penned the acclaimed Soviet novel The Master and Margarita. The weather, the atmosphere, the loneliness, the war, the drugs... everything about this show seems depressing. It's also hilarious.
10. Nurse Jackie (2009)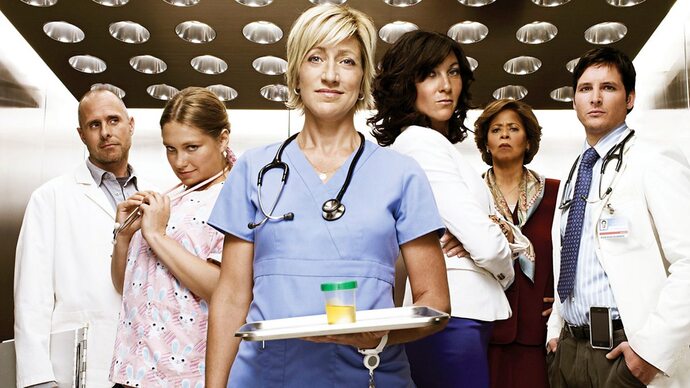 It's a medical practitioner's job to keep people healthy, so you'd think they'd at least try to do the same for themselves. However, given that medics also have easy and constant access to drugs that are usually locked away, many of them become drug addicts.
The titular Nurse Jackie (played by Edie Falco) isn't shooting morphine on the sly, but she is popping Xanax to cope with the stress of her New York City emergency department.
Jackie is prone to getting in trouble and breaking the rules, and she views protocols more as guidelines for her to follow at her discretion. In spite of all this, Jackie is an extremely talented and strong-willed worker who knows how to get things done—and fast.
State medical boards weren't too happy with Nurse Jackie's depiction of bad medical practice, but TV critics adored it.
9. Scrubs (2001)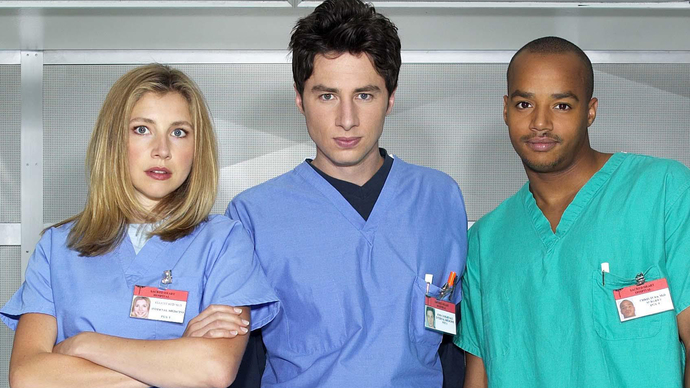 Hospitals are the homesteads of death, pain, and terminal illness—but that didn't stop Bill Lawrence from making a slapstick comedy about it.
Zach Braff is the one narrating and starring in Scrubs, the medical sitcom that interweaves various storylines that are punctuated by J.D.'s wacky daydreams and stray thoughts.
Sarah Chalke, Donald Faison, Neil Flynn, and John C. McGinley co-star as J.D.'s colleagues, with fun guest appearances by Michael J. Fox, Brendan Fraser, Heather Graham, Colin Farrell, and more.
Scrubs was a smash hit amongst viewers and critics for its bold humor, fantasy vignettes, and keen character development. It's an easy and reliable watch (and rewatch) for when you need to laugh and cry.
8. Doc Martin (2004)
The medical field is the last place you'd expect to find someone with hemophobia, an intense fear of blood.
Although Dr. Martin Ellingham (played by Martin Clunes) of Doc Martin didn't have it when he first became a surgeon, he did acquire it—and that fear has grown with age. Forced to quit being a surgeon, Martin becomes a GP instead (the British equivalent of family doctors in America).
But hemophobia isn't Martin's only issue. He also dislikes people!
At this point, his career choice probably sounds ridiculous, but Martin is actually incredibly smart and good at his job. So, in order to find peace in his new life in a quiet Cornwall surgery, Martin must develop his social skills and patience for his incompetent staff.
7. The Knick (2014)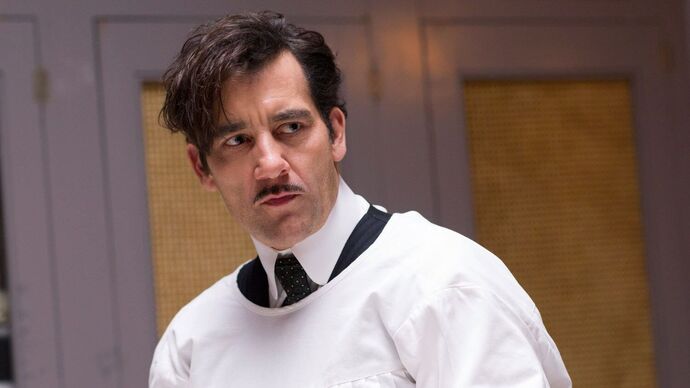 The Knick centers on a drug-addicted doctor in the early 1900s, complete with all the gore of a real 20th century hospital (back when technology, medicine, and anatomy were still pretty infantile).
The gruesomeness of The Knick—done for realism, not mere shock factor—isn't the only reason why it's a challenging watch. Unsurprisingly, The Knick is also darkly depressing, yet in a powerful way that makes its challenge super rewarding.
Clive Owen stars as the new chief surgeon at Knickerbocker Hospital, New York City, who can be found in Chinatown opium dens when he isn't cutting people open.
6. ER (1994)
We've seen a fair few A-list stars on this list, many before they rocketed to Hollywood fame. George Clooney is another such example, who starred as the hot-headed, womanizing pediatrician Dr. Doug Ross on ER.
This emergency room is located Chicago and packed with the same bustling urban emergencies found in most medical dramas. ER is also no stranger to the detrimental effect that hospital work has on its staff, who put their own lives on the back burner to save others.
ER is the second longest-running medical drama in America, a conveyor belt of patients, problems, and trauma (on both sides). It's your standard ensemble hospital show, but one of the best ones.
5. Call the Midwife (2012)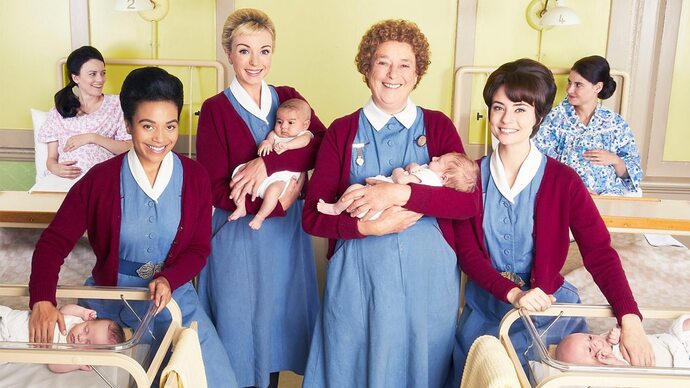 When it's winter and raining outside, when you're curled up on the couch with a blanket and cup of tea, when you're in need of something wholesome to watch, tune in to Call the Midwife.
This is one of the loveliest medical shows ever produced, a warm British period drama set between the 1950s and 1960s. Bicycles ride down lamplit streets, suited gentlemen bring flowers to their loved ones, and expectant mothers scream as they give birth.
Being the 1950s, these nurses don't have all the equipment we have today for delivering babies. Plus, they're working in poverty-stricken areas of London's East End, under the rules of their Christian order.
Call the Midwife doesn't just speak to the heart of the audience; it's also partially true, based on the medical memoirs of Jennifer Worth. As the show grew in popularity, more fictional events were added in, but always based on historical material.
4. This Is Going to Hurt (2022)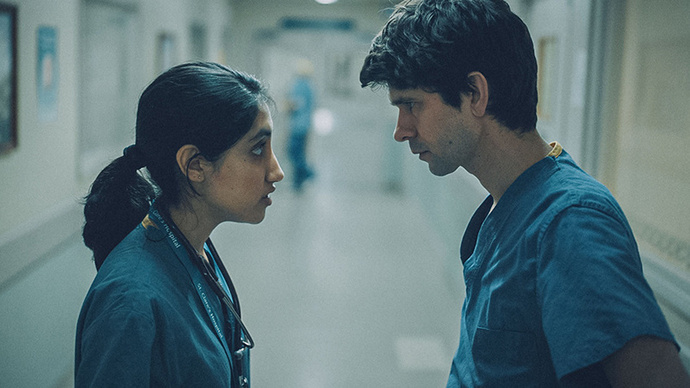 Unlike the clean and shiny hospitals we see in most American medical dramas, This Is Going to Hurt show us the nitty-gritty reality of the overworked, underpaid NHS of the UK.
Ben Whishaw stars as the frank and sarcastic doctor Adam Kay, who works in a chaotic London hospital. He's constantly having to change his scrubs and stand naked at the staff sinks, scrubbing away the various bodily fluids from the Obs and Gynae ward.
We follow Adam and his junior doctors on their everyday 15-hour shifts as he regularly breaks the fourth wall in Fleabag style.
Hilarious and heartbreaking at the same time, This Is Going to Hurt is an honest commentary on the toxic work environment of British hospitals and the ripple effect it has on patients, family, and mental health.
3. M*A*S*H (1972)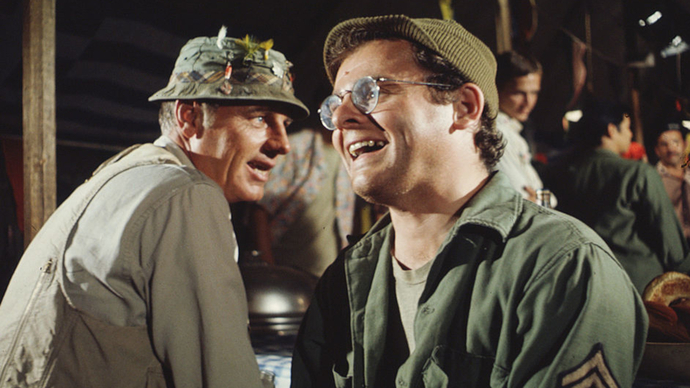 The aforementioned St. Elsewhere was known for its nods to other shows, and more than once it referenced the CBS comedy drama M*A*S*H (a TV spin-off from Robert Altman's 1970 black comedy film).
Robert Altman actually hated the TV show, but it was popular enough with everyone else to garner 11 seasons!
In fact, M*A*S*H is still one of the highest-rated and most-watched TV shows in history, with the finale episode Goodbye, Farewell and Amen breaking the record for most views.
M*A*S*H is a little different from most medical dramedies in that it takes place during the Korean War. The 4077th Mobile Army Surgical Hospital is located in Uijeongbu and is based on Richard Hornberger's (the original novel's author) own military experiences.
2. House (2004)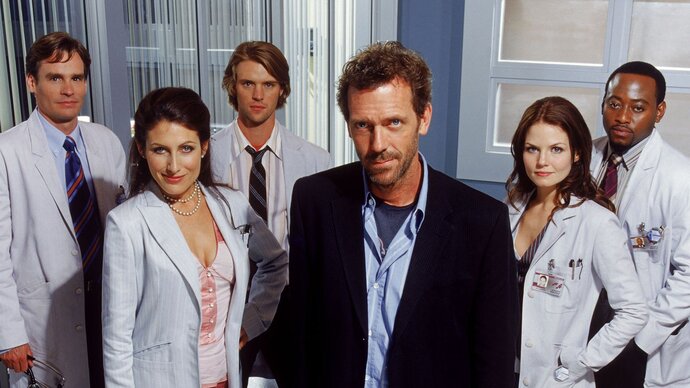 Dr. Gregory House isn't the first medical genius to lack social skills on TV, nor is he the first drug-addicted doctor we've seen. But he is one of our favorite TV doctors of all time, and the 19.4 million viewers of House suggest that many others agree.
Hugh Laurie is a hugely respected name in British television, but you'd never think it from his spot-on American accent in House. (The constant undertone of dry cynical sarcasm, though, might give it away!)
The misanthropic, Vicodin-dependant super-doctor is often compared to Sherlock Holmes, both in the show and from a critical perspective. When he's not saving lives with cold indifference, House is washing the pills down with booze and occasionally serving jail time.
1. Grey's Anatomy (2005)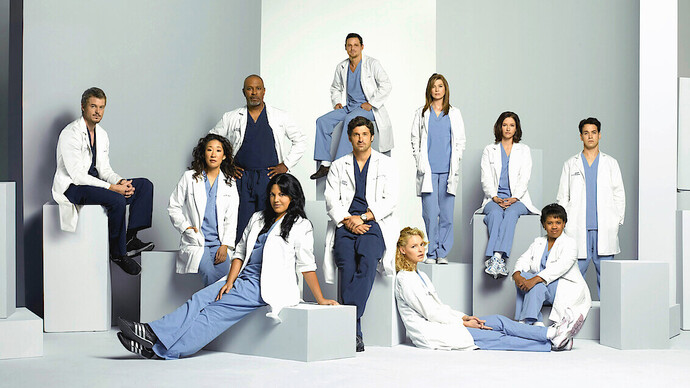 Grey's Anatomy follows an assemblage of surgical residents as they navigate the demands of a city hospital. The ABC series must be doing something right to stand out, as it's officially the longest-running medical show in TV history. Probably the most binge-watched, too.
At 19 seasons long, it's hard to pin down one overarching narrative or protagonist in Grey's Anatomy. Yet it's safe to say, at the beginning, the storyline is primarily taken from the POV of Dr. Meredith Grey (played by Ellen Pompeo) as she climbs the medical ladder.
Created by Shonda Rhimes, Grey's Anatomy has a bit of everything: melodrama, romance, comedy, intellect. And if 400 episodes aren't enough for you, it also has three spin-off series to indulge in: Private Practice, Station 19, and Grey's Anatomy: B-Team.