The older I get, the more I'm drawn to sitcoms. And thank God that smart sitcoms for nerds and geeks have become more plentiful in the past several years!
Nothing wrong with a bit of mainstream fun, of course, but it's nice when you can relate to nerds and geeks on a deeper level sometimes—and not every self-proclaimed geeky sitcom gets it right.
Here are our picks for the best nerdy TV sitcoms that are smartly written and absolutely worth watching!
17. Freaks and Geeks (1999)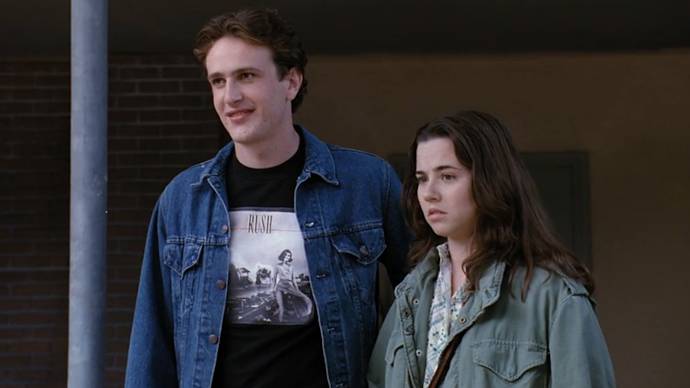 Freaks and Geeks is one of the most tragic productions in primetime television, never getting a second season despite high critical ratings during its original run from 1999 to 2000.
Freaks and Geeks is an examination of two groups of kids at an average American high school, with Lindsay Weir (played by Linda Cardellini) as our protagonist who rebels against her structured household to hang out with the "freaks" of the school.
Her little brother Sam (played by John Francis Daley) is also going through a time of change in his life as he hangs around with the "geeks" while trying to navigate the pitfalls of adolescent love for the first time.
The series made the careers of many of its cast, including Seth Rogen, James Franco, Jason Segel, and Busy Philipps. To this day, Freaks and Geeks has an unending appeal for audiences of all kinds.
16. The Thick of It (2005)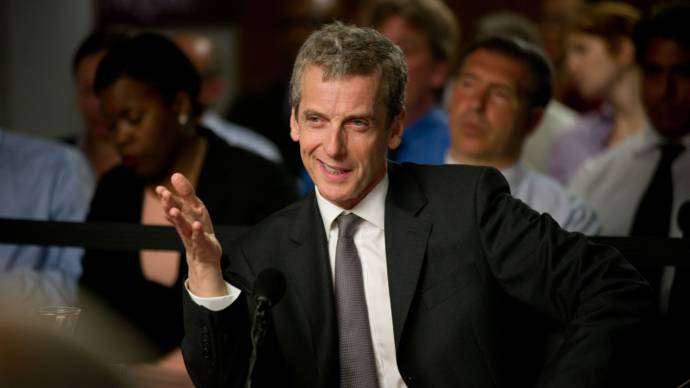 The Thick of It is a British comedy series about a fake department inside the UK government, which explored how a government deals with being in power and how it deals with the general public.
Most of the fun came from the punchy dialogue, where the ruthless Malcolm Tucker (played by Peter Capaldi) spent much of his time dragging ministers into line by hook or by crook.
Like many comedies, it highlighted the incompetence of the people sitting in coveted roles, and it ended up inspiring countless other shows in its wake (like Veep and Succession).
15. Solar Opposites (2020)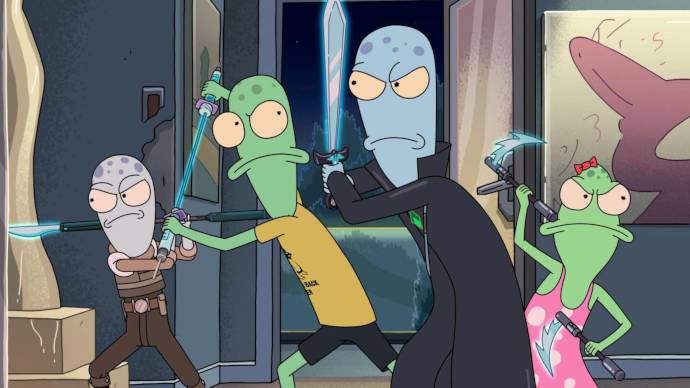 From the same team that gave the world Rick and Morty came Solar Opposites, which delivered similar sci-fi comedy vibes but with an entirely different approach and premise.
Based around an alien family that crash-lands on Earth, Solar Opposites looks at the ways in which this family integrates into their surroundings while trying to understand human life and society.
Is the premise wholly original? Of course not. But it still feels fresh, with an overall story that hasn't been done before. The inclusion of the tiny human's storyline is genius, making this fun show even more fun.
For nerds, Solar Opposites is a sharp and funny series that adheres to the same principles that made Rick and Morty so great.
14. Rick and Morty (2013)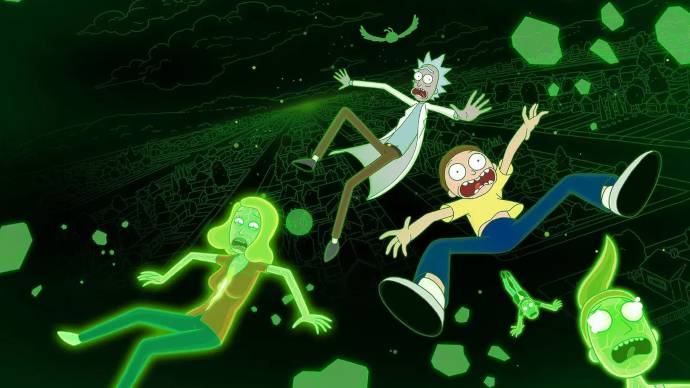 Of all the shows that have a strong following of geeks, Rick and Morty might just be the one with the most theoretical science involved.
Rick and Morty took the world by storm with its chaotic adventures of a space-traveling alcoholic and his grandson, intriguing people across the globe with a teasing backstory that unfolds bit by bit.
Through the explicit involvement of black holes and quantum physics and much more, Rick and Morty pushes boundaries and holds itself up as one of the finest animated shows of the 21st century.
Rick and Morty is perfect for the times in which we live, as it subtly deals with the complications and madness of current world politics through its very unique lens. There's no other show like it.
13. Spaced (1999)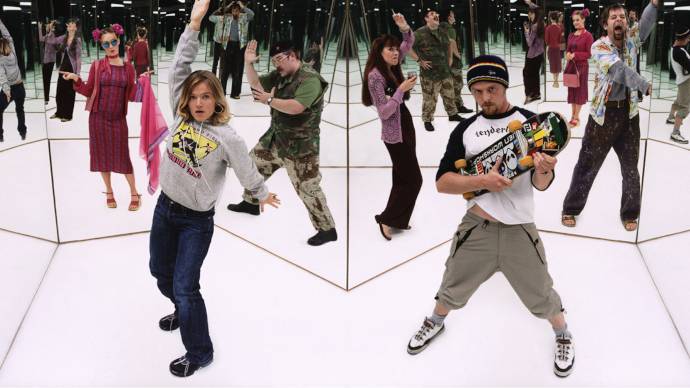 Spaced was one of the earliest collaborations between Edgar Wright, Simon Pegg, and Nick Frost, who'd eventually go on to give us mainstream hits like Shaun of the Dead and Hot Fuzz.
The show that launched their careers also happened to be one of the ultimate shows for pop culture geeks, which explored the everyday lives of nerdy people navigating their mid-20s together.
Over two seasons, protagonists Daisy (played by Jessica Hynes) and Tim (played by Simon Pegg) gently connect while their friends mingle around them, creating a kind of family that makes Spaced so engaging to watch.
With so many pop culture references from its preceding years, Spaced is a must-watch for anyone looking for a nostalgic trip across the 1970s to 1990s—or zoomers who want to see what those decades were like.
12. Malcolm in the Middle (2000)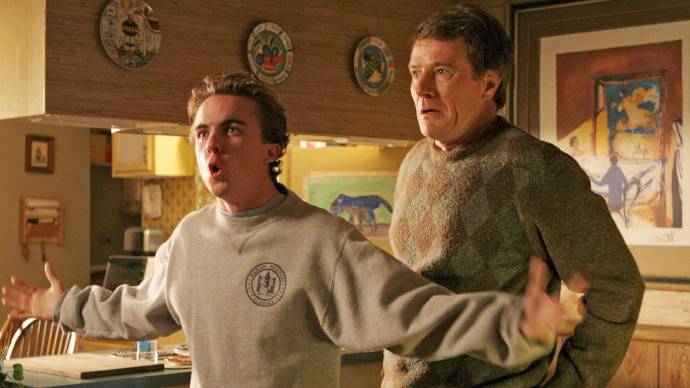 When one child is a prodigy, a show that centers around him can feel isolating to wider audiences. But in the case of Malcolm Wilkerson (played by Frankie Muniz), that wasn't an issue at all.
Despite his genius, Malcolm was often overlooked because he was the middle child of his family, and that made him as relatable as any child found on the small screen during the early 2000s.
Malcolm in the Middle had an addictive pull thanks to its fantastic writing and knockout performances, particularly from Bryan Cranston as the family's patriarch Hal.
The family as a whole changed in many ways over the years, but they never lost their heart, charm, or wacky appeal, and Malcolm in the Middle remains a must-see to this day.
11. 3rd Rock From the Sun (1996)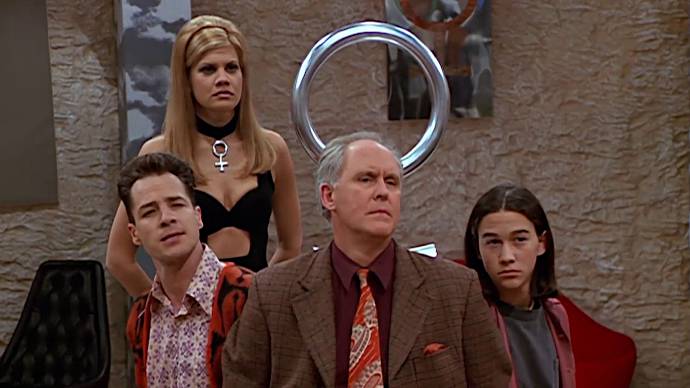 When you think about aliens crash-landing on Earth and trying to live among humans, 3rd Rock From the Sun is still the most iconic series to come to mind. It was just that good.
3rd Rock From the Sun had a unique appeal when it aired back in the 90s, primarily because it was fronted by Academy Award-nominated actor John Lithgow. It also had a young Joseph Gordon-Levitt in its ranks.
In watching these alien characters adapt to life on Earth, we got a show that was basically a strange mix of Malcolm in the Middle and Star Trek, which made for wacky plots that always felt fresh.
Even now, 3rd Rock From the Sun feels like a wholly original show, with no other show striking quite the same chord. If you want a nerdy sitcom that's smartly written, you have to check this one out.
10. Superstore (2015)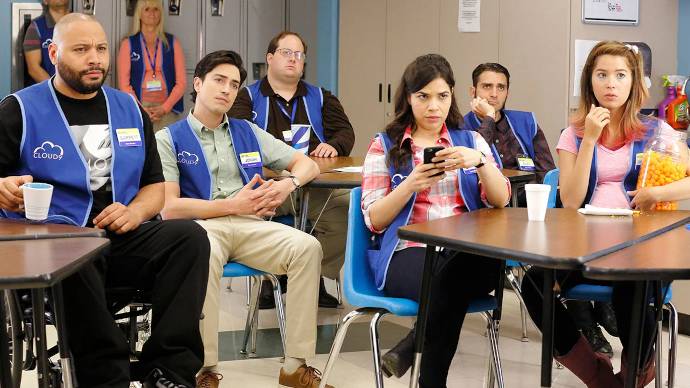 Superstore is criminally underrated. America Ferrera may be the biggest name on cast, but everyone pulls their weight in this sitcom about working in a big box store (e.g. Walmart or Target).
Most of the characters are supreme dorks, which is something I'm sure we all see in ourselves to some degree. Right? No? Just me?
9. 30 Rock (2006)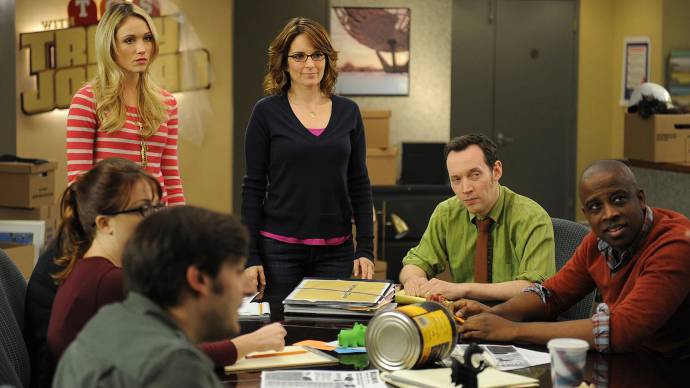 30 Rock is more of a geeky show than a nerdy one. It follows the day-to-day of Liz Lemon (played by Tina Fey), a writer for a comedy skit show who just can't quite keep her life together.
The cast is insanely talented—especially Alec Baldwin—and it's a hilarious look at what life as a TV writer might actually look like. No doubt, Tina Fey took inspiration from her own life and injected it into 30 Rock.
8. The IT Crowd (2006)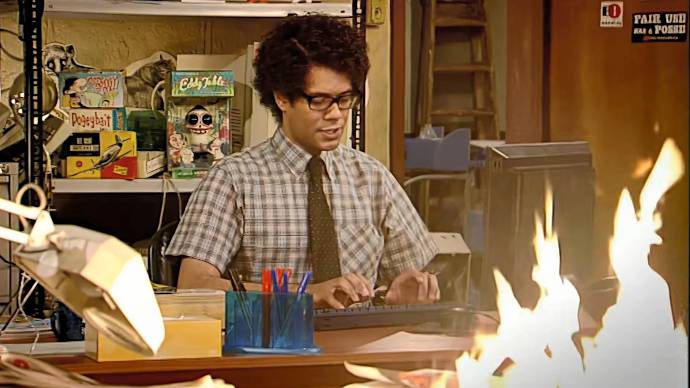 It's like The Office if it were way more absurd and had a smaller cast. Then again, it's not really like The Office at all, in that The IT Crowd really has a style and substance of its own.
Anyone who has ever worked in IT will be able to relate to most of the shenanigans that go on here, even if you've never worked in British IT.
7. Community (2009)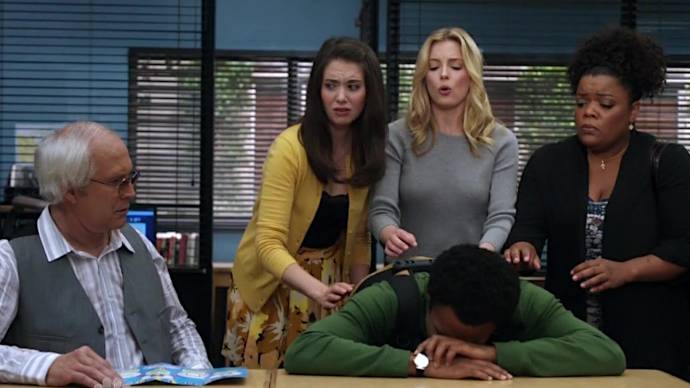 Community is a sitcom about a study group at a community college, and their adventures and struggles as they make their way through each year.
Abed is the nerdiest and geekiest character on the show, but everyone is goofy in their own way, and there's a lot to like about this cleverly written show (except for the fourth season, which was shaky due to internal conflict amongst writers and showrunners).
6. The Office (2005)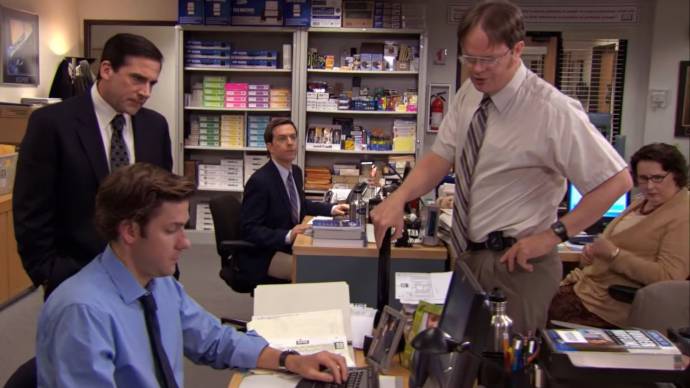 Is there anything more nerdy than working in an office? The Office sits comfortably high on our list of the best geeky TV shows of all time, if only because every nerd and geek can relate to the humdrum monotony of office work.
Of course, The Office is more than just a depiction of mundane work life, and it does get over-the-top in latter seasons. However, between the insane office antics and quirky interpersonal relationships, it's a lasting classic that'll remain memorable and funny for ages.
5. Futurama (1999)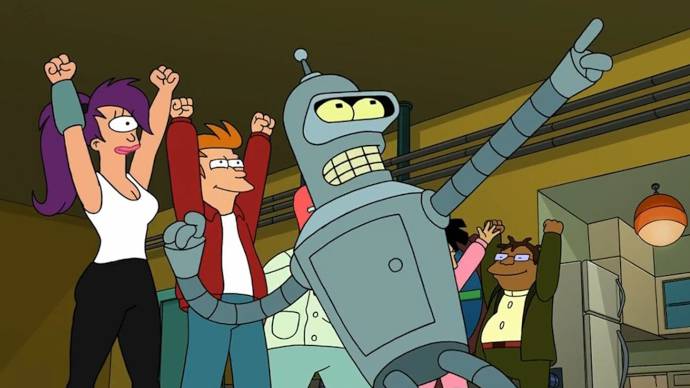 I previously highlighted Futurama as one of the best geeky TV shows to watch on Hulu, and that won't ever change. There's a ton of scientific rigor behind the scenes of this show!
Like Arrested Development, Futurama is extremely layered in its jokes, and you'll need to watch it multiple times to catch all of them. But whereas Arrested Development is more about family dysfunction, Futurama's jokes are super nerdy.
4. Scrubs (2001)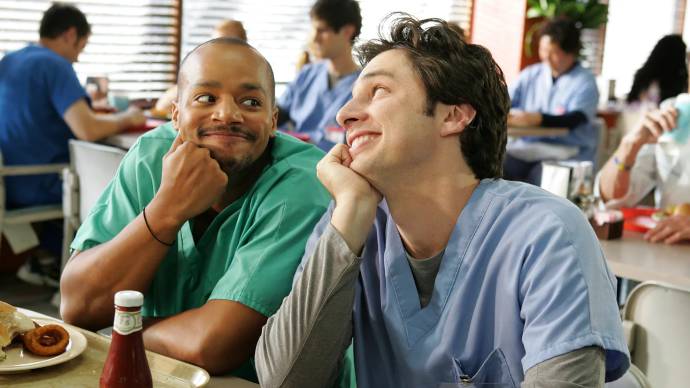 One of the best sitcoms ever made, Scrubs is about medical students making their way through medical school and life. But you don't have to be in the medical field to enjoy this one.
The characters are super goofy, the jokes are smart, and there's a powerful emotional undercurrent that pokes through every so often. It's one of the few sitcoms that have managed to make me cry, and I'm not ashamed to admit it.
3. Arrested Development (2003)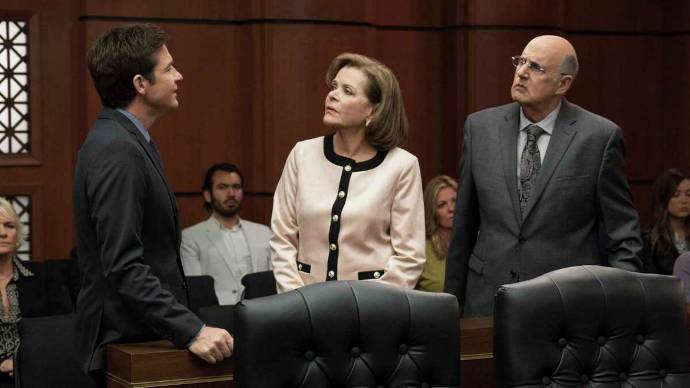 Arrested Development is one of the most classic examples of a clever sitcom about stupid people, unlike most sitcoms which are stupid jokes about stupid people.
Arrested Development is layered in so many ways, and it's the kind of show that rewards multiple rewatches with a keen eye. It's a thinking person's comedy series. Perfect for nerds!
2. The Good Place (2016)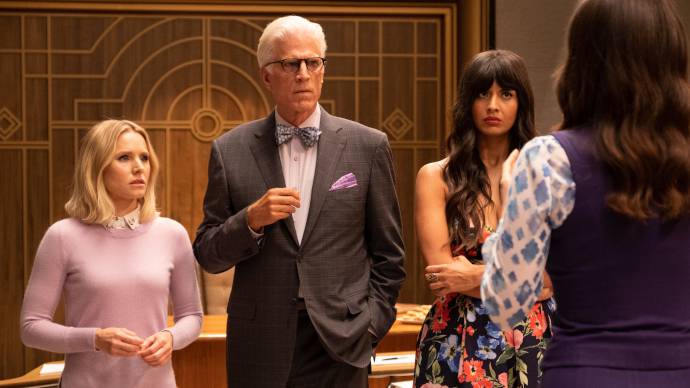 The Good Place is another hit sitcom from the acclaimed Michael Schur, who's one of the creative geniuses behind shows like The Office, Parks and Recreation, and Brooklyn Nine-Nine.
This particular show is about the afterlife—"the good place"—but things start to go awry when Eleanor Shellstrop (played by Kristen Bell) dies and arrives.
What's so nerdy about The Good Place? Well, one of the main characters is a grade-A nerd who loves philosophy, and he's frickin' hilarious.
1. Silicon Valley (2014)
Leave it to HBO to present one of the most true-to-reality depictions of modern nerdhood on television.
Sure, Silicon Valley exercises its own form of creative liberty at times, but the general premise—a group of techy nerds build and sell an app—is unlike anything you'll find elsewhere.
It's a must-watch for anyone who identifies as an entrepreneur or programmer, if only because the jokes are that much funnier if you are.