For my money, there's no cooler way to represent whatever you're into than with a pair of socks. Sure, you can wear a gaudy t-shirt with your favorite character on them, but for some people, that's a bit too in-your-face.
With a nice pair of socks, you can show the world what you're into, but feel free to style yourself however you see fit otherwise.
If you're a fan of horror, these are the socks you're going to want to have in your dresser, as they look badass and they'll let the whole world know that you're an absolute horror junkie.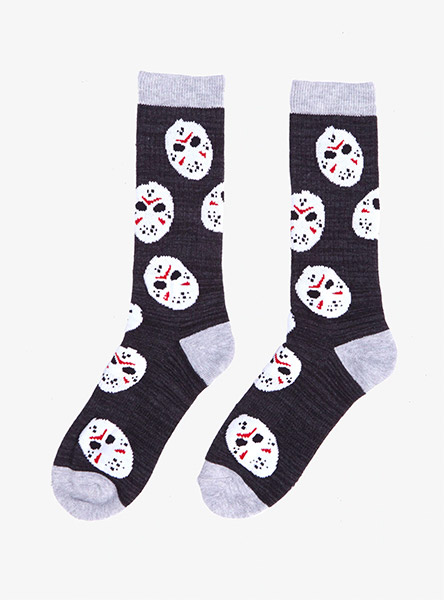 Jason is one of the most iconic horror movie villains. The ax-wielding maniac is easily recognizable by his goalie mask, and this pair of socks has a stylized version of his face plastered all over. It's a simple design, but it's quite cool.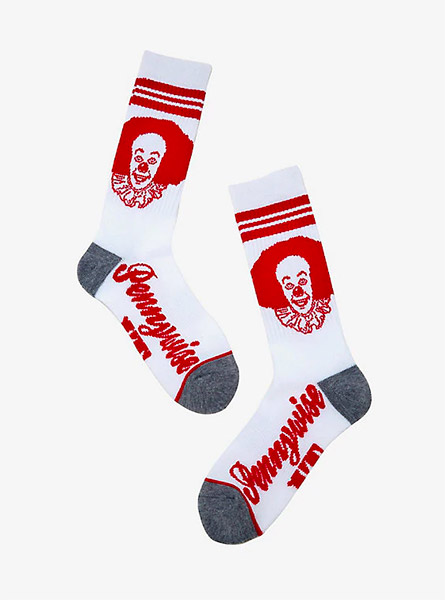 If you like the old-school version of Pennywise, these socks are what you want. They feature a stylized version of Pennywise's face at the top of the sock and his name written on the foot. Even if you prefer the new IT movies, you can still rock this awesome pair of socks to show you love for the franchise as a whole.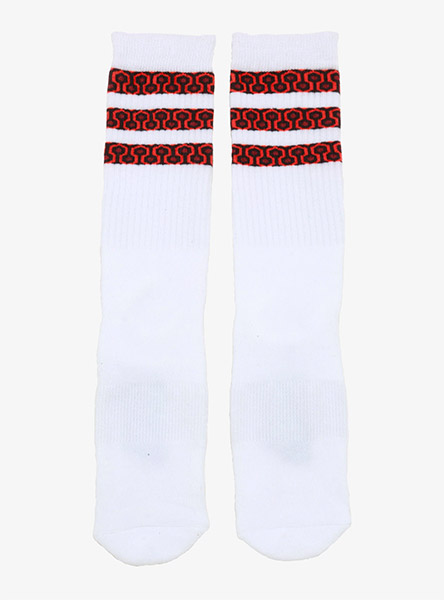 I love the simplicity of this pair of socks. Rather than have a giant portrait of a character or even a logo, there's just a simple design that fans of The Shining will be able to recognize. For anyone unfamiliar with the ins and ours of the beloved movie, they're just a nice-looking pair of socks.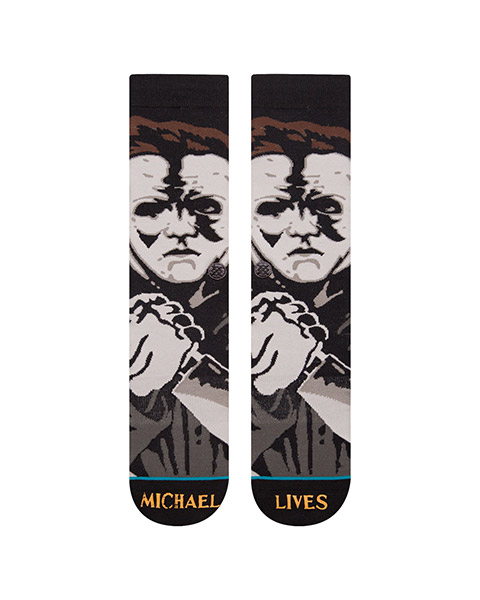 Michael Myers is known for two things—his mask and a butcher knife. This cool pair of socks has both covered. The art on the sock is quite cool, and it isn't just a standard picture of the iconic serial killer. If you rock a pair of these, all of your horror fan friends will be jealous!
Captain Spaulding might be one of the most sadistic characters ever to make his way on the big screen. Unfortunately, Sid Haig, the actor who played the killer clown, passed away recently.
If you fondly remember Spaulding from House of 1000 Corpses, The Devil's Rejects, and his brief appearing in 3 From Hell, these socks are perfect for you.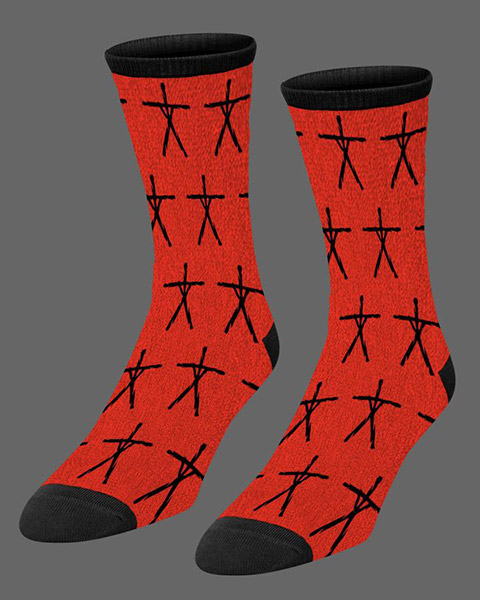 In terms of looks, these might be my favorite horror socks out there. They feature the simple cross from the Blair Witch film all over with a nice looking red and black color scheme. These are the kinds of socks that'll draw attention (assuming you choose to show them off), and that's always a good thing!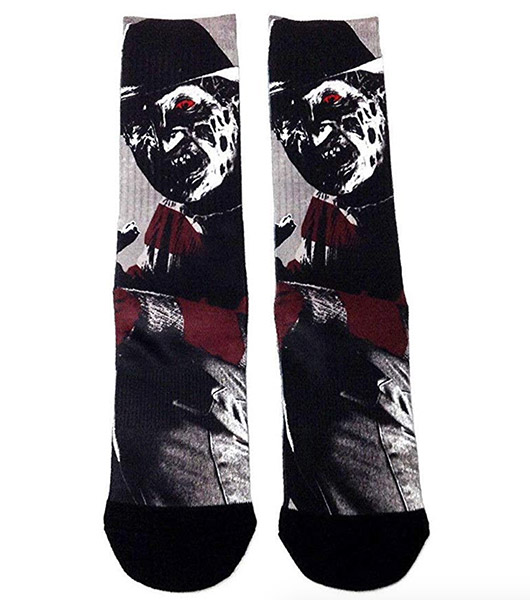 In terms of detail, these might be the busiest horror socks on the internet. Freddy Krueger is shown is all over these socks in his iconic sweater. All the red on the socks is emphasized, which gives them an interesting look and feel. They're almost too nice looking to wear. Almost.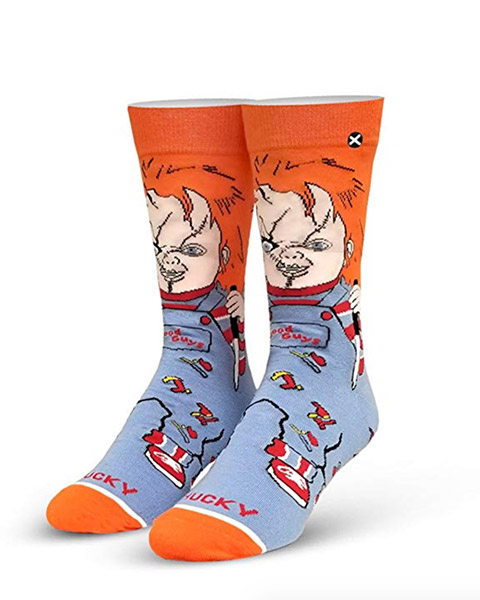 Chucky is one of those horror characters that makes you feel rather uneasy. There's just something about the idea of a doll that comes alive to murder people that hits you hard. If you're a fan of the sick little doll and his murderous ways, these are the perfect pair of socks for you.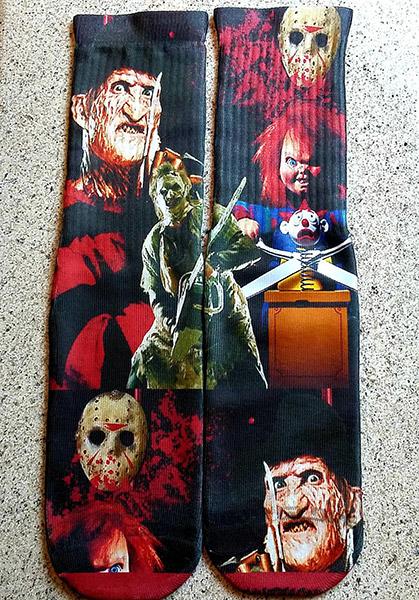 There are so many awesome horror characters out there, that choosing a pair of socks with just one can be difficult. Thankfully, you can snag this pair from Etsy with Jason, Chucky, Freddy, and Leatherface on them. Why choose when you can represent a bunch of the greats on one sock.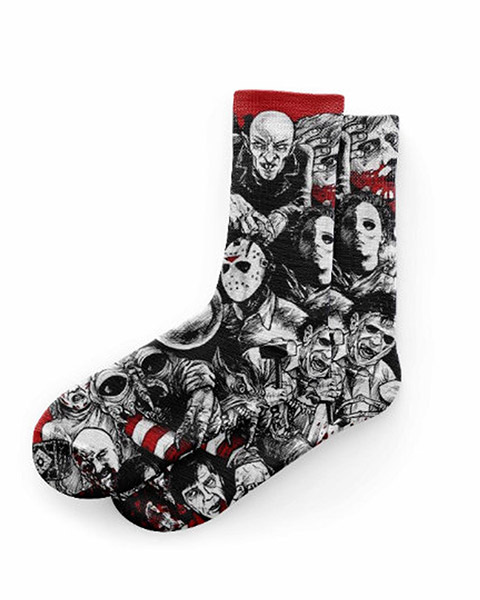 While the last pair features a bunch of photos of the killers and horror icons, this is much more stylized. This pair also features a wider mix of characters from older movies such as Nosferatu. There's also Leatherface, Michael Myers, and plenty of other horror icons represented.