Do you have a bookcase filled with nerdy books, comics, or even DVDs and Blu-rays? Few things are more satisfying than an organized, decked-out shelf that's prim and proper.
Yet while shelves full of geeky media can be dripping with nerdiness, they aren't complete until you cap them off with bookends.
Bookends aren't just for practicality. Sure, they're certainly helpful for keeping your books and media upright, but they're also a great way to express your personality and tastes. When guests come over, bookends can be great as conversation starters, too.
Here are some of the coolest geeky bookends out there, which are perfect for showing off who you are in style.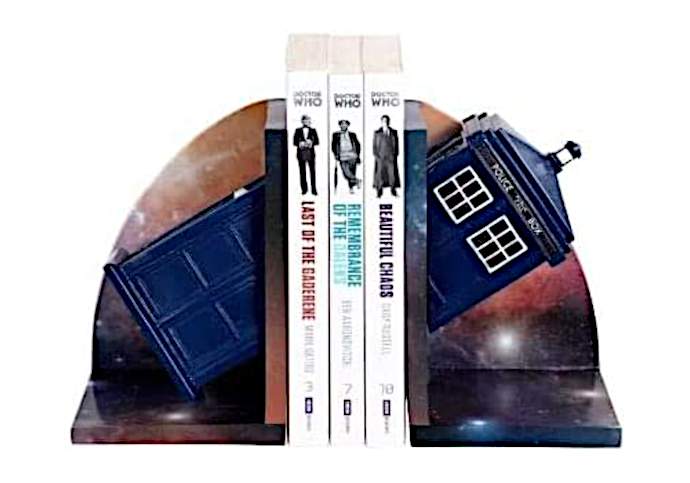 If you're a Doctor Who fan but you aren't holding your books in place with an awesome pair of Tardis bookends, can you really call yourself a fan? ... Of course you can! But this is definitely a step up.
This resin-cast set of bookends puts your books smack in the middle of the Tardis as it vworps through space. The set is officially licensed and each piece measured 6 inches tall by 4 inches wide.
If you need a thematic book to hold up, you can also snag yourself Doctor Who: A Brief History of Time Lords.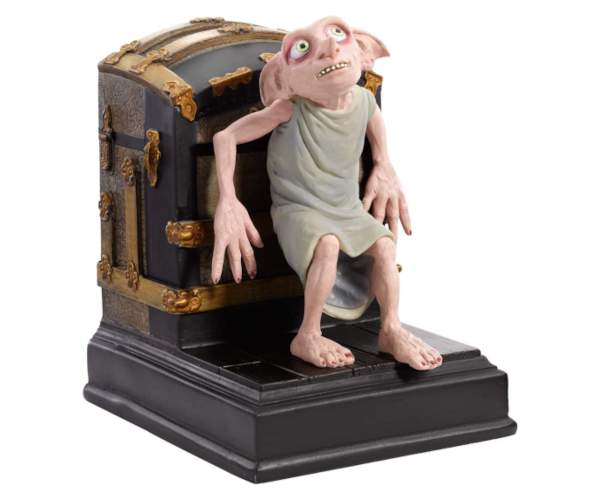 Harry Potter fans, rejoice! This adorable bookend featuring Dobby is cast from resin, officially licensed, painted by hand, and quite a bit sturdier than most typical bookends.
It stands at 7.5 inches tall by 5 inches wide, large enough to hold up any book collection. If Dobby was one of your favorite characters in the series, this decorative bookend is a top option.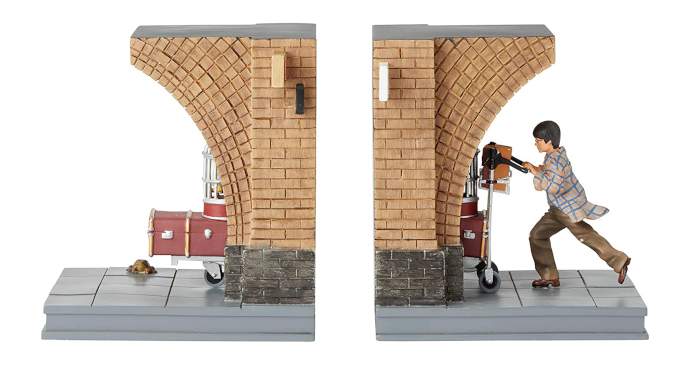 These Harry Potter bookends are the perfect way to encapsulate your entire Harry Potter book series displayed on a shelf, symbolizing the magical world that awaits within.
It's a complete two-piece set that's made of real stone and painted by hand, measuring 7 inches tall and 6.5 inches wide each. For the true Harry Potter fan, no other bookend comes close.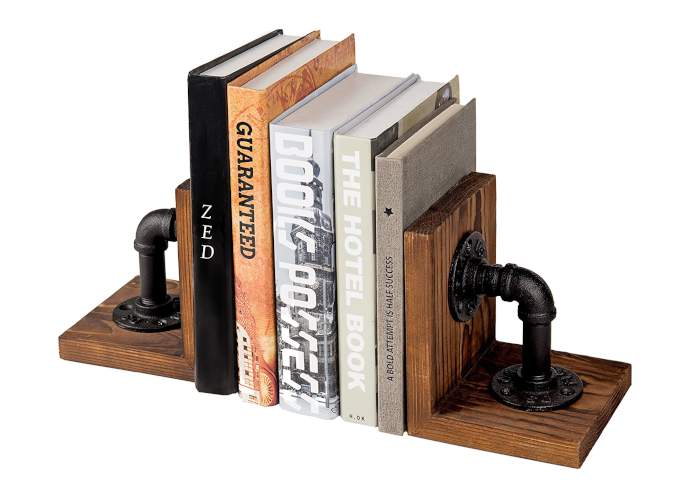 If you're into the steampunk aesthetic, this is the perfect bookend to have on your shelf. The rustic wood and industrial pipes have an antique feel that looks good on any bookshelf, especially if the bookshelf itself is made of wood.
The steampunk style may not be the most popular subgenre amongst fantasy and sci-fi geeks, but that's a point in your favor—your bookshelves will really stand out in a great way!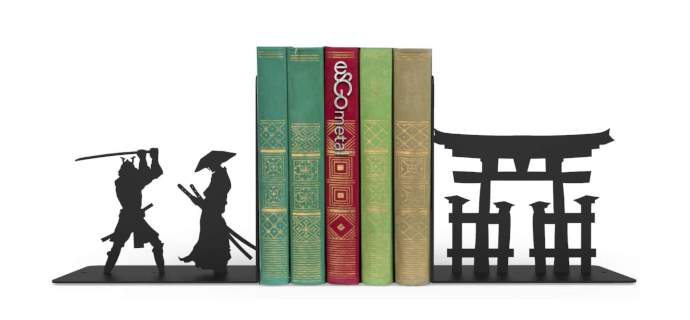 If you have a shelf of anime DVDs or manga volumes, then this Japanese-themed set of bookends is a great way to complete the look—especially if you don't want to spend much.
The metal construction is powder-coated for rust protection, and it comes with anti-slip rubber pads for extra sturdiness. Each end piece in this two-piece set stands at 7 inches tall by 7 inches wide.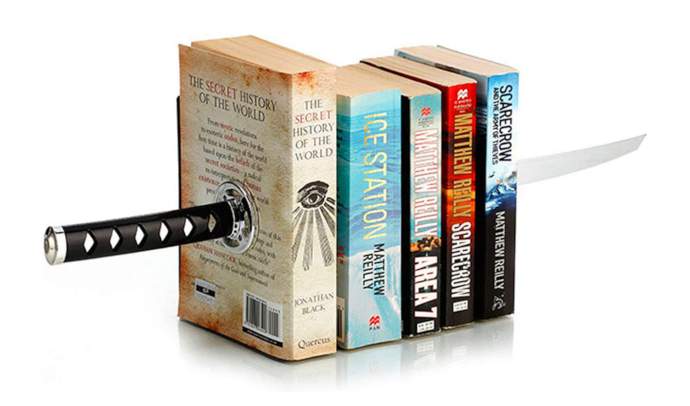 If you've ever wanted to hang a katana blade on your wall but could never quite pull the trigger, then this two-piece set of katana bookends is the next best thing. Using magnets, the handle and the blade are positioned to look like a real sword piercing your collection.
Both the handle and the blade are 6 inches long. Note that the blade is plastic and blunt, so there's no risk of a slicing injury.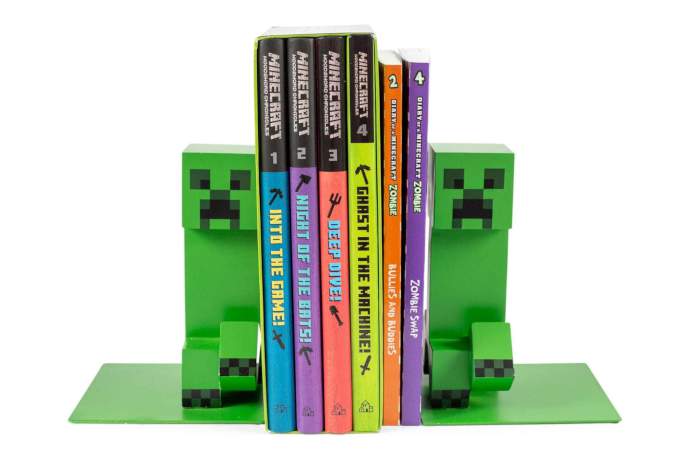 Minecraft might be the last thing you think of when it comes to books and shelves, and you probably don't even have any Minecraft-themed books, but what does any of that matter? The Creeper is iconic and it'll make your shelves stand out like no other.
This bookend is also great as a gift for geeky kids who love Minecraft but also read a lot. Seeing the Creepers may inspire them to read more often, all while injecting personality into their shelves.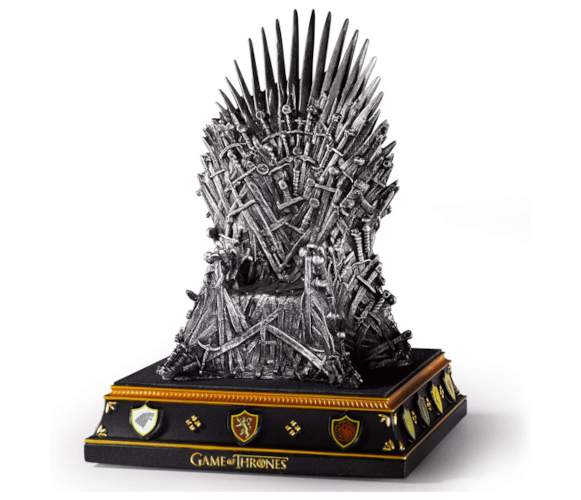 This is one of my favorite bookends on the internet just because of how elaborate it is. There's so much detail in all the different swords that make up the Iron Throne, plus the House symbols on the base.
Officially licensed by HBO, this resin-cast bookend is hand-painted to perfection. Honestly, you don't even need to use it as a bookend—it's beautiful enough to stand alone as a decorative art piece.
With a height of 7.5 inches and a base that's 5.5 inches square, it's large enough and sturdy enough to hold up your entire A Song of Ice and Fire book series plus any companion novels.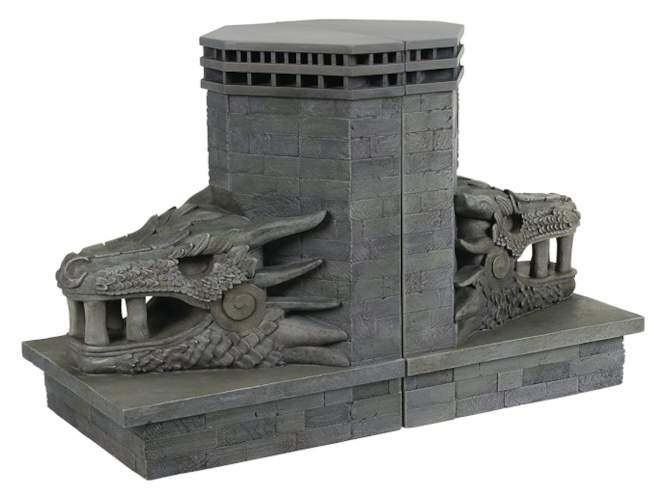 These dragon heads guarded the entrance to Dragonstone in Game of Thrones, and they can guard your bookshelf as well. With the recent acclaim for House of the Dragon, Dragonstone has never been more popular—and these bookends have never been more relevant.
Sculpted and painted by hand to match the exact dragon heads from the TV series, each resin-cast end piece in this two-piece set stands 7.5 inches tall by 7 inches wide.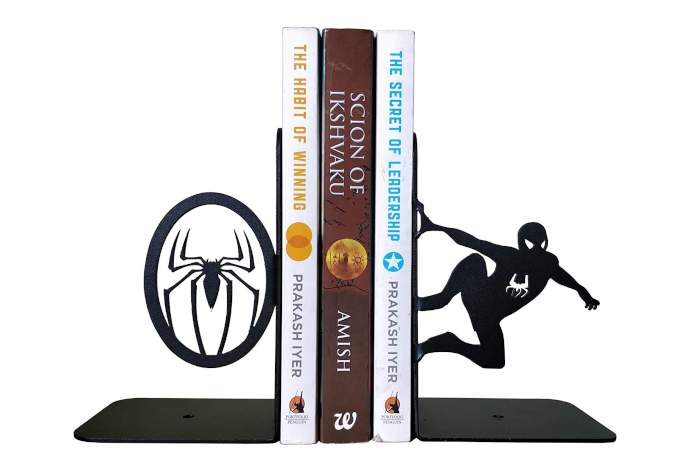 This two-piece set of Spider-Man bookends is all about style. On the one end, you have the Spider-Man emblem; on the other end, Spider-Man himself hangs off of your books like a badass.
These metal bookends are heavy and sturdy, with non-skid feet prevent them from sliding around. Each end piece stands at 6 inches tall by 4 inches wide.
If you have a sizable Spider-Man collection—whether comics, DVDs, or even video games—then this is perfect for that.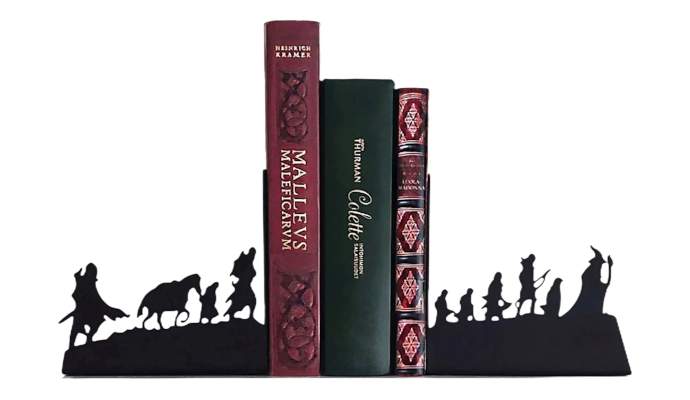 This two-piece set of Lord of the Rings bookends—crafted of heavy carbon steel and larger than other Lord of the Rings-themed bookends—is stylish, poetic, and beautiful as the Fellowship symbolically travels through your fantasy novel collection.
Each end piece stands 6.5 inches tall by 4.5 inches wide. What better way to bookend any vast fantasy novel collection than with bookends inspired by the greatest fantasy trilogy of all time?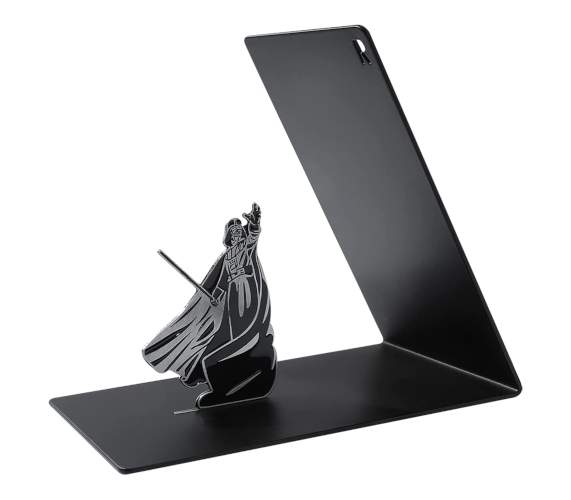 There's a simplicity to this Star Wars bookend that really makes it stand out versus most other bookends. Using the Force, Darth Vader keeps the books from toppling over. It's just so perfect.
Made of stainless steel with a black coating, this metallic bookend stands just over 6 inches tall and 4 inches wide. And unlike most bookends, you only need one of these!
Don't like Darth Vader? There are alternative character options, including Master Yoda, Tanjiro & Nezuko (from the Demon Slayer anime series), and the Hogwarts Crest.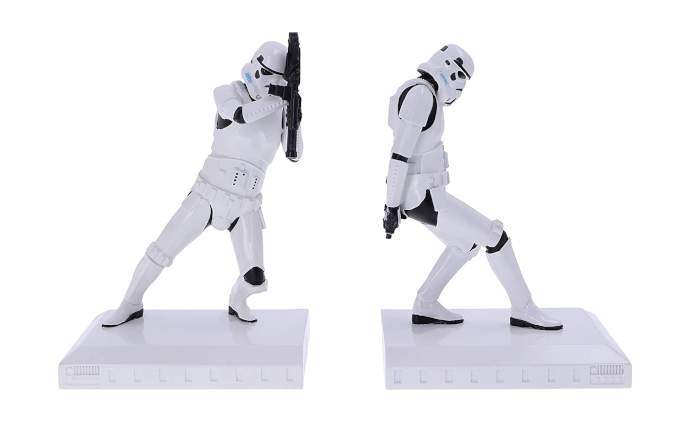 This pair of Star Wars stormtroopers are my favorite geeky bookends of all the ones I've seen. Unlike most bookends, which are dark or black, these are starkly white and stand out.
More importantly, the two stormtroopers have dynamic stances that are really cool, as if they're working together to keep your massive collection of books upright and proper.
Officially licensed by Disney, cast from resin, painted by hand, weighted for stability, with each piece standing over 7 inches tall, this two-piece set is the ultimate bookend for Star Wars fans.