There isn't much point in buying brand new books.
Not only are they expensive, but you're bound to stretch the spine, spill coffee on the pages, and bend the cover. Do you really need to spend money on new books that risk being ruined?
Plus, used books have a lot more character. Their pages may be brown and crinkled, but you can still read the words perfectly fine.
The next time you're looking to buy a book, try to find a copy on one of these awesome used books sites instead. You'll be saving money and finding a home for a neglected book!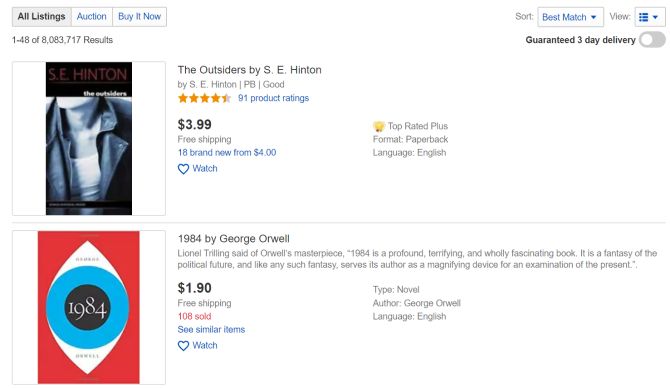 eBay is a hub for used books, boasting millions of novels, biographies, nonfiction books, manga, comic books, and more.
Sellers typically describe the condition of the book, so you won't have any surprises (like missing pages or a torn cover).
Since anyone can become a seller on eBay, the listings can be very unpredictable. You just might come across a rare book or manga at the cheapest price you've seen.
Plus, the option to bid makes shopping for books on eBay even more exciting.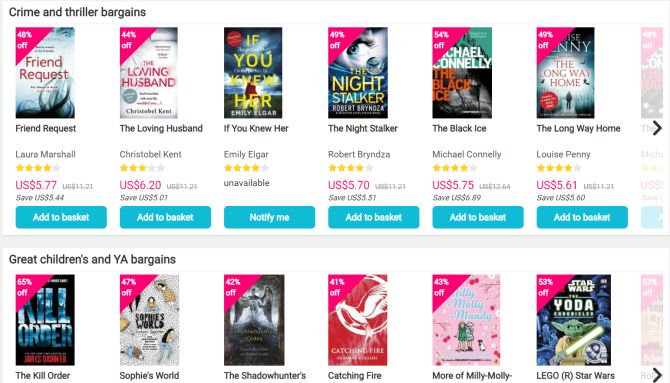 In 2004, a former Amazon employee founded Book Depository, and the company was later acquired by Amazon in 2011.
This UK-based company technically doesn't have used books, but it still sells new books at reasonable prices.
Book Depository takes a small percentage off the price of almost every book, new and old. That means you can buy a new release at an even lower price than anywhere else.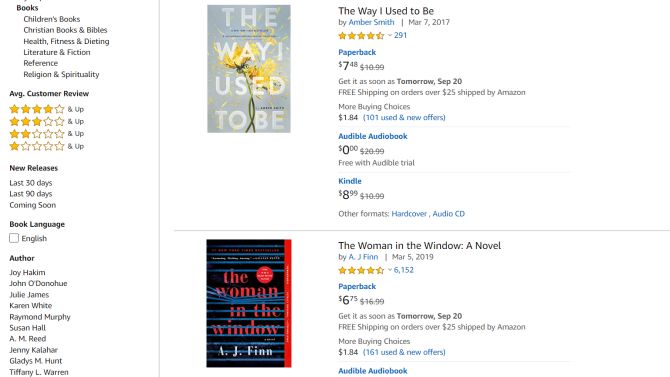 You can find any type of book on Amazon, and even the most uncommon book usually has several copies in stock.
This massive marketplace is a fantastic place to buy used books for college classes, or just for leisure.
Some sellers price their books at the rock-bottom price of one cent (but you have to pay for shipping, of course).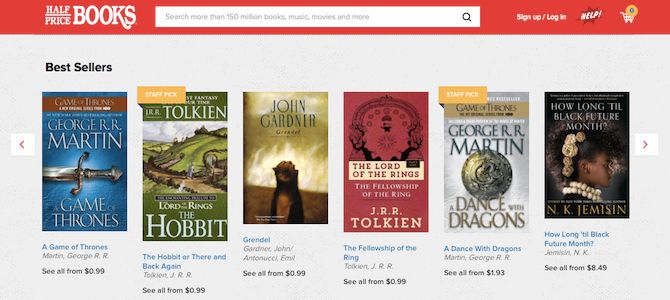 You can find great deals on Half Price Books, with some books priced as low as 99 cents.
If you head to the Books dropdown menu, you'll see a category titled Superbuys—this lets you filter books that are $5 or less. You can also find a range of rare first editions and signed copies.
Half Price Books is also a great resource for students.
It has an array of used textbooks for middle school, high school, and college students. Students won't have to spend hundreds of dollars on textbooks at the beginning of the school year.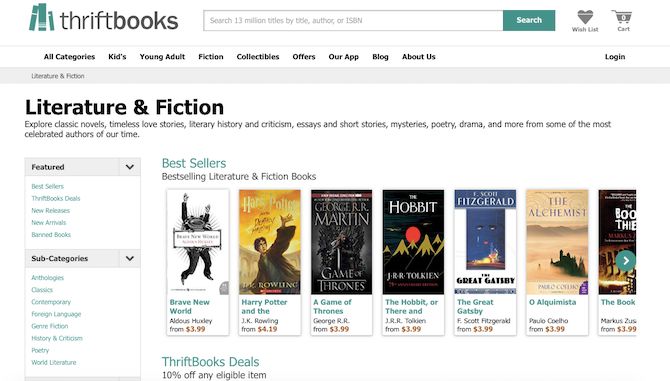 Thrift Books has a collection of over 13 million used books. You can find almost any book on this site, including comics and manga.
If you're interested in a book, you can choose its condition—the books in the best shape are the most expensive, while the ones in the "acceptable" category are the cheapest.
No matter which condition you choose, you'll still get a huge discount off of the original price.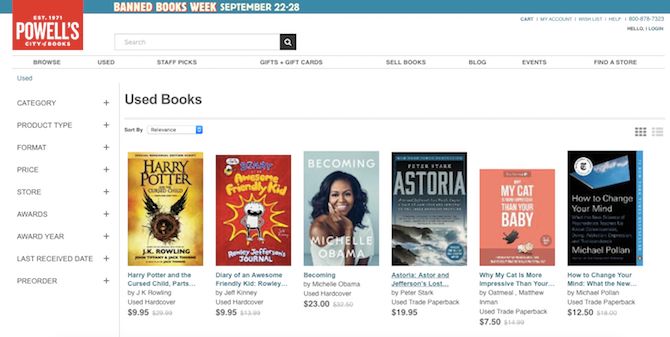 Powell's began as Portland-based book store back in 1971, and it has since expanded its reach to the internet. While it does have a variety of new books, it also has plenty of used books for you to choose from.
Many used titles are books that have been published within the past five years. You can find popular books like Marie Kondo's The Life-Changing Magic of Tidying Up, as well as Rupi Kaur's Milk and Honey.
All of these newer used books are sold for a discounted price—they're not dirt cheap, but it's still better than paying full price.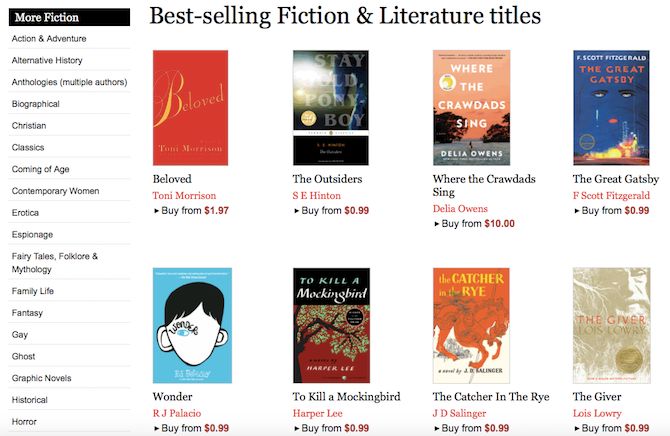 Alibris has the perfect balance of new and old books. The site houses everything from recently published books, the classics, children's books, textbooks, and best-selling fiction novels.
With 175 million books in its inventory, it's almost impossible not to find what you're looking for.
Don't forget to check out the Bargains section to browse 99-cent books! And if you're not in the mood for reading, Alibris also sells used movies and music.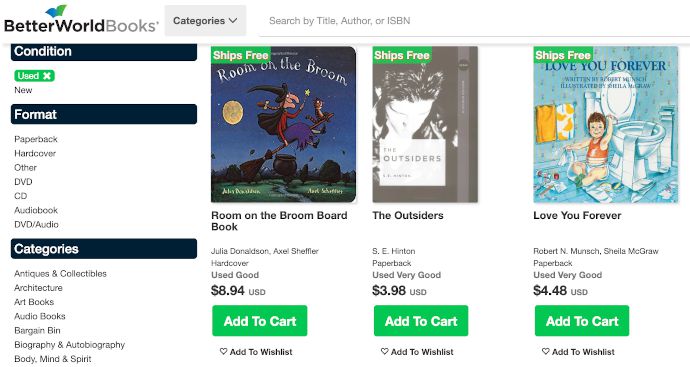 At a time where every company seems to be chasing profits, Better World Books stands out as a books retailer that lives by its values: striving to make positive changes in the world, through and beyond their business.
The company is involved in book donations, volunteer projects, literacy grants, sustainability, and more.
Every book you purchase at Better World Books helps fund their mission, whether that book is new or used. And the prices are pretty good! Check out their Used Books and Bargain Bin sections.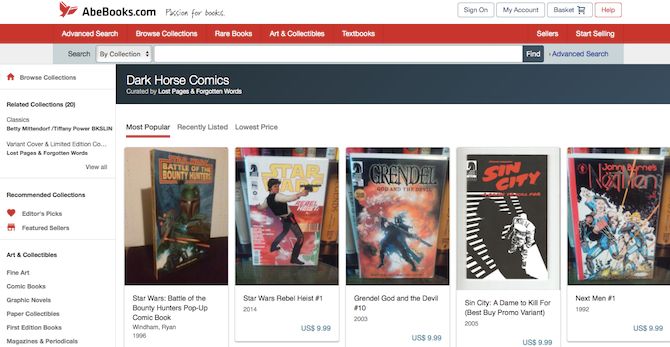 With AbeBooks, you can browse through millions of books sold by independent sellers—it's basically an eBay for book-lovers. Each seller posts a detailed description of the book, and you'll always know where your books are shipping from.
Abebooks also lets you discover new books by searching through its diverse collections. One seller might have a collection of books called "Legendary Authors," while another might put together a series of comics and graphic novels.
Better yet, some of these books sell for as low as just $1!
Give an Old Book a New Home
Skip the trip to your local Barnes & Noble. Instead of purchasing a book new, browse books at a nearby thrift shop or use one of these sites to find a used book.
Not sure what you want to read next? We have tips to help you find more books you'll love reading: