Audiobooks are fantastic, whether you're a fan of reading paper books, reading ebooks, or even if you don't like reading.
They can make boring everyday activities more enjoyable by providing a narrative while you clean, exercise, etc. And when it comes to where to buy your audiobooks, you've got more options than ever before.
Whether you listen on your iPhone or an old MP3 player or just your desktop PC, here are the best sites for buying audiobooks.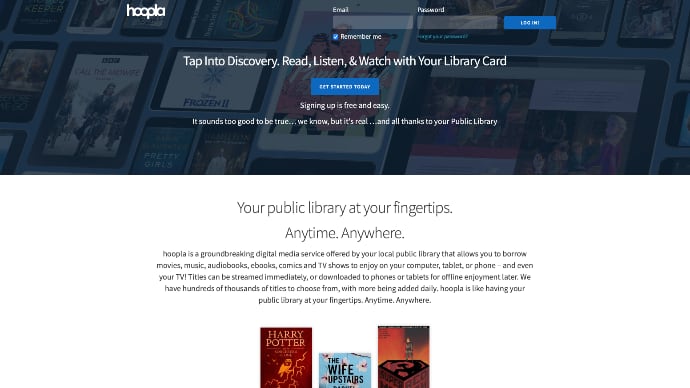 If you've got a library card but would rather spend more time listening to books than reading them with your eyes, Hoopla is perfect for you.
This site works in tandem with your local library to give you access to not just audiobooks and ebooks, but music, movies, comics, and TV shows too.
You can visit Hoopla on the web or use its apps, which are available for iOS, Android, Kindle devices, and even Chromecast.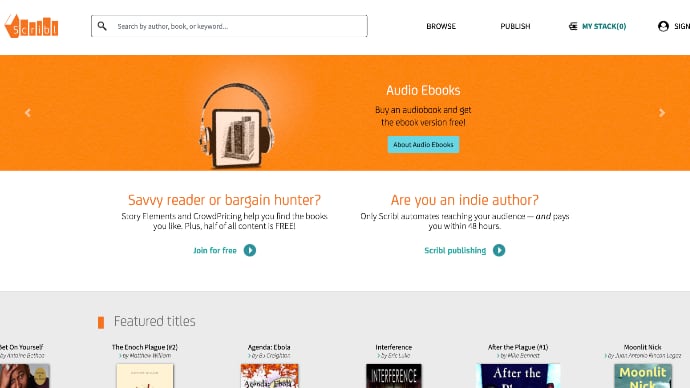 Podiobooks used to be a great source for free or pay what you want ebooks, usually read by the author. That site is no longer around because it's now part of a larger site: Scribl.
Scribl offers more than just audiobooks, with a treasure trove of both fiction and non-fiction ebooks available.
Scribl uses a unique pricing system called CrowdPricing, which prices books based on popularity in its genre. And when you buy audiobooks, you get the ebook version for FREE.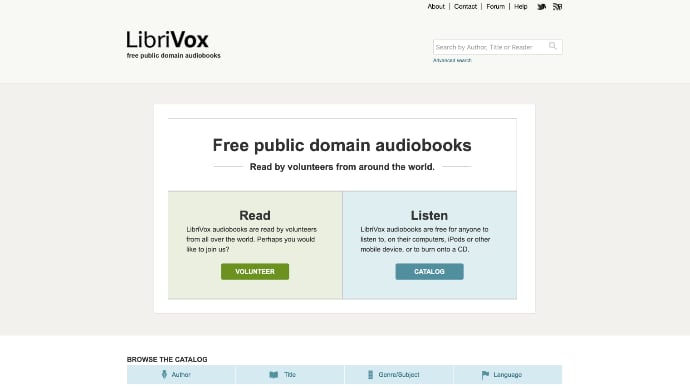 If you're not familiar, Project Gutenberg is a website with a library of over 60,000 free ebooks, most of which have expired copyrights. LibriVox is a similar idea, but for audiobooks.
LibriVox audiobooks are narrated by volunteers who record readings of public domain books, many of which are also available on Project Gutenberg in ebook form.
At the time of this writing, the site serves up nearly 15,000 audiobooks, and that number is growing all the time.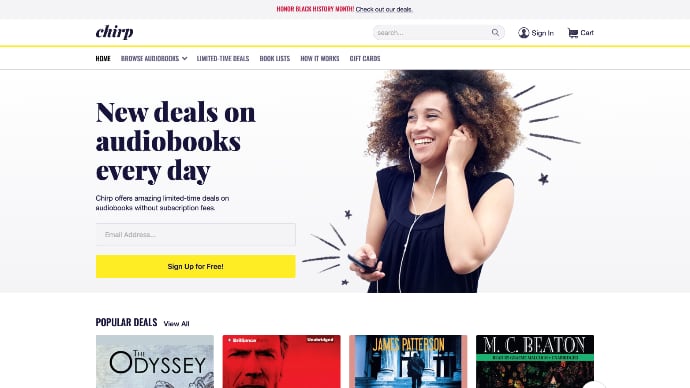 If you don't want to pay a monthly fee but still want to save a ton on audiobooks, Chirp is worth checking out.
In addition to being membership-free, and in addition to its audiobooks being reasonably priced, there's one big benefit that makes it worth checking out:
Every day, Chirp marks certain audiobooks down to ridiculously cheap prices. If you're patient and love scoring good deals, this is an online audiobook store worth visiting every day.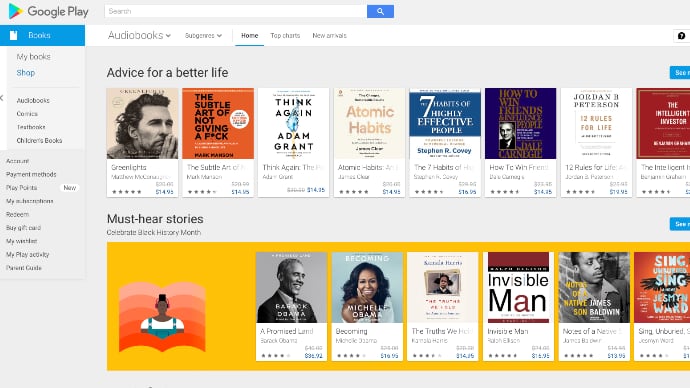 You can apply almost everything about iTunes audiobooks to Google Audiobooks, except it's for Android devices.
If you're an Android owner, this may be one of the best alternatives to Audible for audiobooks, especially if you want to listen on a Chromebook (for example) along with your Android.
But there's one thing to be wary of: Google's fondness for killing off services means Google Audiobooks may one day face the axe. Then again, seeing as how Google recently migrated Google Music customers over, there's a good chance it'll keep going.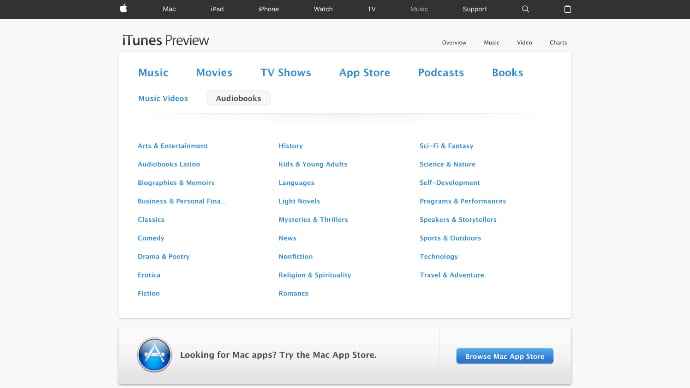 Apple has been selling books via iTunes for years, but many people aren't aware that the company also sells audiobooks.
The iTunes audiobook library is fairly extensive too, meaning you have a pretty good chance of finding what you're looking for.
Obviously, iTunes isn't the ideal method for you if you don't own an iPhone, iPad, or iPod—but if you do, this may be the easiest way to listen to audiobooks and take them with you wherever.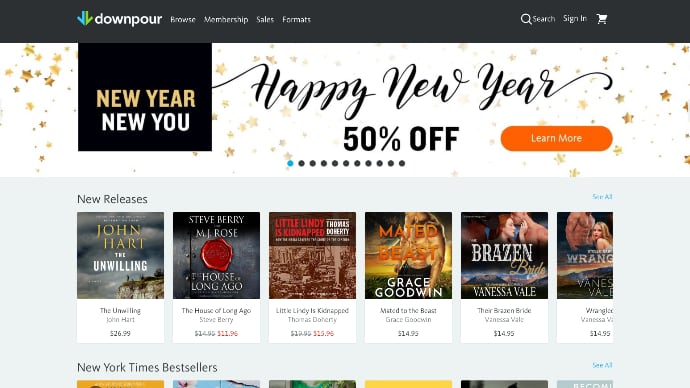 In many ways, Downpour is similar to what Audible used to be before it became the "all you can read" Audible Plus service.
With Downpour, you pay $12.99 per month for a subscription that gets you one credit every month, and that credit is good to buy almost any audiobook on the site. (Some cost more than one credit.)
Downpour offers one big benefit over most other audiobook retailers, which may be enough to earn your business:
Whereas Audible books only play in the Audible app or certain authorized devices, Downpour's books are DRM-free so you can listen to them on ANY device that plays MP3 files.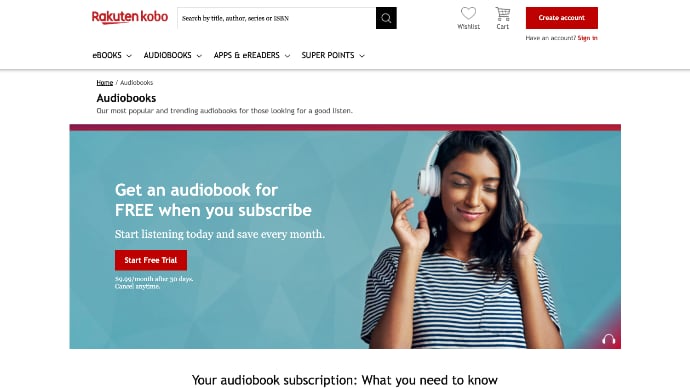 Kobo is one of the more affordable subscription-based audiobook services at $9.99 per month. The service also sells every book in its catalog for one credit, so you don't need to worry about saving credits for a particularly long or expensive book.
Unlike Amazon's confusing approach (ebooks are kept in the Kindle app while audiobooks are in the Audible app), Kobo ebooks and Kobo audiobooks are both kept in the Kobo app, making it easier to manage and organize everything.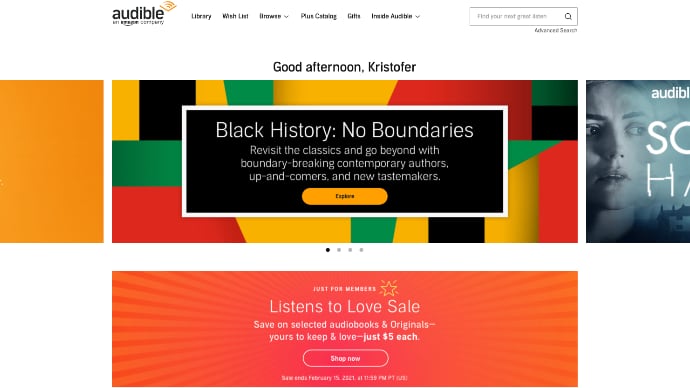 If you know what audiobooks are, you've probably heard of Audible. This revolutionary service (that was acquired by Amazon) is the premier online retailer for audiobooks.
You can buy individual audiobooks on Audible whenever you want, but there's also the Audible Plus subscription plan that costs $7.95 per month and grants unlimited access to thousands of audiobooks and podcasts you can listen to at any time.
You can even take it one step further with Audible Premium Plus, which costs $14.95 per month and grants 1 free audiobook from Audible's premium catalog every month on top of the Audible Plus benefits.
You'll have a tough time finding a service that has the same massive library available on Audible.
Free Trial Offer
Did you know you can try Audible Plus for FREE for 30 days? Instant access to thousands of audiobooks, podcasts, audio dramas, and Audible Originals.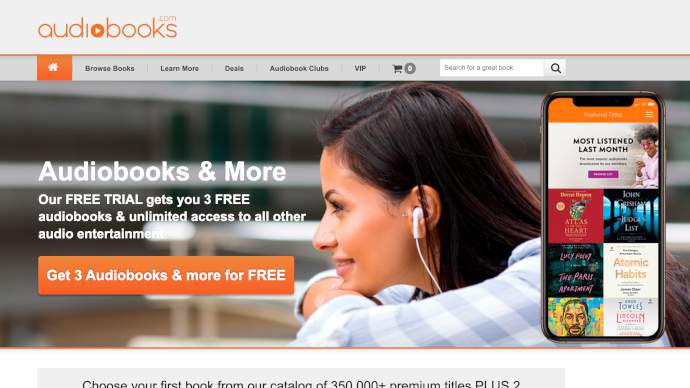 Just above Audible sits Audiobooks.com as our favorite site to buy audiobooks. Why? Because the value is just insane.
The subscription pricing is pretty standard at $14.95 per month, but you get TWO books every month: 1 from the Premium selection and 1 from the VIP selection. You also get access to various discounts that are always running, such as audiobooks for $2.99 or two-for-one deals.
You also gain unlimited access to a bunch of other forms of audio entertainment while you're subscribed, including audio news, audio magazines, sleep and meditation content, podcasts, and more.
Audiobooks.com offers the most generous signup incentive for prospective audiobook listeners: the free trial lasts 30 days and grants 1 Premium book plus 2 VIP books that are yours forever.
Free Trial Deal
Sign up for a 30-day free trial of Audiobooks.com and you'll get to pick THREE audiobooks to keep forever. No strings attached.