While Dungeons & Dragons is technically a game that can be played with just your imagination and a cheap set of dice, there are tons of extras you can spend lots of money on if you want to.
One of those extras is fancy dice. Sure, you can go on Amazon and a bunch of dice for a few bucks, but why do that when you can spend upwards of $500 on a set of really amazing dice.
If you want to get your hands on some of these incredibly fancy sets of dice, you need to know where to look. We've found all of the best dice websites where you can get the good stuff!
What Makes for Good Dice?
Basically, when choosing a set of dice, you'll want to look for two things: fairness and accuracy.
You want the dice to have a perfect center of gravity and you want all of the sides to be equal. If either of these is off, you won't get the random rolls you want, which will hurt your experience.
When you're looking at high-end dice, you also want to make sure they come from a reputable company that uses the material they claim to use.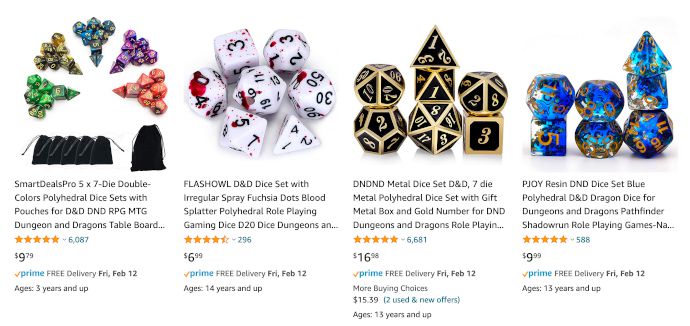 You really can't talk about shopping without mentioning Amazon. While Amazon certainly isn't a specialty dice retailer, the retail giant does have tons of dice for sale from a wide range of third-party sellers.
The problem with buying on Amazon is that you don't get the reputation that some of the other brands offer, but you get the benefits of Prime and other Amazon benefits.
It's a bit of tradeoff, but if you read reviews you'll be able to find high-end dice that are well balanced for D&D play.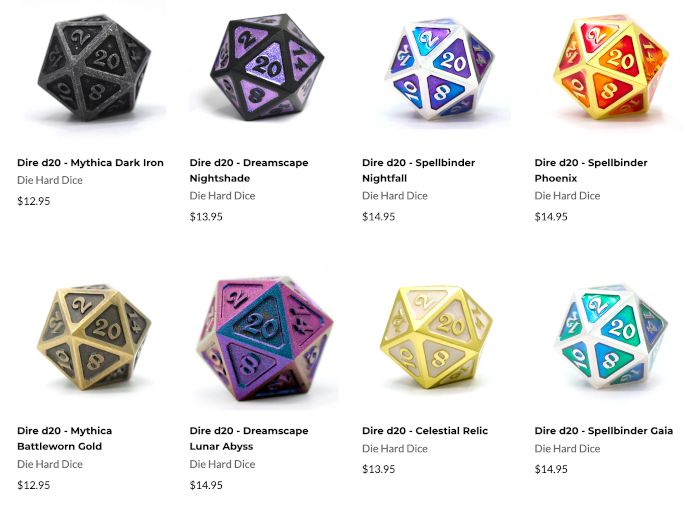 Die Hard Dice sells some of the coolest dice you'll find anywhere on the internet.
Personally, I'm in love with the Mythica Dark Iron dice for $50, but they have all kinds of other options to choose from. Outside of the expensive metal dice, they also have plenty of polymer options to choose from that won't hit your bank account nearly as hard.

SkullSplitter Dice offers a massive variety at a wide range of price points. Not only do they offer premium metal dice with nice cases, but they also have bulk dice and blind bags that won't cost too much.
Basically, if there's something you need related to RPG dice, then SkullSplitter Dice has what you're looking for.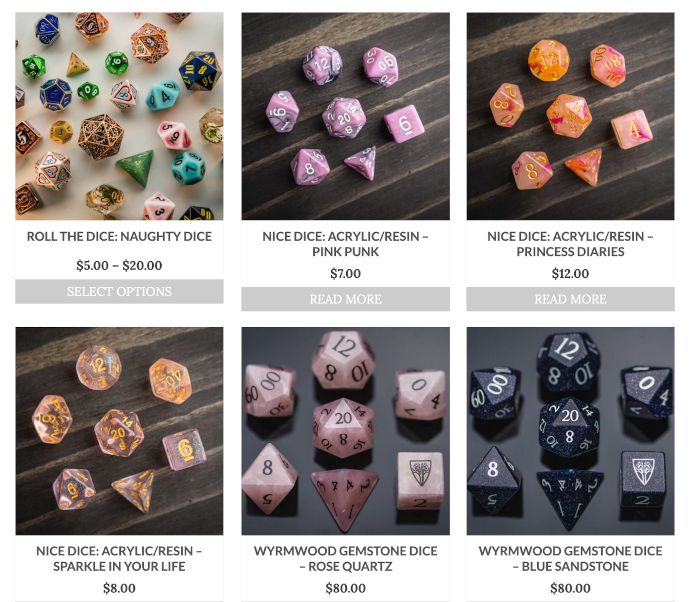 Wyrmwood is actually known for its work on wooden products like dice trays, towers, and even tables. But the company also has some incredible dice available in a variety of materials.
And they're actually quite cheap, starting at $14 and going up to $95. If you're looking for a set of dice that comes from a company with a solid reputation, Wyrmwood is a great option.
Norse Foundry is another name that's synonymous with high-quality tabletop products, and dice one of its main offerings.
Norse Foundry also offers a set of dice in tungsten, and the company also has much more budget-friendly dice in the $25 price range. You can even get a gorgeous set of bronze dice for only $35, which is quite cheap.
Level Up Dice makes some of the most incredible dice on the market. Even if you don't want to spend hundreds of dollars on a set of dice, they make some high-quality dice in materials like Onyx for less than $100.
Of course, if you want to go all-in, you can get some tungsten dice for over $600. But that's reserved for true ballers.
Forged Dice is all about making metal dice with high-quality materials. They offer metal dice in tons of different colors, so whatever kind of character you're looking to make, you can find a set of dice that is thematically accurate for them.
In addition to the dice, the sets come with a metal storage case, which is pretty solid. Most sets are around $30, which is a solid price for metal dice.