While tabletop RPGs like Dungeons & Dragons can technically be played with just your imagination and a cheap set of dice, the experience can be so much better with a few personal upgrades.
And one of the best upgrades is premium dice!
High-quality dice sets are obviously luxury purchases. They're going to cost you more than a basic set of mass-produced dice from the dollar store. However, if you're developing a serious taste for tabletop gaming, the benefits of premium dice are well worth it.
Read on to learn more about why premium dice are great, what you should look for, and where to buy your dice.
The Benefits of Premium Dice
The world of high-quality dice is chock-full of options at various price points. Why do people spend so much on premium dice?
Premium dice are made with high-quality materials. Whereas cheap dice are made with acrylic or resin, premium dice are crafted from a range of luxurious materials, including metal, wood, glass, and even real gemstones like opal and quartz.
Premium dice feel better in hand. Because they're made from better materials, premium dice have more tactile heft to them—and heavier things feel better because they're more substantial.
Premium dice are fairer and more balanced. Mass-produced plastic dice don't go through rigorous quality assurance. When a die isn't balanced properly, certain faces will roll more often than others. That's not what you want when your character's actions hinge on dice rolls!
Premium dice allow you to express yourself. High-quality dice are available in all kinds of colors, designs, and patterns. Want neon-bright colors for each die? Or maybe a blood-splattered look? How about frosty veins of magic? Anything's possible!
There's nothing quite like sitting down to a session of Dungeons & Dragons and busting out your own set of premium dice. Not only are they great as conversation starters, but you get to experience their satisfying weight every time you roll.
So, what are the most reputable brands and companies when it comes to premium dice? Read on for the best sites to buy premium dice.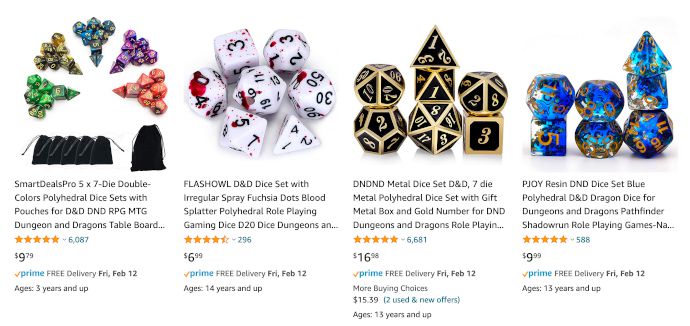 You really can't talk about shopping without mentioning Amazon. While Amazon is far from a specialty dice shop, the retail giant does have tons of dice for sale from a wide range of third-party sellers.
To be clear: I only recommend Amazon as an entry-level option if you want your own set of dice but don't want to spend too much.
It's true that premium dice can be quite pricey. A lot of the cost comes from the reputation and assurance that you get with buying from a quality brand. Amazon doesn't give you that.
But if you just want to dip your toes in the dice pool, you can make that trade-off and opt for the cheaper options on Amazon.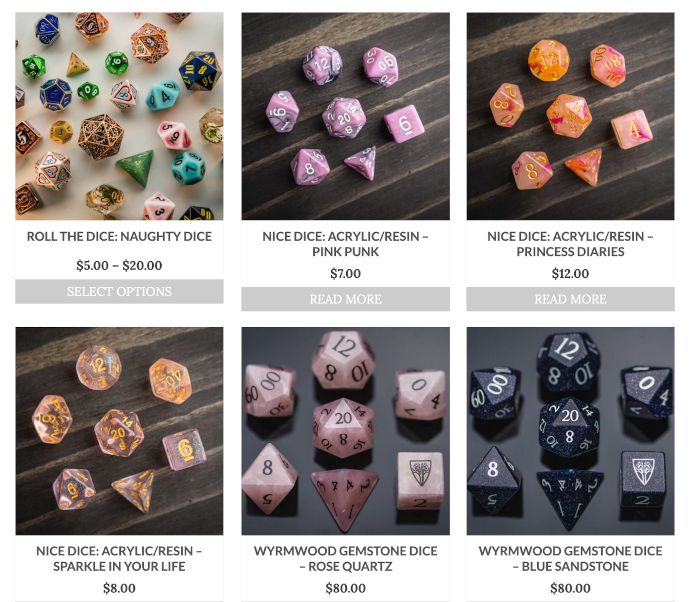 You can think of Wyrmwood Gaming as the Apple or Alienware of tabletop RPG accessories: they make high-quality products, but those products are also sold at seriously marked-up prices.
As far as dice, you have two main options with Wyrmwood: the opaque resin dice sets (which are relatively affordable) and the gemstone dice sets (which are made from real gemstone materials).
Keep in mind that gemstones aren't exactly durable. If you're going that route, you'll also want a proper dice tray to protect them.
Norse Foundry is a name that's synonymous with premium tabletop products, with premium dice as one of their main offerings.
While the quality isn't the best of the best, they do have a wide variety of dice (and other accessories) that may catch your eye.
If you really want to shell out top dollar for a statement piece, Norse Foundry makes a line of true metal dice in different materials: tungsten, titanium, copper, and even Damascus steel. These are works of art that are priced as such, costing hundreds of dollars.
For something a bit more affordable, Norse Foundry offers bone dice, ceramic dice, gemstone dice, glass dice, and metal alloy dice.

D20 Collective offers a pretty standard selection of dice sets, ranging from the affordable acrylic and resin sets to the more luxurious wood, gemstone, and metal dice sets.
One of their cooler offerings is their Mystery line. For example, the Mystery Hoard is a random collection of 10 dice sets plus 1 accessory, while the smaller Mystery Bundle is a random collection of 5 dice sets. It's a fun way to start a new dice collection.
On top of all that, D20 Collective offers all kinds of other tabletop accessories, including pouches, dice trays, dice vaults, adventure coins, game mats, and DM screens.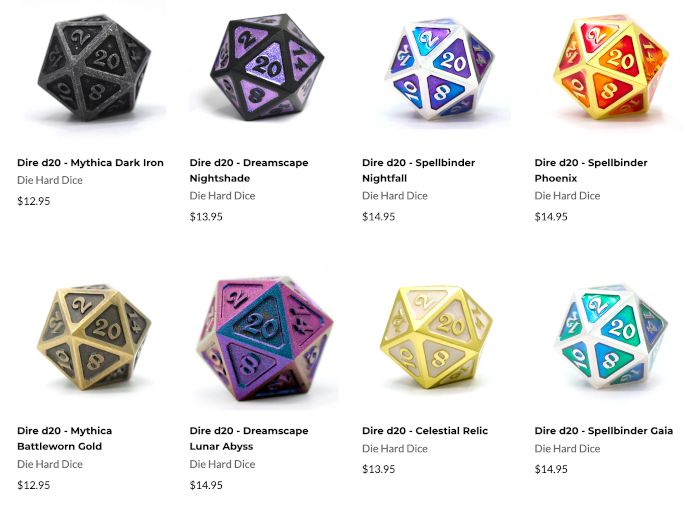 Die Hard Dice sells dice that strike a good balance between cost and value. Their line of polymer dice is extremely affordable, with dice sets priced around $10 (even less on sale).
But if you want premium, you'll want one from their line of Mythica line of metal dice sets, which are made from a zinc alloy. For something even more thematic, check out their Unearthed line of metal dice, made in collaboration with Storm Forged Dice.
One nice touch is free shipping on orders of $30 or more. That's a pretty generous threshold that you can meet with a single dice set.

Level Up Dice makes incredible dice in several different types of materials, including bone, wood, gemstones, and heavy metal (copper, tungsten, brass, Damascus steel, and more).
One thing that stands out here is their line of crystal dice, which is made from a glassy material that's clearer than regular glass and even clearer than certian synthetics like zircon. It looks fantastic, it's more durable than regular glass, and it's not too expensive.
If you want to stand out at your tabletop RPG sessions, crystal dice will certainly do it. They're downright beautiful.

SkullSplitter Dice offers a wide variety at a wide range of price points. Not only do they offer premium metal dice with nice cases, but they also have bulk dice and blind bags that are extremely cheap.
Other options include multi-set dice bundles, glow-in-the-dark dice, glitter and foil dice, sharp-edged dice, plus d30 and d100 dice.
Don't care what you get? You can save big with their Mystery Metal Dice Sets and Mystery Blind Bags.
Or opt for the SkullSplitter Dice Subscription, which periodically sends you mystery polymer dice sets. You can choose between 2 to 5 dice sets per box and a shipping frequency of every 7 days, 14 days, or 30 days. With this, each dice set is only $6.

Dice Envy doesn't have a massive selection, but they do have some unique offerings that are pretty rare elsewhere.
For starters, the polymer dice sets are priced affordably yet look way more expensive than they are. They have engraved designs that really pop, and they're further enhanced by sharply contrasting colors.
Dice Envy also has unique "infinity d4 dice" that use a special wrapped design to create a four-sided die without the pointy pyramidal shape you normally see in d4 dice.
There are also Mystery Sets for dirt cheap: a Mystery Polymer Dice Set, a Mystery Metal Dice Set, and the Mystery Luxe option that consists of a mystery set of premium wood or stone dice.

Awesome Dice has some of the most visually impressive dice designs on the market. Their metal dice have intricate designs that feel thematically ancient, and they also have a special line of sharp-edged dice.
The sharp-edged dice sets come in several color themes, but the main selling point is the razor-sharp edge that immediately catches your eye. Some of them even have liquid cores, which swirl and glitter when rolled, resulting in fascinating visual effects.
Awesome Dice also has affordable dice sets themed to different fantasy properties—like Witcher, Pathfinder, Dungeons & Dragons, and Shadowrun—as well as vampire and werewolf themes.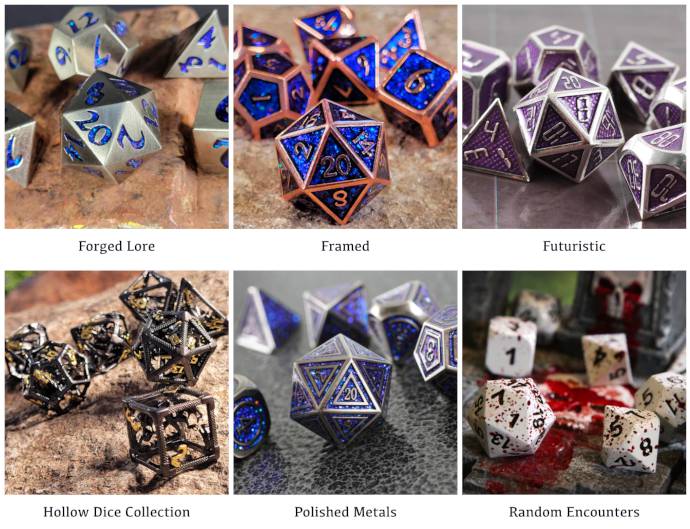 Forged Gaming is our preferred dice shop. They specialize in intricate metal dice made with high-quality materials, with a selection of over a hundred unique designs that are unlike anything else.
If it's important to you that your dice sets thematically match your tabletop RPG characters, then you'll want to check out the various design collections: Antique Metals, Cracked, Banded, Dragons & Scales, Futuristic, Skulls & Skeletons, and many more.
Every dice set comes with a nifty tin case, which is nice given that Forged Gaming's price points are pretty reasonable.
Then again, if you want to be a baller, you can upgrade further with their premium selection of dice cases, dice trays, and dice towers.