When you starting DMing Dungeons & Dragons, one of the first things you realize is that you need a DM screen.
A good DM screen provides you with immediate access to key rules and stats and information, and it allows you to hide things from your players (such as dice rolls), which creates a more enjoyable experience for everyone in most cases.
There are plenty of official D&D DM screens you can buy. You can snag the cheap one that comes with the Essentials Kit or the slightly better cardboard one.
But if those don't quite offer what you need, then you can pick up a really cool customizable screen and truly make it your own.
You'll be amazed at how much easier your DMing will be if you have all the information you're likely to need right there in front of you instead of constantly having to pull out the rulebooks. Plus, these screens look really awesome!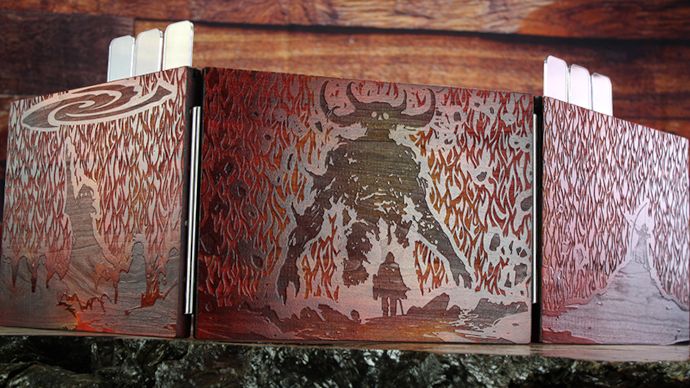 When it comes to the pinnacle of DM screens, you can't get any better than the Valhalla Screens from Dog Might Games.
These things are absolutely stunning with their custom wood designs. You can get skulls, dragons, and all kinds of other beautiful art on the outside. There are magnets that hold the pieces of the screen together so it goes flat.
On the inside, there are dry erase boards, magnets to hold papers, shelves, initiate trackers. There are optional accessories like a dice tower, mini shelf, a dice rack, and plenty more.
It really is the Bentley of DM screens. It comes with a hefty price tag, starting at around $150 for a three-panel option.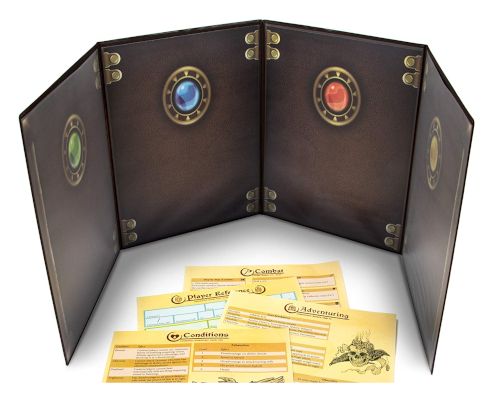 If spending a couple of hundred dollars on a DM screen isn't something that makes sense for you, much of the same functionality is available with this Stratagem screen.
The Master's Tome is a large, four-panel screen that is fully customizable. It features some nice art on the outside and pockets that hold papers you want to show to your players.
The inside also contains pockets, which can be used for the rules and references you need while playing. All of the pockets are dry-erase market compatible, so you can write down notes and erase them before your next session.
It even comes with some basic reference pages for popular games like D&D and Pathfinder. You can't beat it for the price.
I can't say whether this is actually the world's greatest screen, as Hammerdog Games claims, but it does look like a really nice DM screen with all the key features any respectable dungeon master needs to keep their games fun and organized.
It's pretty basic, with a bunch of customizable slots that store papers for you and your players on the inside and out. There's not a lot of frills or art, but there's plenty of function.
What really makes this screen cool is the different sizes it comes in. There's a portrait version that stands 11-inches tall and a landscape version that's much lower at 8.5-inches tall.
And for those who want a really low screen, there's a mini version that is 4-inches by 6-inches.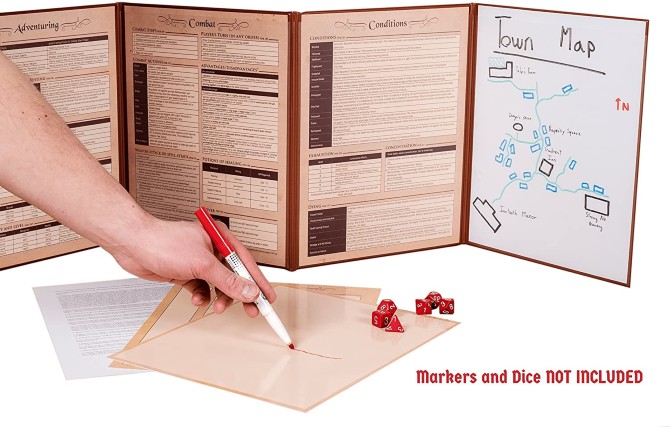 This is another alternative you can look into if you want a no-frills screen with customizable inserts on the inside and outside. It's a four-panel option that will hold all of the key info you need to run a game properly.
For the inside of the screen, it comes with handy pages that help with the D&D rules. There is also blank dry erase sheets that can be used for any notes or other things that pop up during the game.
Now You're DMing With Style!
Forget about using some flimsy cardboard to block dice rolls from your players. Ignore the useless information that clutters up half of the official DM screens.
Have only the information you need for your games with these customizable DM screens.
Whether you want a fancy custom wooden screen that costs hundreds of dollars or just something basic and customizable, there's an option for you.