When you're starting off as a dungeon master for Dungeons & Dragons, one of the first things you realize is that you need a DM screen.
A well-designed DM screen provides you with immediate access to key rules and stats and information. It also allows you to hide things from your players (e.g. dice rolls, campaign notes), which creates a more enjoyable experience for everyone in most cases.
There are several official D&D DM screens out there, including the cheap one that comes with the D&D 5e Essentials Kit.
But if you really want to elevate your experience as a dungeon master, then you'll want to pick up a cool customizable DM screen that you can personalize however you want, to truly make it your own.
You'll be amazed at how much easier DMing can be if you have all the information you need right in front of you, instead of constantly referring to the various rulebooks. Plus, these DM screens look really awesome!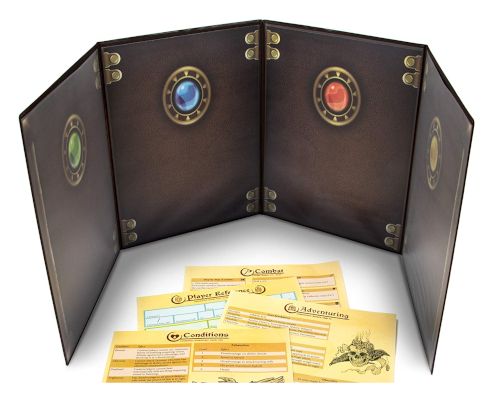 If you want to spend as little as possible on a DM screen without sacrificing any essential functionality, the customizable DM screen by Stratagem is going to be the best bang for your buck.
Known as The Master's Tome, this DM screen has four double-sided panels that are each customizable to display whatever you want.
Both sides of each panel has a pocket for inserts, allowing you to display public info (e.g. maps, NPC references, special house rules) to players and private info (e.g. campaign notes, quick rules references) to yourself.
The screens are all compatible with dry erase markers, meaning you can write on them and wipe them clean as needed without actually marking up the inserts themselves.
Each panel is 11.5 inches tall and 10 inches wide, so they fit standard sheets of A4 paper (11 by 8.5 inches). When it's all folded together, the entire thing is just 0.5 inches thick, making it super portable.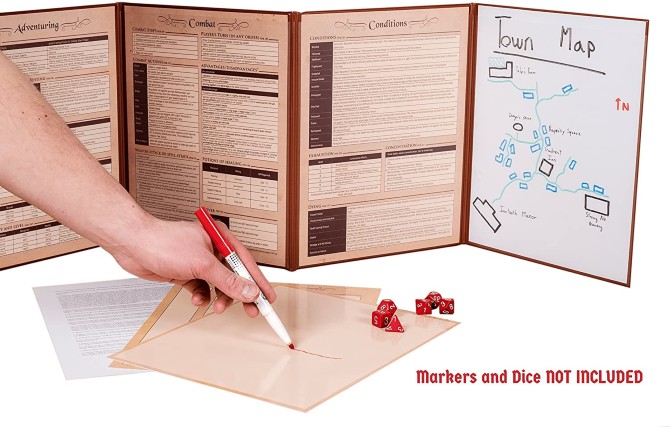 The Hexers Game Master Screen is another great bang-for-your-buck DM screen that's highly functional and practical.
This is a four-panel DM screen with each panel having pockets on both sides, allowing you to insert sheets for players and for yourself.
We like the Hexers DM screen for newbie DMs because it comes with 9 total inserts included: 4 double-sided artwork inserts, 3 rules reference inserts (Conditions, Combat, Adventuring), and 1 dry erase tracker insert, and 1 blank dry erase insert to use however you want.
Each panel is just over 12 inches tall and 9.5 inches wide, so they easily fit standard A4 paper inserts (11 by 8.5 inches).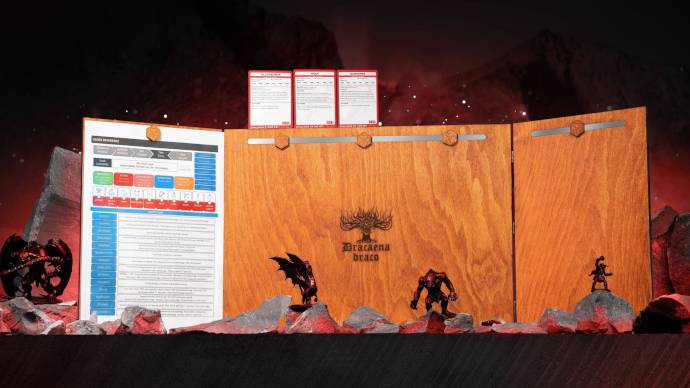 This gorgeous DM screen is made entirely of wood, with each panel featuring customizable designs via laser etching.
For the designs, you can pick from the ones provided (26 small graphics, 9 large graphics, and 24 font options) or you can pay a little extra to use your own custom graphics. Designs go on both sides of each panel.
The inner sides of each panel has a magnetic strip across the top, plus individual magnets that you use to hold papers in place.
The DM screen comes in three sizing options: Understated (2 square lateral panels with a wide central panel), Classic (4 portrait panels of the same size), and Origina (2 portrait lateral panels with a square central panel). You can also request custom dimensions.
As for the wood, you can choose between six options: Natural, Chestnut, Teak, Graphite, Oak, and Dark Palisander.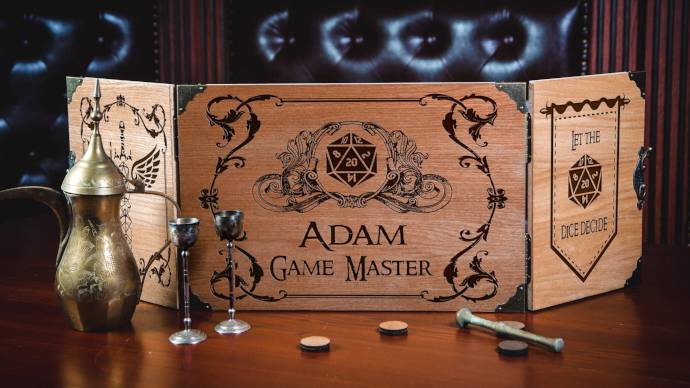 This three-panel oak wood DM screen is similar in style to the above handmade wooden DM screen in Understated style, but this one is a step up in quality and presentation.
Available in Light Oak and Dark Oak colors, this DM screen features beautifully bold engravings on every panel. The hinges, latch, and finish are all incredible—it's the kind of DM screen that's perfect as a gift.
When ordering, you can provide a name that'll be used to personalize the main engraving that appears as "[Name] Game Master."
This DM screen is available in two sizes: 9-by-12 inches and 12-by-16.5 inches (measurements for when the screen is closed and latched).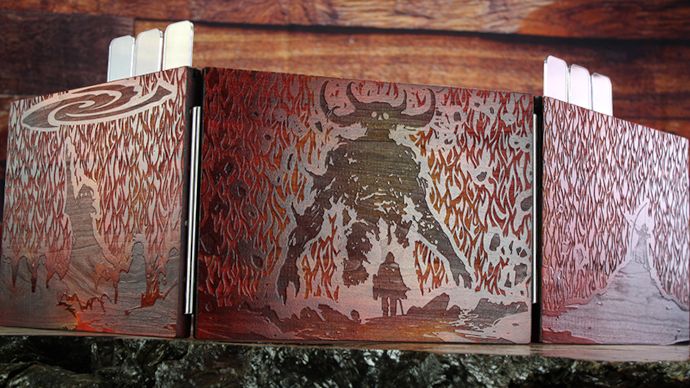 When it comes to the pinnacle of DM screens, you can't get any better than the Valhalla Screens from Dog Might Games. These things are absolutely stunning with their custom wood designs.
You can get them with all kinds of beautiful art on the outside, with various wood options, cut styles, and coloring treatments. Plus, there are magnets that hold the pieces of the screen together so it goes flat.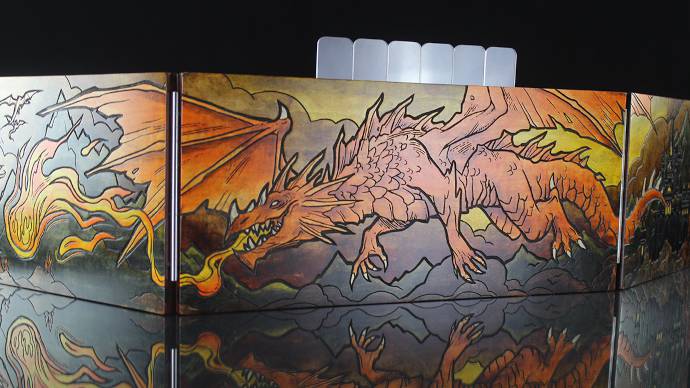 On the inside, there are dry erase boards, magnets to hold papers, shelves, initiative trackers, and you can deck them out with optional accessories like a dice tower, a mini shelf, a dice rack, and plenty more.
Valhalla Screens really are the Bentley of DM screens. They comes with a hefty price tag, though, starting at $150 for a three-panel option.
Now You're DMing With Style!
Forget about using flimsy cardboard dividers to block sight of dice rolls from your players, and ignore the useless information that clutters up half of the official DM screens.
For the best DMing experience, curate only the information you need for your games with one of these customizable DM screens. No matter your budget, there's a DM screen for you.
After that, if you want to level up your DMing experience even further, consider incorporating miniatures into your sessions. Don't want to spend much? You don't have to! Check these out: