If you, like the rest of us, are currently stuck at home playing D&D remotely, you've probably turned to Discord as a way of organizing games, finding others to play with, and possibly even rolling dice and actually playing.
But these awesome features aren't included out-of-the-box. Instead, you need to add some bots to your server. In fact, you only need two bots and we'll show you how to install them.
I originally planned this out as a list highlighting the best D&D Discord bots for any server running games through the popular chat client, but I ultimately realized that you only really need two to run a proper game:
RPG Schedule for keeping track of games
Avrae for everything else
If you're running a server and you don't have both of these bots installed, you're going to miss out on some of the awesome power of Discord as a remote D&D tool.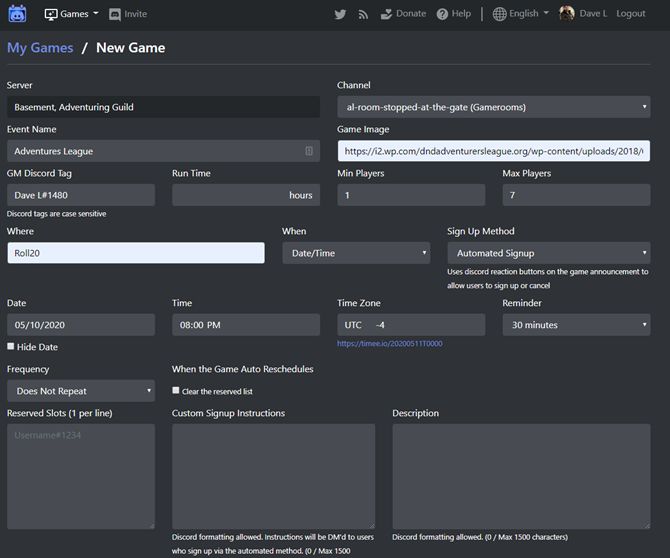 RPG-Schedule is an incredibly practical and powerful tool that works with both Discord and its website.
Basically, it allows you to use certain chat commands to launch the bot's website and then create games.
You can set games to repeat, set reminders for when a certain amount of time before the game, and so much more.
Rather than just spamming the Announcement channel with games, RPG-Schedule keeps things more organized. Once games are created, you can go to the website and see all of the games you've signed up for (or are running).
One thing I really love about the bot is the ability to sign up for games with a reaction. Rather than having to message the DM, players can simply click a button and have their name added to the game.
And once a game is full, any other players will be added to the waitlist. It just speeds up the process so much.
While RPG-Schedule is a singularly-focused bot that helps you manage when your games will take place, Avrae does everything else. It's packed with features that both players and DMs can use on their servers.
The bot comes from D&D Beyond, and as such, it's fully integrated with its character sheets and creator. It also has an advanced dice roller that can roll everything from a simple D20 all the way to complicated strings of dice.
And as if those features weren't enough, it has a deep initiative tracker that DMs can use to keep track of combat and keep the game organized.
Whether you're playing by text or by voice, you absolutely must have this bot installed on your server, as it's a true game-changer.
How to Invite and Set Up Discord Bots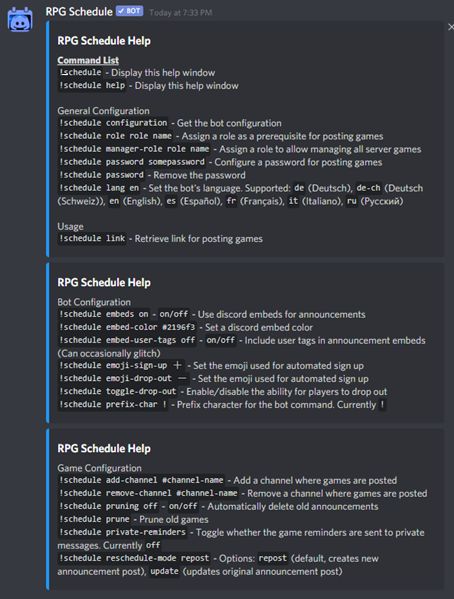 Setting up a bot in Discord is actually quite painless. Here's a quick breakdown of the process:
Go to discord.com and log in with your account.
Go to top.gg and search for the bot you want. (Click here for RPG-Schedule and click here for Avrae!)
Click Invite on the bot's page.
Click the Discord server you want to invite the bot to. You must be an admin of the server!
Click Continue.
Grant the bot the appropriate permissions and rights.
Fill out the Captcha.
Once the bot is in your server, you can configure it to your needs by following the step-by-step instructions it offers.
For RPG-Schedule, you can find the list of commands here. For Avrae, you can head here to learn what you need to say to the bot to get it to do what you want.
It's Time to Play D&D on Discord!
Just because you're stuck at home doesn't mean you can't have a great time playing Dungeons & Dragons with friends and strangers. All you really need is Discord, two bots, and imagination.