When you roll dice and a few fall off the table, it may not be the end of the world… but it can be pretty annoying, especially if it happens a few times too many. It halts momentum while someone has to bend down and fish around to retrieve them.
The first time I played D&D at a board game cafe, the DM whipped out a few dice trays for everyone at the table. At first, I thought they were unnecessary—by the end of that session, I was a dice tray convert.
Of course, dice rolling trays aren't essential. You can definitely get by without them. But they're nifty, and you should definitely consider incorporating a few into your game nights if you can.
Why Use Dice Rolling Trays?
Dice rolling trays offer several benefits that may not seem very important, but when you add them all up, it starts making sense.
Dice rolling trays keep dice rolls contained. Never again will dice roll off the table, forcing players to retrieve them and re-roll them. Even the smallest disruption can derail the momentum or enthusiasm of a board game or tabletop RPG.
Dice rolling trays dampen the clacking of dice. For some, the sound of dice clacking around on a table can only be described as grating. For others who don't mind, they still have to admit that dice rolls are often loud, which isn't conducive for night games.
Dice rolling trays offer protection. If you're thinking of shelling out cash for high-end dice, you're going to want to protect that investment. Dice made from precious stones or expensive metals can still be chipped or scratched.
Dice rolling trays look and feel good. It's nice to have a dedicated space for rolling dice, which helps keep your head in the game. And depending on how much you're willing to pay, dice rolling trays can impart a luxurious feel to your tabletop sessions.
Again, dice rolling trays are totally optional. But if you want to level up your tabletop gaming sessions, they're worthwhile! We'll highlight some of the best ones across all price ranges, so you can choose how much you want to spend on one.
This product isn't meant for tabletop gaming at all—it's a simple jewelry catchall that's meant to hold odds and ends: loose coins, car and house keys, watches, earrings, bracelets, etc.
But why not adapt it to your needs? Without making any changes, you can use this snap-folding jewelry catchall as a foldable dice tray. Bust it out for game night, then neatly fold it away when you're done.
You won't find a better option for cheap dice trays. It's so cheap that you could stock up on half a dozen of them and give one to each player during game nights and tabletop RPG sessions!
If you're willing to spend a smidge more than the jewelry catchall mentioned above, you should definitely opt for this one instead.
Not only is the hex shape more fitting for tabletop dice trays, but the inner felt material feels better for play than PU leather—and it's available in 10 different colors. If you're going to stock up, you can pick one of each color so players can be uniquely identifiable.
It's truly one of the best dice trays for D&D, especially if you're the DM. They're affordable enough that you can buy a handful to take with you to every session in your campaign.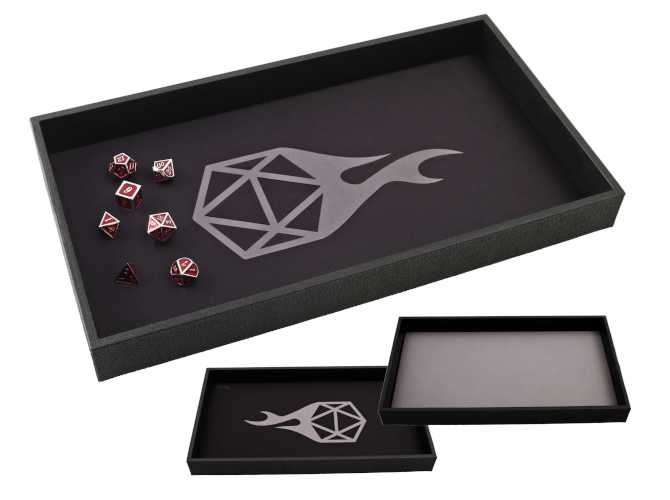 If you want to level up your game nights, wooden dice trays are one way to do it. They feel more robust and classier than cheaper dice trays—yet they're still relatively affordable.
Forged Gaming has one of the best value wooden dice trays in the form of a rolling mat. At 14 inches by 8 inches, it's large enough to share between the whole table. It comes with a double-sided, removable neoprene mat that's plain on one side and designed on the other.
This wooden dice tray is sleek and minimal while still being stylish, and the mat's graphic comes in six different color varieties.
This dice storage case for travel also serves as a miniature rolling area, and it's one of our favorite dice trays on Etsy.
It's large enough to hold up to 45 tabletop RPG dice in the gutters, without getting in the way of the rolling surface. The rolling surface, which is made of soft non-scratch material, is large enough to hold another 70 tabletop RPG dice.
If you need a separate rolling area, you can use the detachable lid—also lined with the same soft non-scratch material. The lid secures to the base via magnetic snaps, and the base is non-slip. All of that adds up to this being one of the best dice trays on the market!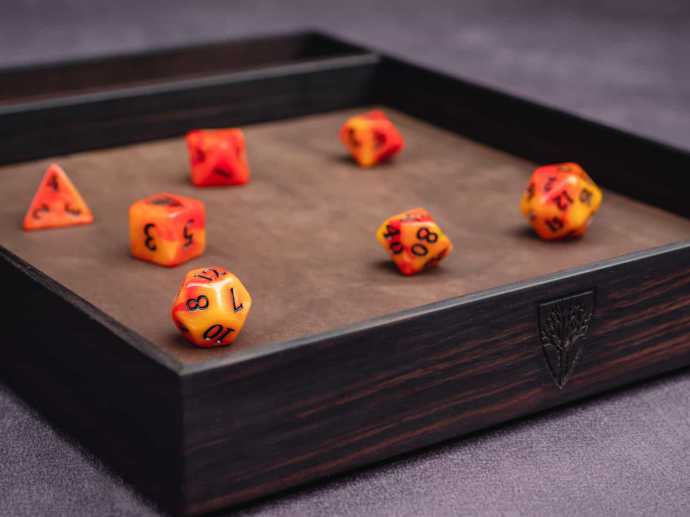 Wyrmwood Gaming produces all kinds of world-class tabletop accessories, including premium dice, gaming tables, dice vaults, dice towers, and dice trays. If you want to spend top dollar on exquisite works of craftsmanship, look no further than this.
The tabletop dice tray by Wyrmwood Gaming is available in eight different wood styles: Cherry, Black Walnut, Padauk, Black poisonwood, Bolivian Rosewood, Spalted Timber, Purpleheart, and Macassar Ebony. They range from $98 to $328.
It comes with an oiled leather rolling surface, which you'll need to condition with leather conditioner every so often. Leather dice trays don't get more luxurious than Wyrmwood dice trays!