People who refuse to buy used board games are missing out.
The concerns are valid, of course. There's always the risk that pieces will be missing or components damaged. If you're a germaphobe, the idea of anything second-hand might make you squeamish.
But there are so many benefits to buying used board games. Not only can you score amazing deals if you're patient and lucky, you're also making use of a copy that might've just ended up in a landfill somewhere.
Plus, some out-of-print games can only be acquired used.
The trick to buying used board games is to make sure you're buying from a reputable source. That's a lot easier in person, of course, since you can examine the board game. Not so easy online.
That's why we've compiled our own list of reputable sites to buy used board games online—sites where you're likely to get the best deals with minimal risk of scammers and untruthful sellers.
Instead of paying full price for a brand new board game, consider buying used from one of these used board game marketplaces.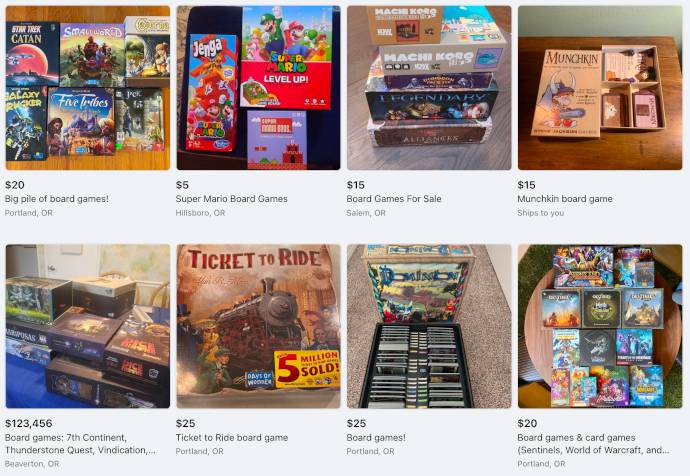 Even if you dislike Facebook, you can't deny that Facebook Marketplace remains one of the hottest sites for used goods.
Why is it ranked so low on our list? Because while Facebook Marketplace is fantastic for local pickups, it's infinitely less useful if you're mainly looking for items to be shipped—especially board games.
If you live in a populated area with an active board game scene, definitely check out Facebook Marketplace. Otherwise, you'll want to skip this one and try some of the other options on this list.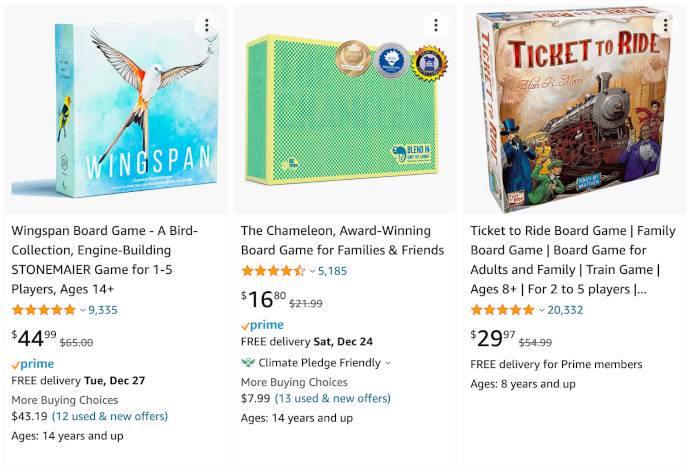 If you're looking for a specific used board game, you should definitely check Amazon. Its massive inventory is home to hundreds of used board games, from modern hits to long-time classics.
When you find a board game listing, look below the main price for the "More Buying Choices" option. If it's there, you'll likely see a lower price—that often means someone is selling a used copy!
The thing is, not every used board game on Amazon is deeply discounted. In fact, most of the ones listed as "Like New" are only a dollar or two off the main price for brand new.
To get any kind of significant discount, you'll need to watch for games in a lesser condition. With more wear and tear, you can expect cheaper prices. (Any defects or damages will be noted in the listing.)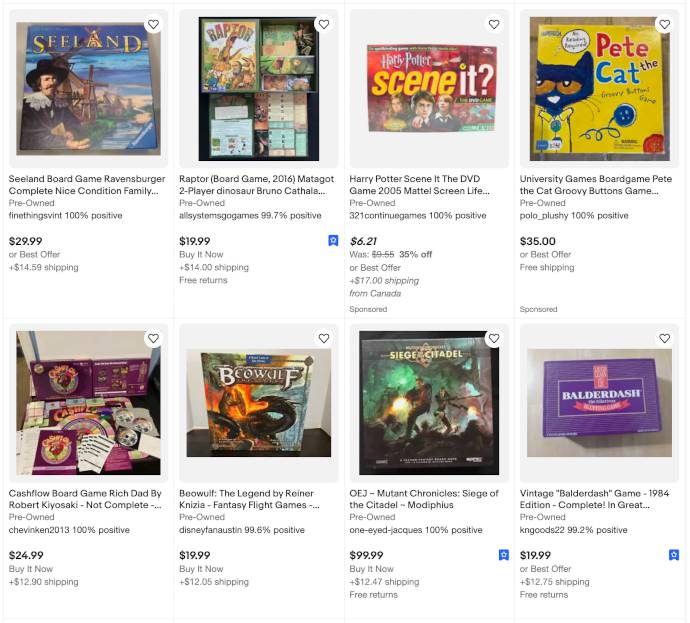 Ebay is a double-edged sword when it comes to used board games. You'll find lots of listings, ranging from rare and vintage to contemporary hits—but the prices are all over the place.
Most of the people on Ebay selling board games have no concept of reasonable market value. You'll see a lot of used board games that are priced as if they were new and sealed—and you may even need to pay shipping on top of that.
Occasionally, there are used board games that are reasonably priced. But they can be few and far between sometimes, and you'll need to be well-versed on proper market value for the games you want.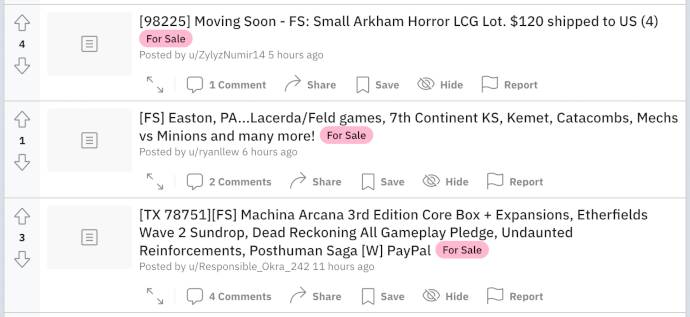 r/BoardGameExchange is a community on Reddit that feels like a Craigslist for used board games. The thread titles can be hard to parse at first, but give it a few days and it'll start to make sense.
Most threads are made by people who have games they want to sell, and those are usually labeled with [FS] or [WTS] in the thread title, which stands for "for sale" and "want to sell," respectively.
Thread titles usually also include the location of the seller and their ZIP code, which is useful for estimating shipping costs and deciding if you might want to do a local pickup if you're close enough.
To get the most out of r/BoardGameExchange, you should check in at least once a day and see what's newly listed. If you're patient, you can find some real gems as people want to offload for whatever reason.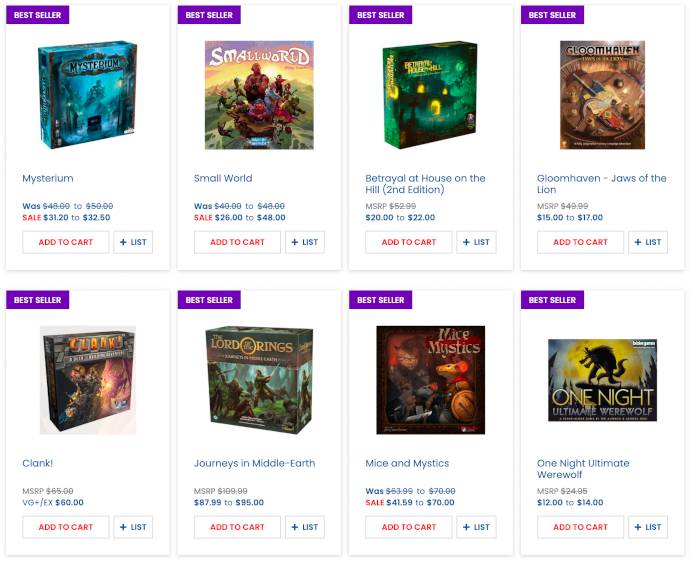 Noble Knight Games feels a lot like the GameStop of board games. They have a great program where gamers can send in their used board games for cash or store credit, and then Noble Knight Games resells them.
You'll find them all on the online store page, and they're all clearly marked with their condition: NM for near mint that's close to perfect; EX for excellent with minor wear; VG for very good with obvious wear; and Fair for heavy wear but still complete and playable.
The discounts depend on the condition, of course, but even games marked EX/NM can be had for up to 50% off MSRP (or even more if the game is old or unpopular for whatever reason).
Noble Knight Games offers free shipping on orders over $149, otherwise shipping costs around $10 depending on the weight of your order.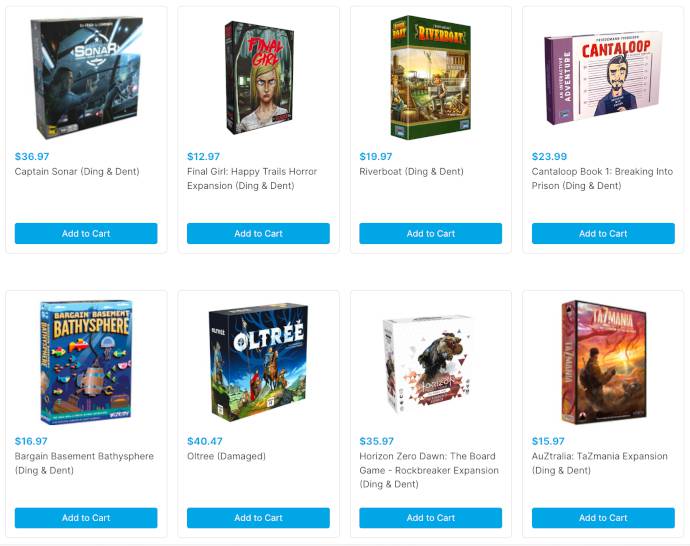 Game Nerdz is a fantastic online board games retailer that has an awesome little section called "Ding & Dent," which is where they sell board games with cosmetic damage at a significant discount.
While the level of cosmetic damage varies from copy to copy, generally speaking, you can expect anything from small scuffs to water stains to crushed boxes. There won't be any missing pieces.
Sometimes, the dings and dents are so minor that the game you get ends up looking entirely undamaged. Those are the jackpots!
The discounts are significant, so if you don't mind the risk of cosmetic damage that doesn't affect gameplay itself, then you should definitely shop in the Ding & Dent section of Game Nerdz.
Game Nerdz offers free shipping on orders of $75 or more, otherwise shipping costs around $5 depending on the overall weight of the order.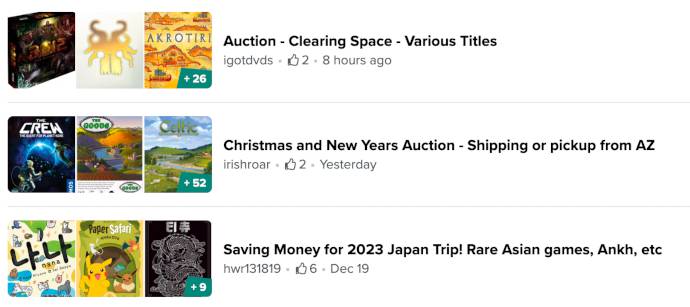 If you want to score truly incredible deals (i.e. huge savings) on board games of all kinds, and if you have the patience to wait around for those deals to appear, then you can do no better than GeekList Auctions.
The GeekList Auction is a feature of BoardGameGeek, in which users create a public list of all the board games they want to sell. Each listed item has a starting bid and optionally a buy-it-now price.
To bid on a board game in a GeekList Auction, simply click "Reply" on the item and type in your bid amount—and make sure it's higher than any previous bids made by others on that item.
Don't have a BoardGameGeek account? You'll need to create one! It's free, though, so don't let that turn you away.
Since GeekList Auctions can get lost in the mix with other GeekLists, you should subscribe to the MetaList for GeekList auctions, which will notify you whenever a new auction goes live.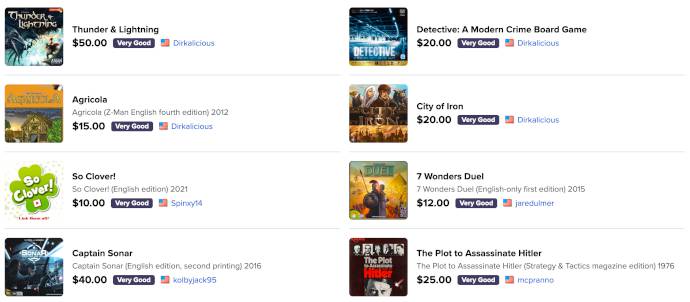 BoardGameGeek has a nifty feature called GeekMarket, which is a marketplace where BGG users can sell the board games they own. You'll need a BGG account (it's free) to buy listed games.
You can filter the marketplace according to seller's country, shipping regions, board game condition. If you actively maintain your "Want to Buy" list on your BGG account, you can use the "Find My Wants" section of the GeekMarket to see only those games.
When you want to buy a game, you'll have to click "Send Message" to start a conversation with the seller. Tell them your ZIP code and ask how much they charge for shipping and how they wish to be paid. Once you pay them, they'll ship it out! (If a seller doesn't reply in 48 hours, move on.)
For more information on what the different board game conditions mean, check out the BGG wiki page on board game conditions.
Personally, I've had the most success with GeekMarket when it comes to buying used board games online. Just keep in mind that some sellers only support certain payment methods and many don't ship worldwide.