It's hard to tell the difference between real and fake anime figures, and untrustworthy sellers take advantage of that.
You'll find counterfeit anime figurines all over the web, which can potentially taint your buying experience.
Why take a gamble on buying anime figures from unreliable sites? Stick with well-known anime figurine retailers who have an abundance of good reviews.
Here are the best sites to buy authentic anime figures. They're all reputable and trusted by anime fans, so rest assured that you'll always receive authentic figures from them.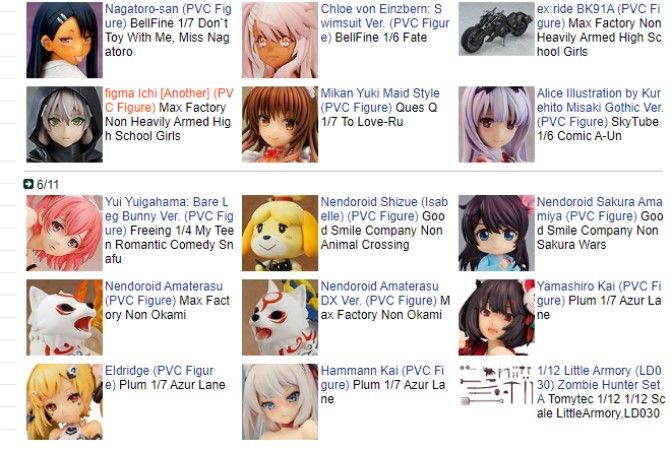 HobbySearch offers a massive selection of anime figurines that doesn't disappoint. All of these figures come straight from Japan, so you can ensure that they're all authentic.
The site's main page might look overwhelming, but it has all you need to start your figurine search.
The middle of the page features the site's best-selling figures, followed by tabs that let you browse preorders, new products, and restocked items.
HobbySearch also has an impressive list of figurine brands, including Good Smile Company, Bandai, and Alter.
Don't forget to take a look at HobbySearch's release date list, which displays the release dates of all upcoming figurines.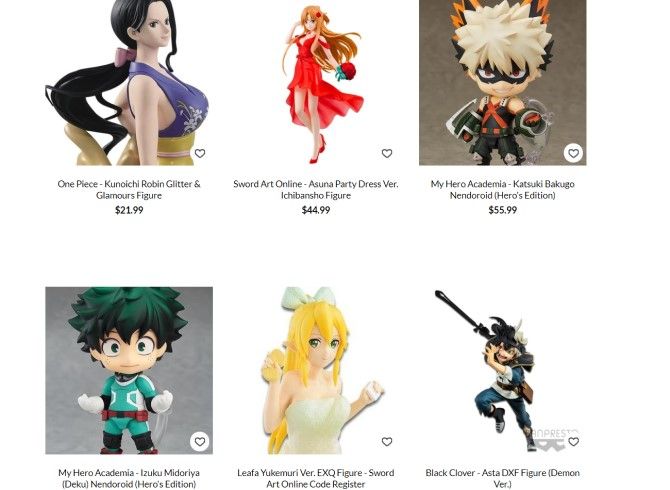 When you're done watching your favorite anime on Crunchyroll, don't forget to check out the Crunchyroll Store.
This shop has plenty of figurines from the most popular anime, such as Black Clover, Jojo's Bizarre Adventure, My Hero Academia, One Piece, and much more.
Although the Crunchyroll Store doesn't offer used figurines, you can still score deals. For discounted anime figures, start with the Crunchyroll Store's Sale page.
You can also check out the Figures Under $40 section for pages of affordable anime figures.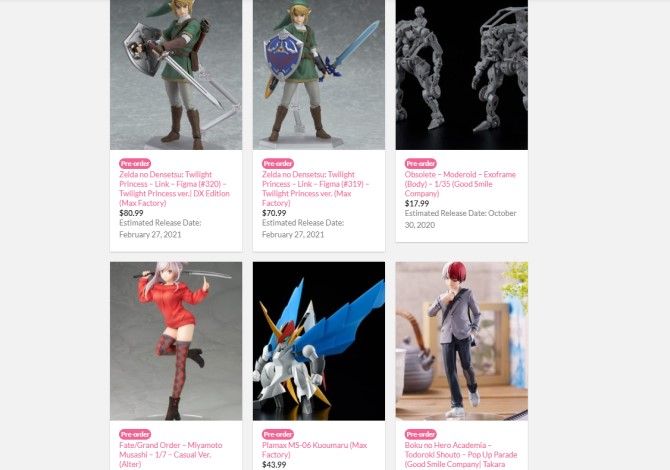 Akiba Soul is a United States-based retailer, a rarity in the anime figurine market. That said, if you live in the US, you can expect a quicker delivery when compared to most Japan-based shops.
Akiba Soul is mainly known for its huge assortment of reasonably-priced used figurines. The shop has a strict policy on bootleg figures, and thoroughly inspects any used figures that come into the warehouse.
Akiba Soul notes that any picture on the site with a plain white background has been taken in-house, which means you can see the actual figurine you're buying.
Even though Akiba Soul is based in the US, you can still expect the site to have all of the latest anime figurines. Not to mention that it has plenty of preorders for you to pounce on, too.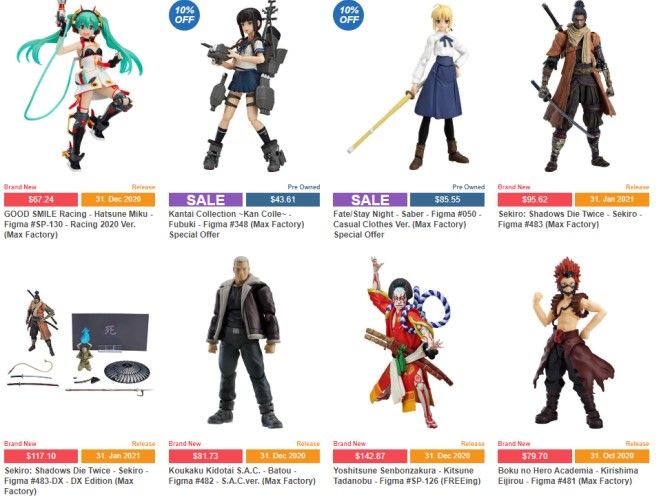 Not only does Solaris Japan sell Japanese import video games, but it's also home to a wide selection of anime figurines.
You can find figurines from just about any show, ranging from classic series like Berserk to newer series like Demon Slayer.
Any eager fans can preorder their favorite figurines from Solaris Japan's long selection of upcoming figures. Order early enough, and you might even score an early bird discount.
In addition to having sales on brand new figurines, Solaris Japan offers fantastic deals on used figures as well.
The site also has separate sections dedicated to used figures with defective or missing parts—this way, you know exactly what you're getting into before you make a purchase.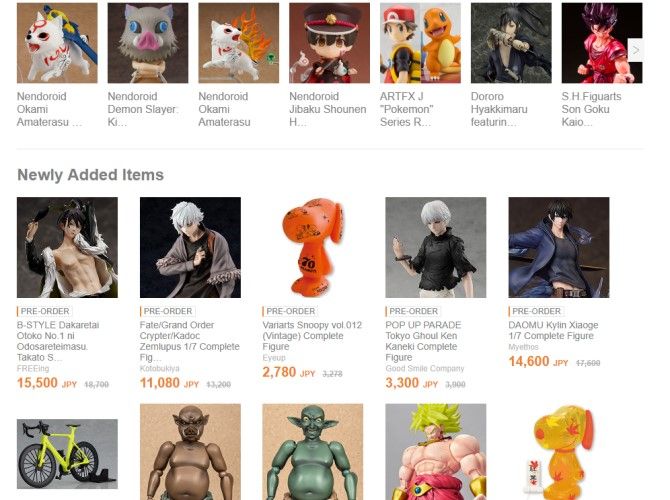 AmiAmi is a hub for figurines that come from the biggest brands and product lines—Square Enix, Bandai, Alter, and Good Smile Company are just some of the brands you can find on the site.
Once you start browsing, you'll instantly notice the staggering number of new products. You can easily preorder the upcoming figurines on AmiAmi, as well as get your hands on any new releases.
If you're looking to save some cash, AmiAmi also has a section dedicated to pre-owned figures. AmiAmi ranks the condition of each used figure, so you won't get blindsided by any major imperfections.
Finding Authentic Anime Figures
You can't just trust any site that sells anime figures, especially when you're looking for used figures. Fortunately, the above shops are some of the most reliable on the web.
New to the world of anime figurines? Make sure you know the best anime figurine brands before you make your first purchase!