If you're a growing anime/manga fan who wants to step it up and graduate beyond watching and reading to collecting physical goodies, then subscription boxes are a great way to ease yourself in.
With an anime/manga subscription box, you get a new box delivered to your door every month with goodies for you to enjoy.
The actual contents of the box depend on which one you sign up for, but they can range from snacks to figurines to brand new manga volumes.
Opening a subscription box is always exciting. Here are the best anime- and manga-related subscription boxes worth subscribing to.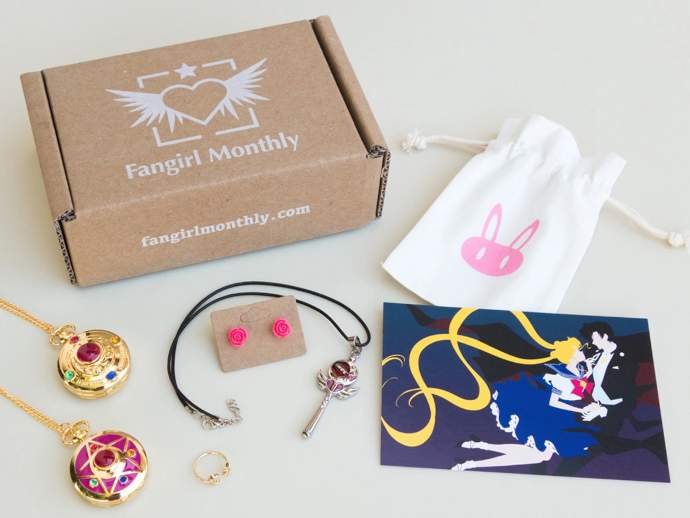 Box frequency: 1 box per month
Box contents: 3–5 anime/manga-inspired jewelry and accessories
Box pricing: $22 per box (cheaper with multi-month plans)
Why not combine your love of anime and manga with beautiful handmade jewelry and accessories? The Fangirl Monthly subscription box consists of three to five pieces every month, inspired by an anime and manga.
Some examples of the items you'll receive include bracelets, earrings, necklaces, rings,, keychains, and home goods. You'll also get a custom pouch to store all of these goodies.
It may not seem like the most extravagant or exciting box, but keep in mind: Fangirl Monthly is the cheapest subscription box on our list. If you want to get involved with minimal cash, this is a solid option.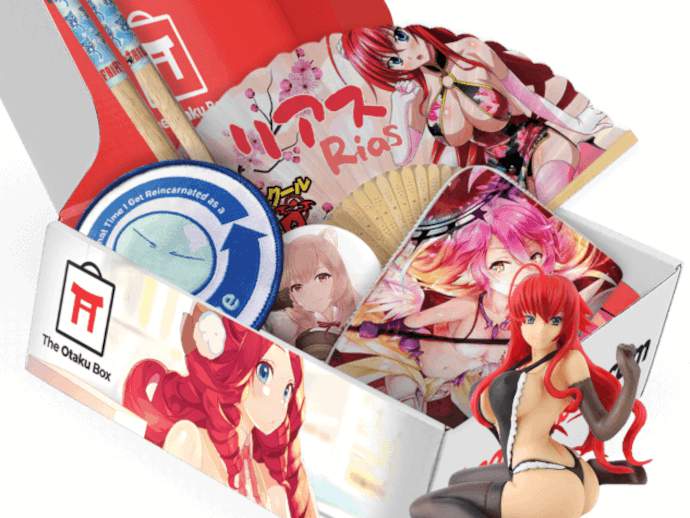 Box frequency: 1 box per month
Box contents: 1 wall scroll + 1 figurine + 4–5 more anime-themed items
Box pricing: $30 per box (cheaper with multi-month plans)
The Otaku Box is a surprise mystery box where each month's contents are voted on by all current subscribers.
Every box has at least six items, which includes a wall scroll (cloth wall art), a miniature figurine, and an assorted of additional goodies like art books, manga volumes, stickers, keychains, etc.
At checkout, you can upgrade your subscription to include two separate addons: 1) an additional exclusive 1:12 scale figure with every box, and 2) an additional anime-styled graphic t-shirt with every box.
Finally, you get to choose whether you want your subscription to be "Uncensored," which will incorporate ecchi figurines and artwork as possible inclusions for each of your boxes.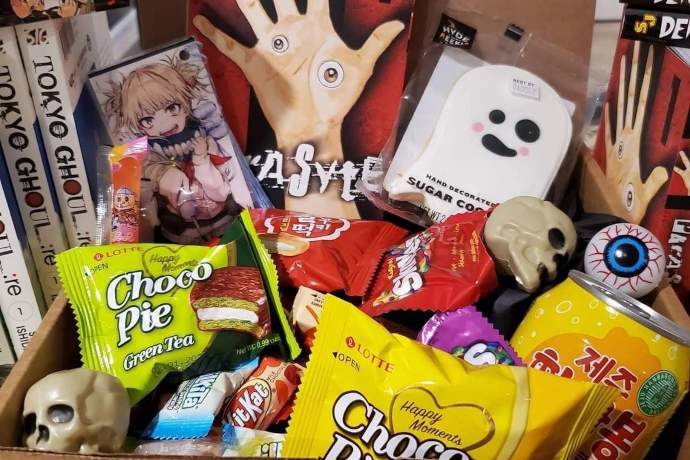 Box frequency: 1 box per month
Box contents: 1 brand new manga volume + 1 Japanese drink + 1 sweet Japanese snack + 1 salty Japanese snack
Box pricing: $50 per box
If you want a discovery-focused subscription box that's curated and hand-picked to your personal tastes, then Mystery Manga Box might be the best one for you.
When you sign up, you can tell them what you like and what you don't like, whether that means loving sci-fi, hating horror, interested in yuri/yaoi, along with your tastes in drinks and snacks.
Based on your personal tastes, every Mystery Manga Box comes with a brand new Volume 1 of a diffirent manga series for you to read, along with a drink, a sweet snack, and a salty snack to enjoy.
To discover new manga series hand-picked to your tastes and start growing a physical manga collection, go with Mystery Manga Box.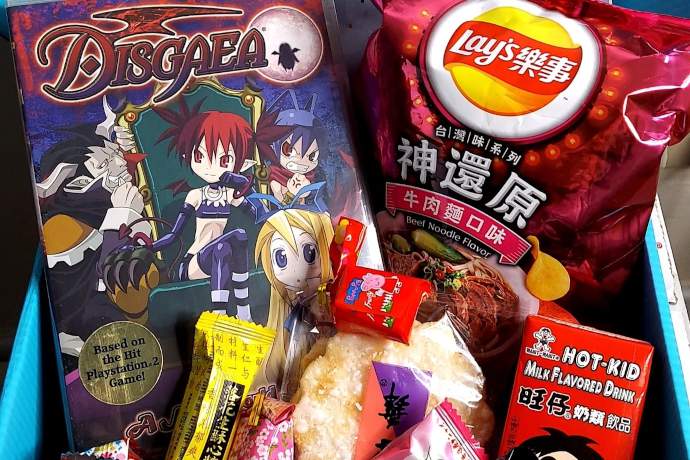 Box frequency: 1 box per month
Box contents: 1 anime DVD + 1 Japanese ramen + 1 Japanese drink + 8 Japanese snacks and candies
Box pricing: $40 per box (cheaper with multi-month plans)
In today's era of Funimation and Crunchyroll, there's less of a need to build physical anime DVD collections. But if you're the kind who prefers physical media, then check out Itadakibox Anime DVD Box.
Each box includes an anime DVD, which could be an anime movie, a live-action anime movie, or a volume in an anime series. If it's an anime series volume, the volume will be random (not always the first volume).
The anime DVDs can be hit or miss, but you can tell them your preferences to ensure you're more likely to enjoy each month's DVD. Plus, the included ramen, drink, snacks, and candies also go a long way toward making each box worthwhile from a cultural experience standpoint.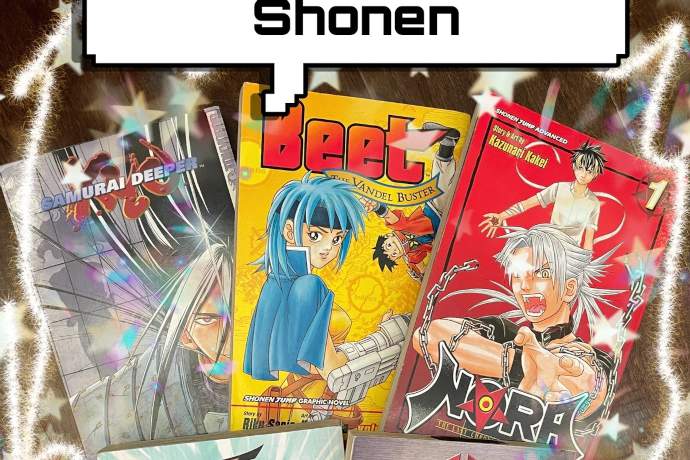 Box frequency: 1 box per month
Box contents: 5 assorted pre-owned manga volumes
Box pricing: $39 per regular box; $78 per double-sized box (cheaper with multi-month plans)
Promo Code Alert
Get 10% OFF your entire first order with The Mage's Emporium with this code:
THISWASATRIAL10
Take advantage of this offer here.
If you want to quickly expand your manga collection but only want brand new manga volumes, skip down to Manga Spice Cafe. However, if you don't mind pre-owned manga volumes, then check out The Mage's Emporium.
Every box includes a truly random assortment of manga—that means random number volumes, each from a random manga series. You can also specify whether you want only shonen manga or shojo manga.
The Mage Emporium's manga volumes are all in English.
The month-to-month price is steep, but it's a lot more reasonable if you commit to a multi-month plan (all the way down to $26/box). For maximum value, we recommend going with the yearly plan.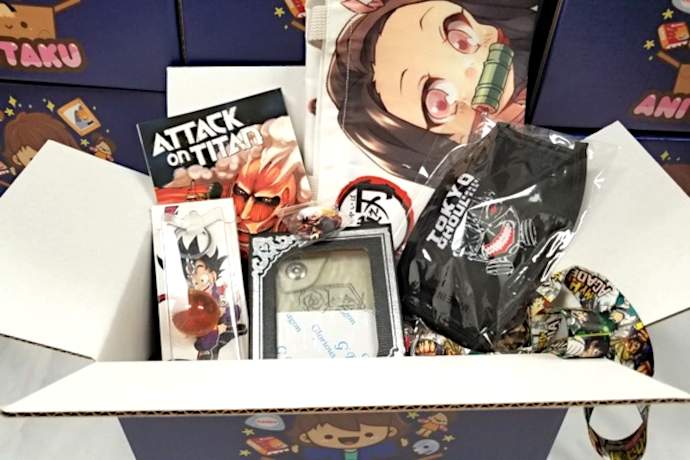 Box frequency: 1 box per month
Box contents: 1 figure + 1 manga volume + 2–8 more anime/manga-themed items (better stuff in the Standard and Premium boxes)
Box pricing: $55 per Basic box; $80 per Standard box; $120 per Premium box
Promo Code Alert
Get 50% OFF your first Anitaku Mystery Box when you sign up for the 3-box plan with this code:
MOREMERRY
Take advantage of this offer here.
Anitaku Mystery Box is the ultimate anime/manga subscription box for expanding your collection of anime/manga-themed merch.
For starters, this is the only box that comes with a guaranteed anime/manga figure in every box. Past boxes have included Sega LPM Figures and REM Precious Figures and special edition BanPresto figures, with each figure retailing for around $30–$40 each.
A brand new manga volume is also guaranteed in every box, and some boxes also include anime/manga-themed graphic t-shirts.
The rest of the contents are assorted merch: plushies, posters, wall art, caps, Japanese toys, etc. The Premium box includes higher-quality merch, like glow-in-the-dark acrylic lamps and additional figures.
The only reason we haven't ranked this box in first place is the price. It's not necessarily overpriced for what you get—the contents are both cool and valuable—but it's a hard hit to the wallet. If you can comfortably afford it, then Anitaku Mystery Box is definitely worthwhile.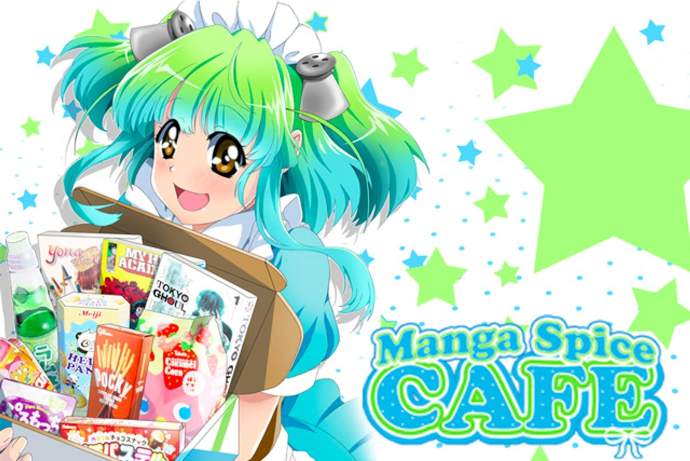 Box frequency: 1 box per month
Box contents: 3 newly released manga volumes + 1 Japanese drink + 3–5 sweet and savory Japanese snacks
Box pricing: $46 per box
Manga Spice Cafe is one of the best subscription boxes for manga lovers. Each month, you receive a box that contains three brand new manga volumes (recently released), plus a drink and some snacks.
The theme changes with every box, so you'll be exposed to a wide variety of manga genres from month to month, including mecha, sci-fi, comedy, romance, horror, and more.
Manga Spice Cafe is the best subscription box option if you're looking for a solid balance of everything—new manga to read along with drinks and snacks—at a reasonable price.
More Japanese Subscription Boxes
An anime or manga subscription box is a great way to get a dash of excitement delivered to your door every month. But if you're more interested in Japanese food than anime and manga, there are other options.
Specifically, there are lots of Japanese snack and drink subscription boxes that deliver tons of delicious treats to you every month: