One of the most interesting trends to come from the last few years is the subscription box craze: buyers commit to paying a fixed amount each month in exchange for a box of unmarked stuff.
Generally, the company offering the box promises that the value of the box will at least match—but often exceed—the amount you've commited to, which is what makes the whole "random contents" aspect intriguing.
When it comes to these subscription boxes, you'll find that most of them are prominently targeted at geeks and nerds. There are tons out there to choose from!
But not all of them are worth their price tags—which is where we come in. We're here to help you choose the geeky subscription boxes that are perfect for you.
Of all the subscription boxes out there, Loot Crate is the first one most people think of since they're one of the pioneers of the whole concept.
This particular company has grown so huge that they now offer multiple different crates for all kinds of interests: gaming, science fiction, film buffs, pro wrestling, and more.
If you're just dipping your toe into the Loot Crate pool, you should probably start with the standard Loot Crate. It comes with a mix of geek culture shirts, figures, and various other goodies that'll serve as a fun surprise when each one arrives.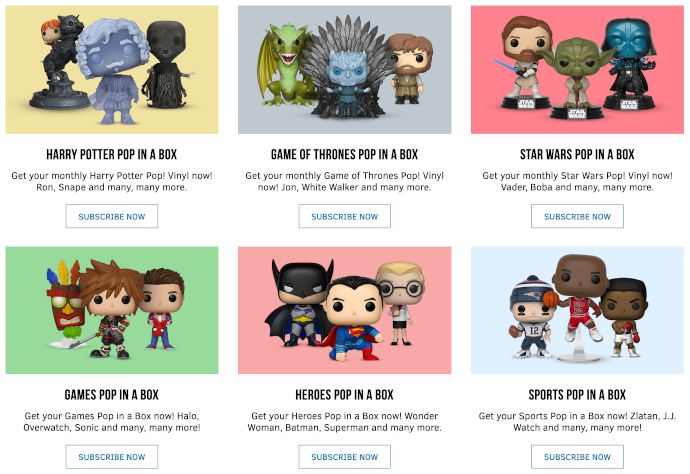 For Funko Pop fans, Pop in a Box is a must-have subscription. Every month, they send you a box containing different Funko Pops—depending on the plan you pick, you can receive either 1, 2, 3, 6, or 12 new ones in each box.
Which Funko Pops will you get? It's up to you! You can choose which of their various collections you like or dislike, and you'll only receive ones from your approved collections.
Plus, Pop in a Box tracks which Funko Pops you already have, so you'll never get a duplicate that wastes value.
Did you know subscription boxes were available through Amazon? And some of them are quite legit, such as the Funko Marvel Collector Corps Box.
This one is a once-every-two-months box, and the product page tells you when the next box ships out. If you shop regularly on Amazon, getting this makes perfect sense.
Specifically targeted at fans of Marvel, this subscription box features exclusive merchandise straight from Marvel and Funko.
In fact, every single box contains a special Marvel Funko Pop that you won't be able to find anywhere else. If you're a Funko collector, you don't want to miss out on this one!
MyGeekBox is a monthly box that's guaranteed to contain between 4 to 7 geeky items, ranging from exclusive t-shirts to fan collectibles, from quirky gifts to fun little accessories and trinkets.
This one also comes in a Kids variant, which are filled with geeky items that are fun, educational, and more appropriate for their age: books, toys, that kind of stuff. The box is meant for kids between the ages of 3 and 7, so if you have a young one of your own who wants a monthly box like you, this is a good option!
Nerd Krate is the newest geek-centric subscription box service on the block, so it doesn't have the brand power or name recognition that the others have built up over years.
Don't expect to get many unique goodies in Nerd Krate boxes, but the value is great: in each $25 box, you'll get around $50 to $100 worth of figures, comic books, fan merchandise, and other collectibles.
Subscriptions are available in 3-month, 6-month, and 9-month options. They also offer a Mystery Krate plan, which is much cheaper ($11 per box) and contains a handpicked-by-an-expert mystery figure from manufacturers like Marvel, Funko, Bandai, Hasbro, and more.
Given that a single Funko Pop can cost anywhere from $8 to $35 retail, the value is good and you could win big.
More Geeky Subscription Boxes!
While getting cool stuff in each monthly box is great, the real fun is in the surprise. Sure, you could go on Amazon and order yourself a t-shirt and some collectibles each month…
…but that just doesn't have the same appeal as a nice surprise appearing on your front porch every so often. It's like a mini birthday each time!