Whether you're looking to keep entertained without spending any money or you're just feeling nostalgic, there's actually a wealth of fun and good times to be had on the Internet Archive.
For the most part, you probably know it for the Wayback Machine feature, which stores snapshots of what websites used to look like all the way back to 1996. But the site also has lots of other features.
From video games to television shows to old software, there's plenty more to dig through in the Internet Archive than you probably realize. Here are some of the coolest things you can find in this digital museum.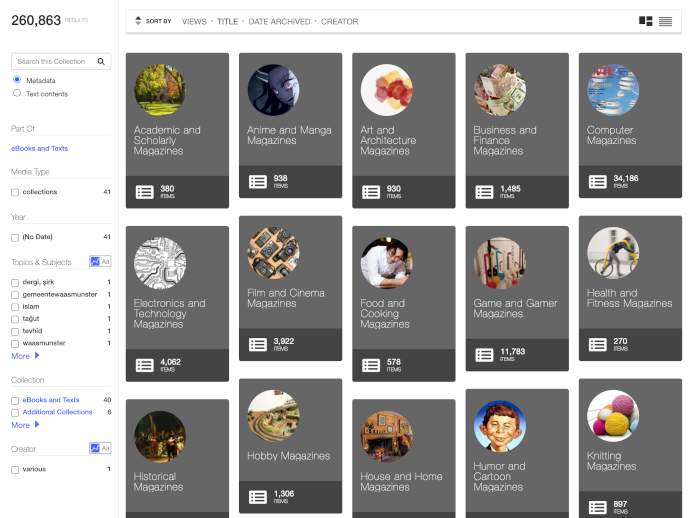 There's a reason why almost nobody holds onto old magazines anymore. They're heavy, they take up space, and they just aren't all that useful given the abundance of information available on the internet.
But old magazines can be fun to look through, if for nothing else than nostalgia and history. And if you ever feel like checking out magazines from years ago, there's always the Magazine Rack.
As the name implies, this is a collection of digitized magazines that you can browse at your leisure. Whether you're looking for anime and manga magazines or old issues of Computer Monthly, you'll find them here.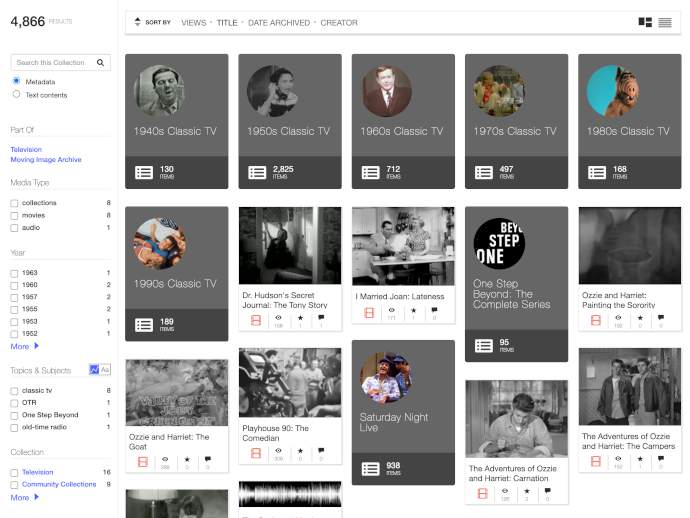 Don't feel like paying for a TV streaming service? You could check out the Classic TV section of the Internet Archive. There are lots of vintage TV series that you won't find streaming anywhere else.
Whether you're looking for Alf, I Love Lucy, or something reaching much further back like The Lone Ranger, there are hours of nostalgic viewing to be had here. And it's all legal!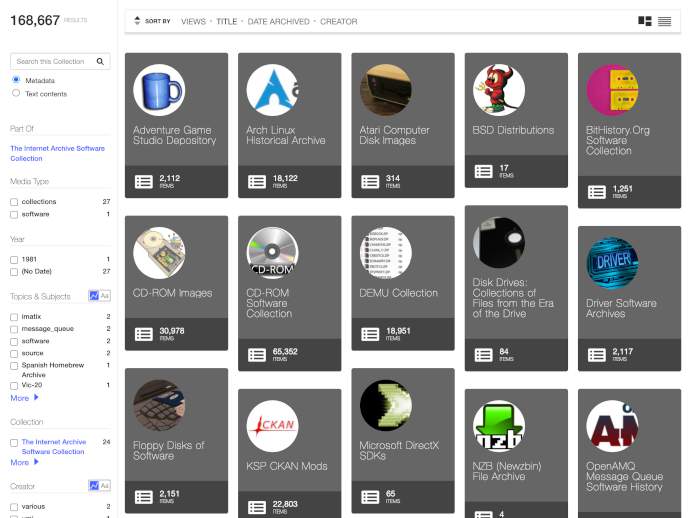 Do you identify as more of a classic nerd than whatever the modern definition may be? If so, do yourself a favor and take a look at the Vintage Software Collection on the Internet Archive.
You'll find old floppy disk archives, software development kits, and all sorts of open-source software. There are even odd curiosities like the Ouya Library, plus an entire section dedicated to Minecraft.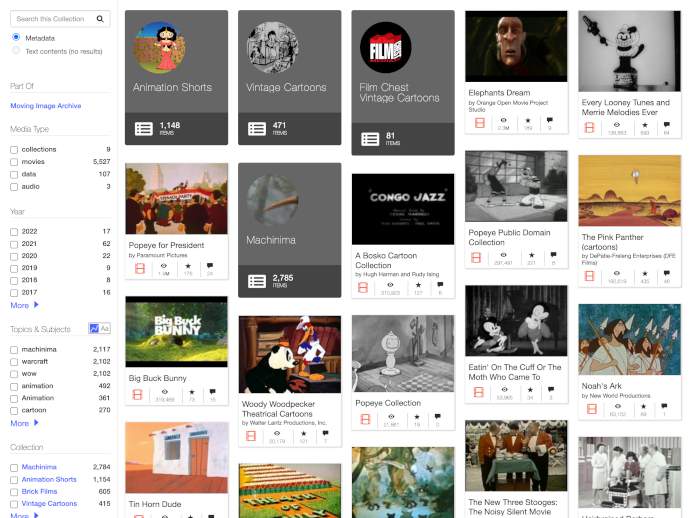 The Animation & Cartoons section of the Internet Archive is packed with thousands of cartoons to peruse. Of course, this means you'll have to do a little digging to find the cartoons that appeal to you.
Options include the open-source favorite Big Buck Bunny, various Popeye and Pink Panther cartoons, and many more. You're also sure to find some wild cartoons and animated shorts you've never heard of before.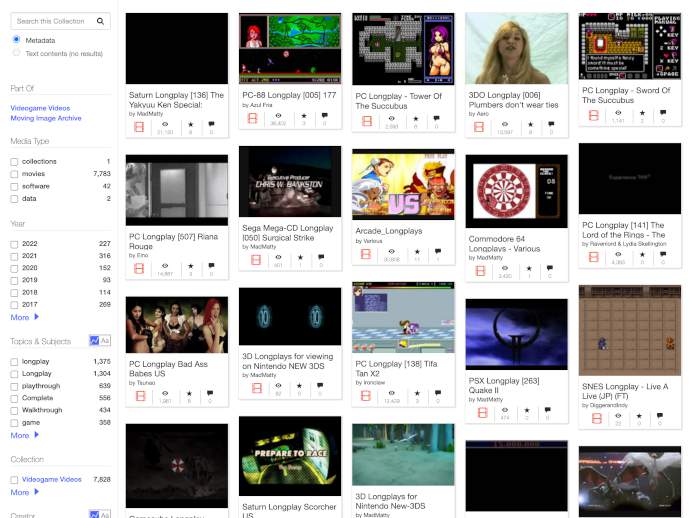 It's not that uncommon to watch someone else play through an entire video game these days, what with Twitch being as popular as it is.
But did you know that long before Twitch rose to prominence, people were playing entire video games, recording themselves doing it, and uploading them to the web? They're right here in the World of Longplays section.
Expect to see start-to-finish playthroughs of many video games you've never heard of, alongside a host of absolute classics.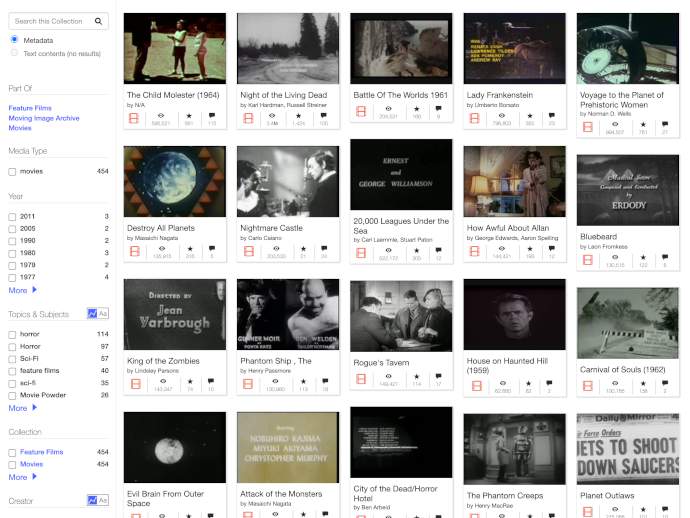 Are you a fan of classic horror? If so, you'll find plenty of free entertainment in the Internet Archive's Sci-Fi / Horror collection. There isn't much here for the modern movie buff, but there are cult classics galore.
From undisputed classics like The Night of the Living Dead and Carnival of Souls to more acquired tastes like Lady Frankenstein, chances are you'll find something you like in the nearly 500 available movies.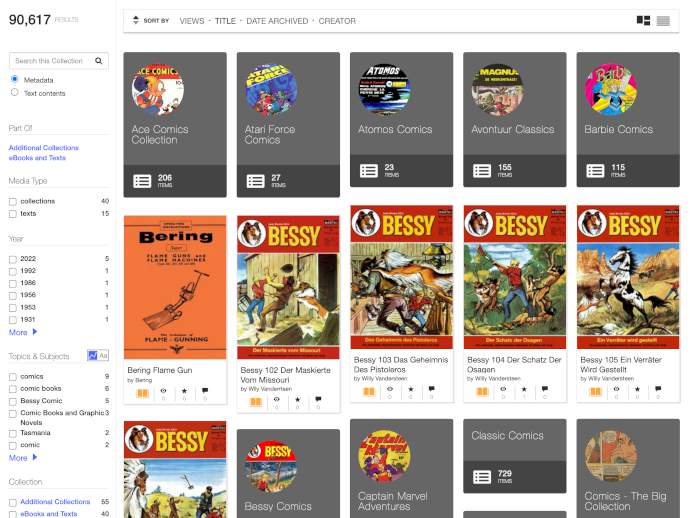 If you're fortunate, you've never had a friend or family member dump their ancient comic collection on you—because when they do, it's never the hits and always weird comics you've never heard of, like Tandy Whiz Kids.
But if rifling through ancient comics that have all but passed from society's collective memory sounds like your idea of fun, then you'll love spending time in the Internet Archive's Comic Books & Graphic Novels area.
Whether you're looking for pure cheese or hidden gems, there'll be plenty to occupy your time with—over 90,000 issues as of this writing.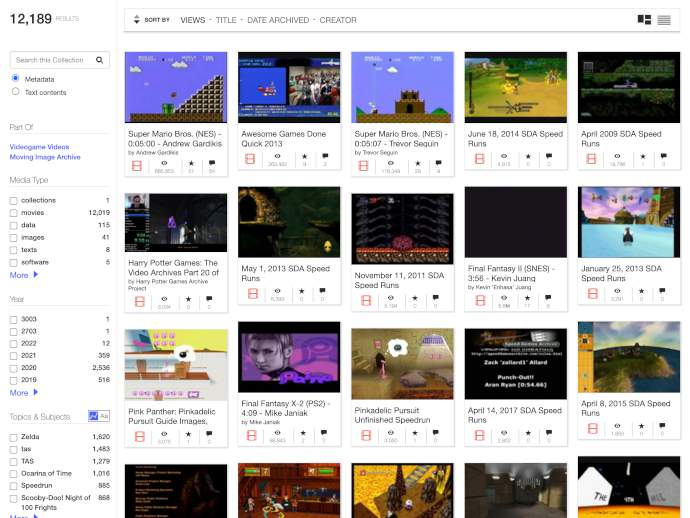 In addition to the aforementioned longplays, the Internet Archive also has a sizable treasure trove of speedruns.
For the uninitiated, a speedrun is when a player who's very familiar with a video game plays through it as quickly as possible, often with the goal of breaking their personal time record (or even a world record).
The Internet Archive is home to thousands of recorded speedruns, ranging from classics like Super Mario Bros on the NES to not-so-classic titles like Die Hard: Nakatomi Plaza.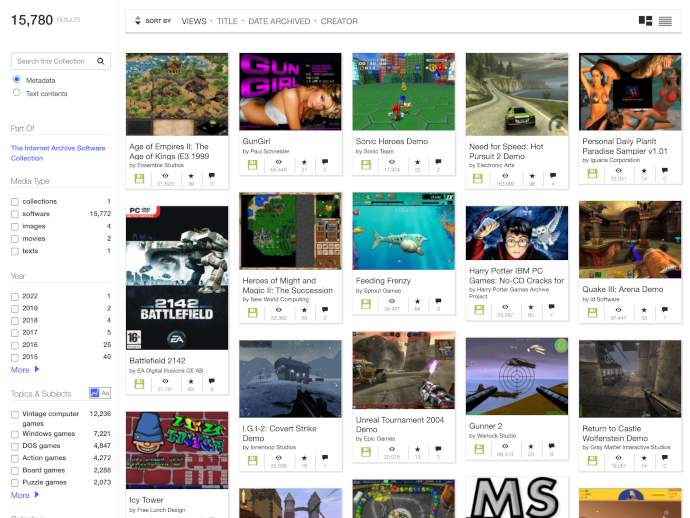 If you want to play classic PC games for free, you might enjoy spending some time in the Classic PC Games section of the Internet Archive.
Don't get your hopes up too much, though. The section might have over 15,000 items in it, but most of them are demos. Full games are few and far between, and the ones available are usually worth what you pay (nothing).
Still, if you want to fire up the demo for Croc: Legend of the Gobbos because hey, it's Croc, then you'll be pleased to find it in the Classic PC Games section. Will it run? Maybe with a little work, sure.
The coolest section of the Internet Archive by a mile is the Internet Arcade, which is exactly what it sounds like: play arcade games from the 1970s all the way to the 1990s, right within your web browser.
The Internet Arcade uses JSMAME to emulate the games in your browser window, and it works surprisingly well. Whether you want to get in a few rounds of Street Fighter Alpha 2 or something more esoteric like Violence Fight, you can do that here!