Being a fan is a great thing these days. There's so many things to do and see, and long gone is the era where different aspects of fandom were siloed off from the rest of the internet during Web 1.0.
Now that everything is out in the open, it's accessible, fun, and mainstream. But some places on the internet are better for fans than others.
Here are the best websites and social media havens to be a geek—and the apps you should use (if any) to make your participation in those fandoms easier.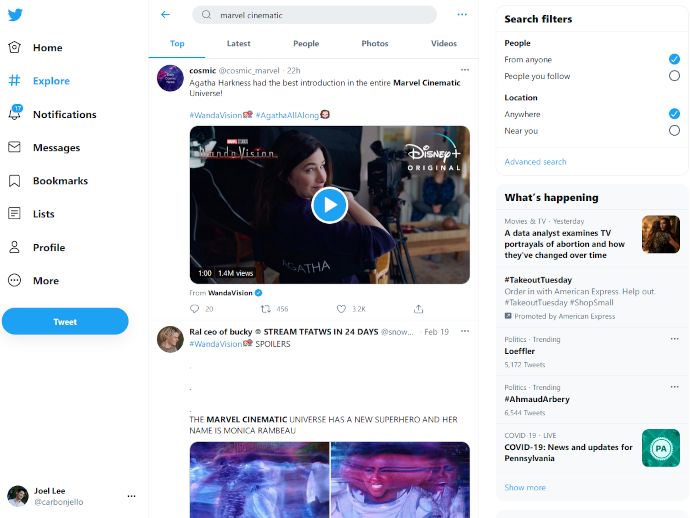 Twitter took up the fandom mantle as the new "geek hotspot" after Tumblr instituted its adult content ban. A short-form, fast-paced social media site that's been around for awhile, it wasn't until the Tumblr migration that Twitter really turned into a "geeky" platform.
There's so many fandoms on Twitter, from Marvel to Star Wars to boy bands. Content posted on the site ranges from humorous memes, to art, to fact-checked news articles on your favorite franchises. Brands and content creators often interact directly with their audience.
Twitter recently went through a desktop app redesign that was highly unpopular, but a Chrome extension reverts it back to its previous, more accessible design. I've personally been using this extension for quite a few weeks now, and I'm definitely a fan of it.
You can also download Twitter's mobile apps for iOS and Android, so you can use the social media site on the go.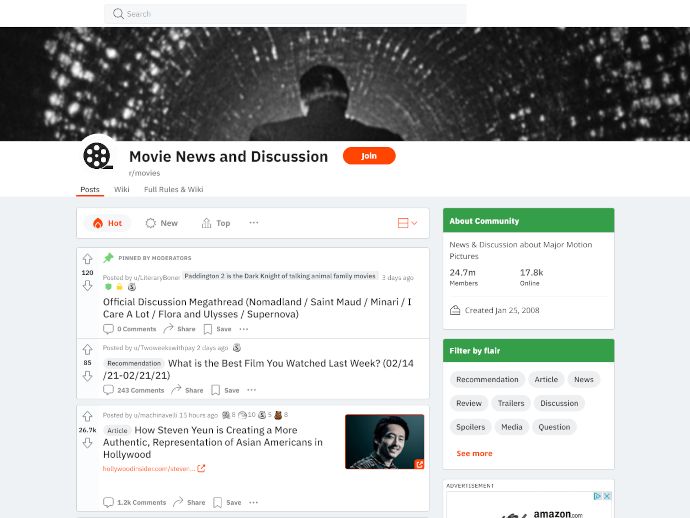 Reddit is one of the oldest (still-thriving) fan-friendly sites that you can find on the internet. Just like Twitter it's not fandom-specific, and caters to other subcultures as well.
As a forum site that draws from the internet's text-based origins, Reddit is populated by "subreddits" (i.e. categories of content) where you can post forum threads, comment on threads, or up and downvote content.
A lot of fandom speculation occurs on Reddit, and for the longest time the site has been synonymous with TV spoilers or "leaks" due to the relative anonymity of its users. They have a mobile app for both iOS and Android, which you can download to your phone.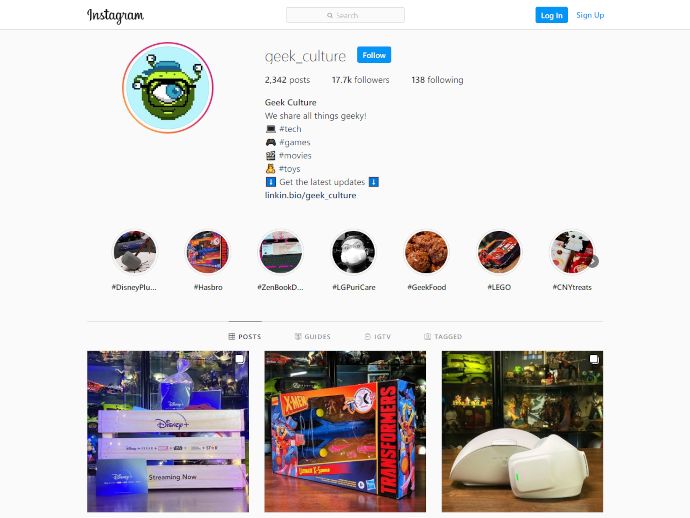 Now you normally wouldn't think of Instagram as the best place for geeky stuff. It's more closely associated with beauty vloggers and travel accounts, but a lot of fans—especially artists and cosplayers—have taken up residence to show off their work.
While Instagram is not as fast-paced as something like Twitter, you'll still want to be there if you want to catch a glimpse of someone's cosplay as their favorite character. You can find this content by searching through the hashtags.
Instagram is meant to be used on mobile, so if you want to experience the full scope of the social media site you'll need to download their app for iOS or Android.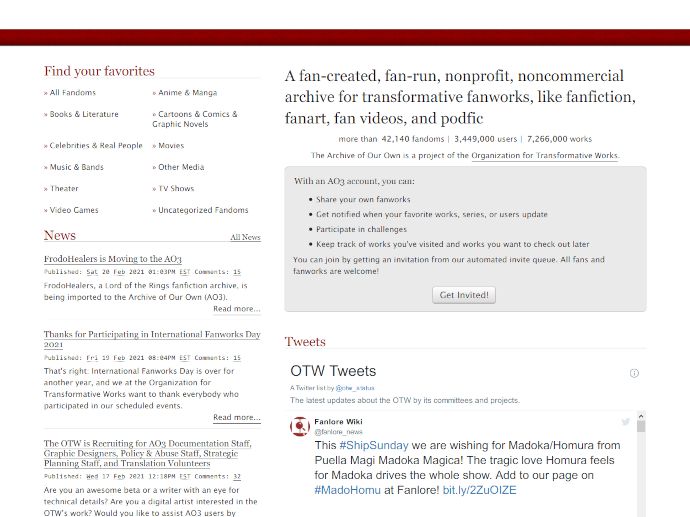 Archive of Our Own is an altar of pop culture fandom, specifically fanfiction. It also won a Hugo Award for all the work they've done with the geeky community, and we've talked about fanfiction and why it's important before.
As a fanfiction megasite that's run as a non-profit, Archive of Our Own allows you to post fanfic, read fanfic, upvote fanfics, comment on them, and search the archives for your favorite franchises. It's free to sign up and great to use.
PillowFort was a fannish website that we looked at that didn't quite make the list. As a micro-blogging platform that was set up prior to Tumblr's adult content ban, PillowFort was billed as a better alternative to Tumblr where you could make posts, comment on posts, and curate your own digital space.
When Tumblr went belly-up, PillowFort saw a huge spike in new users joining the site. Unfortunately they had to close applications to incoming members so the platform didn't get overwhelmed.
Old News: Tumblr
Tumblr used to be the #1 spot for fannish creations on the internet. No longer.
After the social media site rolled out their restrictive ban on sexually descriptive images—and used a bot that couldn't distinguish between safe for work pictures and explicit imagery to enforce this—Tumblr users began to decamp in droves.
Tumblr was warned by their userbase prior to this ban that this depopulation would happen. They still went through with it, and the bot made it worse.
After less than a year, they had officially lost 30% of their traffic and were forced to sell the website to the owners of WordPress for less than $3 million. This is especially shocking when you consider the fact that Verizon originally purchased Tumblr (through its acquisition of Yahoo) for $1.1 billion.
As of this date, Tumblr now stands of one of the biggest examples of how to sink your own product through user mismanagement. The geeky subcultures that exist there are now a shell of their former selves.