Just about every manga fan has read a free "scanlation" of a manga series at some point. These fan-translated manga have been scanned and shared online, opening a can of worms in terms of legality.
While scanlation sites technically aren't legal, they still remain on the internet, doing a huge disservice to manga artists.
If you're done relying on ad-filled scanlations and want to support the manga industry, you can do so by reading manga on legitimate sites.
All of the following legal manga sites let you read manga online for free in some form. However, some of them may not offer everything for free, with some manga only available as paid content.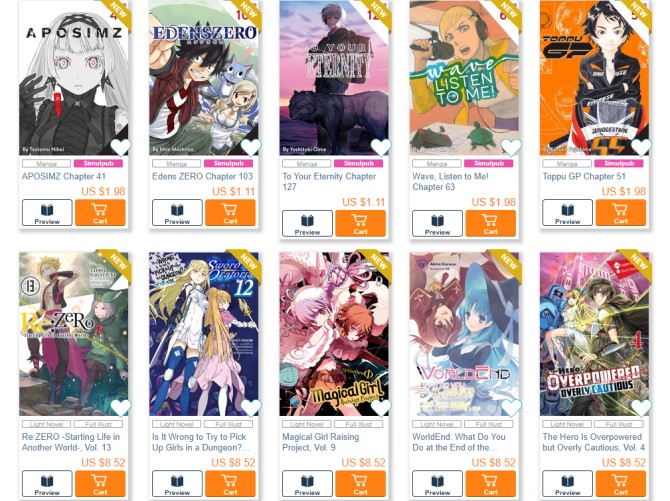 Book Walker is a hub for manga and light novels. You can preview and purchase a number of manga from several different genres and publishers, giving you the chance to check out manga from a very diverse library.
Fortunately, you don't have to pay for everything you find on Book Walker. In the site's Free section, you'll find some full-sized manga you can download and read for free, as well as single chapter previews.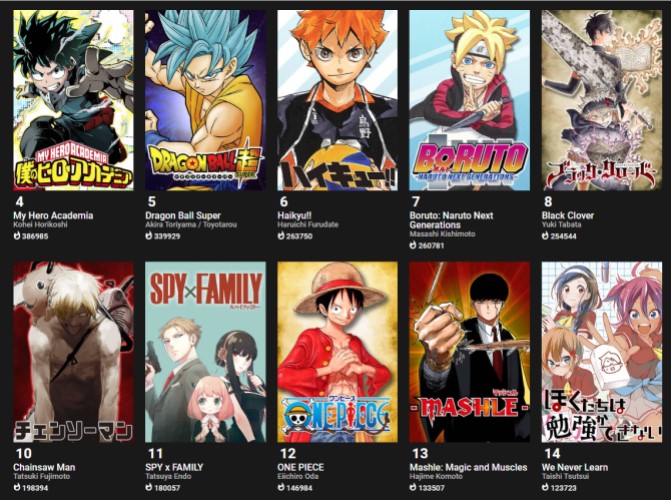 Manga Plus comes from Shueisha, the publisher behind the Weekly Shonen Jump magazine. This means you'll find all of the latest from Shonen Jump, including the newest chapters of Dragon Ball Super, Boruto, and My Hero Academia.
Did I mention that you can read all of it for free?
Since Viz also offers content from Shonen Jump, you'll see a lot of overlap between the two sites. Despite this, both sites still have differences—Manga Plus features some manga you won't see in Viz, and it doesn't have any older chapters listed on its site.
That said, Manga Plus is better for fans who have already caught up with their favorite series.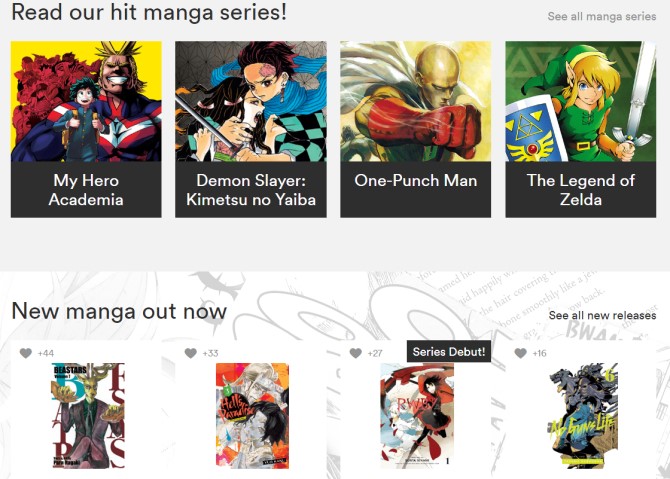 You probably know Viz Media as the publisher of a few of your favorite manga. After all, Viz is home to some of the most popular manga series of all time, including Naruto, Sailor Moon, One Piece, and Bleach.
Not only does Viz give you a short preview of almost all of its manga, but you can also read larger chunks of manga on Viz's Shonen Jump collection. This digital vault lets you dive into several chapters of amazing manga series for free.
Just keep in mind that some chapters on Shonen Jump are "locked," which means you'll have to pay $2/month to get access to all of the current chapters, as well as the new ones to come.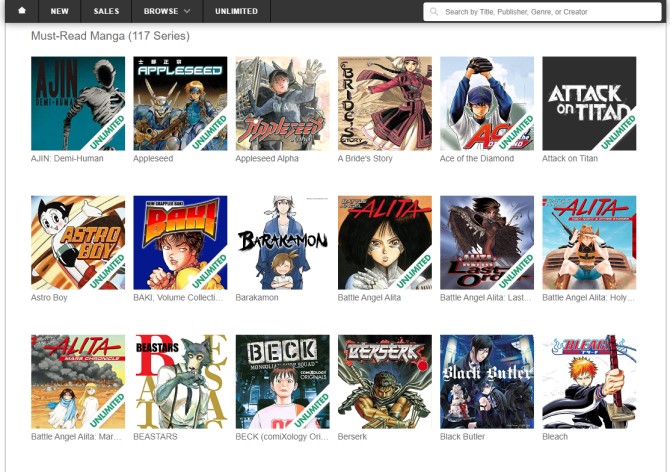 ComiXology is a manga lover's paradise. It's chock-full of fan-favorite manga while leaving room for you to discover new titles, too—and you can read most of ComiXology for free via Amazon Prime or Kindle Unlimited.
Of course, neither Amazon Prime nor Kindle Unlimited are free, but if you're already subscribed to either of them then you have access to thousands of manga issues/volumes and you won't need to pay an extra cent.
Special Offer
comiXology was acquired by Amazon and folded into Amazon.com, but comiXology Unlimited is still available!
Start a 30-day free trial of comiXology Unlimited and gain access to over 45,000 comics, graphic novels, and manga:
Also, many comiXology volumes are available to Amazon Prime members. Start a 30-day free trial of Amazon Prime to read comics, stream movies and TV shows, and more:
Or grab 2 months of Kindle Unlimited for $5 and get access to over two million ebooks and digital comics:
If that selection isn't enough to sate your appetite, you can purchase individual manga issues/volumes and read them whenever you want, but we recommend the subscription because it's pretty dang cost-effective.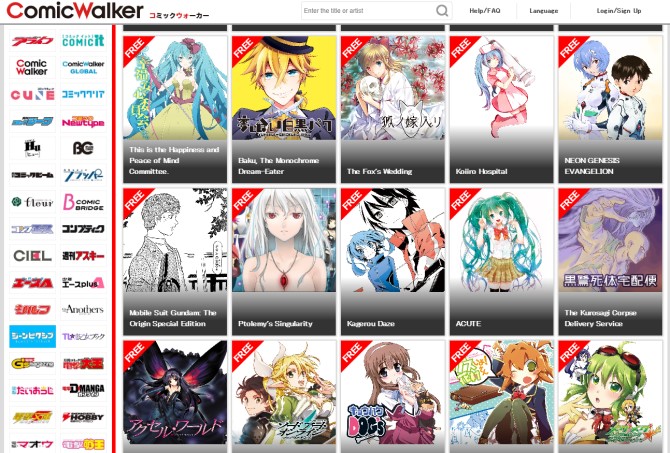 Thankfully, you don't have to pay to get unlimited access to the manga on ComicWalker—it's completely free!
When you first click on the site, you'll notice that it's in Japanese, so make sure to hit the Language button on the top right corner of the page to switch it to English.
ComicWalker doesn't have as large of a manga collection when compared to some of these other sites, but it still has plenty worth reading. Neon Genesis Evangelion, Mobile Suit Gundam, and Love Live are just some of the free manga you'll find on ComicWalker.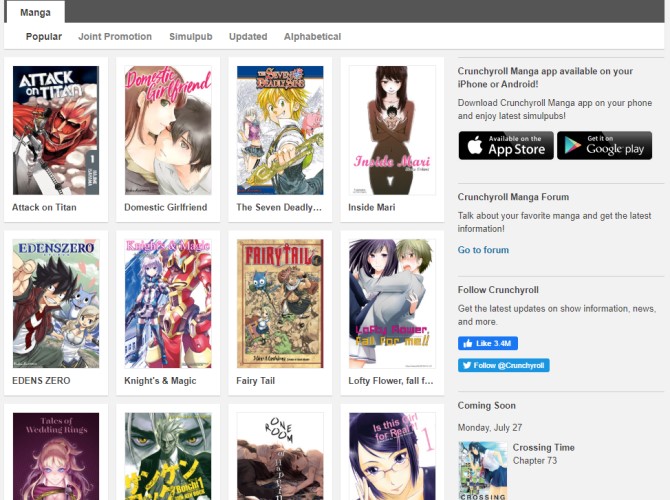 Crunchyroll isn't just a fantastic site to watch anime—it also has a large library of manga that you can read.
To get full access to the manga on its site, you'll have to sign up for the Premium plan, which will cost you $8/month. The Premium membership also gives you ad-free access to anime and simulcasts, which definitely gives you a bang for your buck.
As for the manga on Crunchyroll, you can find both popular and obscure titles, some of which include Fairy Tail, The Seven Deadly Sins, Attack on Titan, and more.
If you're not ready to commit to a membership, you can always try out the 14-day free trial, which gives you full access to their entire manga library for a limited time period.
Try ComiXology Unlimited for Manga
In the end, reading manga from one of these legal sites is much more ethical. Not to mention that you won't have to deal with distracting ads and mistranslations.
If you decide to go with a ComiXology Unlimited subscription, make sure you start with the best manga series: