If you're a comic book fan like me, you know how frustratingly difficult it can be to find the latest issue of your favorite ongoing series, especially if you don't live near a local comic book store.
Thankfully, the comic book industry has adapted to modern consumer needs. There are now hundreds of online comic book stores where you can buy your comic book issues.
We're talking both digital and physical, ranging from single comic book issues to trade paperbacks to graphic novels and even mangas.
But which of these many options is best? Here are my picks for the best sites to buy comic books online.
Barnes & Noble is one of the biggest booksellers—both online and brick-and-mortar—in America. You can find pretty much any type of book on their site, including comic books.
They have a variety of formats and genres, including superhero comics, mangas, graphic novels, and even romance comics. However, you may have trouble finding super niche items.
As you'd expect from B&N, their store is well-organized. You can sort products by genre, subject, prices, publishers, etc. Plus, they maintain a solid list of bestseller comics in case you don't know what to read next.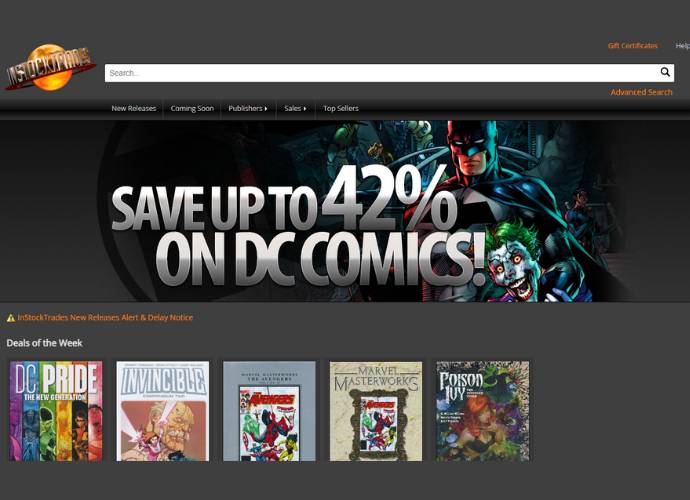 InStockTrades offers a variety of old comics and new releases at an affordable price. At this online store, you can find deals of up to 50% off on a wide range of comic books, graphic novels, and mangas.
You can browse their library by publishers, genres, writers, and artists, which is especially useful for long-time comic book fans.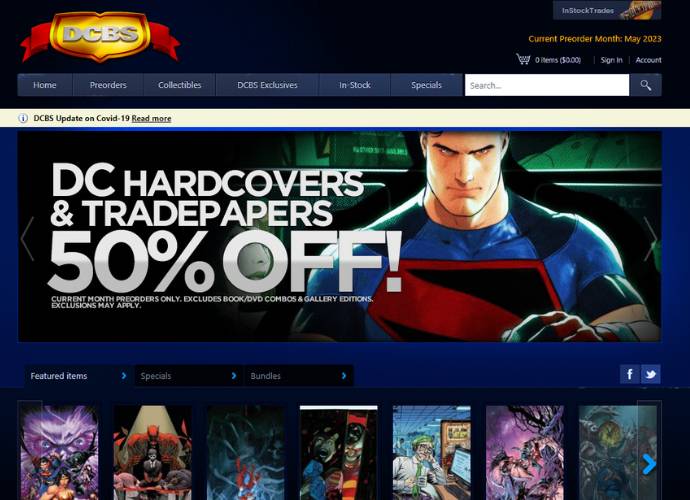 As its name suggests, the Discount Comic Book Service is an online comic store where you can find a variety of comic books at discounted prices. The catch? It's mostly pre-orders.
Most of their offerings are between 30% to 50% off, which makes them one of the cheapest online comic stores.
However, the downside is that you won't be able to get new releases as easily as you can in other stores. After all, their business model is all about pre-ordering months in advance.
If you shop regularly here, you can set up regular shipments through their subscription program, which can deliver everything to you on a weekly, bi-weekly, or monthly basis.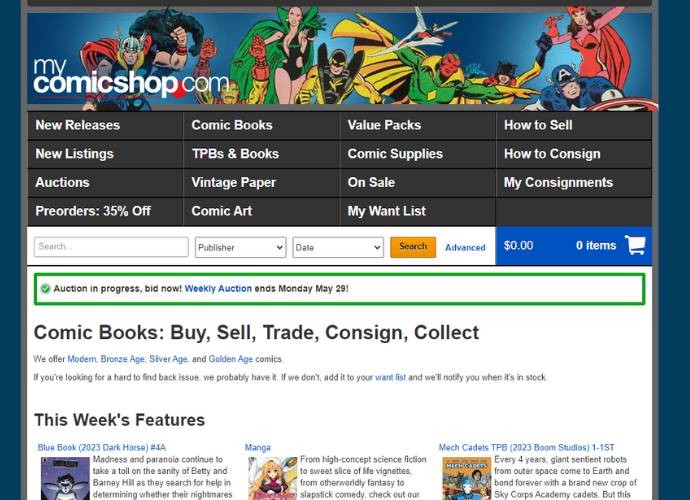 My Comic Shop is an interesting online store because it's not just a great place to buy comics—it's a great place to sell and trade your own comic books with other like-minded comic fans.
In and of itself, My Comic Shop has a fantastic selection and a solid catalog of back issues that are difficult to find elsewhere. But on top of that, it's their auction house that makes this retailer stand out.
Just head to the My Comic Shop Auctions page to find all kinds of comics, prints, and other related goods being sold by other customers, from vintage comics to special editions.
The site has a useful feature that notifies you when the comics in your wishlist become available in an auction.
And one more thing: you can pre-order upcoming comic books at a discounted rate!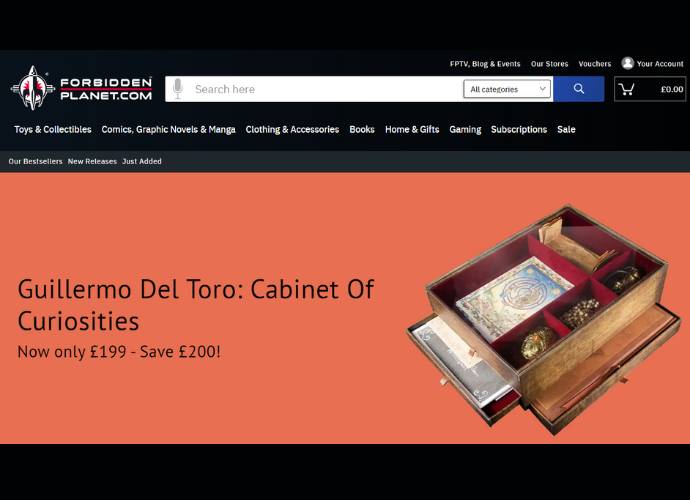 Forbidden Planet is the largest retailer of comic books in the United Kingdom. They have an extensive collection of comics, graphic novels, mangas, books, collectibles, video games, and toys.
Their prices are affordable and they have a subscription model that offers even more discounts, so if you're in the UK and you buy regularly, this may be an economical option for you.
Forbidden Planet also provides international shipping to countries including the United States, Canada, and Australia. The price may not always make sense, but it's certainly worth checking out!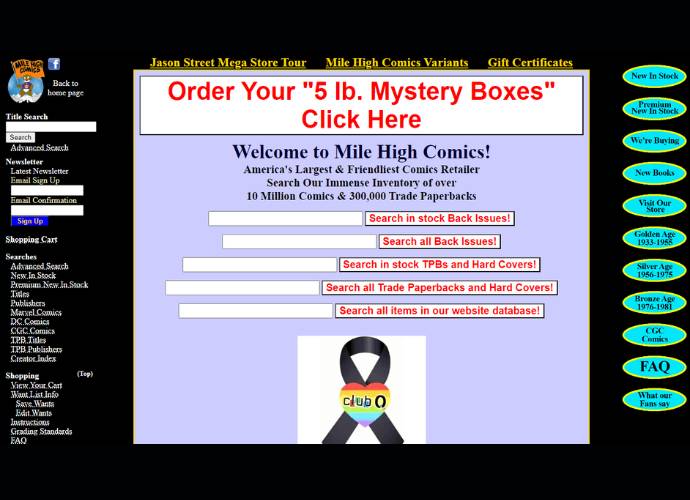 Don't be fooled by the old-fashioned appearance of this one. Mile High Comics is one of the biggest online comic book stores in the world, and you definitely don't want to miss it.
With a massive collection of over 10 million comics and 300,000 paperbacks, you're likely to find what you're looking for here.
And while you can find all sorts of new releases at Mile High Comics, their strong suit rests in their extensive collection of back issues and vintage paperbacks.
Seriously, it doesn't matter what comic book you're looking for. Mile High Comics almost surely has it at an affordable price.
And if they don't? You can sign up to receive email notifications when stuff you're interested in pops back in stock. It's one of the best places to buy comics online, period.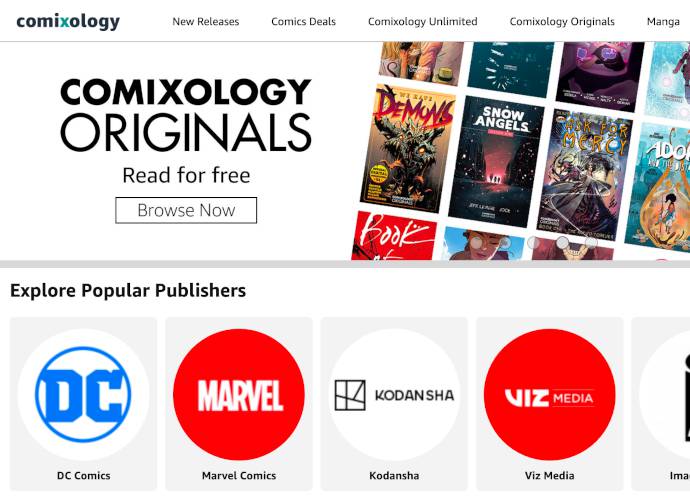 ComiXology is an Amazon-owned online platform for buying digital comic books, graphic novels, and manga. They have one of the largest comic book databases in the world, with more than 750,000 products—from both mainstream and independent publishers.
ComiXology started as a comic book site back in 2007, then was acquired by Amazon in 2014. They launched the ComiXology Unlimited subscription service in 2016, which went strong until 2022, when ComiXology was folded into the Amazon.com website.
As of this writing, the ComiXology Unlimited subscription service is still available for $5.99 per month, granting access to over 45,000 digital comics, graphic novels, and mangas. (Try the 30-day free trial!)
Don't care about that? You can still buy digital comics à la carte—but only digital comics.
Why is ComiXology so great? Because their sales and promotions are unbeatable, with some comics going as low as $0.99 per copy. If you want digital comics on the cheap, this is where to shop!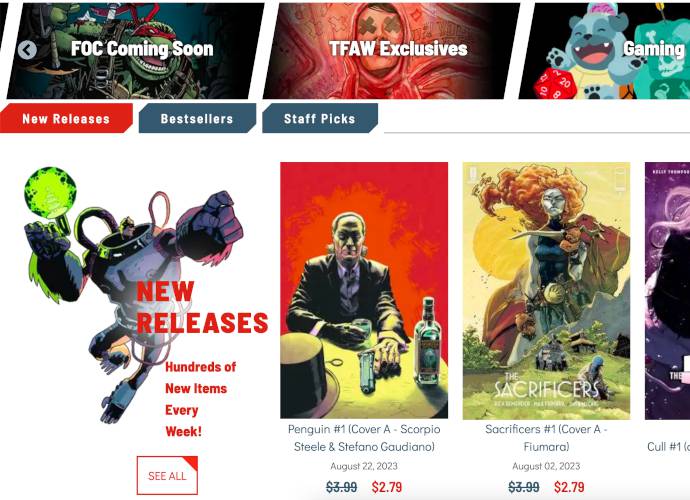 Things From Another World is the third-largest comic book retailer in the United States and a great place to find new comic releases as well as comic-related merchandise and memorabilia.
Their prices are affordable, with lots of deals and discounts that are announced through their mailing list.
They also offer a subscription model so you can automatically purchase new releases of your favorite comics and have them delivered right to you for your convenience.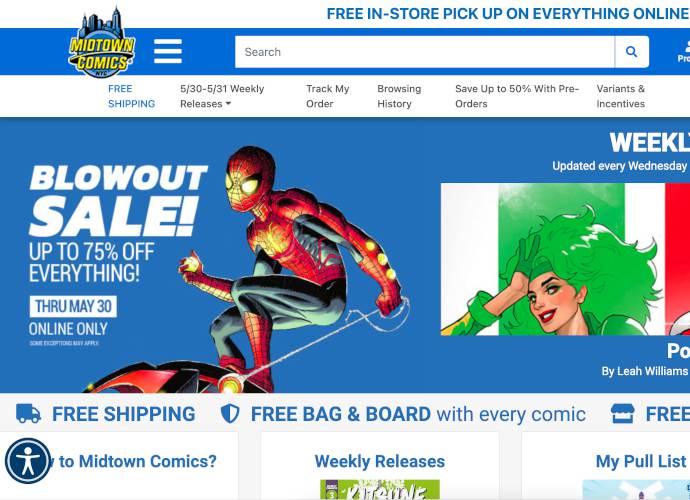 Midtown Comics is one of the most popular comic stores in the United States for their sizable catalog and excellent service.
They also have one of the best websites of any online comic store, which is carefully organized into clear sections and quick to browse, making it easy to find what you're after.
The Midtown Comics website also lets you find deals easily and check the availability of new comic releases and back issues.
If you're looking for a reliable online comic book store with the latest releases, amazing deals, and a large collection of memorabilia, then you absolutely need to check out Midtown Comics.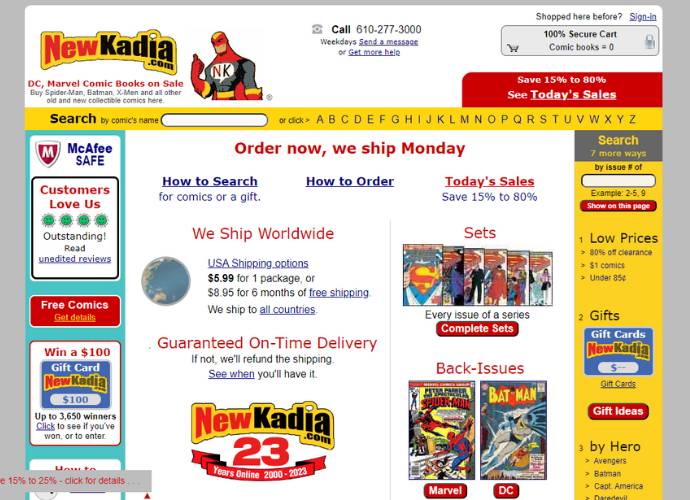 NewKadia is the self-proclaimed "Amazon for comic books," which is an extremely ambitious claim given that the aforementioned ComiXology is literally owned by Amazon!
But once you experience NewKadia's low prices, fast delivery, and well-packaged boxes, you'll be a believer. On top of providing great customer service, NewKadia offers free shipping with a subscription known as "NewKadia Prime." (Sound familiar?)
Interestingly, NewKadia uses a unique pricing structure: comic prices aren't just based on their condition, but also on how many copies they have in stock. The more copies, the lower the price.
NewKadia is a one-of-a-kind online comic store and our favorite place to buy comics online. They've been in business for more than 23 years and have a sprawling catalog of more than 750,000 comics.