We often recommend products we like. If you buy anything via links on our site, we may earn a small commission.
Techy gadgets are all good and fun in your living room, in your kitchen, on your workstation—but have you thought about techifying your bathroom? You probably haven't, given that you don't spend much time in there beyond taking a shower and using the toilet.
But why not level up your bathroom? There are plenty of practical and functional reasons to do so, and they won't cost you an arm or a leg. Here are some nifty bathroom gadgets that you should really consider.
As mentioned in our nerd's guide to hygiene, flossing is more important than brushing; it's actually better to floss and not brush than to brush and not floss (but do both, of course). But if flossing just "isn't your thing," then the Philips Sonicare Airfloss might change your mind.
Just fill it up with water or mouthwash, press the button, and aim the jet between your teeth. It's fast, it works, and it's even portable for travel, lasting up to three weeks on a single charge.
An electric toothbrush will get your teeth cleaner than a regular toothbrush, and in less time. Most electric toothbrushes are pretty good, but you'll probably want to go with a tried-and-true option like the Oral-B Electric Toothbrush. If you replace the heads every three months, one of these replacement head packs will last you two-and-a-half years.
Whether you use an electric or manual toothbrush, think about where all your tooth gunk goes after brushing. Most of it gets spit out with your toothpaste, but some of it sticks to the bristles—and the bacteria from that tooth gunk doesn't just disappear. Consider something like the Maxoak Toothbrush Sanitizer, which uses UV light to kill bacteria in three minutes. It's portable, recharges using USB, and lasts two months per charge if you use it once per day.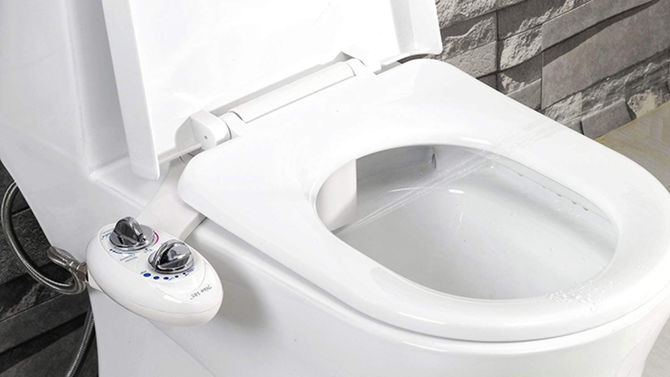 In Emma's article on why Japanese toilets are awesome, the bidet feature stuck out as unusual—at least in America. But the truth is, toilet bidets are more hygienic than normal toilet paper or even wet wipes, and you'll actually feel cleaner for using them. The Luxe Neo 185 Toilet Bidet is non-electric, mounts to any standard two-piece toilet, and features a second nozzle for a frontal feminine wash.
Note: If the Luxe Neo 185 model is a bit pricey, you can opt for the Luxe Neo 120 Toilet Bidet which doesn't have the second nozzle for feminine wash.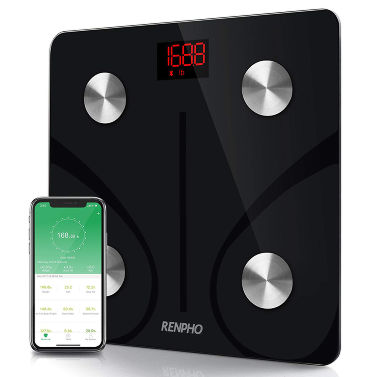 Why settle for a normal bathroom scale when you can spend just a tiny bit more for a smart bathroom scale? The Renpho Smart Scale tracks 13 body metrics over time, including BMI, muscle mass, basal metabolism, body age, and more. All of that data syncs with the free Renpho mobile app, which itself can share that data with Apple Health, Google Fit, and Fitbit. The weight measurement is accurate to 0.2 pounds. Plus, it looks great!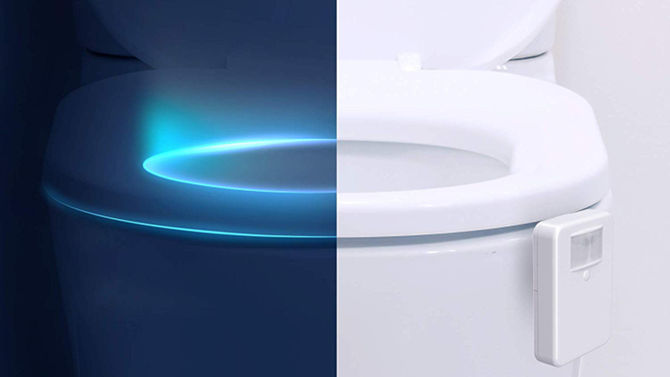 Tired of fumbling around in your bathroom in the middle of the night? The LumiLux Toilet Light is affordable and super nifty. It's equipped with a motion sensor and turns on/off as you enter and leave the bathroom, but also has a light sensor so it turns off when the bathroom light is on. It's also customizable with 16 colors and five brightness levels. Works with and fits snugly on any home toilet.
Toilet handles are the opposite of sanitary. Take your bathroom to the next level with the Techo Touchless Toilet Flush Kit, which is a motion sensor that you install in your existing toilet's tank—then simply wave to flush! It's easy to install and the sensor sensitivity and flush time are both customizable. It uses four AA batteries and lasts 30,000 flushes between battery replacements.
Note: This touchless flush kit is only compatible with toilets that use a flapper valve or canister flush valve!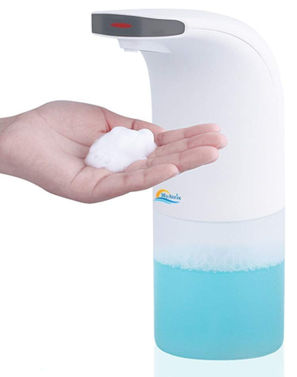 Like toilet handles, manual soap dispensers are filthy. A touchless dispenser is more sanitary, and the MyAtrix Touchless Soap Dispenser is an excellent option because it isn't just motion-activated—it also foams the soap when dispensing! Fill it with your favorite soap, dilute it with some water, and you're good to go. It runs on three AA batteries that last about three months. The only downside is that you can't adjust how much it dispenses per use.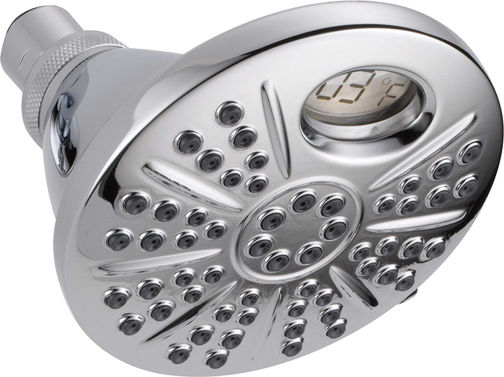 Most of us can get by without knowing the exact temperature of our shower water, but it can be nice to know for maximum comfort! The Delta Shower Head With Temperature Display has an LED display that's powered by the water that flows through it, and the head itself has six spray modes, including a massage mode.
Do you play music on your phone while showering? Take it up a notch with the VicTsing Shower Speaker, which is splash-resistant and can pair with your phone up to 33 feet away using Bluetooth. It lasts up to six hours per charge and sticks to the wall using a suction cup. It also has a metal hook that you can use to hang it off a backpack while you're out hiking, camping, or whatever else.
Are you going to upgrade your bathroom with one of these gadgets? Are there any other cool bathroom gadgets that I missed? Let me know in the comments!