We often recommend products we like. If you buy anything via links on our site, we may earn a small commission.
Pets are adorable, but they're definitely a handful. Feeding, cleaning, and playing with your pets takes up a huge portion of your day. When you're crunched for time, you could use some help.
By default, nerdy pet owners turn to gadgets to make their daily tasks go by quicker. Here are some handy pet gadgets that are geek-approved.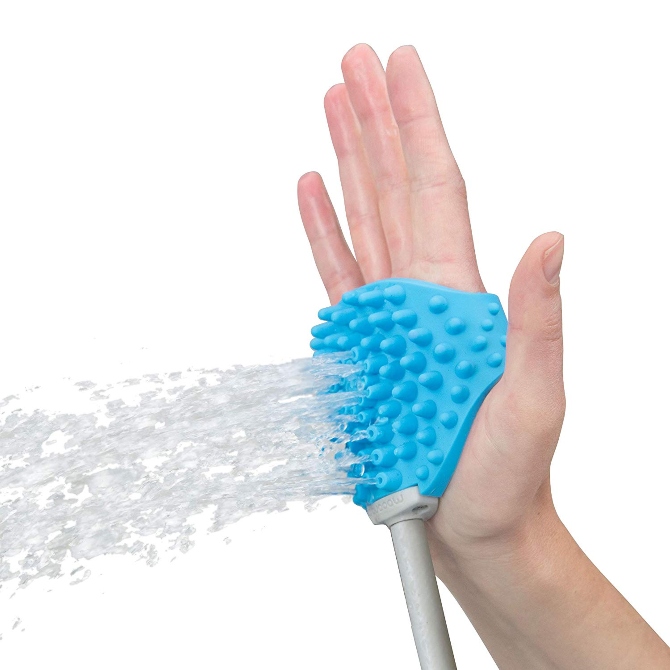 Bathing your dog is a real chore when you don't have a removable showerhead. You get stuck collecting the water from the bath's faucet, and pouring it over your dog. Instead of struggling with a bucket full of water, attach the Aquapaw Pet Bathing Tool to your showerhead.
It comes with adapters to ensure a snug fit to the showerhead, as well as outdoor spigots. Attach the sprayer/brush combo to your palm, and the water will flow through the hose, and out of the attachment on your hand. That way, you can scrub and wash your dog at the same time.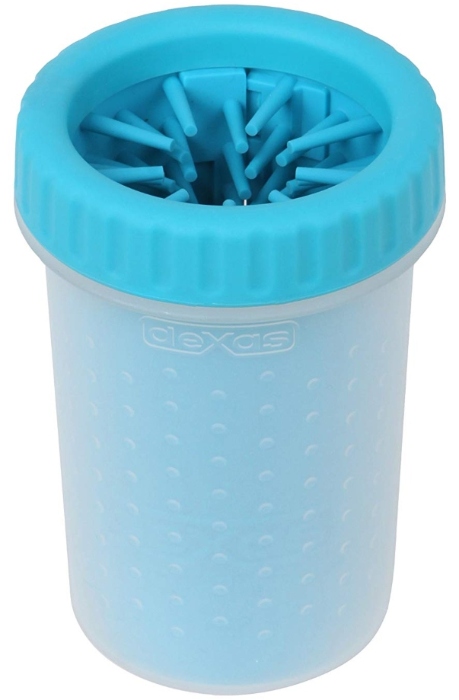 There's nothing worse than having your dog track mud in the house after you just finished cleaning. Even when it's not particularly rainy outside, your dog's dirty paws can make a mess of your carpet, floor, and couch. The Dexas MudBuster Portable Dog Paw Cleaner is a way better alternative to using a wet paper towel to clean your dog's paws.
The paw cleaner consists of a small tube with silicone bristles that won't hurt your pup. Add some water into the device, insert the dog's paw, and twist the device. After just a few turns, your dog's paws won't have an ounce of mud left.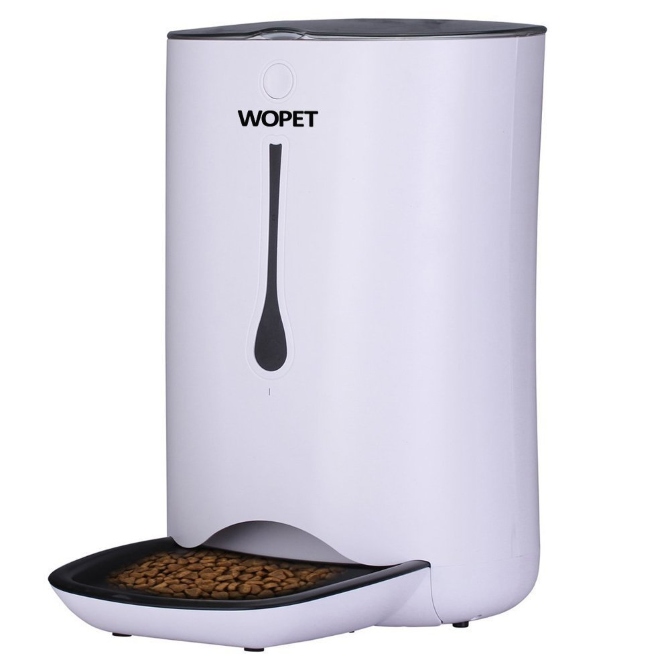 Who's going to feed your pet while you're at work or on a day trip? Leaving out a pile of food can cause your pet to overeat, and relying on a petsitter can get expensive. Buying an automatic pet feeder is totally worth it—you only need to pay for the device, and it will keep your pet healthy and full.
The WOpet Automatic Feeder provides up to four meals per day, and gives you full control over how much food the device dispenses. You can also record a message for your pet that plays during every feeding, which coerces your pet to start eating.
When you take your dog for a ride, you always set down a towel in the backseat of your car—but that doesn't matter. Your dog always manages to get your car seats dirty. If you're tired of having muddy paw prints scattered all over your car, you should think about using the Plush Paws Pet Seat Cover.
Not only is this seat cover waterproof, but it also manages to make your car look pretty spiffy. It fits most cars, trucks, and SUVs, and securely attaches to the backseats. If you want to block the back of your front seats as well, it fans out into a hammock to make your car totally dog-proof.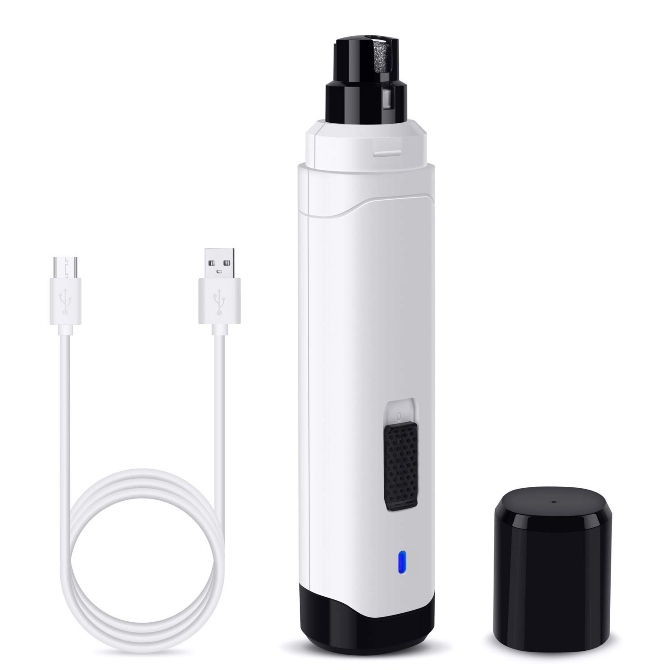 No animal enjoys having their nails clipped, even if they really need a trim. If you feel confident to do the clipping yourself, you'll need the right pair of clippers. The Casfuy Electric Nail Trimmer ensures the safety of your dog or cat during every pet-icure.
This nail trimmer comes with a diamond-bit grinder, which gives your pet a more comfortable grooming experience. You can also swap out the grinder according to your pet's size, as well as control its speed. Timid dogs or cats won't have to worry about their next nail-clipping—the trimmer is quiet and produces very little vibration.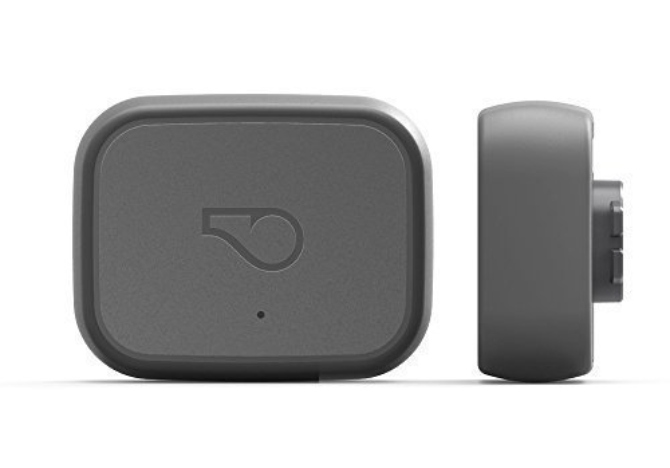 If you're a cat owner, you might be brave enough to let your cat explore the great outdoors. You also probably have no idea where your cat goes on their little adventures. The Whistle 3 GPS Pet Tracker is a great way to keep track of your cat or dog's whereabouts.
Simply attach the tracker to your pet's collar, download the Whistle 3 app, and view your pet's location on a map. Unfortunately, you'll have to pay a subscription fee for the cellular service that the device comes with, but you'll have access to your pet's location until the tag's battery dies (it has a life of about seven days).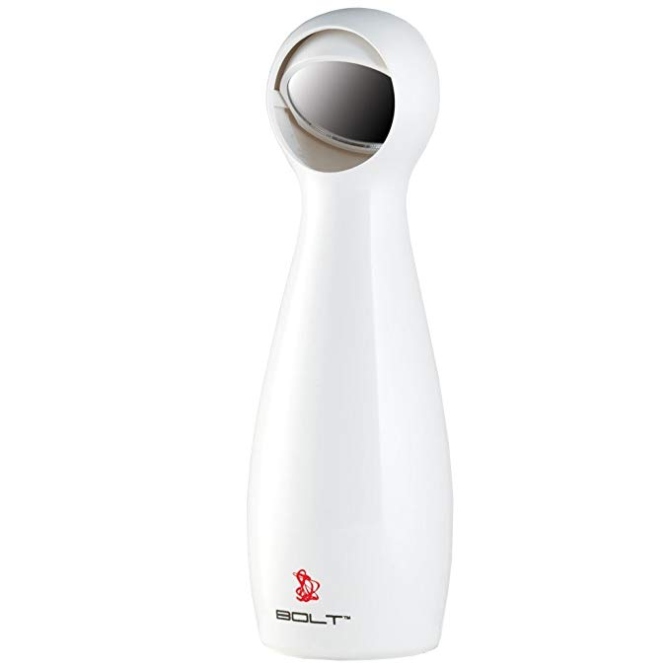 When your cat's alone and has no one to play with, it'll probably keep itself entertained by scratching your sofa. Instead of coming home to a couch that looks like its been attacked by a cheese grater, you should invest in a toy that plays with your cat for you.
The PetSafe Laser Cat Toy will keep your cat amused when you want a break from playtime. Its laser quickly travels around the room, and is too tempting for a cat to ignore. If you're worried about driving your cat crazy with an automatic laser, don't worry—it shuts itself off after 15 minutes.
Complement an automatic pet feeder with a water fountain. The Veken Pet Fountain constantly circulates water and keeps it fresh. On top of that, the built-in filter sifts out hair and other unhealthy chemicals.
It also has a few different settings, depending on the preference of your pets—you can choose from two free-falling water options or a bubbling fountain. Both are gentle enough to prevent scaring off your pets.
Gadgets Only Make Life More Convenient
Your pet will thank you when it finally gets to drink from a beautiful fountain of water, or when it gets to play with an automatic laser for hours. Nerdy pet gadgets allow you to worry about one less thing, and get on with your day.
Have any other nerdy pet-lovers in your life? Check out these awesome gift ideas for geeky pet owners.