Finding the right set of earbuds is never easy. Not only are there are tons of different brands, but we keep seeing more expensive earbuds with newer and better features. Maybe you feel like you're priced out.
Fortunately, there are earbuds like the EarFun Air S that aim to keep things affordable while packing in the features. Yup, these are active noise cancellation (ANC) earbuds and they're excellently priced.
Here's what you need to know about the EarFun Air S, including all the pros and cons and whether these are right for you.
My review unit was provided for free, but my opinions are my own and haven't been influenced in any way.
EarFun Air S: Overview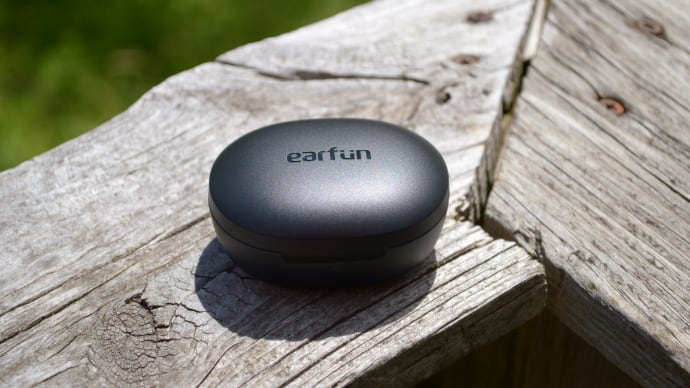 The EarFun Air S look like an ever-so-slightly smaller version of the original EarFun Air earbuds, but closer in functionality to the EarFun Air Pro that we reviewed last year.
Like the Pro, the EarFun Air S features active noise cancellation and an ambient sound mode similar to the Transparency mode of Apple AirPods. This means you can choose whether to block the outside world or let it all through, keeping you safer while you're out and about.
The EarFun Air S has wireless charging like its predecessors, but now also features multipoint Bluetooth pairing so you can stay connected to two devices at once. For example, you could use one device for music and another device for taking or making calls.
Not everything about the EarFun Air S is an upgrade, though. When it comes to waterproofness, for example, the EarFun Air S is IPX5 certified while the original EarFun Air was IPX7 rated.
The EarFun Air S also has slightly less battery life, offering up to six hours of playback on a full charge with an additional 24 hours from the case, adding up to a total battery life of 30 hours. Compare that to the original EarFun Air, which had 35 hours but no active noise cancellation.
EarFun Air S: The Good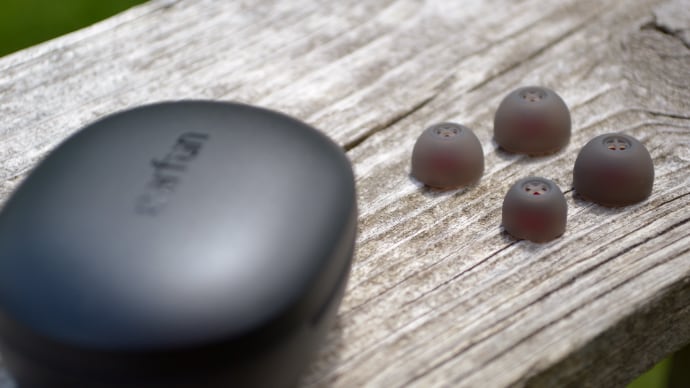 The EarFun Air S ships with different earbud sizes to help you find the most comfortable fit for your ears, which is important for proper noise cancellation. (In my case, the medium tips fit perfectly.) The EarFun Air S also has a painless pairing process.
Once I found the proper fit, they stayed put in my ears no matter what I did. While these aren't sport headphones, I took them on a fairly rough gravel bike ride and never once worried about them falling out.
The EarFun Air S supports aptX on top of the typical SBC and AAC codecs, so you don't have to worry about latency while watching videos on, for example, your Android device or PC.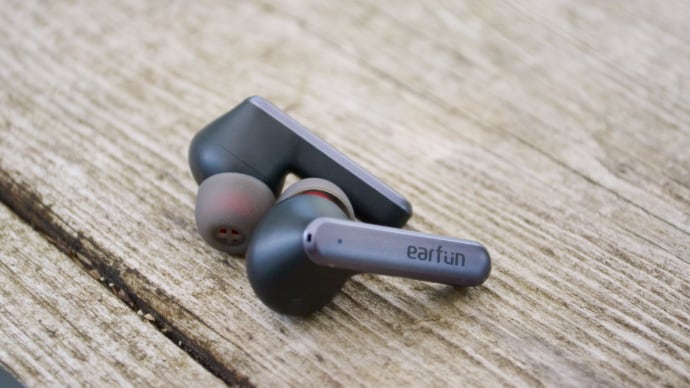 The noise cancellation is fine in these earbuds, but I'm more thankful for the ambient sound mode that allows me to hear the sounds around me. That's key for activities like my aforementioned rough bike rides.
When it comes to the sound quality, the EarFun Air S has a V-shaped sound signature that's typical in consumer headphones. However, while this EQ shape can make some headphones sound overly strident in certain frequencies, here it just sounds fun.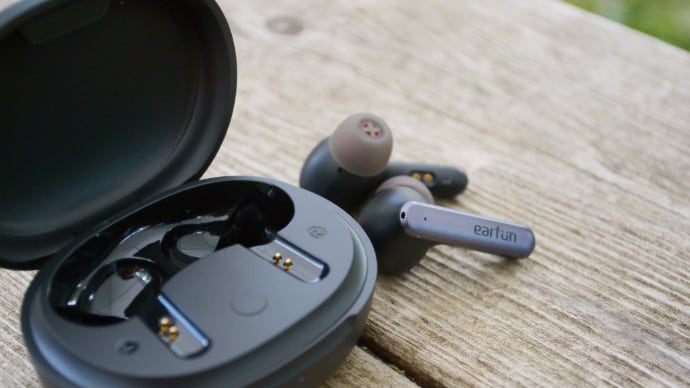 In listening to Moderator's "Zombie Girl," the bass feels like it would shake the room if these weren't in-ear headphones. While the snare can disappear beneath other instruments on certain other headphones, that wasn't the case when listening on the EarFun Air S.
Podcasts and audiobooks sound equally great with the EarFun Air S, without the overly bass-heavy sound that can weigh down the spoken word on other true wireless ANC headphones.
EarFun Air S: The Bad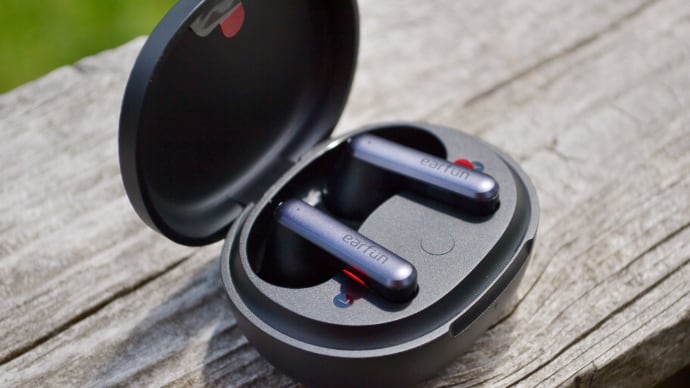 I mentioned above that the EarFun Air S held steady in my ears while on a bike ride. Unfortunately, they don't always stay put in every situation. One morning, I was jogging down my front steps when an earbud popped out of my left ear. Fortunately, I found it right away.
It's not a common occurrence at all—and I don't think this would have happened if I hadn't been rushing—but keep in mind that these aren't sold as sport headphones so they don't have an overly tight fit.
The active noise cancellation is slightly weak, but that's an issue with all in-ear ANC headphones. They just aren't as effective at canceling noise as over-ear headphones.
The ambient sound mode can feel somewhat muffled at times, but it's far from terrible. It's certainly on par with what I've heard in similarly priced headphones with the same feature.
My biggest issue with the EarFun Air S is the capacitive touch controls. Occasionally, I needed to double-tap the right earbud multiple times to successfully pause or resume playback. (This would be less of an annoyance if the EarFun Air S had in-ear detection. Sadly, it doesn't.)
EarFun Air S: The Verdict
Having reviewed several different EarFun products for this site—like the surprisingly awesome EarFun UBOOM L Bluetooth speakers—I've come to expect high-quality products from the brand.
I probably didn't sound overly impressed throughout this review, but that's only because I knew what to expect with the EarFun Air S. Overall, they lived up to my expectations and I'm happy with them.
Some features, most notably the ambient sound mode, are clearly weaker than what you'd find in a premium ANC product (like the Apple AirPods Pro), but that's to be expected. I haven't encountered a transparency mode that's anywhere close to that one, even at much higher price points.
You'll find a lot to like in the EarFun Air S. They're far better than most true wireless ANC earbuds in the same range, and the inclusion of Multipoint Bluetooth is a wonderful cherry on top of the cake.
Looking for true wireless active noise cancellation earbuds on a budget? These are the best value option on the market.
EarFun Air S True Wireless ANC Earbuds
EarFun Air S True Wireless ANC Earbuds
The EarFun Air S packs great audio, noise cancellation, and battery life into a surprisingly affordable package. If you don't want to spend on the big brands, these will get you most of the way there.
The EarFun Air S packs great audio, noise cancellation, and battery life into a surprisingly affordable package. If you don't want to spend on the big brands, these will get you most of the way there.
The Good
V-shaped sound signature that sounds fun and great
Supports aptX technology for high-quality, low-latency audio
Active noise cancellation and ambient sound modes
30-hour battery life (6 hours on a full charge plus an additional 24 hours from the charging case)
IPX5 rating means sweat resistant and able to withstand sustained low-pressure water spray
Multipoint Bluetooth can connect to two devices at the same time
The Bad
Capacitive touch controls can be finicky
Lack of in-ear detection is disappointing
Snug fit most of the time, but not perfect in all situations