EarFun UBOOM L Bluetooth Speaker
EarFun UBOOM L Bluetooth Speaker
This affordable Bluetooth speaker packs huge sound into a small package. If you grab two of them, you even get true wireless stereo sound.
This affordable Bluetooth speaker packs huge sound into a small package. If you grab two of them, you even get true wireless stereo sound.
The Good
Surprisingly big bass sound for its size
Build quality feels premium
Pair two speakers for true wireless stereo
16 hour battery life on a full charge
The Bad
Not 360-degree, so not great for parties
Waterproof port cover is hard to remove (this could also be a pro, depending on how you look at it)
There are countless Bluetooth speakers available on the market now, and many of them are just fine. Few are actually great. That's why it's never been more difficult to buy a Bluetooth speaker—finding a speaker that truly stands out can be tricky.
The EarFun UBOOM L doesn't do much new, but it takes just the right features and combines them into a solid, great-sounding package that just so happens to be fairly affordable.
My review unit was provided for free, but my opinions are my own and haven't been influenced in any way.
EarFun UBOOM L: Overview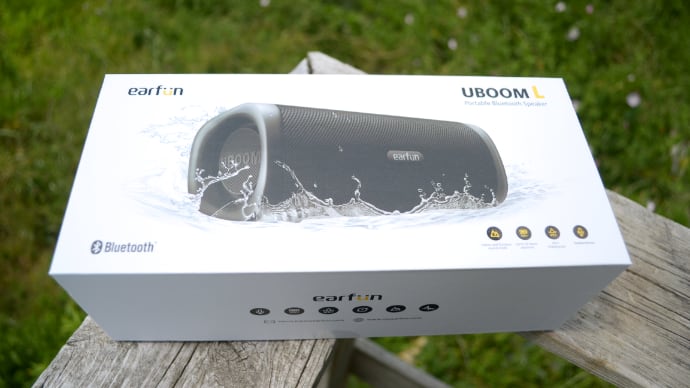 The EarFun UBOOM L picks up where EarFun's original Bluetooth speaker (the basic UBOOM) took off.
While the original UBOOM was a vertically oriented, 360-degree Bluetooth speaker, the UBOOM L is a more traditional, horizontally oriented speaker that's more similar to older boomboxes.
The UBOOM L is slightly more weather resistant. While the original UBOOM had an IPX7 rating, the UBOOM L adds dust resistance which boosts it up to an IP67 rating.
Like the original UBOOM, the EarFun UBOOM L features dual-pairing, meaning you can combine two of them for stereo sound. The UBOOM L also slightly bumps up the wattage to 28 watts per channel (previously, the UBOOM was 24 watts per channel).
Aside from basic specs, how does the EarFun UBOOM L perform? Does it sound good? Is the battery life adequate? Let's dive into the pros and cons of this budget-friendly Bluetooth speaker.
EarFun UBOOM L: The Good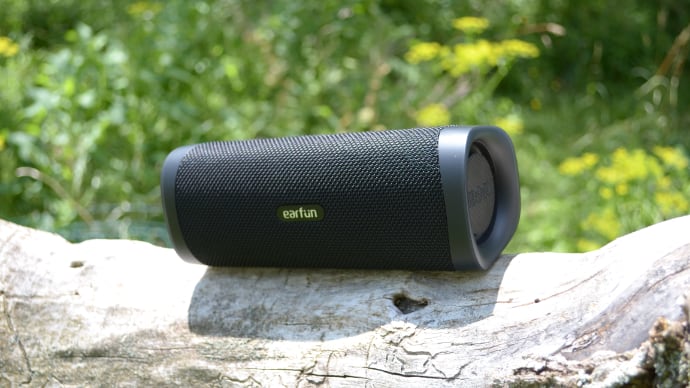 One of the first things I noticed about the EarFun UBOOM L is that it doesn't feel like a budget-friendly, entry-level product at all.
The build quality of the speaker is quite solid overall, and it has a premium feel to its rubberized parts on the exterior—something that I've only come to expect from much pricier Bluetooth speakers.
Instead of the increasingly popular capacitive touch controls that many manufacturers are leaning towards these days, EarFun stuck with standard rubberized buttons: pause/play, volume, pairing, sound mode, etc. All of them are right on top of the speaker.
I'll admit that I often cringe when companies advertise "Bass Boost" in audio products, as this is often a shortcut to muddy sound. To my surprise, the EarFun UBOOM L offers up plenty of great bass that isn't boomy or overwhelming like we see in many cheap speakers.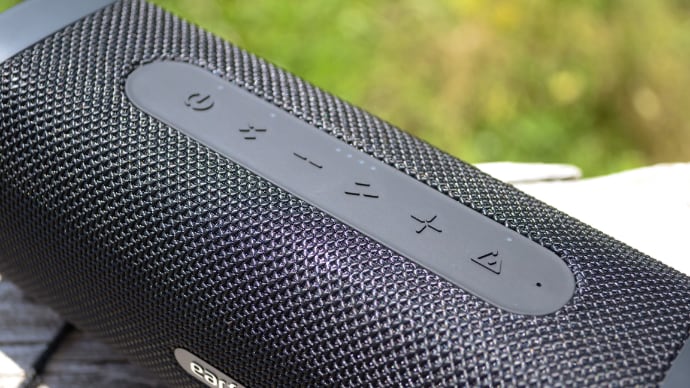 "Bob's Yer Uncle" by Happy Mondays is a perfect demo song for a single Bluetooth speaker, as dance floor-oriented songs from that era were big on booming bass. While the bass line is core to the song, it didn't sound artificially boosted as it can on other Bluetooth speakers.
With "Hook, Line, and Sinker" by Refused, I was again pleasantly surprised. Heavy rock songs tend to fall apart on Bluetooth speakers, but it sounded rock-solid on the UBOOM L. Big points, there.
The highs are somewhat veiled, which isn't unusual for most Bluetooth speakers, especially those with a fair amount of weather resistance. That can make certain songs sound soft or subdued, but it does keep harsher sounds—like cymbals and hi-hats—at bay.
Tapping the sound mode button on top of the speaker toggles Outdoor Mode, which adds some compression (to make quieter passages easier to hear) and appears to adjust the EQ curve.
The Outdoor Mode boost does liven up many songs and improves them for an open environment, but others sound better in Indoor Mode.
EarFun UBOOM L: The Bad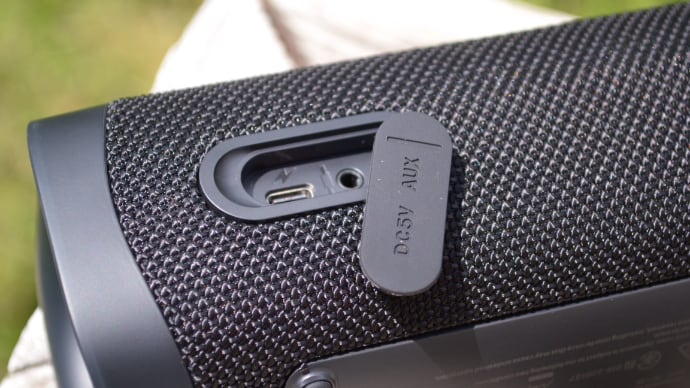 I mentioned at the very top of this review that while the original UBOOM offered 360-degree sound, the UBOOM L doesn't.
While the sound field is still fairly wide, you'll hear a major difference when you're standing behind the speaker. But unless you absolutely need to cover a wide radius with a single speaker—like at a large party—this probably won't be too much of an issue for you.
The USB-C and 3.5mm auxiliary inputs are protected by a waterproof cover that's tough to remove, at least the first few times. Of course, that's important when it comes to water resistance—but if you aren't using it around water often, the cover can be a nuisance.
And then there's battery life. While the original UBOOM boasted up to 24 hours on a single charge, the UBOOM L only makes it to (a still respectable) 16 hours on a single charge due to its much louder sound channels compared to its predecessor.
Finally, while it's nice that EarFun included a Video Mode to reduce latency when watching videos, Bluetooth connections will always have latency issues. That's not a knock against this product as it's a problem with all Bluetooth speakers, but it does deserve mentioning.
EarFun UBOOM L: The Verdict
I've been consistently surprised by the overall quality of EarFun products, even when I go into the review expecting to like the product. That remains the case with the EarFun UBOOM L.
This affordable Bluetooth speaker truly sounds great, feels more premium than its price tag, and is tough enough to leave outside for a few hours without worry. Everything else is bonus.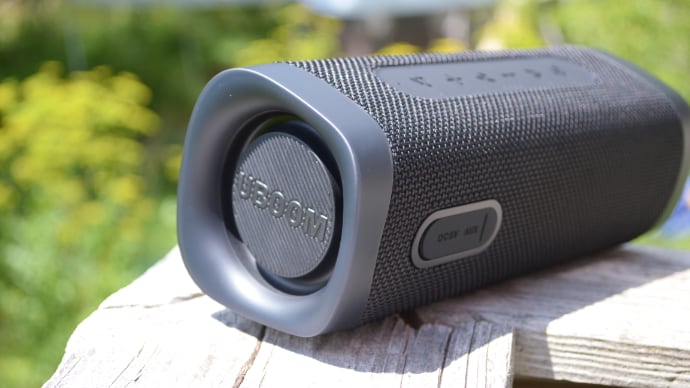 If you're looking for a single Bluetooth speaker to power parties, you may want something larger with 360-degree sound. But for most, that'd be overkill. The EarFun UBOOM L is like a Swiss Army knife that also happens to have a budget-friendly price tag.
EarFun UBOOM L Bluetooth Speaker
EarFun UBOOM L Bluetooth Speaker