Looking for some well-designed geeky t-shirts to add to your wardrobe? We're not just talking Superman logos plastered on plain white tees—more like your favorite video games, movies, TV shows, and geeky inside jokes with pleasing colors that look great.
Skip the geeky t-shirts that you'll be embarrassed to wear. Instead, check out some of these awesome online stores where you can buy geeky t-shirts that you'll love to wear!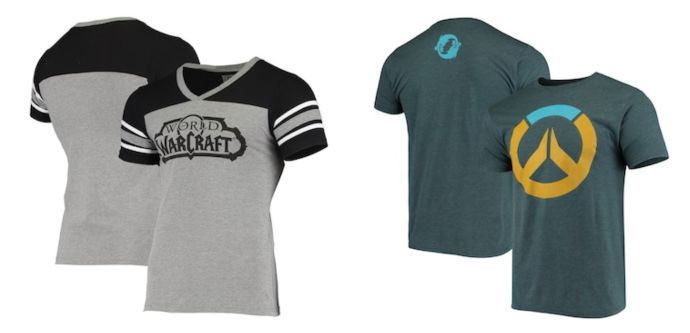 The Blizzard Gear Store should be your first stop for any t-shirts related to Warcraft, Diablo, Overwatch, StarCraft, Hearthstone, or esports merch for any of those games.
The designs are sleek, classy, and generally subdued, making them perfect for everyday wear. You'll find some more outlandish stuff in the mix too, but even those look pretty awesome.
Warner Bros. owns several high-profile media franchises, including The Lord of the Rings, The Lego Movie, Wizarding World, DC Extended Universe, MonsterVerse.
Fittingly, you can find all sorts of cool t-shirt designs on WB Shop for all of these franchises and more.
Retail prices are comparable to most other branded t-shirt shops, but there are regular sales where you can nab some great finds for cheap!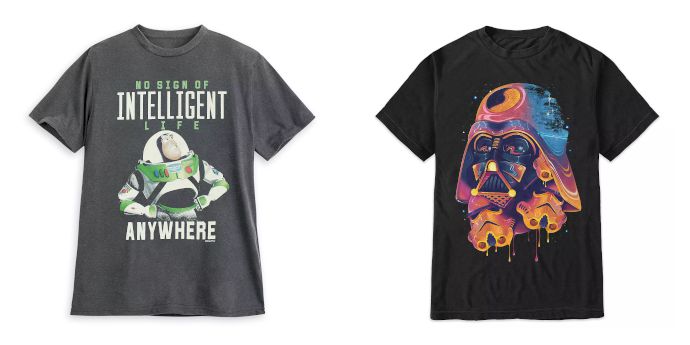 Disney may just be the largest media conglomerate on this planet, known for massively popular franchises like Star Wars and Marvel Cinematic Universe. Not to mention all the Disney animation classics and critically acclaimed Pixar films.
And did you know Disney also has a controlling interest in National Geographic? You'll find all of these, and more, as t-shirt designs in the Online Disney Store.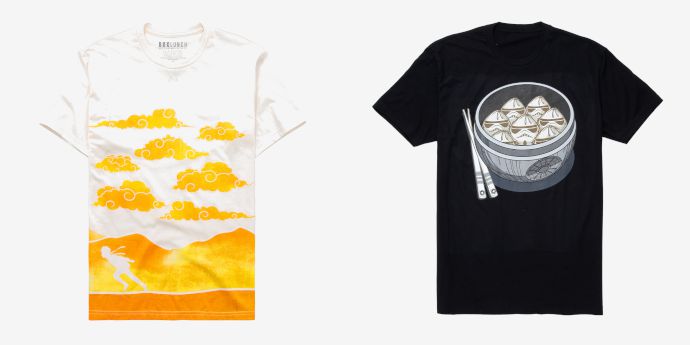 BoxLunch is a division of Hot Topic with a focus on pop culture merchandise.
Their online store has over 94,000 different t-shirt designs, spanning all kinds of licensed media by companies like Disney, Warner Bros, and Nickelodeon.
You'll also find a ton of anime apparel and gear, including the big ones like My Hero Academia, Avatar: The Last Airbender, and Naruto. The prices are mediocre, so try to catch them on sale!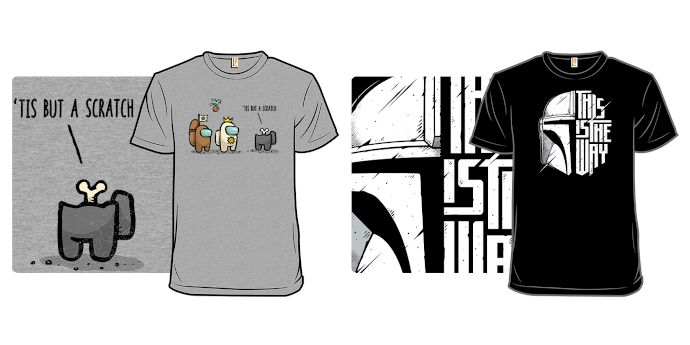 Every day, Woot! features a newly debuted t-shirt design that sells for $12. After that, it moves into the Top 20 catalog and sells for $15 while another t-shirt design gets to debut.
When a shirt gets bumped off the Top 20, it moves into the All Designs catalog and sells for $19.
Most of the t-shirt designs by Woot! are pretty geeky, so check once a day to see the new debut and grab it if you like it!
Did you know GameStop sells more than just video games? There are over 1,000 shirts available on GameStop's online store.
While most of them are gaming-related in some way, there are also many apparel items that feature movies, TV, and anime. And, surprisingly, most of the designs actually look pretty good!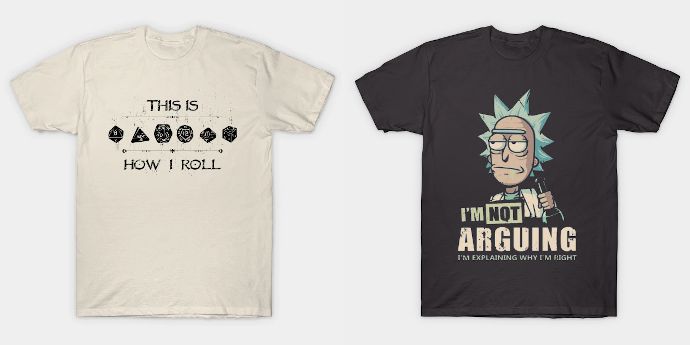 TeePublic has thousands of high-quality graphic t-shirts that are priced well—and while they aren't ALL geeky, plenty of them are.
There's no rhyme or reason to what kinds of design are available, so search for your personal interests and see what pops up. I've seen t-shirts related to Star Wars, Rick and Morty, Dungeons and Dragons, Cobra Kai, and tons of other geeky things.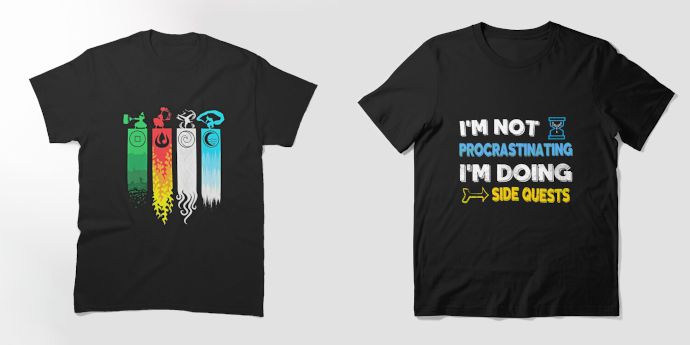 RedBubble has one of the largest online t-shirt collections of any site, with close to 500,000 gaming-related t-shirt designs and thousands of other t-shirt designs related to movies, music, funny quotes, and more.
That's because RedBubble t-shirt designs are all user-created, and every t-shirt you purchase is money that goes straight to an independent artist.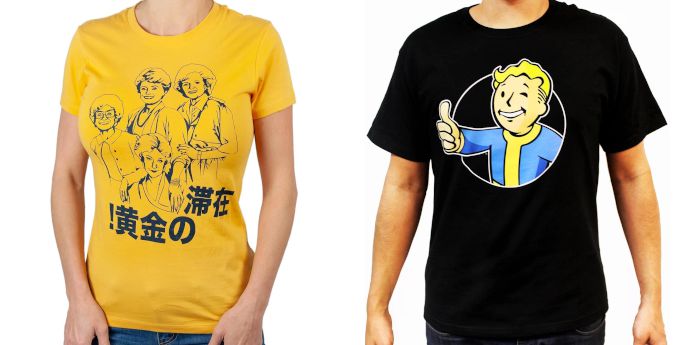 The selection of t-shirts at Toynk is pretty small—just under 200 designs as of this writing—but it's worth checking out if you're looking for a specific geeky t-shirt concept that you can't find at any of the other online t-shirt stores mentioned above.
The prices are all over the place, from $10 to $50, so be sure to double-check everything in your cart.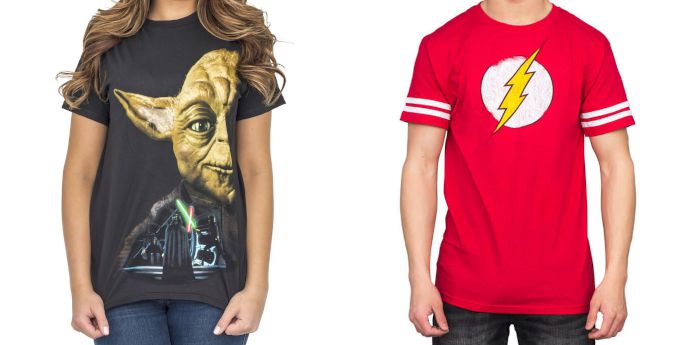 TV Store Online has a pretty small selection of just a few hundred t-shirts. They're mostly simple and/or retro designs, covering geeky topics like Power Rangers, Napoleon Dynamite, and Teenage Mutant Ninja Turtles.
It's a good last-resort option if you can't find the geeky t-shirt you want at other online t-shirt shops.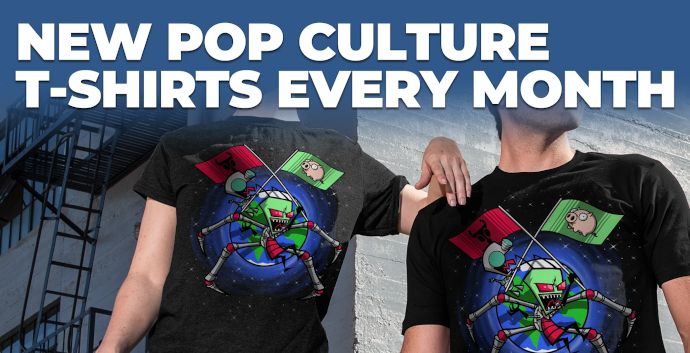 Loot Tees is one of the monthly subscription boxes offered by Loot Crate. Whereas the original Loot Crate contains pop culture collectibles, Loot Tees is much cheaper and only contains an exclusive pop culture t-shirt.
It's a great way to expand your geeky wardrobe if you have broad tastes and like the element of surprise!