The 1950s not only gave us several enduring cinematic classics, but also spurred the movie industry forward unlike ever before. The movie industry was still in its early stages, and it wasn't until this decade that it really began establishing itself as an art form.
Alfred Hitchcock was making his mark. Technicolor film was starting to take hold. James Dean had the younger viewers swooning. What were the very best films to come out of this golden era?
It's a hard one, but here are our picks for the best movies of the 50s that defined the decade and remain popular to this day!
15. Funny Face (1957)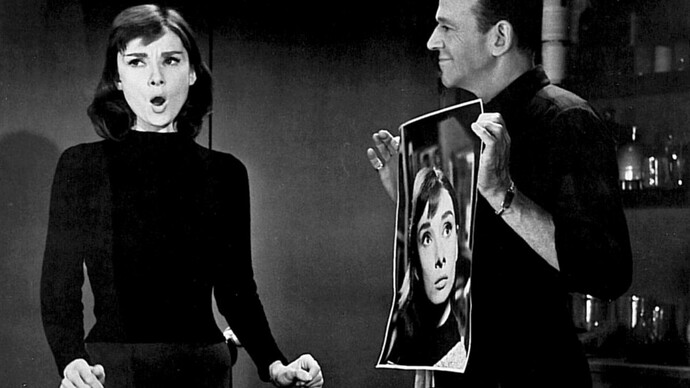 "From now on, girls, think pink!"
Audrey Hepburn was the brightest star of the 1950s and 1960s (alongside Marilyn Monroe), which began with her movies Roman Holiday, Sabrina, and Funny Face.
1950s Hollywood loved their singalongs, and even though Funny Face is technically an adaptation of a Broadway musical, the plot and soundtrack are completely changed.
Hepburn's character, Jo Stockton, is a philosopher who works in a bookshop—the last person you'd expect to see in a fashion magazine. But that's exactly why Quality magazine picks her: they want a model who can "think as well as they look."
Some critics found Funny Face to be a delightful slice of musical fun while others found it an offensive parody. The general public, however, adored it! And Funny Face helped solidify Audrey Hepburn's status as an eventual cinematic icon.
14. Pillow Talk (1959)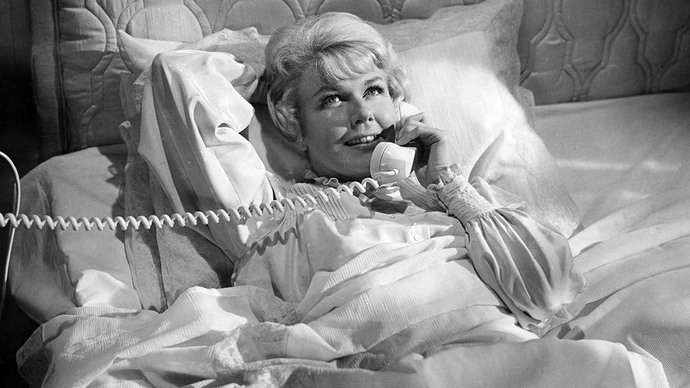 "You've been crying for 60 miles."
Pillow Talk was a staggering box office smash hit and the highest-grossing film of the year, rounding off the 1950s with a bang. Doris Day was one of the big Hollywood actresses of the time, making waves with Calamity Jane and The Man Who Knew Too Much.
In Pillow Talk, she plays an interior decorator who's sick of sharing a party line with Brad Allen (played by Rock Hudson), who's forever on the phone with hordes of women. In response, he decides to woo her over with a fake Texan accent. Somehow, it works.
Viewers went mad for the ensuing love triangle, so Day, Hudson, and co-star Tony Randall decided to make two more romcoms together (though Michael Gordon didn't return to direct).
13. Strangers on a Train (1951)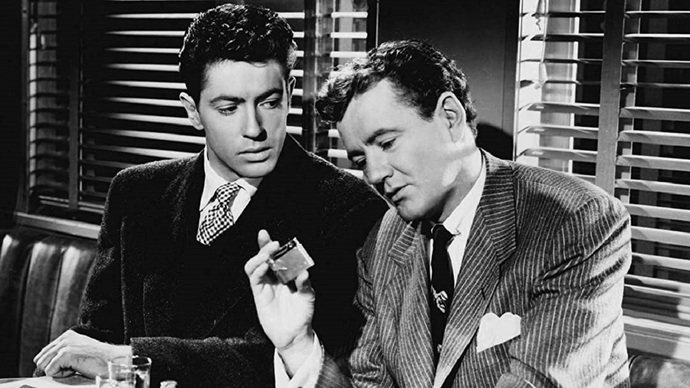 "I may be old-fashioned, but I thought murder was against the law."
The plot of Strangers on a Train has been reused and referenced many times in film, TV, and literature (e.g. Do Revenge, The Favor, Horrible Bosses, Throw Momma From the Train, Once You Meet a Stranger).
The concept involves two strangers who carry out the other's revenge (in this case, murder) so that the crimes can never be traced back to them. It's a theory that, in practice, doesn't pan out well.
Farley Granger and Robert Walker star as said strangers, directed by Alfred Hitchcock, who was still establishing his trademark use of suspense, crime, MacGuffins, and plot twists.
12. Some Like It Hot (1959)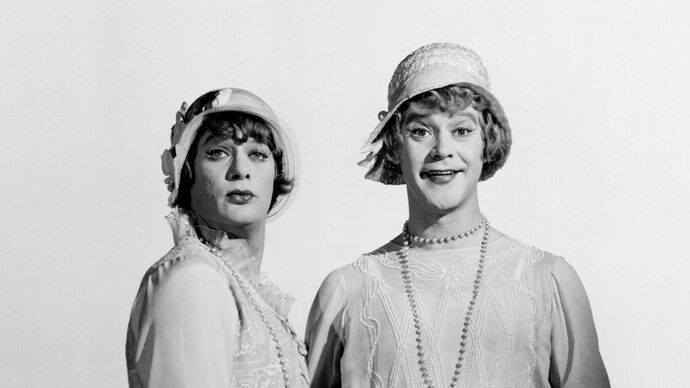 "Men who wear glasses are so much more gentle, sweet, and helpless."
Marilyn Monroe was a more sensuous public figure than even Audrey Hepburn, a sex symbol of the 1950s and the time period before miniskirts were invented.
Her most popular movies remain Gentleman Prefer Blondes, The Seven Year Itch, and Some Like It Hot, which were all made during the 50s. (She tragically died in 1962, cutting her acting career short.)
Billy Wilder was a highly respected filmmaker during the Golden Age of Hollywood, and he directed Monroe in two movies. Some Like It Hot was the bigger critical and commercial success, loosely based on the 1935 French film Fanfare of Love.
The crime-comedy also helped to end the Hays Code, which prevented anything LGBTQ+ related from being shown on screen (along with anything that involved nudity or violence).
In Some Like It Hot, Monroe headlines as Sugar "Kane" Kowalczyk in 1920s Chicago, whom two men compete over.
11. Singin' in the Rain (1952)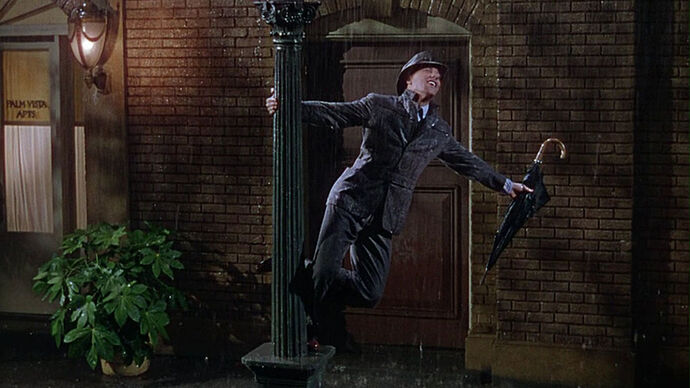 "I'm singin' in the rain / Just singin' in the rain / What a glorious feeling / I'm happy again..."
Out of all the musicals to come out of the 1950s, Singin' in the Rain is the greatest. Everyone's heard of it, and the title immediately calls to mind Gene Kelly swinging around a lamppost in the pouring rain.
Kelly also directed the infamous romcom with the help of Stanley Donen. It's set in 1920s Hollywood, back when synchronized sound was just being introduced to film.
In fact, cinema's first real "talkie" The Jazz Singer is what propels the plot forward, as the characters race to make their own talking picture.
Singin' in the Rain is funny and feel-good, with a musical spirit that's self-aware of its own history. It's one of the best films of the 1950s and still one of the most memorable films of all time.
10. The Bridge on the River Kwai (1957)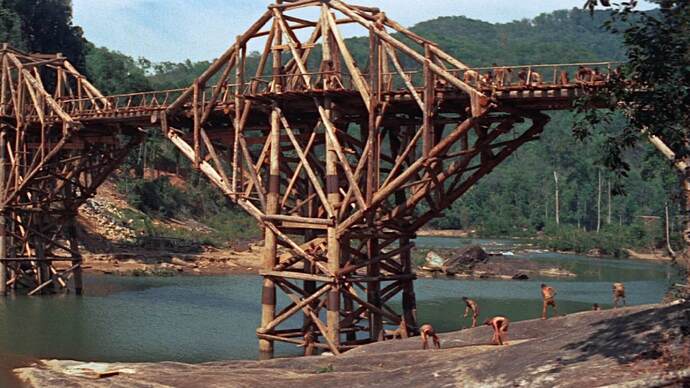 "We'll show them what the British soldier is capable of doing!"
As the highest grossing film of the year, The Bridge on the River Kwai has to come in at number ten.
David Lean's epic war movie is based on the 1952 novel by Pierre Boulle. It follows a group of British prisoners in a Japanese war camp in 1943, who are ordered to build a bridge for their captors—and they work as slowly and poorly as they can to hinder the bridge's completion.
Winner of seven Academy Awards, The Bridge on the River Kwai was an instant classic, starring Alec Guinness, William Holden, Jack Hawkins, and Sessue Hayakawa.
9. Seven Samurai (1954)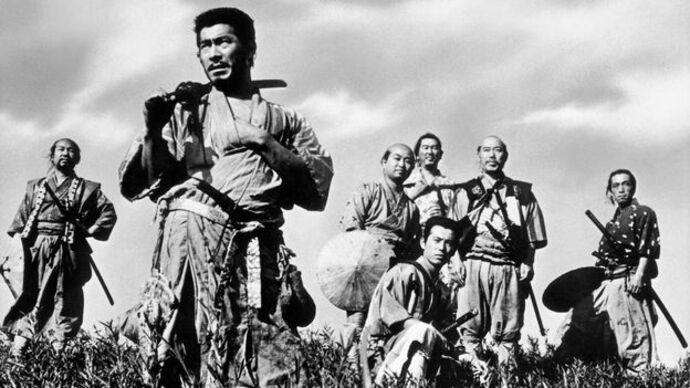 "Danger always strikes when everything seems fine..."
Another epic here, this time featuring samurai. Filmmaker and painter Akira Kurosawa directs this sword-fighting drama, elegantly translating the majesty of battle onto the big screen.
Taking place in 16th century Japan, a mountain village decides to hire hungry samurai soldiers to protect them from plotting bandits. The seven protectors teach the villagers how to defend themselves in exchange for food—and, of course, there's a dazzling battle sequence.
Seven Samurai is split into two parts with a good old-fashioned intermission. The grandeur of the story is married with Kurosawa's sweeping cinematography, yet a certain intimacy remains in tact with the characters. If you're a fan of the old Western, you'll love this!
8. Vertigo (1958)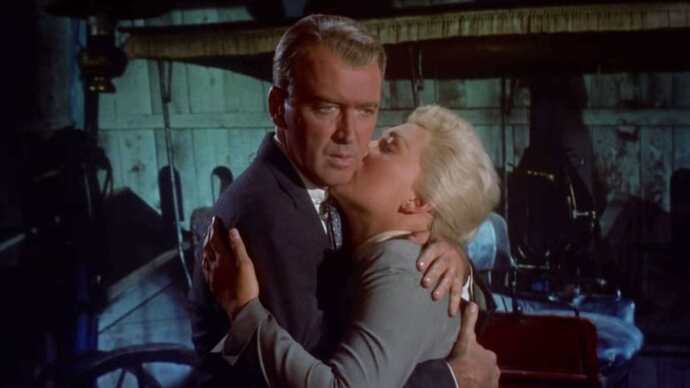 "Only one is a wanderer; two together are always going somewhere."
If you told a viewer in the 50s that Vertigo would become one of the greatest films of the decade—or even cinema as a whole—they would have probably laughed in your face.
When Scottie (played by Jimmy Stewart) is hired by an old friend to investigate his wife, his stalking soon turns into lust. But there's more to this case than meets the eye, forcing Scottie to face his greatest fears.
Despite Alfred Hitchcock's modern reputation as an auteur legend, the public pretty much hated Vertigo at release. They simply weren't used to seeing their all-American darling Jimmy Stewart as an anti-hero, and what's with that plot twist halfway through?
As it happens though, Vertigo has since been cited as a masterpiece, way ahead of its time. Like Hitchcock's other thrillers, Vertigo features unexpected deaths, creepy protagonists, and unlucky blonde women. It also claimed the "vertigo shot" (aka the contra zoom).
7. Tokyo Story (1953)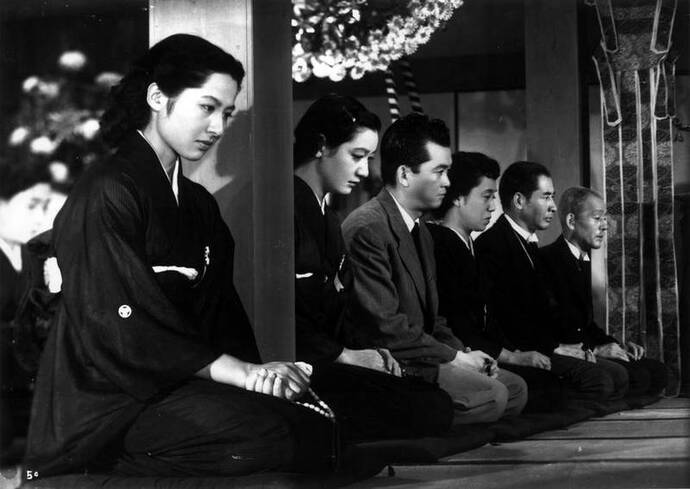 "It was such a beautiful dawn..."
Our second Japanese movie on the list is Tokyo Story, directed by Yasujirō Ozu. The drama follows a couple who swap out their cute seaside village for the bustle of Tokyo when visiting their grown-up children. But their demanding lives leave little room for aging parents.
What's so popular about this seemingly mundane story is it's humanity. Ozu paints a personal-yet-universal portrait of post-war Japan: yearning, moody, and gorgeous; sentimental, critical, and intelligent. There simply aren't enough adjectives to describe it!
6. Shane (1953)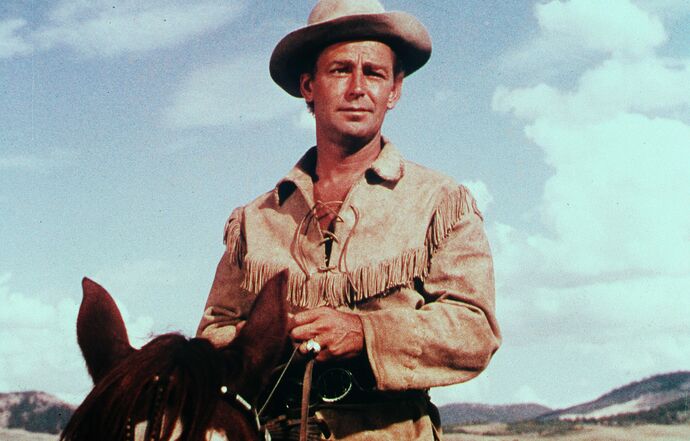 "There are no more guns in the valley..."
The opening of Shane is so picturesque it could be a postcard or a painting of the Wyoming wilderness. An early example of Technicolor, Shane is as beautiful as it is touching. You may have even noted James Mangold's reference to it in his 2017 X-Men film Logan.
When a gun-slinging drifter turns up at an isolated ranch, he agrees to help out as a farmhand.
Little Joey (played by Brandon deWilde) idolizes Shane (played by Alan Ladd) and his mysterious macho ways, who squares up to the cruel local baron when he kicks the family off their land.
Shane is a simple but sweet story that plays on the conventions of Western drama to deliver an instant classic.
5. The Seventh Seal (1957)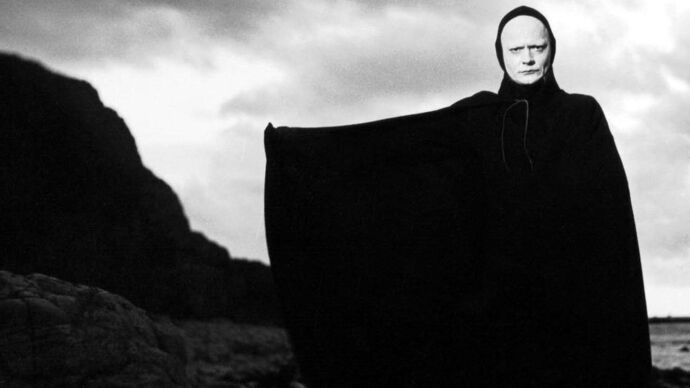 "You won't get off that easy!"
With this movie that takes us to Sweden during the Black Death, no one can ever say that the 50s didn't have range. Ingmar Bergman was one of the most influential filmmakers to ever emerge on the scene, bringing us this gem of world cinema in 1957.
The Seventh Seal is a medieval fantasy during which a knight plays a game of chess with Death itself. Personified by Bengt Ekerot, Death is constantly evaded by the knight (played by Max von Sydow), who tries to redeem himself into heaven.
The Seventh Seal is truly a one-of-a-kind watch, balancing elements of the B-movie with refined and modern-for-the-time filmmaking.
4. Sunset Boulevard (1950)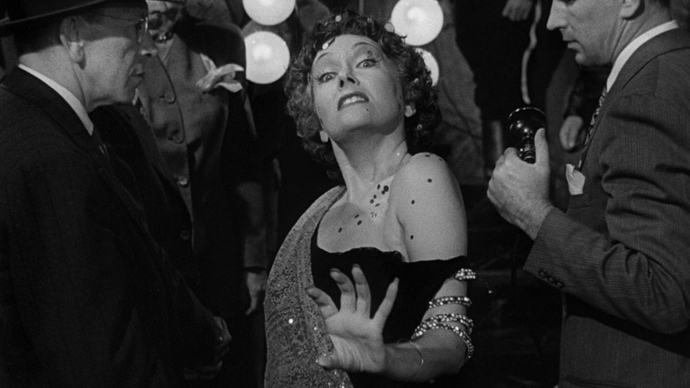 "You see, this is my life. It always will be! There's nothing else—just us, and the cameras, and those wonderful people out there in the dark."
Billy Wilder's iconic black-comedy stars Gloria Swanson as Norma, a former silent movie star who's still yearning for the spotlight. When screenwriter Joe Gillis (played by William Holden) comes along, she believes he can be her ticket to reclaiming stardom.
The multiple-Oscar-winning black-and-white classic swept through all the major cities while remaining less popular in suburban areas (mostly because of its glamorous subject matter).
Still, Sunset Boulevard went down as one of the greatest films ever made, exposing the grim side of clinging to Hollywood fame.
3. 12 Angry Men (1957)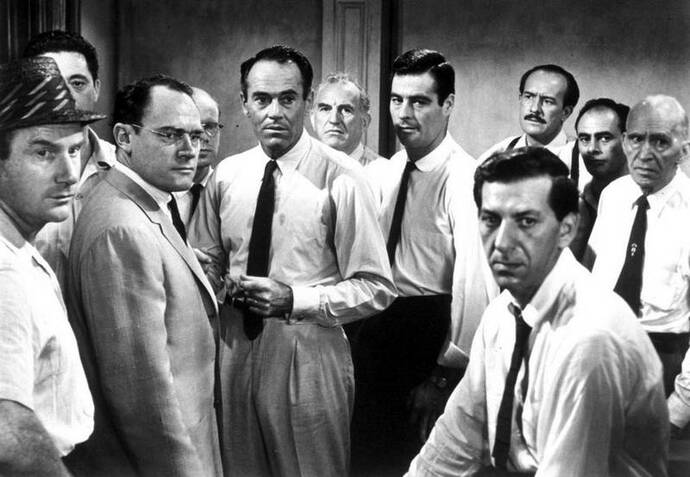 "It takes a great deal of courage to stand alone even if you believe in something very strongly."
One-room dramas are either unbelievably dull... or a spectacle of talent and melodrama. For Sidney Lumet, 12 Angry Men was the latter.
When an impoverished teen stands accused of murder, it's up to 12 (white, middle-aged...) men to decide his fate. Tension rises in the courtroom as the jurors bicker over their verdict, causing viewers to question their own initial judgments.
Lumet uses the small space of a single deliberation room to press a claustrophobic sense of urgency onto the story, navigating the room with creative camera movements.
The film's realism only serves to heighten the strain and drama, engrossing viewers from the onset.
2. A Streetcar Named Desire (1951)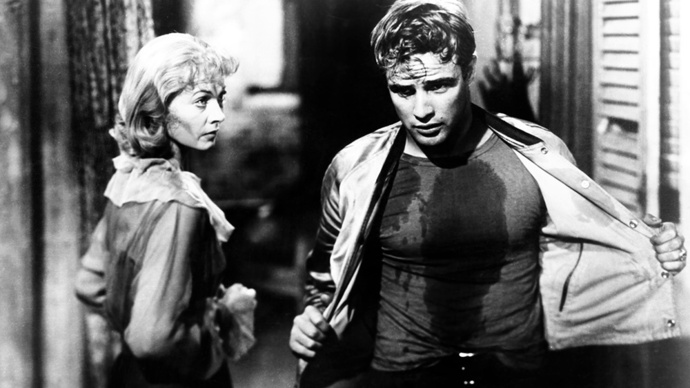 "Stella!!!"
Tennessee Williams' Pulitzer Prize-winning 1947 play was brilliantly adapted by Elia Kazan in the early 50s. Starring a handsome young Marlon Brando alongside the delightful Vivien Leigh, A Streetcar Named Desire takes place in the French Quarter of New Orleans.
Blanche DuBois (played by Vivien Leigh) is a middle-aged high school teacher who comes to stay with her sister. Stella (played by Kim Hunter) lives with her husband Stanley (played by Marlon Brando), who's a total brute compared to Blanche's refined ways.
When secrets of mental illness and promiscuity bubble to the surface, things start to get a little... shaky. Kazan's atmospheric drama is carried mainly by its strong performances, solidifying A Streetcar Named Desire as the best Broadway adaptation. Like, ever.
1. Rebel Without a Cause (1955)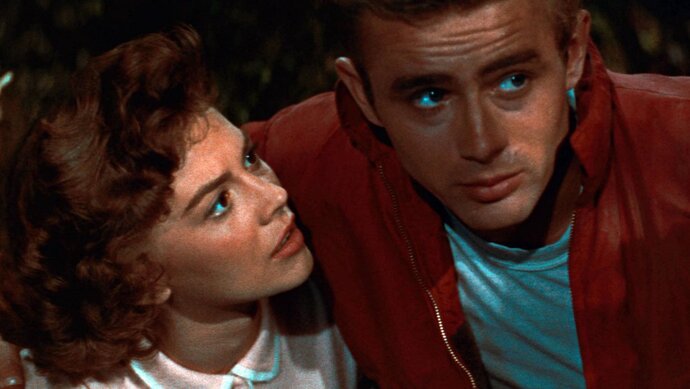 "You're tearing me apart!"
Rebel Without a Cause was one of the first films—if not the first film—to be made specifically for teenagers. Before then, society was always split into two distinct groups: kids and adults.
When the 1950s came around with its rock n' roll and after-school motives at the diner, sipping on milkshakes and flirting beside the jukebox, things started to change.
A new kind of viewer was introduced: the teenager, which is exactly who director Nicholas Ray targeted. Rebel Without a Cause follows the reckless youth Jim Stark (played by James Dean), who flirts with criminality and clashes with his disapproving parents.
Rebel Without a Cause gave a voice to confused suburban teenagers struggling with alienation, love, masculinity, and rebellion.
Iconic actor and teen heartthrob James Dean tragically passed away one month before this film's release, meaning he never got to see the impact he made on so many people.