Netflix recently released a movie adaptation of All Quiet on the Western Front, the classic literary novel that was first published in 1928 by German author Erich Maria Remarque.
All Quiet on the Western Front was based on Remarque's real experiences serving in the Imperial German Army during World War I. But it isn't the only fascinating book about real war stories.
The film's release got me thinking about other great war movies that were successfully adapted from books. Here are my picks for the best war movies based on books that are worth watching.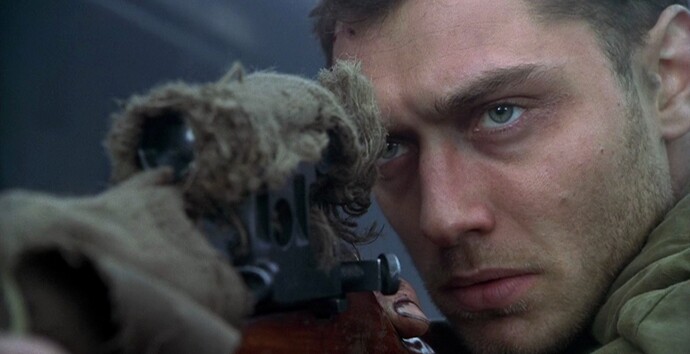 Although not a direct adaptation, director Jean-Jacques Annaud heavily relied on William Craig's book—titled Enemy at the Gates: The Battle for Stalingrad—for inspiration and source material.
Published in 1973 by Reader's Digest Press, Enemy at the Gates: The Battle for Stalingrad documents one of the bloodiest battles in history, with Craig traveling three continents across five years to research its details.
In the eyes of prestigious military journalist Cornelius Ryan, Craig made the "front rank of contemporary historians" for his efforts.
The only thing pretty about this movie adaptation is its glossy Hollywood cast, which includes Jude Law (playing a real and deadly Soviet sniper), Joseph Fiennes, and Rachel Weisz.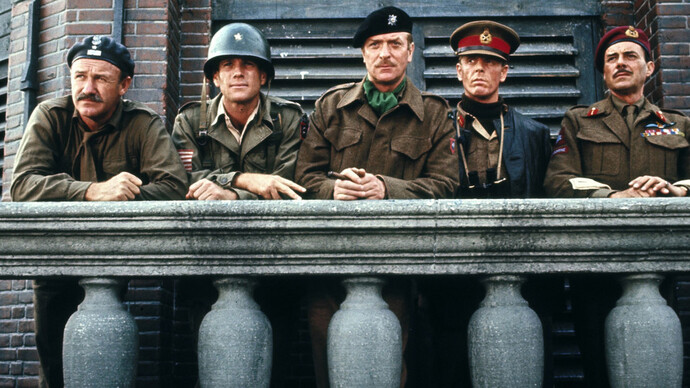 The first of Cornelius Ryan's war books to be featured on this list is A Bridge Too Far, which exposed the inner workings of Operation Market Garden (September 1944).
The goal was for Allied forces to create an invasion route into Northen Germany through a salient in the Netherlands. Spoiler: they failed.
In 1974, Craig gifted our bookshelves with this detailed account of the events—one that Richard Attenborough turned into an epic war flick three years later.
A Bridge Too Far was actually filmed in many of the real historical locations and scored by John Addison, who actually served in the XXX Corps British during Operation Market Garden!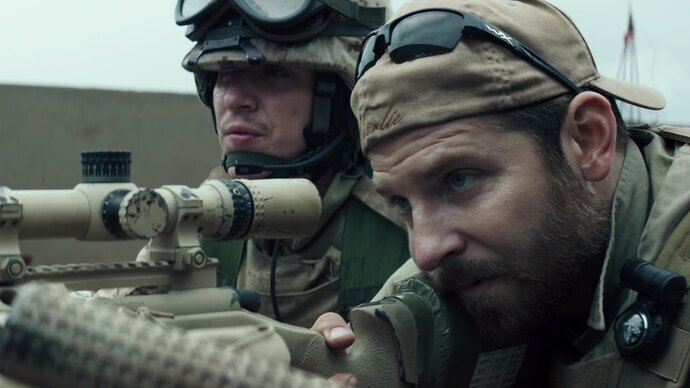 American Sniper is based on a real-life American sniper named Chris Kyle, whose 2012 memoirs—titled American Sniper: The Autobiography of the Most Lethal Sniper in US Military History—were brought to life by Clint Eastwood and Bradley Cooper.
A more modern soldier, Kyle served as a marksman during the Iraq War. Clocking in at 255 recorded kills over four tours, Kyle was celebrated as the most successful sniper in US military history.
However, in a field like this, "success" isn't always a good thing. Kyle's subsequent PTSD took a toll on his life back home.
The tragedy of Kyle's life comes from the fact that he died at just 38 years of age—not in a warzone, but at the hands of a young marine who opened fire on him at a shooting range back in 2013.
Sadly, he was never able to watch Clint Eastwood's compassionate translation of his story onto the big screen.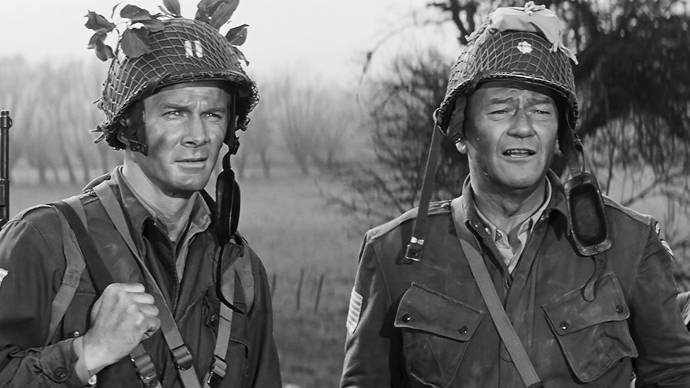 Here we have Cornelius Ryan's second book-turned-movie to be featured on our list. Titled The Longest Day: The D-Day Story, June 6th, 1944, it was published in 1959 and met with triumph, selling millions of copies in several different languages.
It's one of the most famous nonfiction book about D-Day ever written, so is it any surprise that Hollywood would want to adapt it?
The 1962 black-and-white war epic is part fiction and part documentary, with Cornelius Ryan himself responsible for the screenplay (with the help of a handful of historical consultants).
The Longest Day had three directors: Ken Annakin for the British and French representation; Andrew Marton for the American; and Bernhard Wicki for the German.
It also featured an ensemble cast of John Wayne, Kenneth More, Richard Todd, Richard Burton, Sean Connery, and Henry Fonda. It took a whole lot of people to make this film, but it was worth it for the Oscar wins!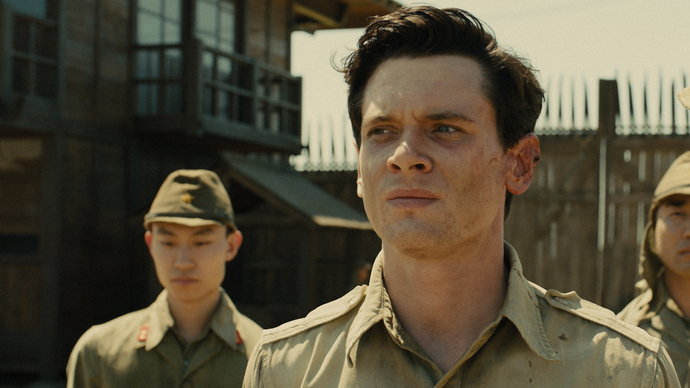 In Unbroken, Jack O'Connell stars as a skin-and-bone American track star who went from running in the Olympics to slaving at a POW camp.
After a plane crash, Louis Zamperini (Jack O'Connell) and his comrades spent 47 days adrift on a life boat only to be captured by Japanese forces and punished any time they showed hints of pride or strength.
The Coen brothers wrote the script for Unbroken (with Richard LaGravenese and William Nicholson) before Angelina Jolie took to the director's seat. From this alone you know it's going to be good!
Laura Hillenbrand wrote the biography for Louis in 2010, titled Unbroken: A World War II Story of Survival, Resilience, and Redemption. It spent over four years as a New York Times bestseller!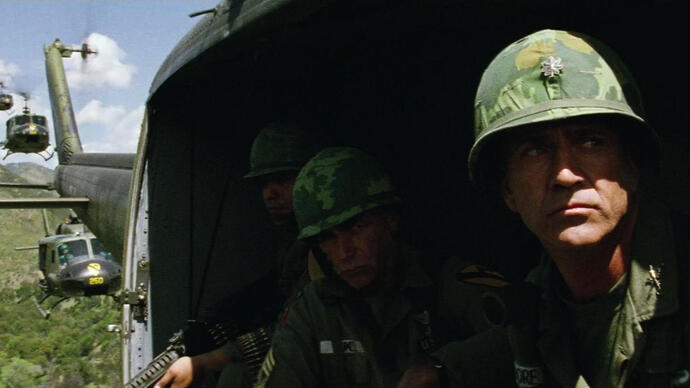 We Were Soldiers Once... and Young is the poetically chilling title to Hal Moore and Joseph L. Galloway's 1992 book, fully titled We Were Soldiers Once ... and Young: Ia Drang - The Battle That Changed the War in Vietnam.
It then got further abbreviated for Randall Wallace's movie adaptation, starring Mel Gibson, Sam Elliott, and Greg Kinnear.
It tells the story of The Battle of Ia Drang, the first big battle between American and Vietcong forces in November 1965.
Although US officials declared it a great victory, it immediately fell back into North Vietnamese hands when American troops were airlifted out.
The Vietnam War unfortunately continued on this path of pointless bloodshed until 1973, when the US finally withdrew.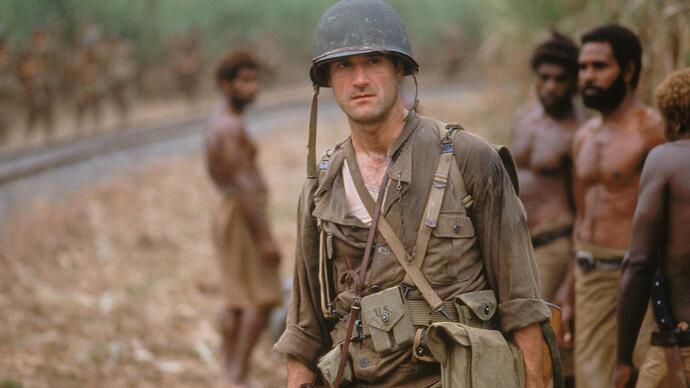 The Thin Red Line saw a new generation of ensemble Hollywood cast members, including Adrien Brody, George Clooney, John Cusack, Woody Harrelson, Jared Leto, John C. Reilly, and John Travolta.
Director Terrence Malick has a reputation for chaotic and expensive productions that don't always turn out great. (The first cut of The Thin Red Line was five hours long!)
After Days of Heaven in 1978, Malick vanished for two decades—then reappeared to remake the 1964 version of The Thin Red Line by Andrew Marton, which was based on James Jones's novel.
Published in 1962, James Jones wrote The Thin Red Line: A Novel from his own experiences in the Battle of the Gifu. The title comes from a line in Rudyard Kipling's 1890 poem called "Tommy," which refers to soldiers as "the thin red line of heroes."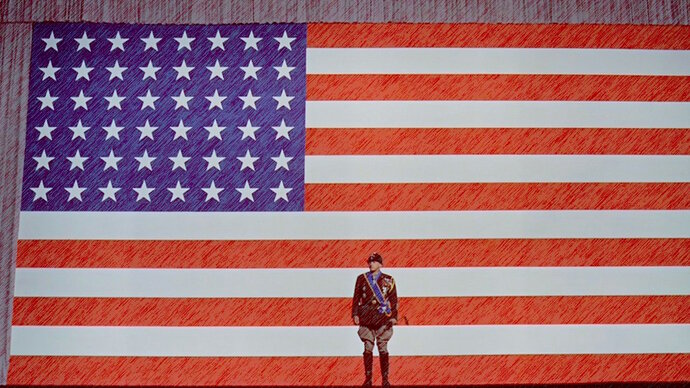 George S. Patton was a United States Army General who served in World War II. He was notable for his aggressive go-getter attitude, and he always led from the front and inspired his troops with empowering speeches—like Adolf Hitler himself, minus the fascism.
General Patton was brought to the public eye in the 1970s through Franklin J. Schaffner's biopic that won seven Academy Awards.
Scriptwriters Francis Ford Coppola and Edmund H. North based the script on two books: Patton: Ordeal and Triumph by Ladislas Farago and A Soldier's Story by Omar N. Bradley.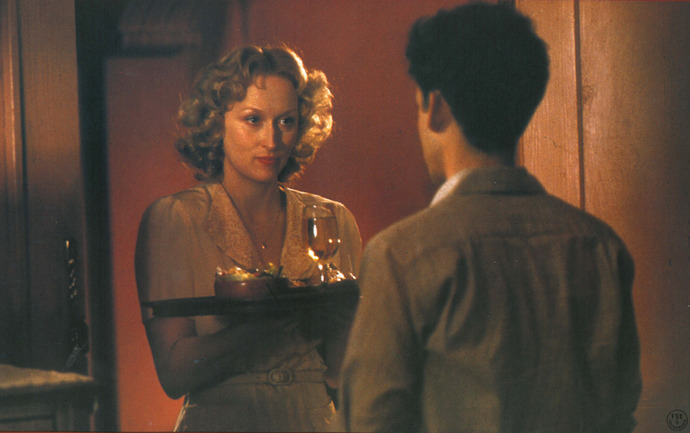 Sophie's Choice asks the ultimate impossible question: Which of your children would you choose to die?
Zofia "Sophie" Zawistowski (Meryl Streep) has no exit from this decision, as she's made to pick between her son and her daughter to be sent to the gas chamber. Meryl Streep was just getting started as an actress when Alan J. Pakula cast her in the role.
This movie isn't your typical war movie with front-line battles and action-packed combat sequences, but it's still an important story about the effects and consequences of war on real people.
William Styron wrote the original novel Sophie's Choice in 1979, inspired by his own encounters with a Polish refugee while he was researching the history of Auschwitz.
His book was met with much controversy when it was first published, but was vindicated by the movie adaptation after Sophie's Choice received multiple Oscar nominations (with Streep winning Best Actress).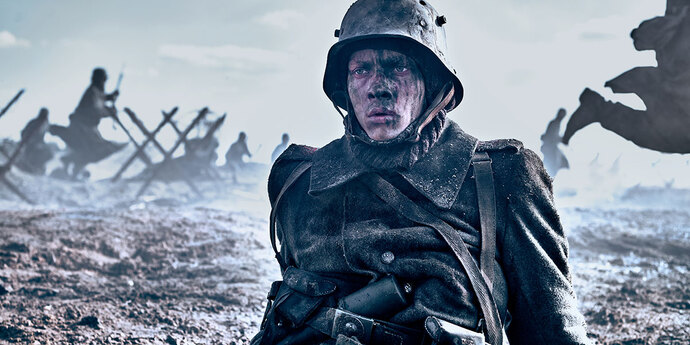 Erich Maria Remarque's literary classic—All Quiet on the Western Front: A Novel—offers powerful insight to the trauma and shock faced by front-line soldiers, even if "they may have escaped shells."
All Quiet on the Western Front has been adapted several times, including a pre-Code adaptation in 1930 and a CBS television movie in 1979. Both fall short of the 2022 version by Edward Berger, available on Netflix.
Edward Berger's cinematic adaptation of the novel is a powerful watch (which we recommend viewing in theaters if possible), with critics commending its faithfulness in capturing the scope and anguish present in the source material.