A life behind bars where everyday is the same sounds like it would make for a boring movie, but not when it's done well!
Prison is an environment rife with tension and compelling drama—as long as the characters are interesting. Scary inmates? Even scarier guards? What could be better when you're looking for thrills?
And when everything is subverted, prison life can lead to some of the funniest situations you've seen in cinema.
Here are our picks for the best movies about prison and prison life, from corrupt officers to thrilling escapes to convicts who seek redemption for their sins.
15. Animal Factory (2000)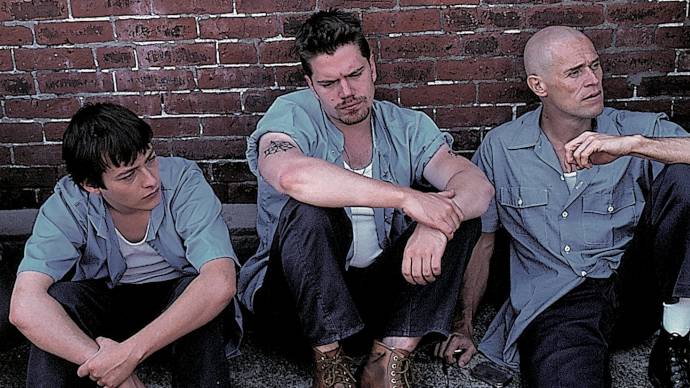 Steve Buscemi has a mute presence in Animal Factory—not just from his wordlessly condescending character, but also his role behind the camera. The Hollywood actor has directed several movies you probably haven't seen, including this gritty neo-noir.
In Animal Factory, Edward Furlong (who also starred in the 1998 drama American History X, which partially took place in prison) plays young Ron Decker who's new to the rough world and rules of prison gangs.
Edward Bunker wrote the 1977 novel based on his own experiences as the youngest inmate in San Quentin, where the film is set. Bunker even appears as a minor character in the movie!
14. Brawl in Cell Block 99 (2017)
It can come as a bit of a shock when comedic actors take on seriously dramatic roles. And while Vince Vaughn has played a few serious characters, none have been as serious as Bradley Thomas, a hot-headed drug mule with a cross tattoo on his head.
Away from the witty and fast-talking humor that Vaughn is known for, Brawl in Cell Block 99 has Vaughn's Bradley scrapping with everyone in prison, including the guards. Vince Vaughn trained heavily for these fight scenes, which are started in a plot to save his unborn child.
With Brawl in Cell Block 99, writer and director S. Craig Zahler delivers a punchy (literally) action thriller with notes of film noir.
13. The Experiment (2001)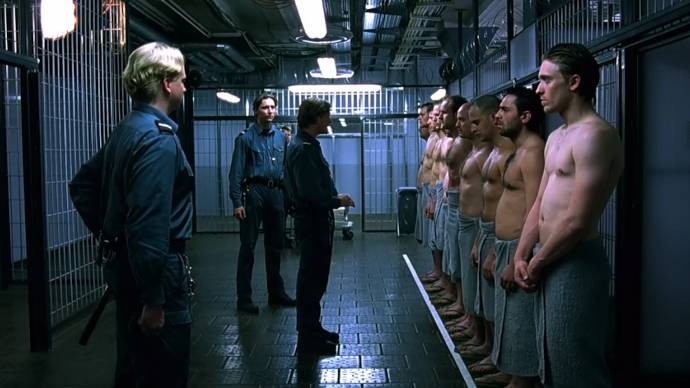 You might have seen Netflix's The Stanford Prison Experiment (2015), in which a bunch of famous faces re-enacted this famous real-life experiment. As much as we enjoyed Kyle Patrick Alvarez's docudrama, this German thriller's take is even better.
The Stanford prison experiment was an experiment where volunteers were placed in a simulated prison: 12 of them as prisoners and 8 of them as guards. The point was to see how people responded to rules, power, and their roles within a system.
In his 1999 novel Black Box, Mario Giordano detailed a social experiment that paralleled this real experiment from 1971. Oliver Hirschbiegel then came along and adapted it into The Experiment (originally Das Experiment in German).
This film sheds a depressing light on the corruptibility of human nature, leading some of the volunteers to end up in actual prison.
12. Starred Up (2013)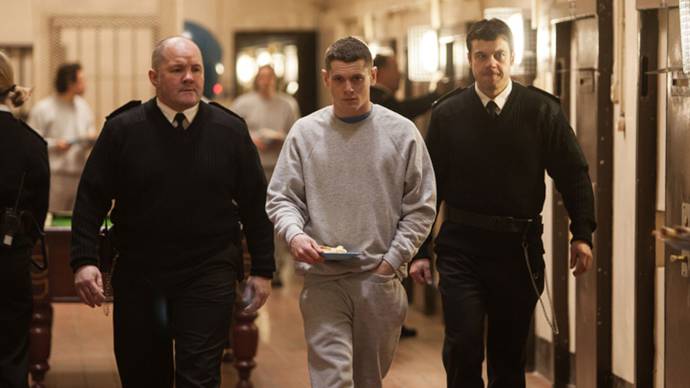 Jack O'Connell often plays a troubled young man with a fiery and rebellious temper. In David Mackenzie's drama Starred Up, this comes in the form of Eric: a 19-year-old who's being transferred to adult prison (known as getting "starred up" in prison slang).
In this new-to-him high-security prison—where his father also happens to be serving time—Eric learns to channel his anger through group therapy sessions despite his initial resistance.
Writer Jonathan Asser based the script on his own insights as a volunteer prison therapist, and that experience certainly lends Starred Up a raw authenticity. Plus, O'Connell's performance was so good it landed him on death row in the biopic Trial by Fire (2018).
11. Stir Crazy (1980)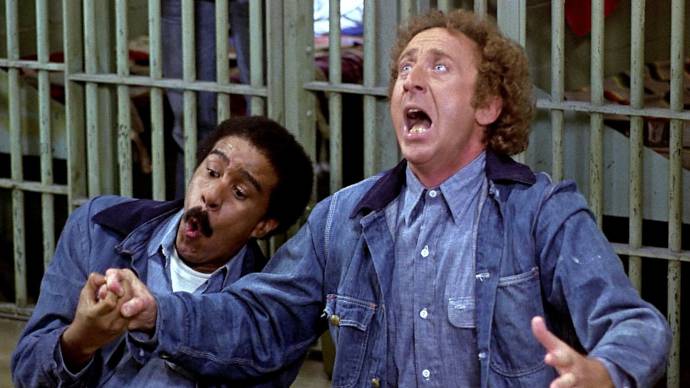 Stir Crazy is the only comedy film on this list. This 80s buddy movie stars the classic duo, Gene Wilder and Richard Pryor, who "dress up as woodpeckers and get framed for robbing a bank."
Comical improv and wacky scenarios make Stir Crazy an easy, entertaining watch. The screwball comedy is one of four collaborations between the two famous actors.
If you enjoyed the likes of Arthur Hiller's See No Evil, Hear No Evil or Silver Streak, you're sure to love this one!
10. Escape From Alcatraz (1979)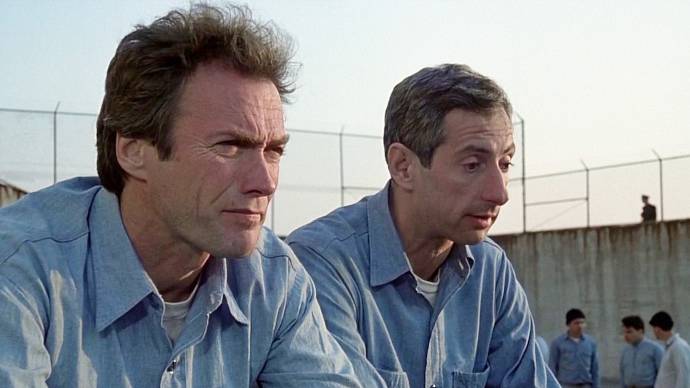 Alcatraz was once considered among the toughest prisons in America, located on an island off the shore of San Francisco. (Does that sound a bit like Harry Potter's Azkaban? Well, it was a direct inspiration!)
In Escape From Alcatraz, it's no spoiler to say that protagonist Frank Morris (Clint Eastwood) tries to break out of Alcatraz. It's literally in the title! The question is, how will he do it and will he pull it off?
We won't spoil the answer for you here. Suffice it to say that Don Siegel's inspired-by-true-events claustrophobic thriller is a classic!
9. Cool Hand Luke (1967)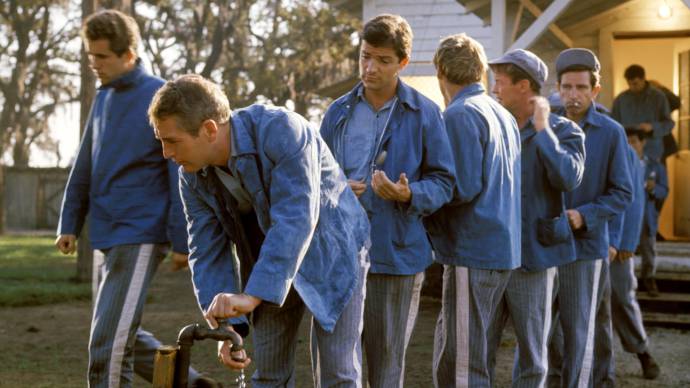 Paul Newman and George Kennedy are front and center in this classic prison tale, the latter even winning an Academy Award for Best Supporting Actor for this film.
In Cool Hand Luke, tenacious rebel-hero Lucas Jackson is arrested for petty crime and sentenced to two years in a chain-gang prison camp. Not only is Luke up against a sadistic warden, but he ranks bottom of the yard's pecking order—and refuses to give in.
Celebrating the power of the human spirit against all odds, Cool Hand Luke is certainly very, very cool. Steve McQueen meets James Dean in Newman's sweat-soaked ode to 60s counterculture.
8. Papillon (1973)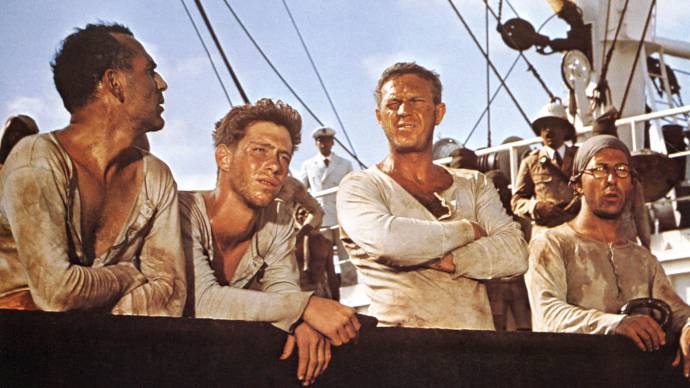 Papillon was remade in 2017 with Rami Malek and Charlie Hunnam, but we're choosing the original for this list.
Steve McQueen and Dustin Hoffman form an unlikely friendship as the daring safe-cracker and meek-mannered forger, Henri and Louis. Wrongly convicted of murder, Henri is sent to the island of Guiana for life imprisonment.
Another Hollywood classic, Papillon is based on the true story of French convict Henri Charrière. Ultimately, it's a film about the enduring powers of friendship and optimism, and one of the best prison movies of all time.
7. A Prayer Before Dawn (2017)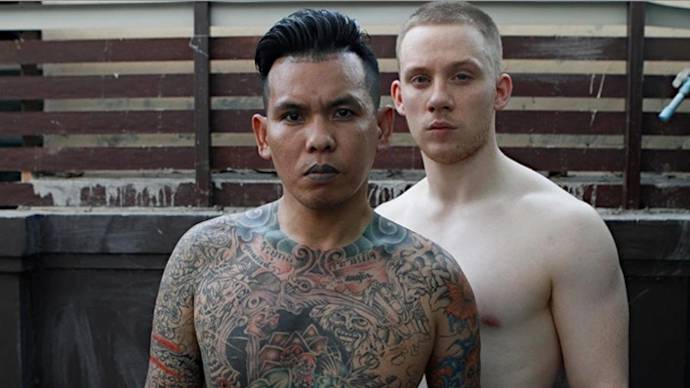 Good overpowering evil? Heart-warming friendships? Those tend to dominate old-school prison movies, but A Prayer Before Dawn isn't one to fall in with those tropes.
Inked up and seeping with blood, this grisly biopic is not for the faint-hearted. Joe Cole stars as Billy Moore, an English boxer who's incarcerated at Thailand's most notorious prison—and the only way Billy can survive this violent, drug-fueled world is to fight out.
The Muay Thai tournaments give viewers a glimpse into the raw and brutal heat of Thai prison life. A Prayer Before Dawn isn't exactly entertainment, but it sure is an experience that earns its spot among the best movies about prison life.
6. Hunger (2008)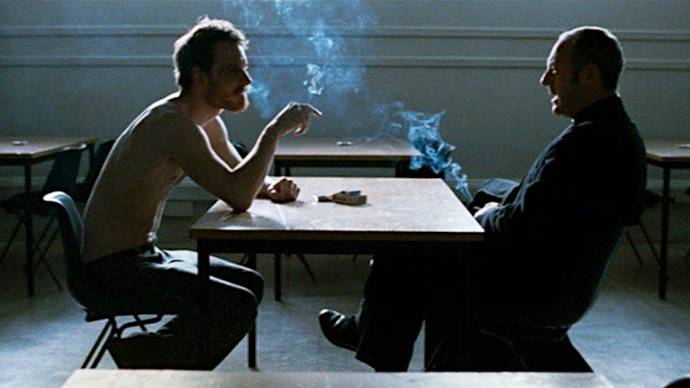 With Hunger, Steve McQueen directs a cinematically astute account of the 1981 hunger strike in Belfast, Northern Ireland.
"Non-conforming" IRA prisoner Bobby Sands, played by Michael Fassbender, is the first in a string of protesters who refuse to eat. When one dies, the next takes over, and so on, and so on...
McQueen's signature long-takes (the longest take in the film is a whopping 18 minutes!) really press viewers to think on what they're watching as he lingers on dimly lit corridors and grave conversations.
Sands' skeletal figure and weeping sores are uncomfortable to watch, but the payoff is worth it for such a powerful independent drama.
5. Bronson (2008)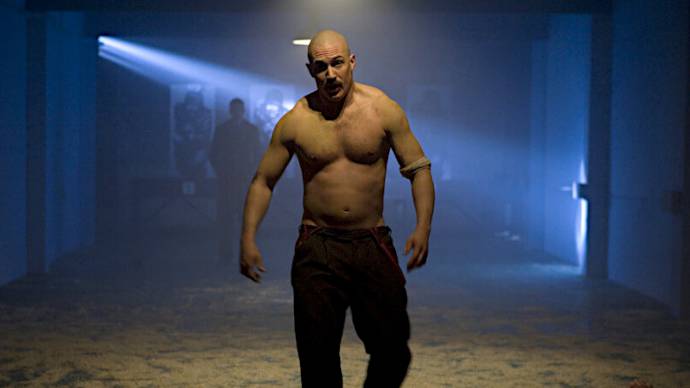 In 2008, we saw not one but two great independent prison movies based on true stories and real people.
Tom Hardy gained international attention for his title role in Bronson (i.e. "the most violent prisoner in Britain"). And it's no wonder! Hardy knocks viewers off their feet with his psychotic depiction of Charles Bronson, who's too savage even for a prison cell.
With prison guards unable to handle his maniacal behavior, Bronson is eventually sent to solitary confinement. The bare-knuckle boxer often breaks the fourth wall and talks to the audience.
Bronson's surrealist direction and intense performances automatically make it a cult hit and a must-watch film about prison life.
4. The Great Escape (1963)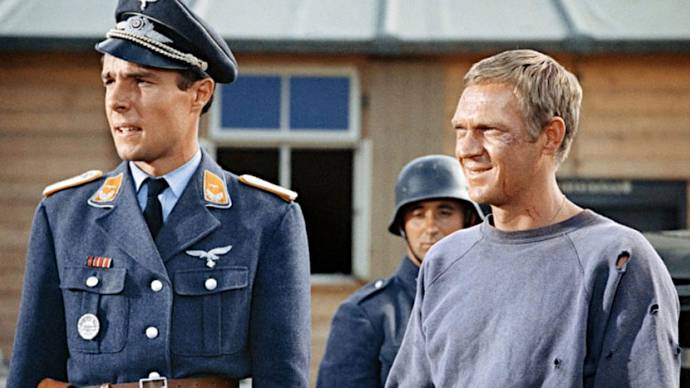 Technically, The Great Escape isn't set in a prison—it's set in a prisoner-of-war camp. But the themes and atmosphere are very much alike: incarceration, cruel guards, and escape plots. There's just no way we couldn't mention this absolute classic!
Steve McQueen (again) leads this adventure epic as Hilts "The Cooler King," an Allied solider hellbent on breaking out. Set during the Second World War, The Great Escape is based on Paul Brickhill's first-hand account of a mass breakout.
The film has gone on to attain legendary status and become a Christmas Day favorite. Not to mention the successful animated stop-motion adaptation, Chicken Run.
3. Midnight Express (1978)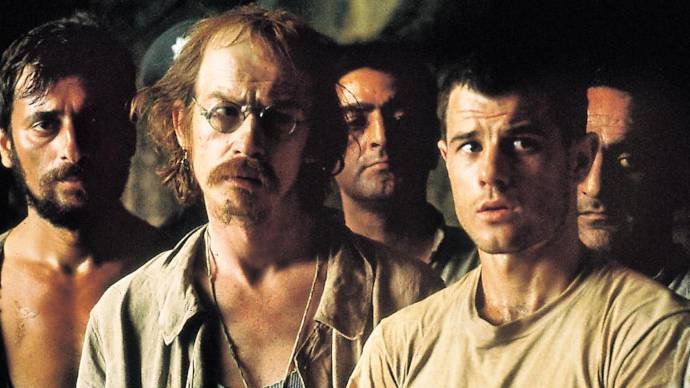 Midnight Express based-on-a-true-story movie, this time recounting the life of Billy Hayes who was sentenced to 30-years imprisonment for smuggling hash in Istanbul.
A powerhouse performance from Brad Davis and award-winning script from Oliver Stones make this relentless prison movie a must-see.
Catatonic prisoners wander zombie-like throughout the film, demoralized after years of torture. Yet despite the hellish conditions of this Turkish prison, Midnight Express leaves us on the somewhat positive note that hope will always prevail.
2. The Green Mile (1999)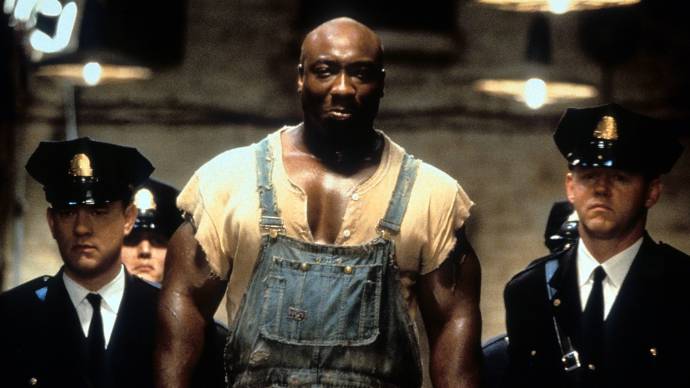 The Green Mile's bold and unusual mixture of genres—which could have easily caused the film to flop—result in a cinematic masterpiece. Crime-drama meets fantasy in this adaptation of a Steven King story that takes place on Death Row during the 1930s.
Prepare to fall in love with half of the characters, and utterly despise the rest. Towering black man John Coffey (Michael Clarke Duncan) is convicted of murder and sentenced to death, but his child-like demeanor and fear of the dark suggest he's innocent.
Also starring in The Green Mile are lunatic "Wild Bill" (Sam Rockwell), Eduard "Del" Delacroix (Michael Jeter), and his pet mouse, Mr. Jingles. Tom Hanks leads the cast as Paul Edgecomb, and strong performances all around leave viewers furious and weeping.
1. The Shawshank Redemption (1994)
We all saw this one coming, didn't we? The Shawshank Redemption obviously takes the number one spot in any list about prison movies. And it's not just the best prison film ever made, but a strong contender for best film ever made, period.
The Shawkshank Redemption stars Morgan Freeman as Red and Tim Robbins as Andy Dufresne, who become best buddies in prison after Andy is sentenced to life imprisonment despite claims of innocence. Through acts of kindness, Andy and Red transform the prison.
This is the ultimate movie about prison life, if only because it's so authentic and human. It's the kind of film that'll leave a lasting impact on your life, much like the titular prison itself.