Film noir is more than just a genre—it's an aesthetic. That's what makes it so hard to pin down. It's a style that has some fluidity to it, but it isn't ambiguous. You know it when you see it.
Classic film noir is stereotypically comprised of brooding detectives, seductive femme fatales, and high-contrast shadow-heavy lighting (known as chiaroscuro lighting).
Here's what you need to know about film noir, including some history of the genre and the best film noir movies worth watching.
The Era of Film Noir, Explained
Between the 1920s and 1950s, global events like the Great Depression and the Second World War made everyone a bit cynical—and that attitude spilled over into the Technicolor world of Hollywood.
Movies started turning their gaze toward urban underbellies, and French critics in particular noticed that American crime films were noticeably darker during this period, dubbing it film noir (literally "black cinema").
The heyday of film noir ended in the 1950s, but it has since evolved into several subcategories, including neo-noir (e.g. Chinatown) and tech-noir (Blade Runner), which share the visuals of the 1920s German Expressionism film movement.
Here are our picks for the best film noir movies ever made by Hollywood, and we strictly mean classic noir movies!
15. Shadow of a Doubt (1943)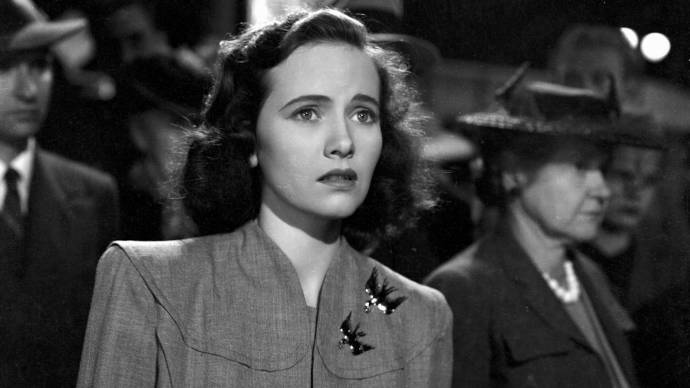 The legendary auteur director Alfred Hitchcock had several exemplary film noir movies, and as was mostly the case with his films, Shadow of a Doubt isn't just a noir film but a psychological thriller.
Fans of the genre argue Shadow of a Doubt's place in the noir canon—after all, it's draped in the sunlight of its California setting. Where's the bitter, chain-smoking detective? Thematically, however, it's definitely film noir. Murder, lies, duplicity... it's all here.
Film noir was essentially a collective response to the 20th century's dismal string of wars and ruin in America, and that's what this whole movie is about—bringing the truth of war into suburban homes.
As the "Merry Widow" killer (played by Joseph Cotton) puts it: "You live in a dream.  You're a sleepwalker, blind.  How do you know what the world is like?  Do you know the world is a foul sty?  Do you know if you rip the fronts off houses, you'd find swine?  The world's a hell."
14. The Killing (1956)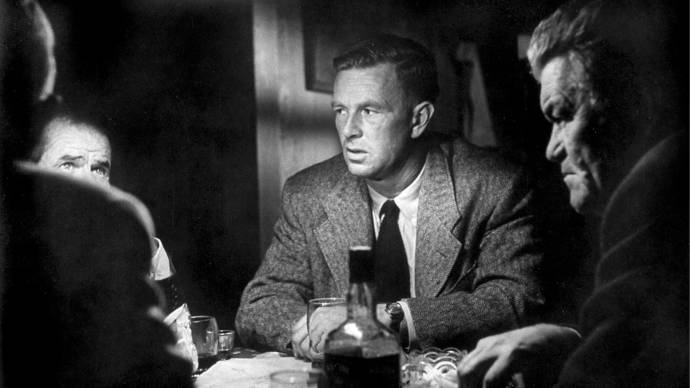 Heralded auteur director Stanley Kubrick's lesser-known film The Killing was adapted from Lionel White's 1955 novel Clean Break with help from screenwriter Jim Thompson.
Like an old black-and-white movie version of Steven Soderbergh's Ocean's Eleven, The Killing follows a group of skilled men planning their one final heist before hitting the straight and narrow.
Johnny Clay (played by Sterling Hayden) is the leader of the $2 million robbery, who hires a corrupt cop, a sharpshooter, a betting teller, and a bartender to round out his crew and finish the job.
Kubrick's melodrama was likened to a documentary in some scenes, which added to the tension. Compared to Kubrick's later epics, The Killing was a sparse, low-budget project that thrives off its characterization.
13. The Big Heat (1953)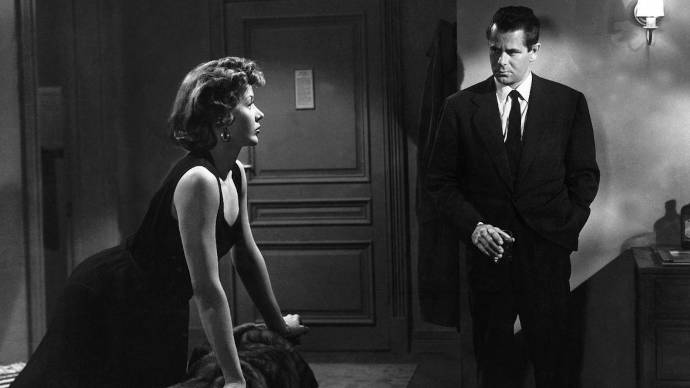 While adapting William P. McGivern's newspaper serial into a screenplay, Sydney Boehm undoubtedly drew on his own experiences as a former crime reporter—and it comes through in The Big Heat.
Famed Austrian film director Fritz Lang then took on the project, telling the traditional story of a lawman taking on the mob for his city. And who better than Lang—pioneer of the German Expressionist movement that spawned the genre—to make a noir movie?
Sergeant Dave Bannion (played by Glenn Ford) teams up with a gangster's girlfriend, Debby, to take them down. This earns her a face full of boiling coffee, played by femme fatale icon Gloria Grahame.
The Oscar-winning actress loved to star in noir movies, alongside Humphrey Bogart who always seemed to play the moody detective. Together, they made The Big Heat come forth as a lean, red-hot noir classic that cleverly inverts the femme fatale archetype.
12. Not as a Stranger (1955)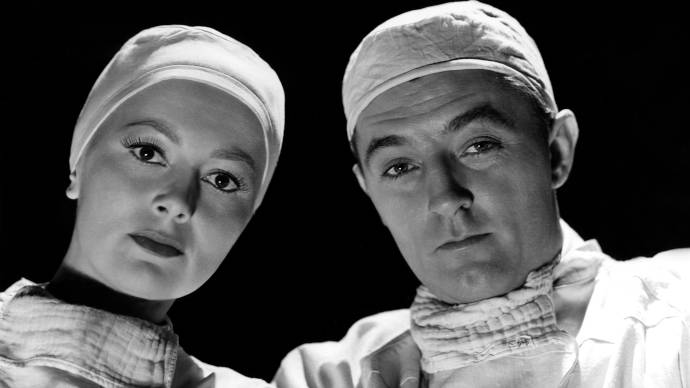 Olivia de Havilland is the star of Not as a Stranger, whose in-movie husband—a genius, gold-digging medical student named Lucas, played by Robert Mitchum—tends to brush her away.
And she isn't the only one Lucas looks down on, which eventually comes back to bite him in the rear.
Sure, none of that sounds as glitzy as the other movies on this list, but Not as a Stranger is a strong and allegorical character study.
Critics were divided at Not as a Stranger's release, mainly because Stanley Kramer had to compress much of the story when he adapted Morton Thompson's 1954 bestseller into a film. Plus, it was his first time directing a (theatrical) film!
Still, Not as a Stranger is a reminder to stop living life as a "Greek tragedy" and show some empathy for people! Oh, and Frank Sinatra is in it.
11. Nightmare Alley (1947)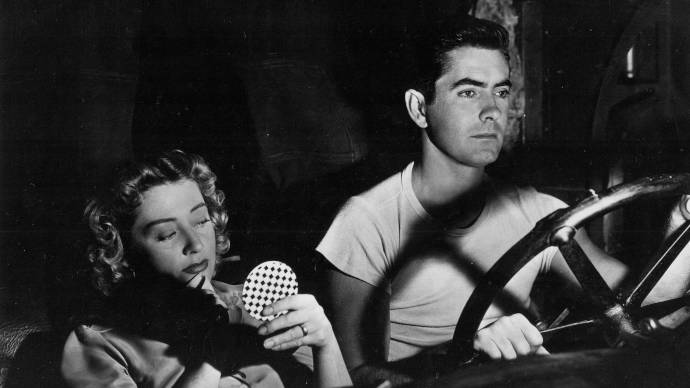 Director Edmund Goulding cast big names for his unusually high-budget noir Nightmare Alley, which was an uncommon move in the 1940s. Those names included Tyrone Power and The Killing's very own Coleen Gray.
Tyrone Power usually played heroic romantic leads, so getting him in as seedy carnival barker Stan Carlisle was a challenge. But they managed, all while buying the rights to William Lindsay Gresham's 1946 novel.
Stan Carlisle is the only one who knows about Zeena's (played by Joan Blondell) telepathic secrets, which he ultimately gets greedy with.
Some critics of the time disliked Nightmare Alley's anti-heroic, inconsequentially cynical conclusion, accustomed to a cinema where good is always rewarded and evil is always punished. Looking at it with modern eyes, Nightmare Alley was successfully daring.
Nightmare Alley was recently remade by Guillermo del Toro, starring Bradley Cooper, Rooney Mara, and Cate Blanchett. The 2021 version of the creepy, plot-twisty, neo-noir thriller wasn't as good as its predecessor, but still received praise.
10. Notorious (1946)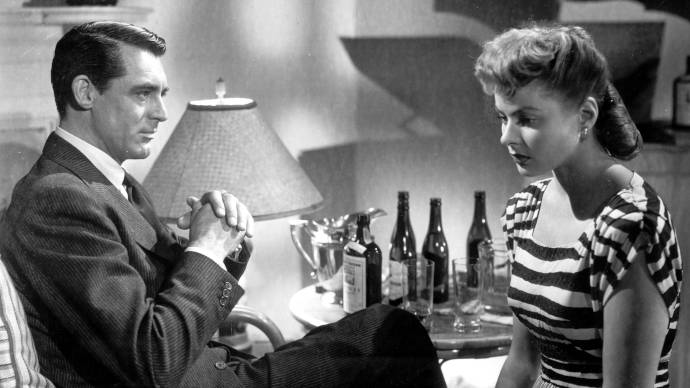 Notorious features Alfred Hitchcock, Cary Grant, and Ingrid Bergman—can you name a better trio of talent than that?
As one of the "Big Five" studios of the Hollywood Golden Age, RKO Pictures had a healthy catalog of noir films that included Notorious, which is considered to be Alfred Hitchcock's most academically esteemed film at the height of his "thematic maturity."
Notorious takes place one year after WWII, where a bunch of Nazis have run away to Brazil in hiding. United States spy T. R. Devlin (played by Cary Grant) enlists the daughter of a German war criminal to help him—and, of course, they fall in love.
Sadly, that's kind of inconvenient in their line of work. Not only is the narrative—and the motifs woven within it—a touchstone for Hitchcock's skill, the cinematography of Notorious is downright ingenious.
9. The Asphalt Jungle (1950)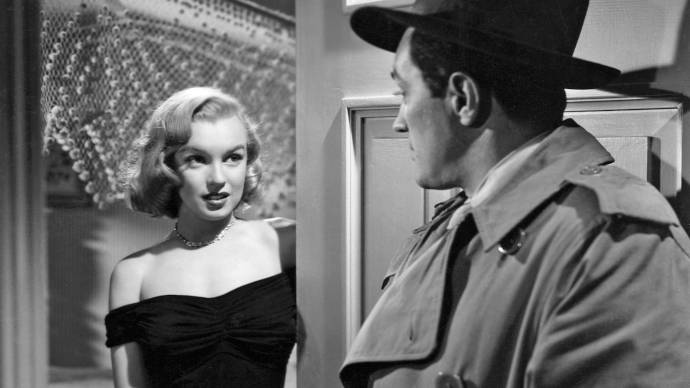 The Asphalt Jungle is yet another heist movie on this list, this time directed by John Huston and based on the 1949 novel by W. R. Burnett.
In this one, Doc (played by Sam Jaffe)—who's fresh out of a seven-year prison sentence—is looking to boost some jewels.
Of course, every robbery needs a team, so Doc walks straight from prison to a bookie and he hires a safecracker, a getaway driver, and a general hooligan, who ends up being protagonist of the film (played by Sterling Hayden).
The heist goes pretty well... until a bullet strays its path. The whole thing is messy and corrupt, but framed in such a taut way that it packs as much heat as its shameful characters do.
Starring Sterling Hayden, Louis Calhern, Jean Hagen, and James Whitmore, The Asphalt Jungle was nominated for four Academy Awards. Look closely and you'll even spot Marilyn Monroe before she became a worldwide sex symbol.
8. Touch of Evil (1958)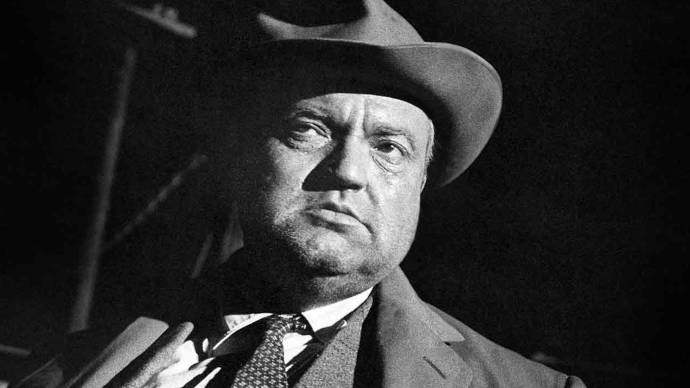 Orson Welles was—and remains to be—a big name of the 20th century. His very first movie (Citizen Kane) is still ranked among the top five greatest films ever made, and 17 years later he gave us the film noir classic Touch of Evil.
As usual, Orson Welles wrote, directed, and starred in Touch of Evil, this time playing a corrupt police captain investigating an explosion on the United States–Mexico border. Luckily, Mexican prosecutor Miguel Vargas (played by Charlton Heston) is there to expose him.
Famed author Aldous Huxley of Brave New World suggested Welles shoot on-location in Venice, California as it was a distinctly rundown area. Perfect for the sleazy, crooked storyline with just a touch of evil.
Fun fact: Welles contacted Janet Leigh to express his excitement about working with her before she even knew the film existed! The working title at the time was Badge of Evil, based on the 1956 novel by Whit Masterson.
7. Rebecca (1940)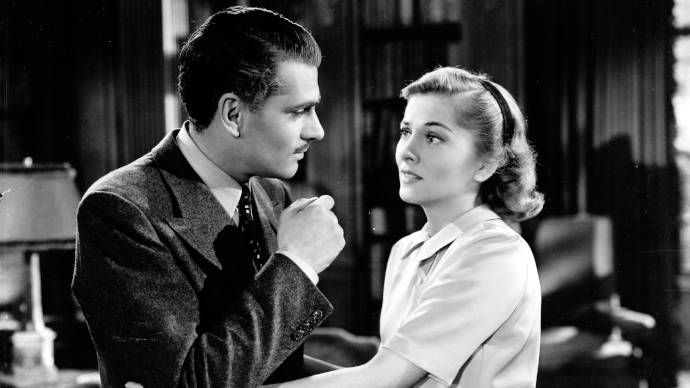 Whether or not it was intended, Alfred Hitchcock's films often tripped across the line into noir territory, which makes sense given that his trademark was crime thrillers with precise cinematography and themes of murder and betrayal.
The sadistic psychodrama Rebecca was Hitchcock's first project away from Britain, starring Laurence Olivier as a gloomy widower who preserves the imprint of his deceased wife even after he remarries. Why? Is it out of love? Or perhaps guilt? Hard to say...
Rebecca is a Gothic tale of the paranoid sort that treads a line between horror and noir. As ever with Hitchcock, it's difficult to hem his movie into any single category or genre.
One thing we do know is that it's creepy, compelling, and full of shadows—both aesthetically and narratively.
It's also, surprisingly, the only Hitchcock movie to win Oscars! In this case, both Best Picture and Best Cinematography.
6. In a Lonely Place (1950)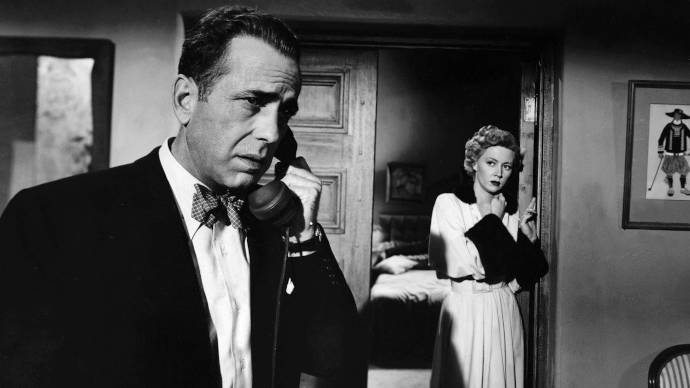 Humphrey Bogart's own Santana Productions was an off-branch of Columbia Pictures, primarily focused on producing noir movies.
But noir wasn't a vibrant genre with wide appeal at the time, which meant that many of his films did poorly at the box office—and forced Santana to shut down.
Before it folded, Bogart and Robert Lord produced In a Lonely Place, which is now often polled in the top 100 movies ever made.
Gloria Grahame features alongside Bogart as an aspiring actress who gets entangled in a murder mystery. Bogart is as brooding and uptight as ever as Dix Steele, a struggling screenwriter who's lost his spark.
Running parallel to the homicide investigation is a love story that's more heartbreaking than you'd expect.
5. The Big Sleep (1946)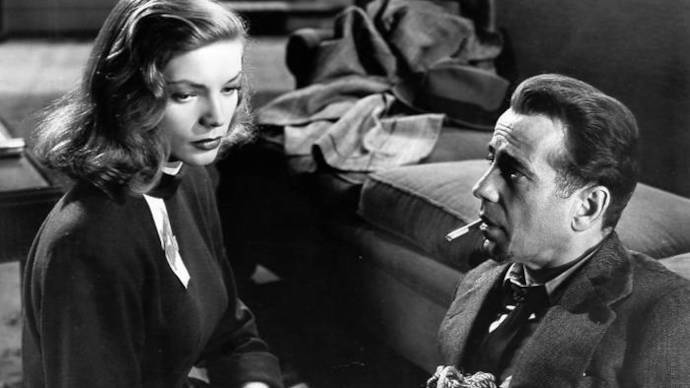 Howard Hawks of Scarface (1932) and Gentlemen Prefer Blondes (1953) employed a very specific type of femme fatale in his films, known as "Hawksian women."
This straight-talking, tough-minded archetype was often portrayed by Lauren Bacall, who appeared opposite Humphrey Bogart in both The Big Sleep and To Have and Have Not (1944).
The Big Sleep isn't so much about finding the criminal as it is the investigation itself. A hard-boiled detective is hired to crack a case of blackmail, but it soon turns into a murder mystery.
There's a lot of gangsters, seduction, and stakeouts in Hawks's typical film noir, which requires a lot of problem-solving from its viewers to follow. The Big Sleep led to two more "Bogie and Bacall" films, including John Huston's noir drama Key Largo (1948).
4. The Maltese Falcon (1941)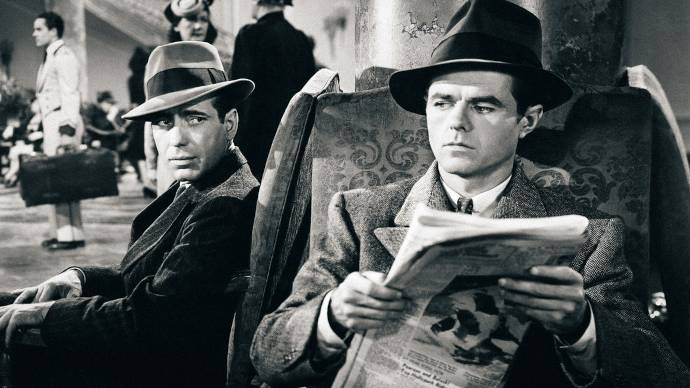 You've probably heard of this one, even if you're not an old black-and-white movie fan. What you might not know is that it's actually a remake of the 1931 pre-Code movie by Roy Del Ruth, which in turn was adapted from Dashiell Hammett's 1930 novel.
In one of the most recognizable, iconic, and conventional film noirs, The Maltese Falcon stars Humphrey Bogart as a detached, cranky detective and Mary Astor as his femme fatale client. Detective Sam Spade is basically the blueprint noir detective.
The "Maltese Falcon" in question extends beyond a statue and into a potent metaphor: the bird is a symbol of loyalty turned to greed, dating right back to the 16th century.
Corruption is one of the pillars of film noir, and it's as rife in The Maltese Falcon as any other movie on this list.
3. Sunset Boulevard (1950)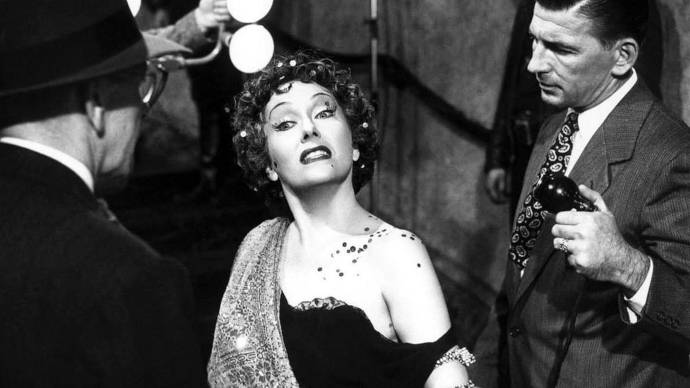 In Sunset Boulevard, Joe Gillis (played by William Holden) is a failing screenwriter who's desperate for the attention of Paramount Pictures. Similarly, Norma Desmond (played by Gloria Swanson) is a silent film star who's past her fifteen-minutes-of-fame, pining to get her script produced.
Norma is a bit of an odd case as she refuses to face her burnt-out reality, which is fueled by her butler's fake fan letters. When Joe rejects her advances, she slaps him in the face and runs away. Six months later, he's lying face-down in a swimming pool...
A black comedy as well as a film noir, Sunset Boulevard marked the final collaboration between director Billy Wilder and producer Charles Brackett. It's featured on nearly every movie poll out there, continually referenced in pop culture even seven decades later.
The Hollywood-film-about-Hollywood was nominated for eleven Academy Awards, of which it won three.
2. The Third Man (1949)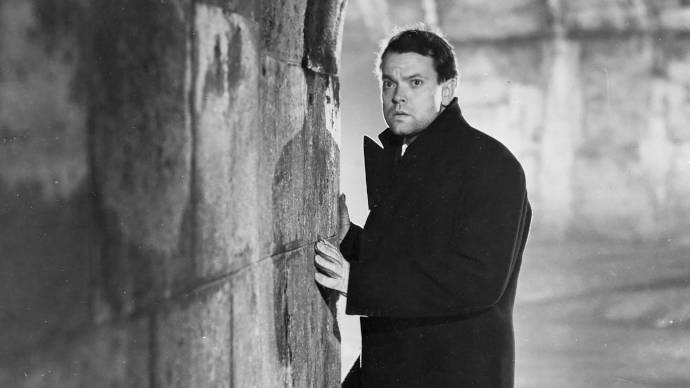 You can be forgiven if you, after watching it, think Orson Welles directed The Third Man. After all, it's a perfectly framed masterpiece starring himself. But it was actually directed by Carol Reed, whose British take on film noir leans even heavier into German Expressionism than most.
Holly Martins (played by Joseph Cotten) is an American author who arrives in Vienna to meet a man about a job. Sadly, that man is now dead—apparently he was hit by a car, but Holly isn't convinced.
Holly takes on the role of one of his written characters and investigates the matter, chiefly to find out the identity of a mysterious third man seen carrying the body.
Robert Krasker's cinematography plays a huge role in The Third Man—not just to look cool, but to evoke the atmosphere of a worn-out post-War Vienna through Dutch angles and smoky lighting.
Krasker won an Academy Award for his monochrome cinematography while Carol Reed was nominated for Best Director.
1. Double Indemnity (1944)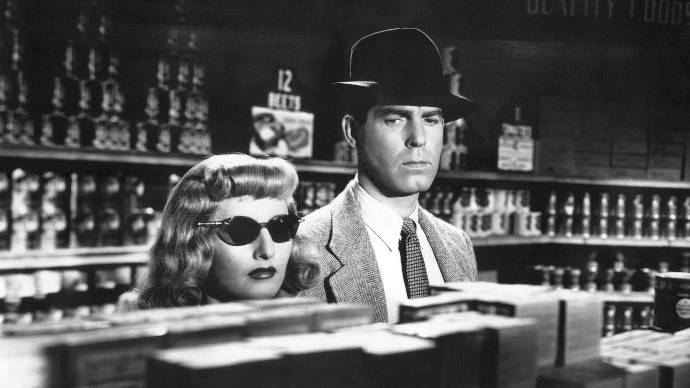 Billy Wilder is the man behind the biggest film noir of the era, Double Indemnity, which was based on James M. Cain's 1943 novel.
"Double indemnity" is a term for when a life insurance policy doubles the payout in cases of accidental deaths. You can see where this is going.
But this film doesn't just feature a dissatisfied wife who's planning to fake her partner's death—the insurance salesman is in on it, too! Walter Neff (played by Fred MacMurray) is beguiled into the scheme by femme fatale Phyllis Dietrichson (played by Barbara Stanwyck).
Double Indemnity is a landmark example of early film noir, utilizing psychosexual themes, high-contrast lighting, claustrophobic mise-en-scène, and criminal characters.
Funny thing is, though, Billy Wilder never made Double Indemnity with the intention of a film noir. In fact, he'd never even heard of it!