Calling all film buffs and old movie fans! The 1940s was a great decade for all things film noir and B-movie.
Moving away from the theater-like melodramatics of earlier cinema, the 40s were a pivotal time that introduced innovations to filmic language and established the foundation of what we know as cinema today.
From war dramas to festive classics, the 1940s gave us several enduring movies. Here are our picks for the best movies of the 40s!
Our complete series of articles on all the most popular and most iconic movies by every decade:
The Most Popular & Iconic Movies of the 1940s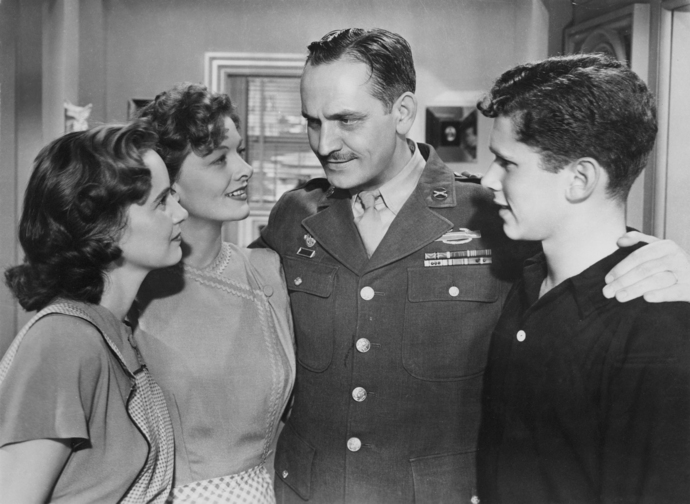 "All I know is, I was in love with you when you left and I'm in love with you now. Other things may have changed but that hasn't."
A heart-warming war epic from William Wyler, The Best Years of Our Lives follows three war veterans who return to civilian life after serving in the Second World War.
It's quite an adjustment after the chaos of the war-torn sea and skies; from USAAF bombardier to soda jerk, the three men struggle to integrate back into normal everyday society.
Harold Russell, Fredric March, and Dana Andrews star in this down-to-earth motion picture as its gallant themes and sensitive approach make it a movie way ahead of its time. The Best Years of Our Lives won not one, not two, but seven Academy Awards.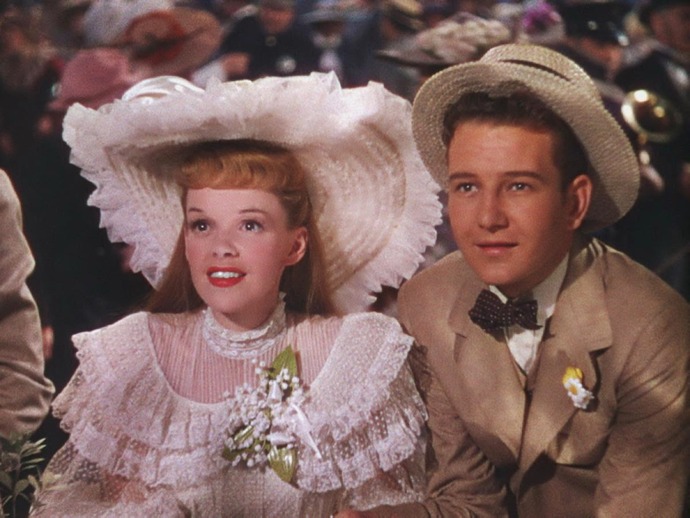 "Clang, clang, clang went the trolley. Ding, ding, ding went the bell."
A Christmas musical perfect for any year, Meet Me in St. Louis will warm your cockles and have you feeling festive in no time. The 40s were all about comforting family flicks, and this film is no exception.
Directed by Vincente Minnelli under Metro-Goldwyn-Mayer (back when the studio had more control than the director), Meet Me in St. Louis stars Judy Garland as Esther, a young girl battling the woes of family, friendship, romance, and courtship in 1904 Missouri.
The film is divided into four vignettes (one for each season) and punctuated with a bunch of classic tunes you've probably heard before—including Garland's famous "Have Yourself a Merry Little Christmas."
A critical and commercial hit, Meet Me in St. Louis was MGM's most popular musical of the whole decade.
Related: The Best Musical Movies of All Time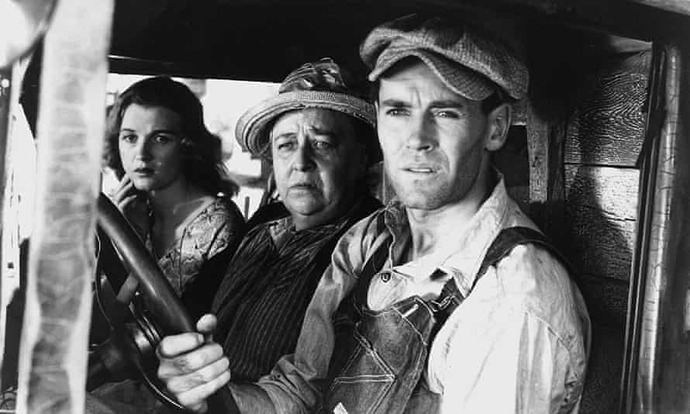 "I'll be all around in the dark. I'll be everywhere. Wherever you can look...wherever there's a fight, so hungry people can eat, I'll be there."
John Steinbeck's famous 1939 novel The Grapes of Wrath was adapted into a movie by renowned filmmaker John Ford. The story focuses on the Joads family in Oklahoma who, like many Southern suburban families, fell victim to the economic collapse of the 1930s.
The hardships of the Great Depression force the family on the road, becoming migrant workers in California. It's a gruelling journey full of hunger, strikes, and death—something Ford captures perfectly.
The harmony of realism and melodrama is perfectly balanced, starring Henry Fonda as the evicted farmer and head of the doomed household.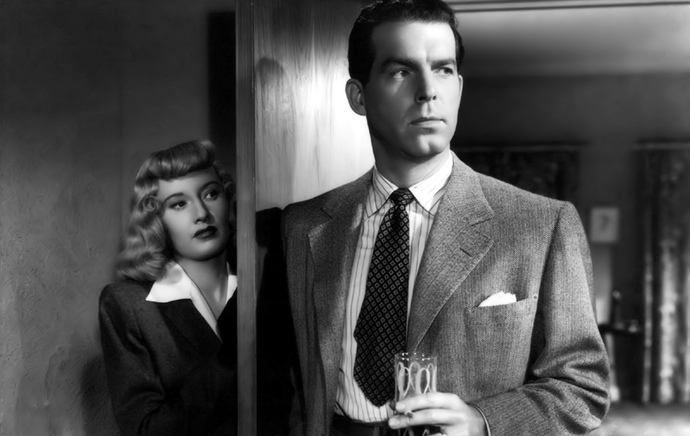 "Know why you couldn't figure this one, Keyes? I'll tell ya. 'Cause the guy you were looking for was too close. Right across the desk from ya."
Based on James M. Cain's 1943 novel, Double Indemnity stars Fred MacMurray as an insurance salesman who's seduced into a murder plot by the alluring Phyllis Dietrichson (played by Barbara Stanwyck).
The case is put under investigation by Barton Keyes (played by Edward G. Robinson), where dark truths are brought to the surface.
Billy Wilder's psychological thriller was one of the first noir films ever made, defining the genre with its key conventions of the femme fatale, private investigator, shadowy atmosphere, and sinister storyline.
Related: The Best Whodunnit Murder Mystery Movies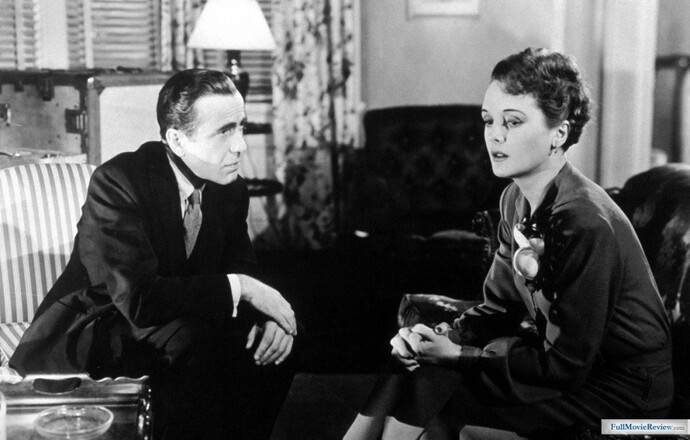 "You're the most contemptible man God ever made when you want to be."
Next to Jimmy Stewart, Humphrey Bogart was the main man of 1940s Hollywood. One of Bogart's most famous performances is in the crime-thriller The Maltese Falcon, directed by John Huston.
Like Double Indemnity, the illicit themes, private investigator protagonist, and black-and-white cinematography swimming in shadows all make The Maltese Falcon perfect for any film noir fan.
Bogart plays the private investigator Sam Spade, who's visited by Ruth Wonderly (played by Mary Astor) as a client looking for her sister. This cover story proves to be a ruse, and Sam ends up embroiled in a mission to find a valuable statuette: the bejeweled Maltese falcon.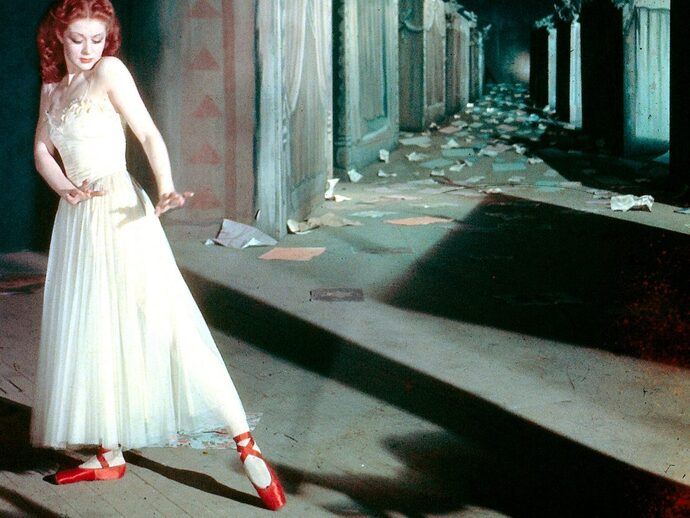 "Don't forget, a great impression of simplicity can only be achieved by great agony of body and spirit."
To dance or to fall in love? That is the question. Based on the 1845 fairy tale by Hans Christian Andersen, The Red Shoes tells the story of a ballerina torn between her career and her blustering romance with composer Julian Craster (played by Marius Goring).
Moira Shearer was already an established dancer before debuting in Michael Powell and Emeric Pressburger's movie collaboration, twirling herself on stage in a pair of red slippers that forge a will of their own.
The operatic drama received widespread critical acclaim and exemplifies an early use of the vivid Technicolor.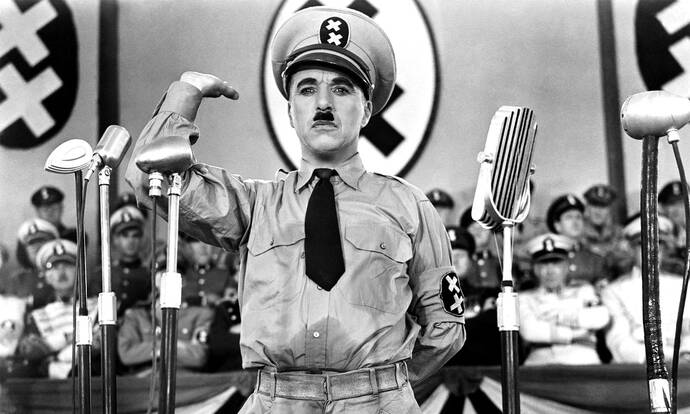 "I don't want to rule or conquer anyone. I should like to help everyone if possible; Jew, Gentile, black man, white. We all want to help one another. Human beings are like that."
Charlie Chaplin's loveble persona of The Tramp appeared in most of his movies, from 1921's The Kid to 1936's Modern Times. But as brilliant as those films are, perhaps Chaplin's greatest work remains The Great Dictator, which doesn't feature The Tramp at all.
Instead, Chaplin plays two opposing characters: a Jewish barber and the ruthless dictator Adenoid Hynkel. If the name and moustache didn't give it away, Adenoid is a clear satire of Adolf Hitler.
Chaplin had to be careful in how he handled this caricature, as it could have easily come across as insensitive to the still-fresh horrors of the Holocaust. But he struck a perfect balance between entertaining gags and timely messages of tolerance, especially in his famous finale speech.
Related: Important Classic Movies Everyone Should See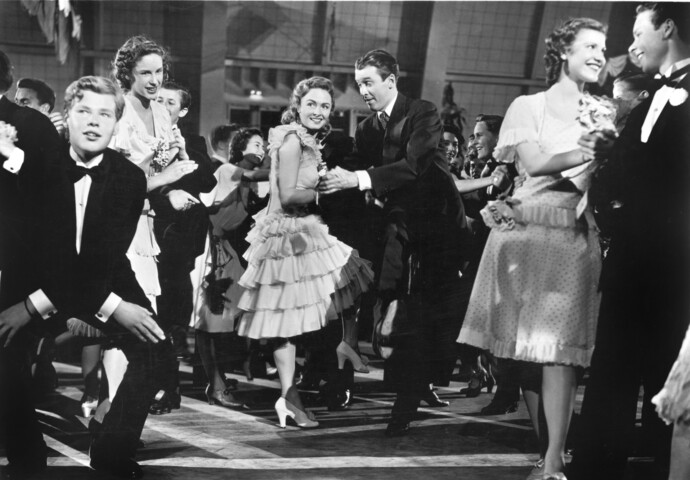 "Every time a bell rings, an angel gets his wings."
It's a Wonderful Life could well be the greatest Christmas movie ever made. It's been referenced in pop culture countless times and played on pretty much every TV screen in any Christmas film made since.
Frank Capra's wholesome fantasy drama takes place on Christmas Eve in New York. After his career, finances, and dreams are shattered, George Bailey (played by Jimmy Stewart) contemplates suicide.
Luckily for him, a sweet old man named Clarence (played by Henry Travers) comes to save the day, claiming to be an angel. George is shown what the world would have been like had he never been born, guiding him back to the light and reinvigorating his sense of purpose.
Related: The Best Classic Black-and-White Movies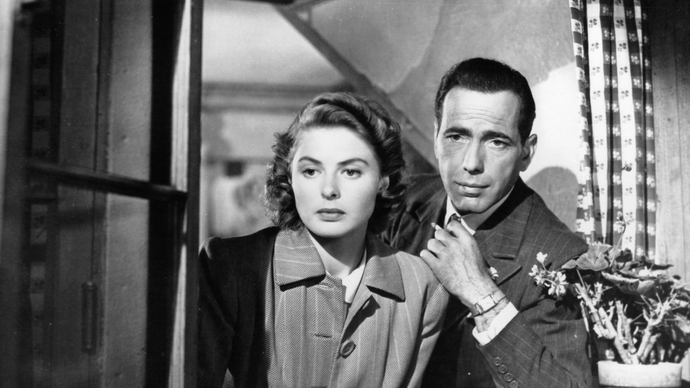 "Here's looking at you, kid."
Another Humphrey Bogart classic, this time playing an American expatriate during the Second World War. Rick Blaine is a nightclub owner in Casablanca. He's mysterious, brooding, and cynical, refusing to accept drinks from any of his customers.
But when his former lover Ilsa (played by Ingrid Bergman) arrives at the bar, Rick must choose between proclaiming his love for her or helping Ilsa get smuggled out of Casablanca with her new husband.
Despite its A-list cast, nobody expected Casablanca to become quite the enduring icon. It won multiple Academy Awards and steadily gained its status as one of the greatest films ever made.
Michael Curtiz's romance-drama explores universal themes of love and sacrifice, but also acts as a reflection on political feelings of the time. The ending in particular has stuck with audiences... even 80 years later!
Related: The Most Famous Movie Catchphrases of All Time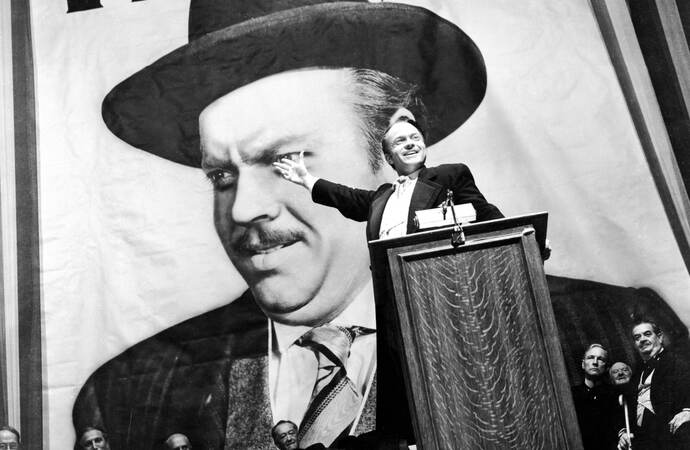 "I always gagged on the silver spoon."
Orson Welles was one of the most prolific filmmakers of the 1940s, even causing quite the stir with his all-too-realistic radio broadcast of H. G. Wells' 1898 novel The War of the Worlds.
Citizen Kane is undoubtedly Welles' most famous movie, often cited as the best film ever made. That's mainly thanks to its revolutionary use of the film medium—both narratively and technologically—particularly in how Welles famously used deep focus.
Citizen Kane recounts the life of newspaper tycoon Charles Foster Kane, whose cryptic final words cause much intrigue. Reporter Jerry Thompson (played by William Alland) is sent to investigate the meaning of the phrase "Rosebud," which Kane whispered while on his death bed.
The quasi-biographical film was controversial at the time, clearly using real-life media barons as inspiration for Kane's anti-heroic character.