Everyone loves a hearty laugh, but sometimes our biggest laughters can come from dark subjects that don't seem very funny at all.
We're talking about black comedy, a term coined by the surrealist French author André Breton in 1935. Black comedy has also come to be known as morbid humor, dark humor, or gallows humor.
Black comedy isn't like the comforting humor found in sitcoms and romcoms. Rather, black comedy peers into the darker side of human nature while playing it for laughs. It's challenging and irreverent, but it can also be downright hilarious.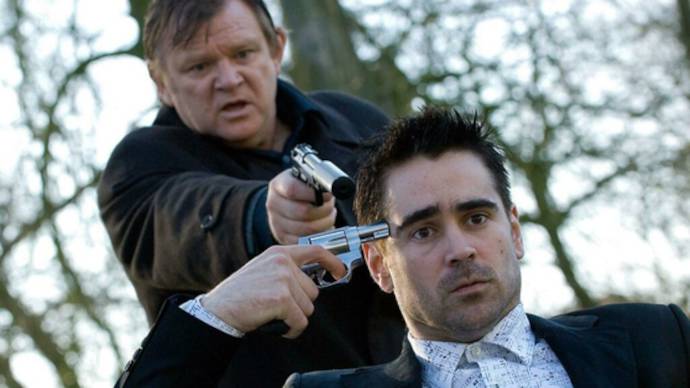 In cinema, black comedy movies make light of subjects, themes, and topics that are generally considered sensitive or even taboo: death, murder, suicide, crime, and violence.
With black comedy, filmmakers often approach these topics with zero sensitivity, which is what makes them so unique. There's a sense of gleefully wicked humor that mocks everything indiscriminately.
Nothing is off limits in black comedy. Racism, sexism, terrorism, torture, war, and genocide have all been the butts of jokes. The secret sauce to a phenomenal black comedy film is dealing with these serious, touchy subjects as if they were secretly hilarious.
Here are my picks for the greatest black comedy movies of all time and why they exemplify the subgenre.
10. Delicatessen (1991)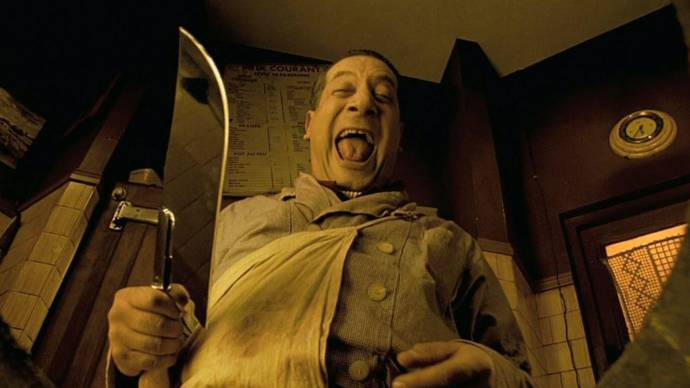 Directed by French auteur Jean-Pierre Jeunet—best known for his musical romcom Amélie—Delicatessen features a very familiar black comedy plot that hinges on a serial killer character.
Starring Jean-Claude Dreyfus as the butcher landlord Clapet, Delicatessen takes place in post-apocalyptic France and centers on his antics as he lures victims to his building via job postings, kills them, and sells their meat to his tenants.
While Jean-Pierre Jeunet's Amélie is the one that garnered critical and commercial acclaim, I'd argue that Delicatessen is his best film and one of the best black comedy movies to emerge from France.
9. A Serious Man (2009)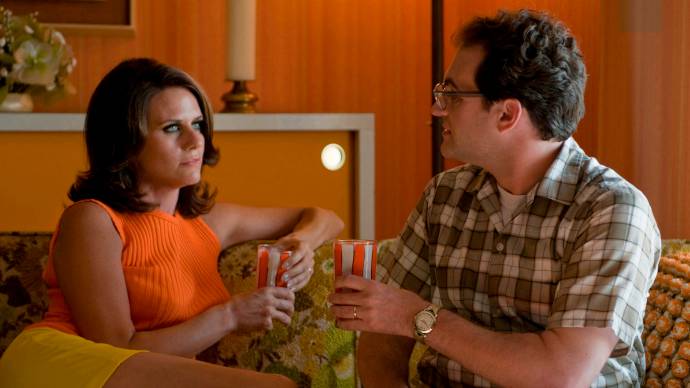 The Coen brothers made a name for themselves by directing several black comedies, starting with their first film Blood Simple (1984) which featured a crime caper gone hilariously wrong.
However, A Serious Man takes the genre to the next level by featuring a more sophisticated, intellectual kind of black comedy.
This one doesn't center on murder as the source of humor. Instead, the Coen brothers lampoon bigger ideas like religion, death, divine punishment, and the nature of horrible accidents.
In short, A Serious Man is a typical Coen brothers movie but with more depth than usual. It's one of their most underrated works.
8. The Guard (2011)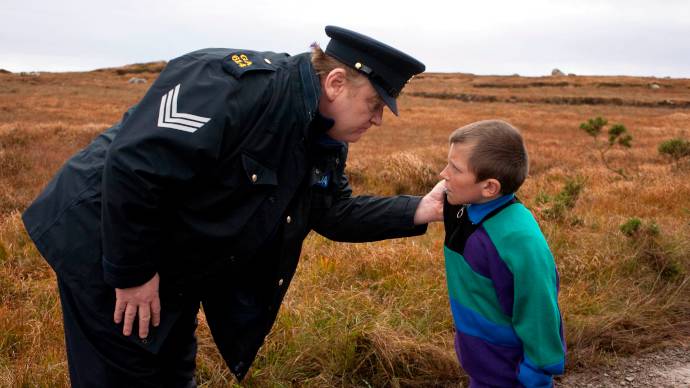 With his brother Martin McDonagh almost winning an Oscar for The Banshees of Inisherin (2022), it's a wonder that writer-director John Michael McDonagh doesn't get more recognition for his work.
His best film? Without a doubt, The Guard.
Starring Brendan Gleeson in a standout performance along with Don Cheadle, The Guard fires on all cylinders from start to finish.
Poking fun at things like race, drugs, death, and murder, The Guard is as irreverent as films come, with Gleeson's character being particularly callous about reverential subject matters.
It may have flown under your radar, but that doesn't mean you can't go back and watch it now. The Guard is one of the best black comedy films to come out of Ireland.
7. Being John Malkovich (1999)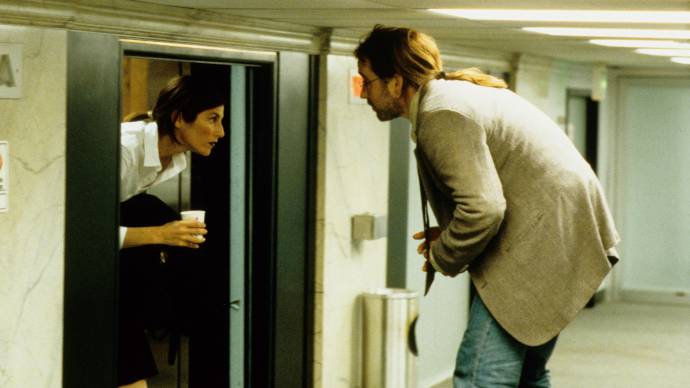 Written by Charlie Kaufman and directed by Spike Jonze, Being John Malkovich is one of the most unique films ever made.
Most black comedies are surreal to a degree, but Being John Malkovich dials it up to eleven and becomes one of the most surreal experiences in cinema history. It's hard to think of one more absurd.
Starring John Cusack, Cameron Diaz, Catherine Keener, and, of course, John Malkovich as himself, Being John Malkovich explores subjects like madness and abduction with a touch of heartbreak.
More than just one of the best 90s black comedy movies, Being John Malkovich is a timelessly phenomenal film that's always worth a watch.
6. In Bruges (2008)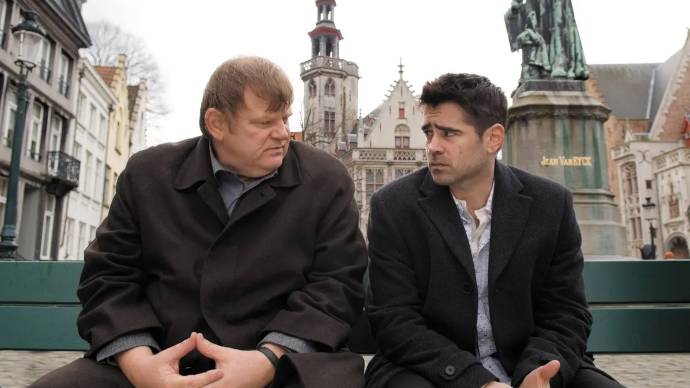 Martin McDonagh is one of the best Irish filmmakers of our time, having built a reputation for pitch-black comedies that are just really, really dark. His best film to date? In Bruges.
Two assassins wind up taking a vacation in Bruges, a small city in Belgium. After a hit job went wrong—during which a priest and a young boy are killed—they need a place to hide and cool off.
In Bruges is a most irreverential mockery of many topics, including death, suicide, assassination, along with some religious hang-ups that a few of the characters struggle with.
Starring Brendan Gleeson and Colin Farrell along with an especially hilarious villain played by Ralph Fiennes, In Bruges is a modern classic of the black comedy genre.
5. The Lobster (2015)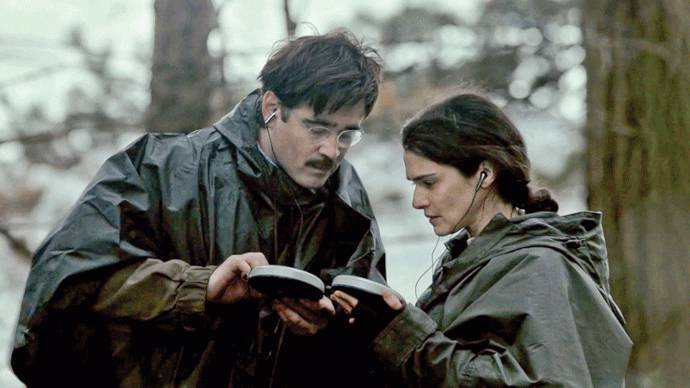 Of all the filmmakers on this list, the one who's made the biggest recent splash in the black comedy genre is Yorgos Lanthimos.
Hailing from Greece and standing as one of the leading figures of the Greek Weird Wave, his 2009 film Dogtooth was the perfect representation of what his filmmaking career would look like: dark, disturbing, and yet, for some reason, deeply funny.
The Lobster only cemented that notion.
In this film, people who are single are transported to a hotel with other single people and are required to fall in love within 45 days. If they don't? They turn into wild animals.
As these people teeter on the edge of forced romance, they have no choice but to grapple with their own humanity and mortality. All of this, when presented through the vision of Yorgos Lanthimos, becomes oddly hilarious the more we watch.
Starring Colin Farrell, John C. Reilly, and Rachel Weisz, The Lobster was a surprisingly great success for an absurdist black comedy, and it's one of th best black comedy movies of the 2010s.
4. Fargo (1996)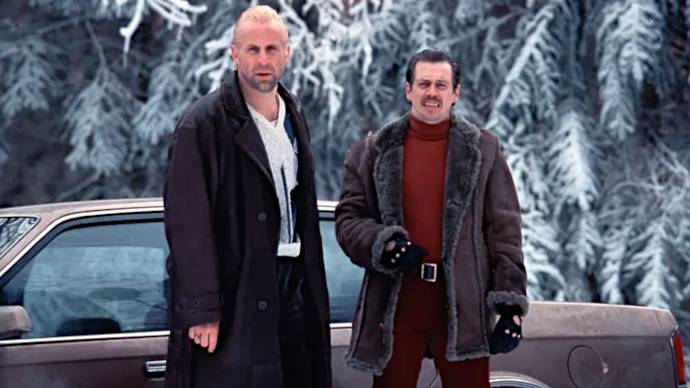 Arguably the Coen brothers' darkest film to date, Fargo is also one of their funniest. They had successful movies before this, but Fargo is the one that really put them on the map in a lasting way.
When a car salesman (William H. Macy) hires two criminals (Steve Buscemi and Peter Stomare) to kidnap his own wife so he can win a big ransom from her rich father, the whole thing goes awry and ends with murder, panic, more murder, and more panic.
Starring Frances McDormand as the plucky, smarter-than-they-look detective who investigates the whole ordeal, Fargo is a classic Coen brothers feature and a must-watch essential of the black comedy genre.
3. The Favourite (2018)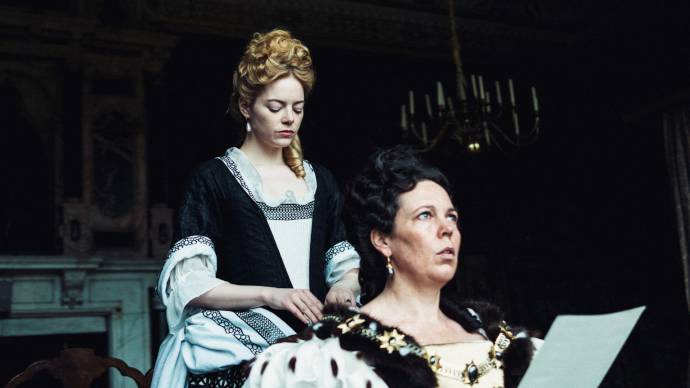 The Favourite looks like your typical period piece drama on the surface, but it gets surprisingly grim at times. Fortunately, those moments are mixed in with bizarre, laugh-out-loud funny moments elsewhere.
The story takes place in early 18th century England, where two young women vie for the affections of Queen Anne.
Despite being a lugubrious tale that examines topics of violence, misogyny, oppression, miscarriage, and double-crossing, The Favourite also provides a constant stream of humor.
With The Favourite, Yorgos Lanthimos proved his mastery over the black comedy genre and showed that his preceding works—namely The Lobster and Dogtooth—weren't flukes.
2. The Death of Stalin (2017)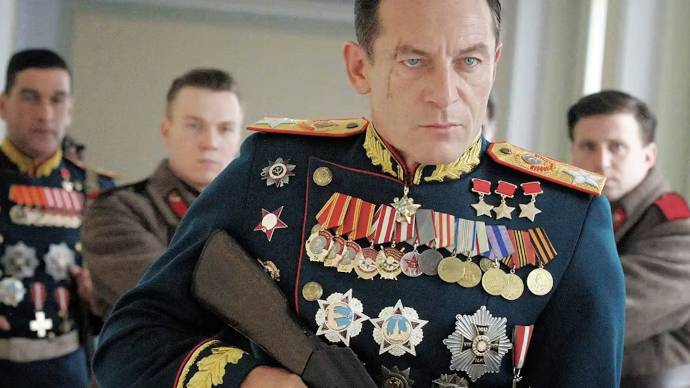 Director Armando Iannucci gave us one of the best new black comedy movies in The Death of Stalin. If you missed this one, go check it out!
The film takes place right before Joseph Stalin's demise and follows the subsequent fallout as all of his subordinates struggle to remain in power and keep their heads.
With a premise like this, the morbid humor comes naturally. There's all sorts of room for death, murder, deceit, and subterfuge to find their way center stage and become the subjects of laughter.
Starring a large ensemble cast anchored by the likes of Steve Buscemi, Simon Russell Beale, Olga Kurylenko, Jeffrey Tambor, Michael Palin, and Jason Isaacs, The Death of Stalin is an absolute riot.
1. Dr. Strangelove (1964)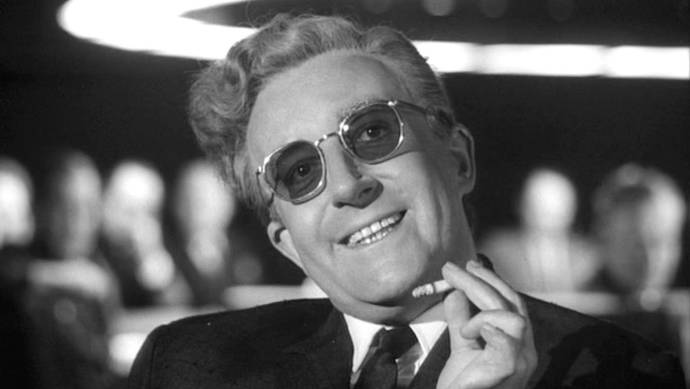 Dr. Strangelove is the quintessential black comedy film.
Director Stanley Kubrick originally wanted to make a thriller film using the ongoing threat of nuclear war as his subject material. However, in writing it, he realized just how funny it all was.
And therein lies the magic of black comedy: when a thing is so serious and so reverential, sometimes you just have to laugh at it. Which is exactly what Kubrick did when he made Dr. Strangelove.
When a crazed US general sends a nuclear bomb to be dropped on Moscow in a pre-emptive strike, politicians scramble to resolve the situation before the world descends into nuclear war.
The prevention of worldwide destruction is a frightening topic, but with the way it's depicted in Dr. Strangelove, it all comes off as deeply and darkly funny.
Starring Peter Sellers as President Merkin Muffley (plus two other hilarious roles) and George C. Scott as the trigger-happy General Buck Turgison, Dr. Strangelove is the greatest classic black comedy film and still one of the funniest black comedies of all time.