You might think the cheesiness in typical martial arts movies is enough to make it a comedy, but that's only a fraction of what makes a great martial arts comedy film so funny.
Don't forget the blown-out-of-proportion special effects, the high-flying stunts, the strangest humor you'll find in cinema. All of that—and still more—goes into every truly hilarious kung fu movie.
The kung fu movie genre (which can incorporate many other martial arts styles beyond kung fu) is endearing for its odd mixture of action and humor. They just don't make martial arts comedies like they used to.
Here are my picks for the best kung fu comedy movies that are so funny they'll have you howling with laughter!
15. Kung Fu Panda (2008)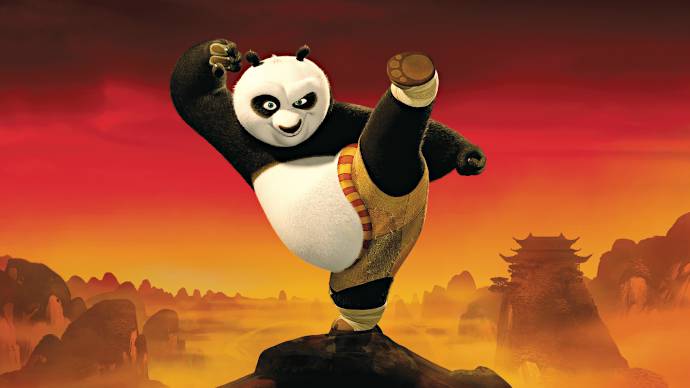 It's probably not the first movie that comes to mind, but Kung Fu Panda will always count as a great martial arts comedy.
What was initially thought to be nothing more than a juvenile animated fare solely for kids became one of DreamWorks's most acclaimed franchises. Each entry expands on Po's story—and the overall mythology—while adding emotional depth and more hilarious hijinks.
In the first film, the titular panda Po (Jack Black) is prophesied to be the Dragon Warrior. He must adjust with the Furious Five and discover his potential beyond being a mere kung fu fan. Fun and fulfilling at the same time, Kung Fu Panda beats all odds with awesomeness.
14. Kung Phooey! (2003)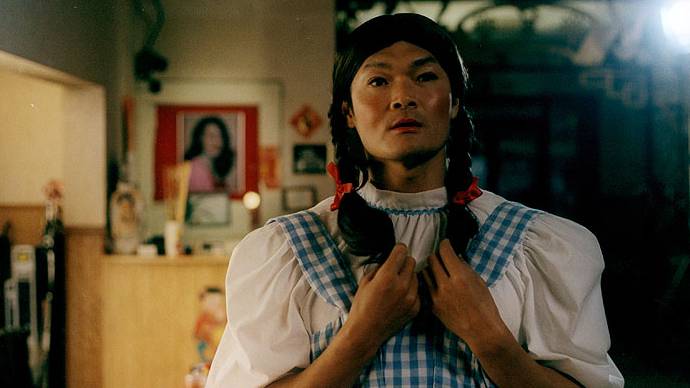 Before diving into the recesses of Hong Kong cinema, let's look at a film from the modern American indie scene that pays homage to classic wuxia movie tropes: Darryl Fong's tribute Kung Phooey!
This movie follows monk Art Chew (Michael Chow) on a quest to British Columbia to find the mysterious Fountain of Youth. Along with him are newfound friends, including cousin Roy (Colman Domingo).
In embracing the absurdity of kung fu movies and the genre's various clichés, Kung Phooey! is a loving spoof.
13. They Call Me Bruce (1982)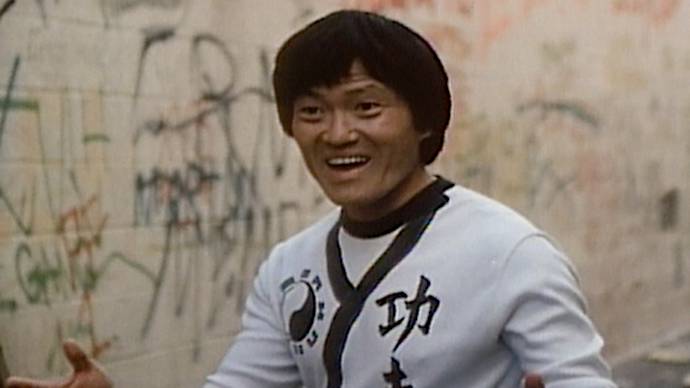 They Call Me Bruce had a very limited release in the United States, but still managed to gross a total of $16 million. The story centers around a Korean man, played by Johnny Yune.
The main character goes by the name of Bruce ever since he moved to the United States. He earns the nickname after getting a job at a kitchen run by a group of Italian gangsters. The gangsters may think he looks like Bruce Lee, but the resemblance ends there.
Bruce can't fight and he uses his mouth as his only weapon. The story thickens once his bosses task him with delivering bags of "flour" that are actually packages of cocaine.
12. Shanghai Noon (2000)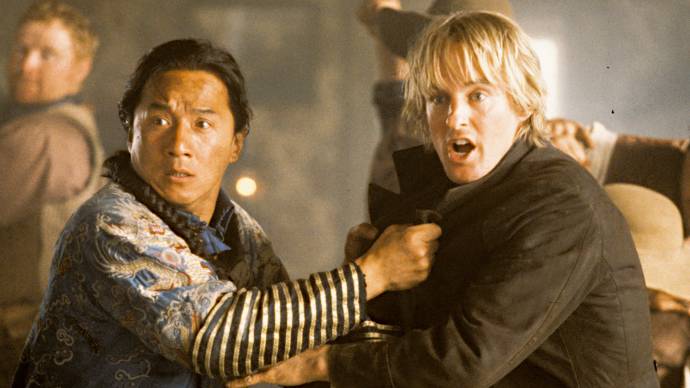 When a Chinese Princess is abducted, one man travels to the Wild West to find her and bring her back. To do so, he must partner up with a train robber, giving us the "first kung-fu western ever." It's about as silly as it sounds, and surprisingly a lot of fun!
We all saw how funny Jackie Chan could be alongside an American actor when he showed his chemistry with Chris Tucker in Rush Hour. So is it any surprise that he's just as funny—albeit in a different way—with Owen "Oh wow!" Wilson?
11. Kung Pow: Enter the Fist (2002)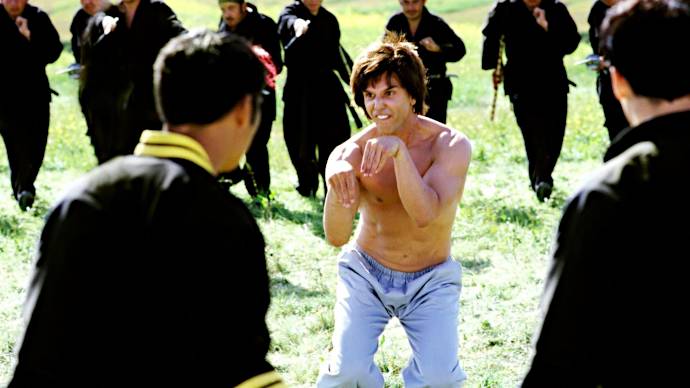 Steve Oedekerk battling a CGI karate-fighting cow is just as bizarre as it can get. To make this movie even stranger, it incorporates clips from the 1976 movie Savage Killers to form its collage of a plot.
The main protagonist, The Chosen One, seeks revenge on a man who murdered his family and attempted to kill him when he was just a baby. Although he's already a martial arts prodigy, he undergoes training with Master Tang.
As the movie progresses, you'll not only witness a bipedal cow, but you'll also get to see an intense crotch-hitting scene, poor dubbing, and even a Lion King parody.
10. Kung Fury (2015)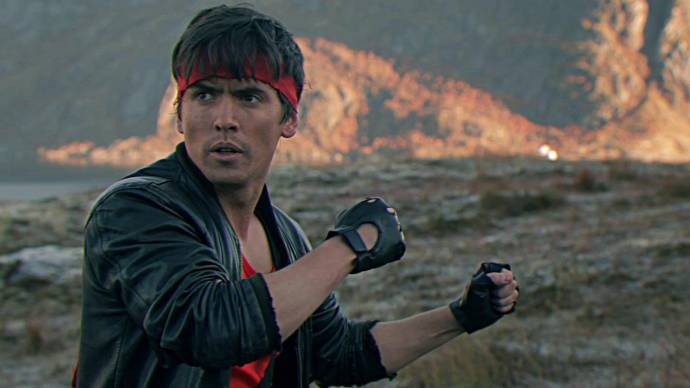 In an attempt to bring back the classic kung fu genre, David Sandberg crowdfunded the free, 30-minute movie Kung Fury.
After suffering from a lightning strike and a cobra bite, Detective Kung Fury gains supernatural kung fu powers. He teams up with Triceracop to defeat the time-traveling Hitler known as Kung Fuhrer. The worst part about this movie is that it's so short!
9. Rush Hour (1998)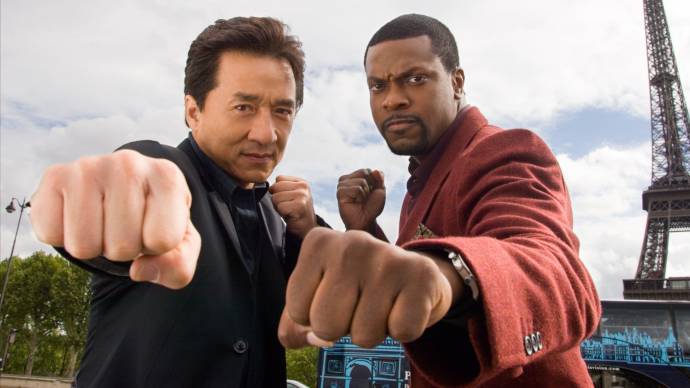 When a Chinese Consul's daughter is kidnapped, a Hong Kong Inspector is teamed up with an LAPD detective and tasked with rescuing she who was taken—and bringing down the crime lord responsible.
Jackie Chan was already popular before Rush Hour, but this movie really propelled him into Hollywood stardom.
On top of all the dazzling martial arts action, his chemistry with Chris Tucker elevates the flick to a new level and results in one of the most rewatchable movies of all time.
8. Drunken Master II (1994)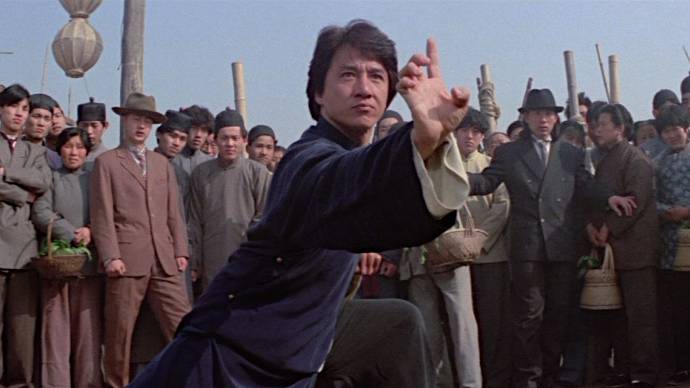 The real-life folk hero Wong Fei-hung is one of Jackie Chan's most cherished roles—and in playing the legendary master, Chan had the opportunity to show off his action talents and comedic range.
In Drunken Master II's fight scenes, Chan applies numerous fighting styles: Hung Ga in the train, Shaolin Kung Fu in the restaurant, and Drunken Boxing elsewhere. Comical and hysterical, Drunken Master II is one master bringing honor to another great master.
Note: Drunken Master II originally came out in 1994, but was later released in North America as The Legend of Drunken Master in 2000.
7. Drunken Master (1978)
Drunken Master is one of the earliest pioneers in comedic martial art movies and stars the biggest name in comedy kung fu: Jackie Chan.
Chan plays Wong Fei-Hung, a young and penniless man who doesn't get along with his father. Wong's father sends him to train with Beggar So, a martial artist who's notorious for drinking and torturing his students.
When Wong attempts to escape the intense training program, he encounters the deadly assassin Thunderfoot. Wong stupidly challenges Thunderfoot to a fight, only to get defeated almost immediately.
From that moment on, Wong decides to become a loyal student of Beggar So, and learns the essentials of drunken boxing. Handing Wong a drink is like handing Mario a mushroom—he becomes instantly powered-up upon consuming alcohol.
6. Project A (1983)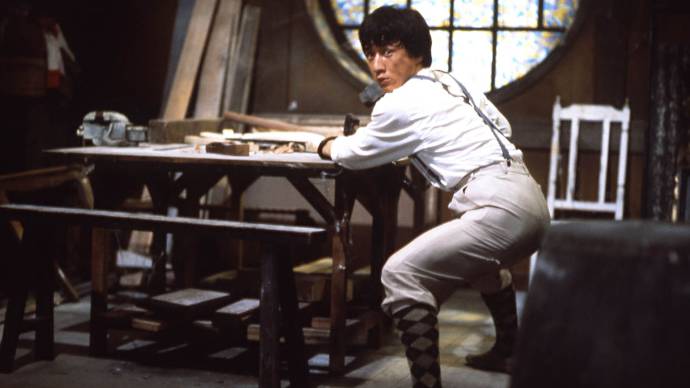 Project A, also known as Pirate Patrol, has Jackie Chan in the role of a Sergeant who's been brought in to stop pirates from raiding navy ships.
Coming out during Jackie Chan's pre-Hollywood heyday, Project A features the golden trifecta of 80s martial arts actors: Sammo Hung, Yuen Biao, and Jackie Chan himself.
This martial arts movie is one of the most stunt-heavy entries in the genre, resulting in high-octane scenes complete with the humor that Jackie Chan movies are known for.
5. Big Trouble in Little China (1986)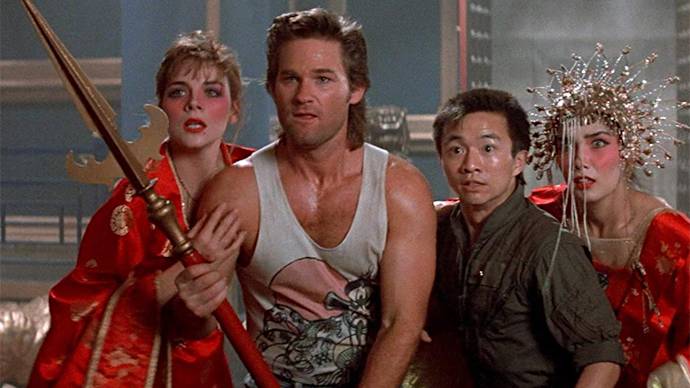 This classic martial arts comedy is chock-full of oddly realistic special effects, weird makeup, and just overall strangeness. Big Trouble in Little China stars Kurt Russell, who plays the tough truck-driver, Jack Burton.
After Jack wins a bet he placed with his friend Wang Chi, he's sucked into a supernatural conflict in San Francisco's Chinatown. The action arises once Wang's green-eyed fiancée gets kidnapped by an awfully-pale Chinese wizard named Lo Pan.
Why is he as white as a ghost? Well, it's because Lo Pan is a ghost—he's been afflicted with a curse that causes him to remain a spirit with no skin. Wang's fiancée is the only way to break his curse. Can Wang and Jack rescue her in time?
4. Everything Everywhere All at Once (2022)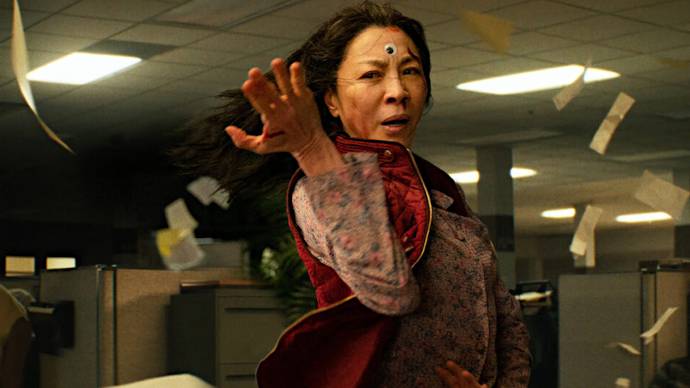 Michelle Yeoh is one of the finest actresses of our time, primarily in martial arts cinema but even beyond. It's fitting to pay tribute to her illustrious career by acknowledging the highly acclaimed and extremely absurd comedy Everything Everywhere All at Once.
In this incredible film—which topped numerous lists of Best Films of 2022—Yeoh plays Evelyn Wang, whose fractured family life takes a turn when she's called to end a threat against her universe.
Jackie Chan was originally envisioned in the lead role, the Daniels eventually went with a female protagonist as part of a wife-husband duo. They really made full use of Yeoh's skills and versatility, which amped up the film to a truly bonkers level.
3. Kung Fu Hustle (2004)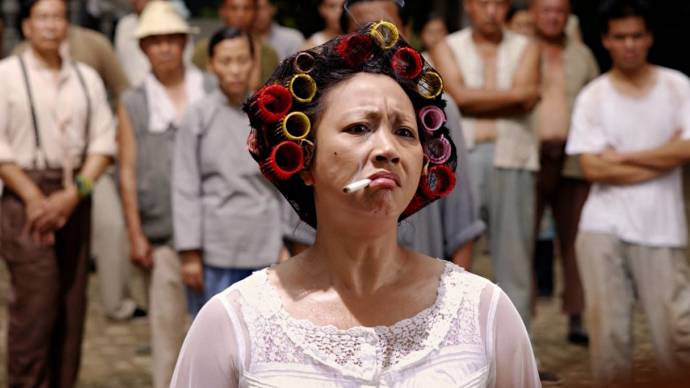 Stephen Chow stars as Sing in Shaolin Soccer and returns to the spotlight in Kung Fu Hustle with a character who also goes by the name of Sing. This time, the movie takes place in China during the 1930s.
Sing, a lowlife, dreams of becoming a member of the villainous Axe Gang. He and his friend go so far as to try to trick their neighbors in Pig Sty Alley into thinking that they're members of the gang.
The two find themselves in deep trouble once the Axe Gang catches wind of the fakers. The Axe Gang arrives in Pig Sty Alley with the intention to terrorize its residents, but they don't know that three kung fu masters secretly reside in the village.
On a side note, Kung Fu Hustle fans will be glad to know that Stephen Chow recently announced his plans to create a sequel!
2. Police Story (1985)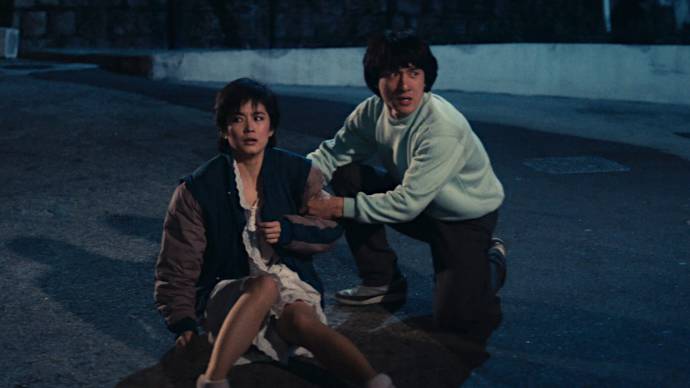 Police Story is perhaps best remembered for its infamous stunt where Jackie Chan's detective Ka Kui slid down a pole while ripping lights. That could make anyone forget that this thriller is also a comedy!
In Police Story, Ka Kui successfully apprehends a notorious drug lord but is suddenly framed for a murder. With thrilling sequences from start to finish—like hanging off a bus—this film is pretty much a crash course for everything Jackie Chan.
With Chan's hard stunt work and intensely complicated action choreography, Police Story ends up being one of the best and funniest kung fu movies of all time.
1. Shaolin Soccer (2001)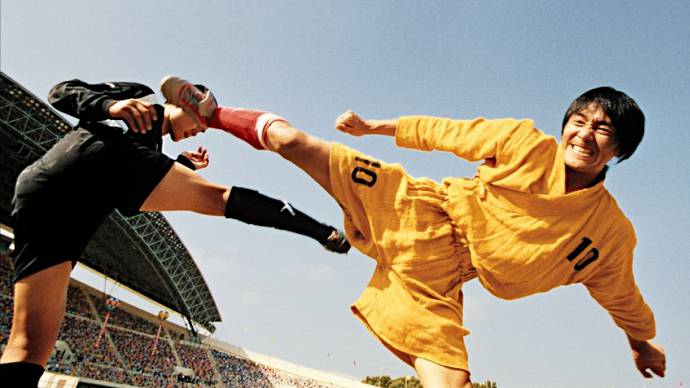 What do you get when you cross soccer with kung fu? You get Shaolin Soccer, and no, this isn't a joke.
The movie follows Sing, a man who's devoted to promoting the art of Shaolin kung fu. He eventually teams up with Golden Foot Fung, an ex-professional soccer player.
Sing loves the idea of promoting kung fu through soccer, so he agrees to let Fung train him and his brothers. The unusual team combines both soccer and kung fu, and eventually becomes powerful enough to qualify for a professional tournament.
The exaggerated special effects and bizarre storyline will keep you hooked until the very end.