In the 1993 romantic comedy Groundhog Day, Bill Murray stars as a disgruntled reporter who repeats the mundane holiday over and over again until he overcomes his narcissistic ways.
Groundhog Day is now the most classic example of a time loop movie—so much so that "Groundhog Day" is officially defined in the Cambridge English Dictionary and MacMillan Dictionary as "a situation that happens repeatedly in exactly the same way."
In the years since, Hollywood has put all kinds of spins on the concept of characters stuck in a loop, repeating a specific period or flow of time. They begin at one point, do a bunch of stuff, but somehow end up back at the very beginning again.
Here are the best movies like Groundhog Day that are actually good and bring something new to the time loop movie subgenre.
15. Doctor Strange (2016)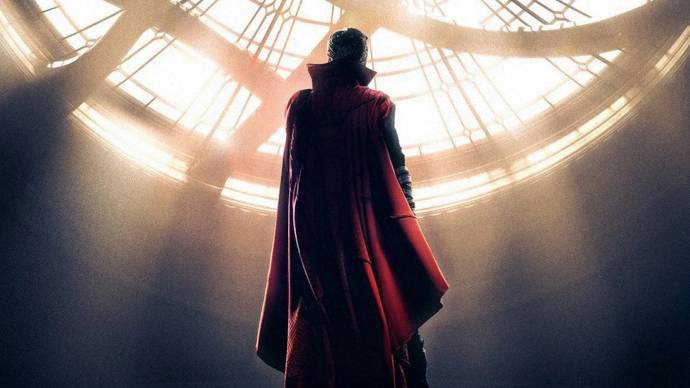 Doctor Strange is the origin story of Dr. Stephen Strange, a self-absorbed neurosurgeon who seeks out the Mystic Arts for healing... and in the process becomes a sorcerer.
Doctor Strange is an unusual character to include in the MCU, but Benedict Cumberbatch makes him work—so much so that Strange becomes a prominent presence in future MCU movies.
While Doctor Strange isn't a full time loop movie, there's one iconic sequence that fits the bill, so we're including it on the tail end of this list. Even so, the way the film plays with time will satisfy whatever time loop itch you're trying to scratch!
14. The Map of Tiny Perfect Things (2021)
The Map of Tiny Perfect Things explores the romantic side of time loops. Based on a short story by Lev Grossman, it follows a teenager named Mark (played by Kyle Allen) who's stuck in a time loop with another teen named Margaret (played by Kathryn Newton).
Seeing her staunch unwillingness to break the loop, they both work together to create a map to navigate their journey.
While The Map of Tiny Perfect Things leans very much on other time loop movies, the main leads have a unique charm and lovable chemistry that makes their journey rewarding up to its poignant ending.
13. The Fare (2018)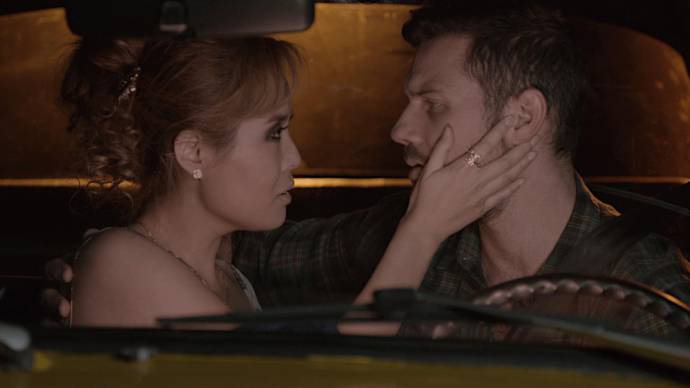 As if taxi drivers don't already follow the same routes all over, what if a taxi driver was also stuck in a loop with the same passenger?
The Fare explores this possibility, centering on taxi driver Harris (played by Gino Anthony Pesi) who goes through a time loop when he resets the odometer and repeatedly picks up the same passenger.
At the beginning of the film, Harris hears of "time-traveling aliens" on the radio but he's left unfazed. What he isn't prepared for is a Twilight Zone of a night in which he has to recall past loops and care for his passenger. Haunting yet stirring, The Fare is a thrill ride.
12. The Final Girls (2015)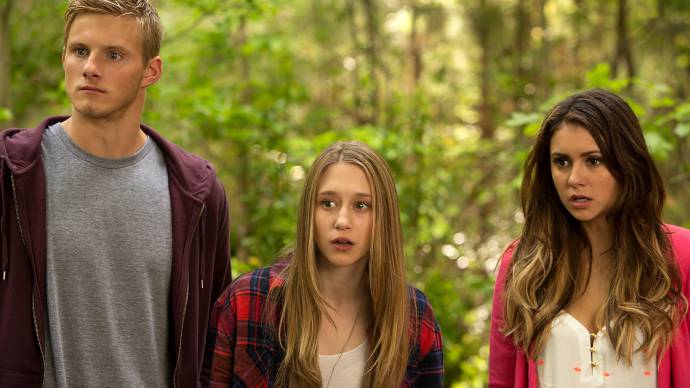 Slasher films and tropes are given a glorious homage in The Final Girls. This comedy horror follows teenager Max (played by Taissa Farmiga) who discovers that her mother once starred in a slasher film called Camp Bloodbath.
Due to unusual circumstances, she and her friends end up in that film, forcing them to learn about the movie all over in order to escape it.
Bloody good with its homages, parallels, and references to all the greatest slasher movie hits, The Final Girls knows its roots and lavishes in its excesses. There isn't a bone of cynicism for fans as the characters hilariously recall the basics of the slasher subgenre.
11. The Infinite Man (2014)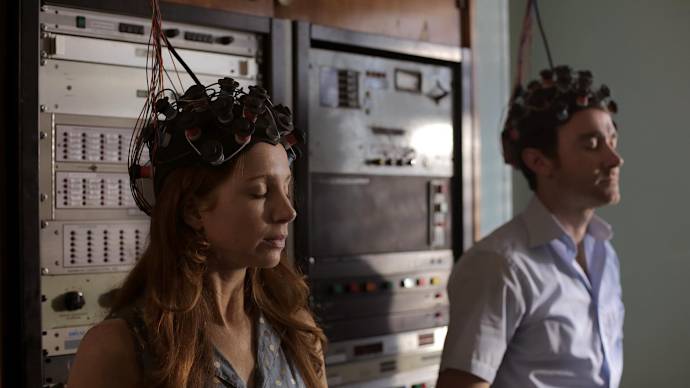 Everything goes wrong when a scientist inadvertently creates a time loop and traps his girlfriend in it.
The Infinite Man follows a man named Dean (played by Josh McConville) who wants the most idyllic and romantic weekend for his lover Lana (played by Hannah Marshall), only to end up contending with her ex-boyfriend while trying to save her from disaster.
Mixing sci-fi with the tension of a romantic thriller, The Infinite Man takes advantage of its one location and basic setup to deliver an effective high-concept story.
At its center is a flawed yet stirring romance that isn't afraid to ask daring questions, and the entire execution is reminiscent of Hitchcock.
10. Maanaadu (2021)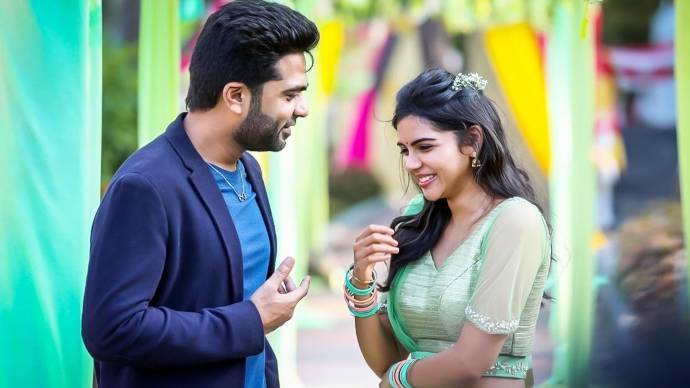 Here we have another genre mashup, except this time we have a time loop concept embedded within a political thriller.
Maanaadu is a Tamil-language action film about a non-resident man named Abdul who's shot by police deputy Dhanushkodi—and ends up reliving the same day over and over again, forced to outwit the deputy during a public conference.
Director Venkat Prabhu knows his influences, from the framework of Groundhog Day to the Rashomon-like plot device of Vantage Point. It all seeps through in every frame.
And yet, Prabhu uses all of these elements to speak about themes like Islamophobia, police brutality, and class divide. That makes Maanaadu truly unforgettable and resonating up to its very end.
9. Triangle (2009)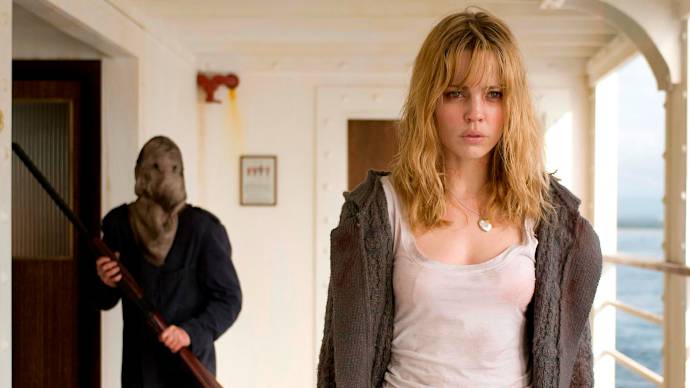 A vacation gone wrong is an obvious setup for a horror film—but the 2009 thriller-horror Triangle puts an interesting twist on it.
The movie is centered on a group of friends who are stranded at sea when their boat capsizes. They're saved by a mysterious ocean liner that passes by, but they soon discover that the ship they boarded is not at all what it seems.
While the concept itself isn't exactly fresh, Triangle delivers effective scares and thrills—and there are quite a many of them.
More importantly, the time loop mechanic is used cleverly, making it an underrated sci-fi horror-thriller you don't want to miss.
8. Boss Level (2020)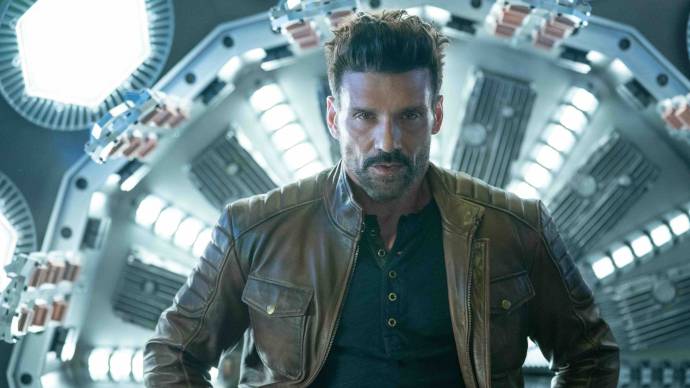 Boss Level centers on Roy Pulver (played by Frank Grillo), a retired officer who's trapped in an endless time loop and repeatedly killed by a cast of assassins who are tasked with ending his life.
Every misstep leads to death, but with every retry, Roy finds fresh ways to beat his enemies, including Colonel Ventor (played by Mel Gibson).
Time loops mesh well with action movies, which can make a film feel very much like a video game. Veteran director of action movies Joe Carnahan embraces the concept and creatively finds more interesting action sequences with every loop.
Likewise, Frank Grillo gives a career-best performance in this testosterone-filled action flick with more brains than you'd expect.
7. Happy Death Day (2017)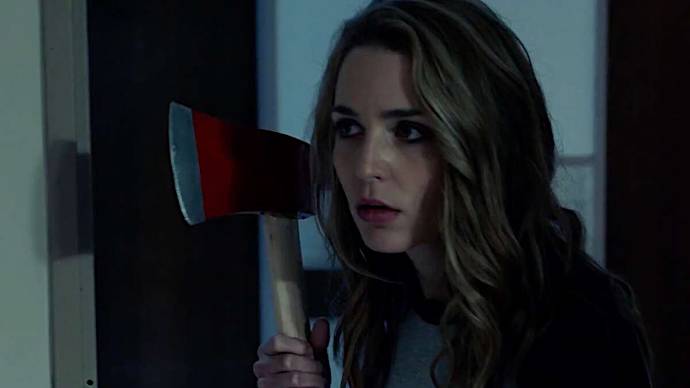 Happy Death Day is a slasher-horror film about college student Tree (played by Jessica Rothe), who's killed on her birthday and repeats that same day over and over.
Every time she goes through the routine, Tree gets one step closer to finding out who her killer is—and escaping the time loop.
Happy Death Day is a fusion of genres: it's not just a slasher, but also a dark comedy with elements of romance.
The time loop mechanic shines here, and Jessica Rothe as Tree is so compelling that she makes every trope work to her benefit.
6. Palm Springs (2020)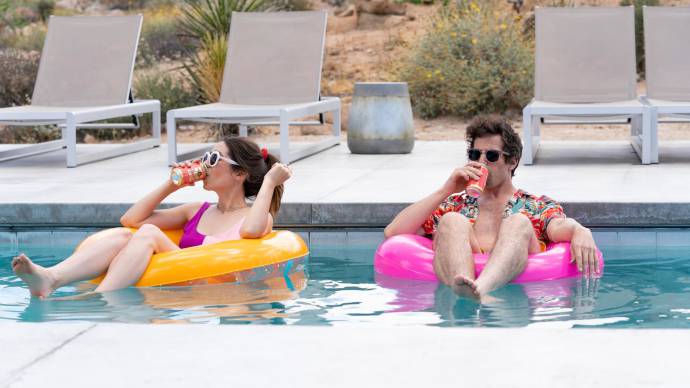 Palm Springs is one of the best movies of the past few years. This unconventional romantic comedy stars Andy Samberg and Cristin Milioti as two strangers who cross paths at a wedding in Palm Springs—and inadvertently become trapped in a time loop.
The Groundhog Day inspirations are obvious in this movie, but it feels fresh with how the time loop mechanic is used as a source of dark humor, cathartic change, and character development.
Both Samberg and Milioti bring tons of fun and chemistry to their roles, making Palm Springs one of the most enjoyable in the genre.
5. Source Code (2011)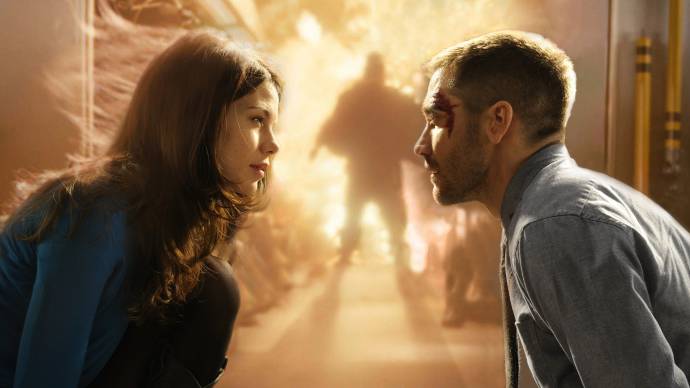 The 2011 thriller movie Source Code is one of the most iconic time loop films of the century. It centers on an Army Captain (played by Jake Gyllenhaal) who wakes up on a train, in another person's body, and tasked with locating a bomb before it explodes in 8 minutes.
When he inevitably fails, he wakes up in a dark chamber where he's debriefed and reevaluated—then sent back in to try again, over and over again until he can figure out who the bomber is.
The time loop mechanic is more than just a gimmick. It serves as a mind-bending puzzle for the characters and the audience, making every iteration a thrilling and unpredictable sequence. If you haven't seen it yet, don't miss this underrated gem!
4. Predestination (2014)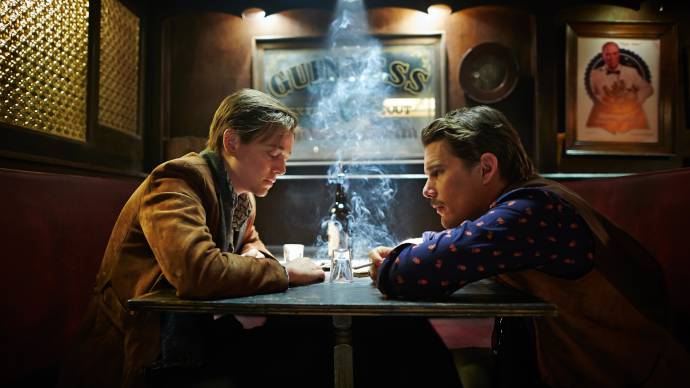 If you're looking for a true mind-bending time loop movie, there's none better than Predestination.
Predestination is a drama-thriller about a time-traveling agent (played by Ethan Hawke) who's tasked to catch a criminal he once crossed paths with—the only criminal to evade him. Chasing her down leads to a complex cerebral journey that transcends space and time.
It's hard to describe this phenomenal sci-fi movie without spoiling specifics, but rest assured that it's a rewarding experience. All you need to know is that it makes brilliant use of the "causal loop" (also known as a "temporal paradox").
3. The Girl Who Leapt Through Time (2006)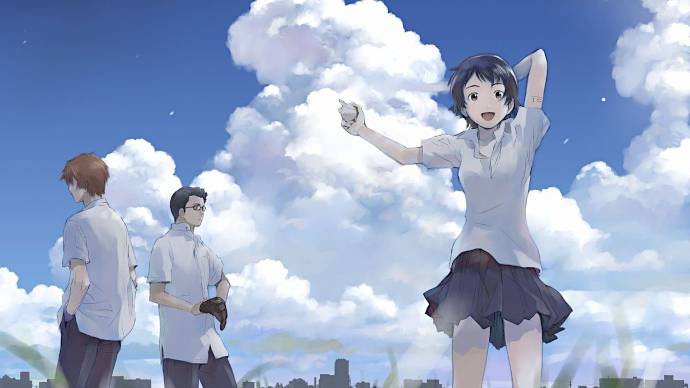 Don't overlook anime movies in your search for time loop movies. The Girl Who Leapt Through Time is a loose follow-up to the 1967 Yasutaka Tsutsui novel, but it can be watched standalone.
The film centers on a young girl named Makoto Konno, who gains the ability to "time leap" and uses it to solve her problems.
The animation is beautiful and elevates the slice-of-life moments and nostalgic side. As for Makoto, her character is worth journeying with.
Anime fans will love this feature film—and even if you don't normally watch anime, you should still give this one a chance.
2. The Endless (2017)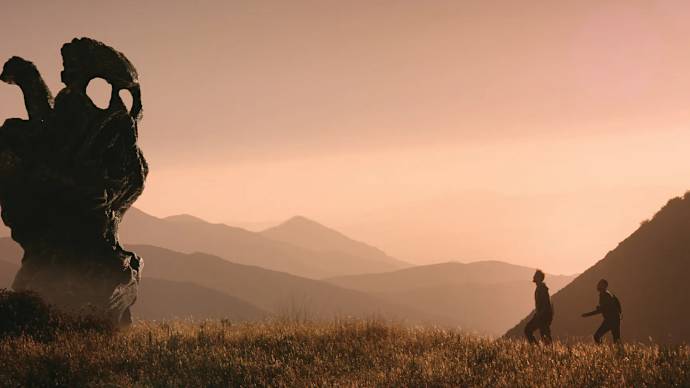 The sci-fi drama-horror The Endless focuses on two brothers—Justin and Aaron—who were once part of a cult at Camp Arcadia.
Even though they escaped the cult when they were young, they one day receive a mysterious videotape in the mail that was sent by the cult. They return to Camp Arcadia to find answers, but when they rejoin the group, they're greeted by a haunting truth.
Fans of Twin Peaks or The Twilight Zone will like The Endless for its dreamlike imagery, eerie atmosphere, and cosmic horror. Justin Benson and Aaron Moorhead give their best as both leads and directors—not to mention the film's mysterious use of time loops.
1. Edge of Tomorrow (2014)
Action movie star Tom Cruise puts in a performance that exceeds expectation in Edge of Tomorrow, a sci-fi movie that takes the concept of Groundhog Day and runs in a totally different direction, all while playing with action movie tropes to deliver something great.
The movie follows an inexperienced US Army Major who's sent off to fight an alien invasion in Europe—only to die, wake up, and realize he's stuck in a time loop on the day of the battle.
While the action is thrilling, the story's execution is the real clincher, and it's all held up by Tom Cruise's charm and Emily Blunt's subversive performance. It's way better than your average sci-fi action flick!