Comic host Steve Allen thought he was the first person to use "hippie" in reference to hip, young bohemians of the early 1960s. Back then, those anti-Vietnam War, pro-LSD stoners took to nature and advocated for free love and spirituality throughout America.
In turn, they sparked a countercultural movement that became a niche but iconic lifestyle identity across the globe. Parts of it eventually merged into the New Age movement of the 1970s, and more recently the Zippie identity that emerged in the 1990s.
Here are the best movies about hippies and other like-minded, free-spirited characters who champion freedom and liberation.
12. More (1969)
A co-production between Germany, France, and England, More shows us the dangers of being a trip-loving hippie. Hitchhiking was an integral part of the yippie lifestyle and almost as dangerous as the drugs they took.
Mathematician Stefan (played by Klaus Grünberg) has a spiritual awakening after leaving West Germany and meeting the kinky drug addict Estelle (played by Mimsy Farmer).
Of course, begging for heroin wasn't exactly what the hippie movement was about, but that's where these pasty-faced lovers end up.
The French censorship board wasn't exactly happy with Barbet Schroeder's directorial debut and they cut out the hallucinogenic chemical potion they concoct in the kitchen (though the words still appear in the subtitles).
11. Woodstock (1970)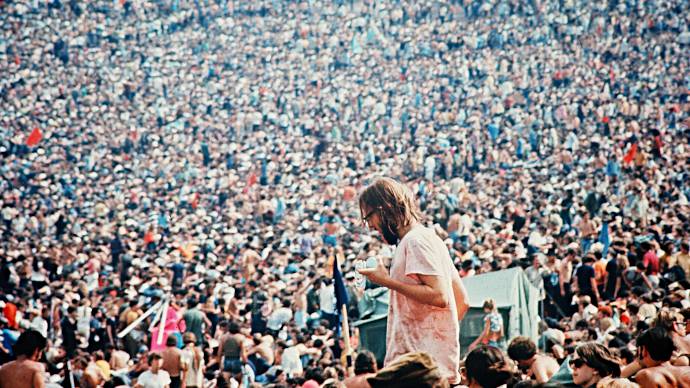 "Hippies" and "Woodstock" are forever meshed and inseparable, with the latter being the biggest musical festival in history, known for an attendance primarily comprised of freaks and free lovers.
To this day, Woodstock Music and Art Fair remains emblematic of the infamous Summer of Love, featuring performances from Janis Joplin, The Who, and Jefferson Airplane. Oh, and Jimi Hendrix, who got his own spin-off album Live at Woodstock.
Directed by Michael Wadleigh alongside seven editors and made up of actual footage from the watershed concert in New York during August 1969, Woodstock won the Academy Award for Best Documentary Feature and gained a cult following for its brilliant cinematic execution.
In 2009, an extended version of Woodstock was released for its 40th anniversary. Besides the fashion and drugs, music is what defined the era... and you can find it all here!
10. The Doors (1991)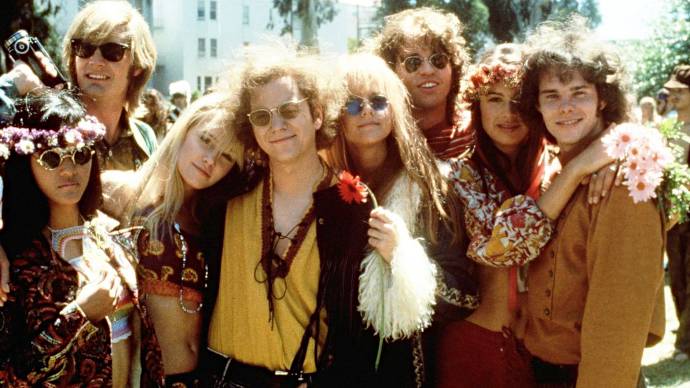 Val Kilmer gave the performance of a lifetime as Jim Morrison, lead singer of The Doors and 1960s sex symbol. Morrison was essentially the Marilyn Monroe of the Swinging Sixties without all the LSD.
Through Oliver Stone's movie and various first-hand accounts, we can see all the textbook signs of a personality disorder. Even without the acid, Morrison was known for his eccentric behavior and nonsensical monologues.
Tripping in the desert and taking part in blood rituals were Morrison's favorite past times, and half his photoshoots show dilated pupils. Morrison loved to flirt with death, up until he joined the 27 Club in 1971 (alongside other hippie legends like Janis Joplin and Jimi Hendrix).
Hippies are all about living larger than life and expanding the mind, which Stone explores through the ultimate boho rebel in The Doors.
9. Dances With Wolves (1990)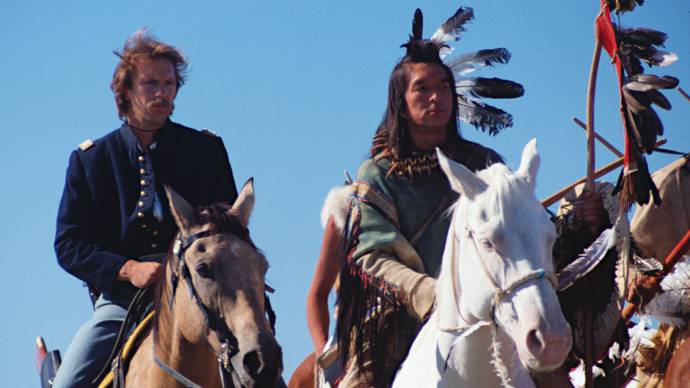 Okay, Dances With Wolves technically doesn't feature any hippies. In fact, it takes place on the American Frontier in 1863.
That said, Lt. John J. Dunbar (played by Kevin Costner) does learn a lot about his own soul from his Sioux neighbors as they teach him how to reconnect with nature and live freely.
When a Union Army Lieutenant finds himself at a Civil War outpost, he learns to tolerate and learn from his spiritual Native American residents. "Dances With Wolves" is the new name given to him by the Sioux as he sheds his military uniform in favor of feathers and deerskin.
Kevin Costner stars in his directorial debut, which remains one of the only Westerns to win the Academy Award for Best Picture. Definitely the best film in Kevin Costner's Western canon!
8. Forrest Gump (1994)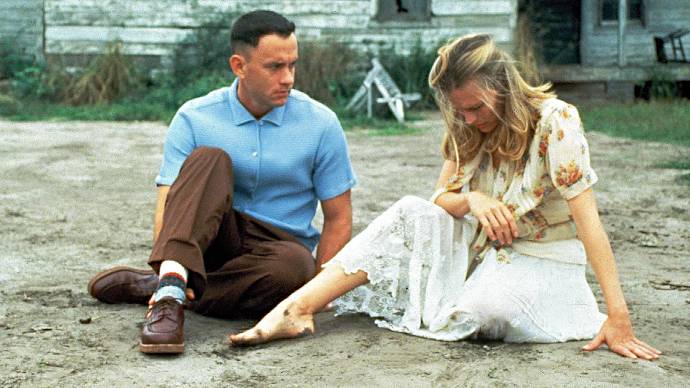 Forrest Gump (played by Tom Hanks) isn't a hippie himself, but the love of his life is. A bad childhood leaves Jenny (played by Robin Wright) praying to be made into a bird and "fly far, far away"—and she spends the rest of the movie chasing that freedom.
This comes in the form of music, drugs, sexual liberation, and becoming a full-fledged hippie who hitchhikes via campervans to anti-war protests. Ironically, Forrest is speaking at the same rally in military uniform!
After years on the road, abused and addicted, Jenny finally comes home to Forrest. They have a true hippie wedding—barefoot in the grass while wearing a flower crown—until Jenny leaves again and Forrest runs a marathon for 422 days.
Besides the endlessly quotable performance from Tom Hanks, Forrest's life story wouldn't be half as interesting if it wasn't for the 1960s subtext unfolding behind it: the Vietnam War, the Black Panthers, the Summer of Love, and a groovy soundtrack.
7. Hair (1979)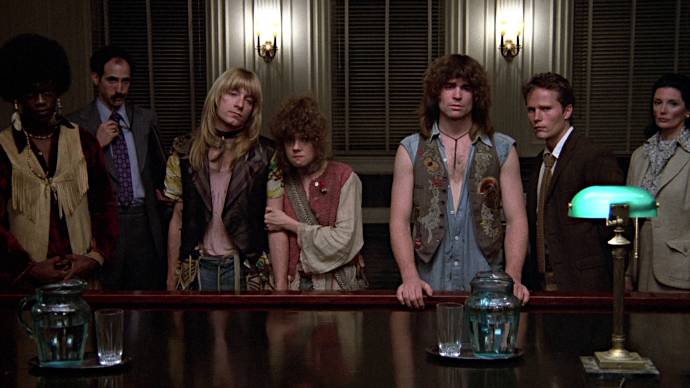 Most anti-war movies are about the Vietnam War, in which thousands of young American soldiers died on foreign soil without justifiable cause. Legendary directors like Stanley Kubrick and Francis Ford Coppola made some of the greatest Vietnam War movies, but none were musicals.
And that's why Miloš Forman's Hair stands out from all other Vietnam War movies. A comedy-drama based on the Broadway musical Hair: The American Tribal Love-Rock Musical, the film Hair follows a draftee who's taken in by a gang of hippies in New York City.
Music is often one of the main pillars in any counterculture movement, and that was certainly true for hippies. They also grew their hair long as a symbolic act of rebellion, nonconformity, and embracing of nature.
Forman's fun adaptation resists the cheesy in favor of a rocking 1960s memoir. What better way to express one's freeness than through music?
6. Dazed and Confused (1993)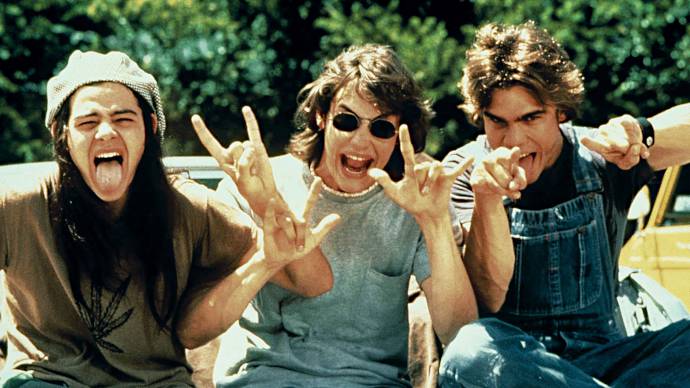 Dazed and Confused features long-haired misfits cruising through Texas in 1976. They might not be taking mushrooms while naked in a field at Woodstock, but this laid-back gang of teens still embodies the same iconic attitudes of the hippies.
Not named after the Led Zeppelin song (as most people assume), Dazed and Confused is the ultimate stoner movie that meanders through smoke sessions and teen parties at its own pace. And even though Dazed and Confused was a box office flop, it later gained a huge cult following.
Richard Linklater's coming-of-age comedy features a friendship group we wouldn't mind being part of, with our favorite stoner being Ron Slater (played by Rory Cochrane) who rambles his inner thoughts in a scally cap.
5. Almost Famous (2000)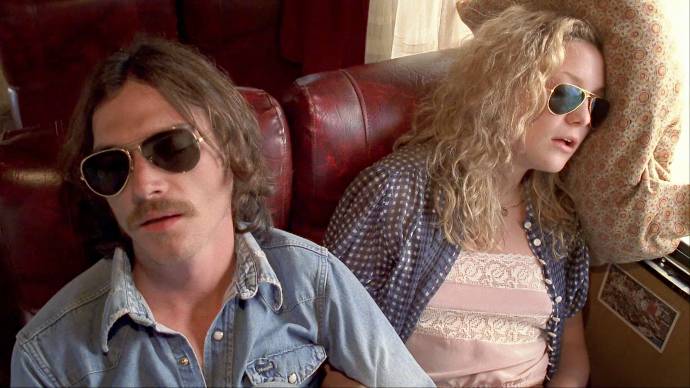 Almost Famous is another 1970s coming-of-age comedy, but with a sprinkling of drama as it focuses on a "square" child prodigy who enters the world of sex, drugs, and rock 'n' roll.
Back then, hippie women had a bad reputation for being junkies and groupies who followed and slept with band members on the road.
William Miller (played by Patrick Fugit) is introduced to this wild side of life by Penny Lane (played by Kate Hudson in her breakout movie), a barely legal groupie with whom everyone falls in love.
Apart from all the cheating, overdoses, and fake friendships, Almost Famous is a charming movie about making connections through music. The "Tiny Dancer" sing-along scene will make you want to learn guitar and pile in a van with all your mates.
4. Once Upon a Time in Hollywood (2019)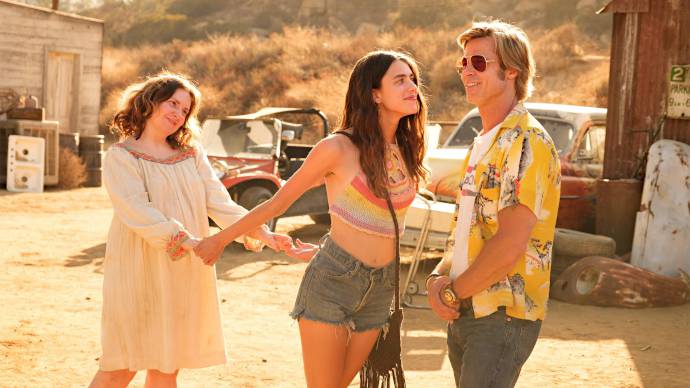 California was the melting pot for hippies back in the day. While Hollywood has always been preoccupied with bright lights and movie starlets, barefoot nomads could still be found with their thumbs in the air.
Once Upon a Time in Hollywood shows us the glitz and glamour of showbiz as well as the dusty communal lifestyle of neighboring hippies.
Hippies might seem to be the kindest and most easy-going folk around, but many of them were actually indoctrinated by the serial killer cult leader Charles Manson in the late-1960s.
When stunt double Cliff Booth (played by Brad Pitt) picks up a young hitchhiker (played by Margaret Qualley), she leads him to Spahn Ranch where Westerns were once filmed. It just also happens to be the base of operations for the cult.
In Once Upon a Time in Hollywood, Cliff and Rick Dalton (played by Leonardo DiCaprio) find themselves up against these hippies, all while tripping on an LSD-laced cigarette.
3. Inherent Vice (2014)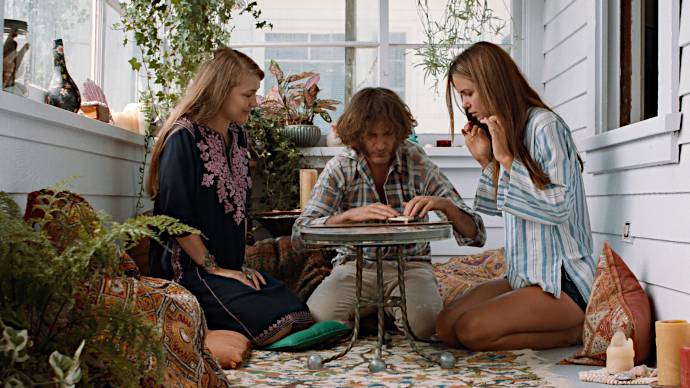 The word "detective" usually calls to mind a whiskey-drinking noir investigator who lingers in the shadows while wearing his trench coat and hat, puffing on a cigarette. Larry "Doc" Sportello of Inherent Vice couldn't be further from that stereotype.
Doc (played by Joaquin Phoenix) is your stereotypical hippie—barefoot, heavy sideburns, always stoned—except he's getting on a little. Most of the twenty-something hippies he knew have moved on with real jobs, but Doc still lives alone in his beach house, solving crimes.
Director/writer Paul Thomas Anderson has proven his skill for period pieces, and Inherent Vice is no exception as it captures the mood and texture of a dusky 1970s Los Angeles.
2. The Big Lebowski (1998)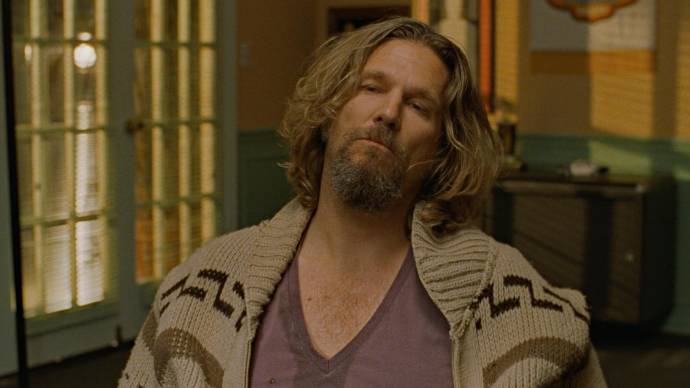 We can safely say that The Dude (played by Jeff Bridges) is the number one hippie character in cinema, considering he inspired a whole real-life religion created after him. (Seriously, there are over 450,000 ordained and practicing "Dudeist" Priests today!)
Jeffrey "The Dude" Lebowski is still Jeff Bridges's most iconic role to date, who strolled through the black comedy with a zoot and White Russian in hand.
Directors Joel and Ethan Coen open The Big Lebowski to The Dude shopping in his sunglasses, gown, and slippers—you know, the standard look of your self-accepting loser.
Lebowski might not be a straight-up hippie, but he certainly lives like one, doing whatever he pleases while shrugging through life. High and happy, he lets life unfold around him without stress or resistance.
1. Easy Rider (1969)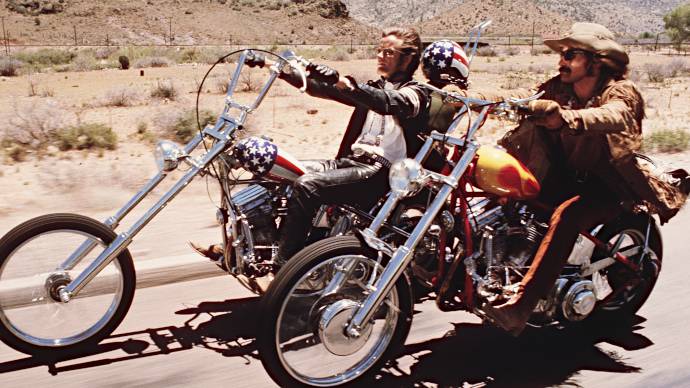 We're selecting Easy Rider as our number one hippie movie of all time. Why? Because even though the characters aren't technically hippies, the characters embody very similar countercultural ideals.
More importantly, this film changed cinema forever. Along with Bonnie and Clyde (1967) and The Graduate (1968), Easy Rider iconically marked the dawn of the New Hollywood era.
Dennis Hopper directs this landmark indie flick, painting an accurate portrait of the social landscape in which hippie culture rose to prominence. He stars with Peter Fonda as two bikers smuggling cocaine into Los Angeles.
Wyatt and Billy are used to being on the road and smoking marijuana, but LSD is a new thing for them. Stopping at a "free love" hippie commune, the two leave with a hallucinogenic parting gift.
They consume the acid while in a graveyard during a Mardi Gras festival, which obviously becomes overwhelming. The pair's bad trip is creatively portrayed on screen, putting us in their shoes through lens flares, double exposure shots, and layers of ambiguous audio.