Hollywood films love to inspire awe and encourage viewers to pursue their dreams—because, after all, anything is possible! Who knows which viewer might become the next Elvis or Madonna?
And Hollywood loves to do that by featuring successful musicians, bands, and singers as the protagonists of their movies. Sometimes they're based on real people. Sometimes they're made up.
From obsessed artists to inspirational biopics, here are our picks for the best movies about musicians, bands, and famous singers. (That doesn't mean these are all musicals, by the way!)
21. Rocketman (2019)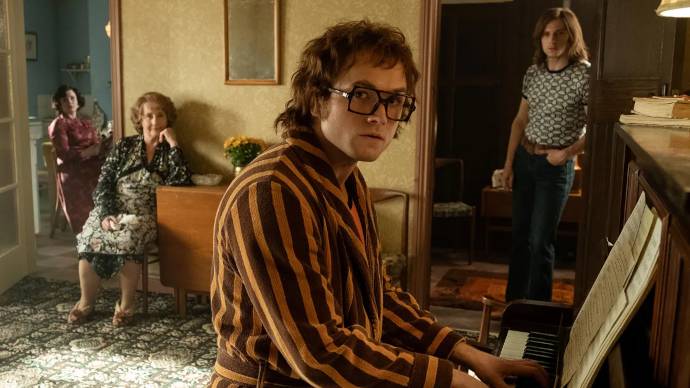 We saw a flurry of musical film releases in 2018 and 2019, with a big trend in biopics. After the success of Bohemian Rhapsody, Hollywood took to telling another whimsical celebrity's story: Elton John.
Dexter Fetcher directs this glitzy, sequin-studded drama that stars Taron Egerton as the androgynous British pop star.
Rocketman opens with Elton's childhood and very quickly breaks out into flashy musical numbers. It follows Elton's rise into the glamorous world of fame, where the singer-songwriter's homosexuality is thrown into the limelight... all the while he battles alcoholism.
20. Bohemian Rhapsody (2018)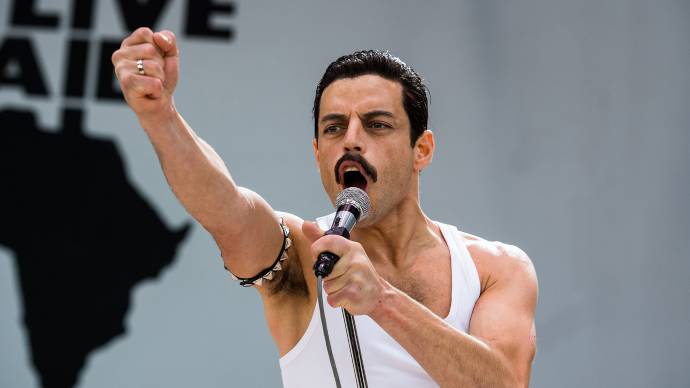 Bryan Singer's Bohemian Rhapsody isn't without its flaws. That said, the huge box office hit is sure to get viewers nostalgically singing along—and what else could you ask for from a musical movie?
Rami Malek gives a sparkling performance as the late Freddie Mercury, lead singer of the iconic rock band Queen. Bohemian Rhapsody is an explosive celebration of Mercury's talent, who tragically died due to AIDS complications at just 45.
Malek's incredible performance is at the heart of this movie, taking us through Mercury's journey from a baggage handler still living with his parents to egotistical pop sensation.
Coming to terms with his sexuality and fatal illness, Mercury's experience of fame isn't always a positive one.
19. Get On Up (2014)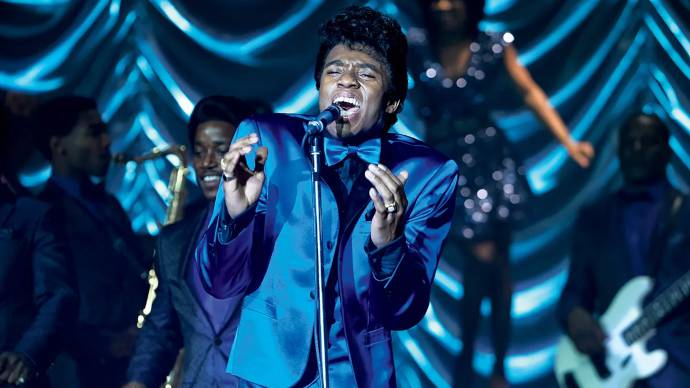 The "Godfather of Soul" James Brown was originally a gospel singer in Georgia, who grew up in poverty with an abusive father. Fascinated by shout music and jazz, he joined Bobby Byrd's gospel group and slowly climbed the ranks.
He was known as the "hardest working man in show business"—despite his abuse of drugs and his brushes with the law—and worked towards Africanizing rhythm and blues.
Tate Taylor uses a nonlinear structure to tell Brown's life story, balancing funky numbers with tense drama. Chadwick Boseman stars as the "Soul Brother No. 1" alongside Nelsan Ellis, Dan Aykroyd, and Viola Davis.
18. Respect (2021)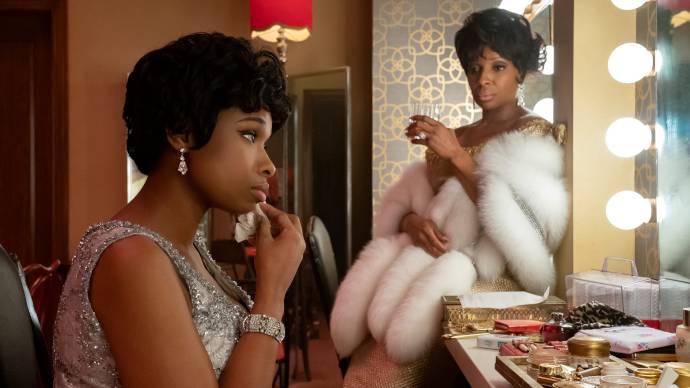 In Respect, Jennifer Hudson is the powerful soul singer Aretha Franklin, known for her incredible vocals. Liesl Tommy's feature directorial debut touches base on all the major moments of this icons life—from the death of her mother to her first #1 single "Respect."
Hudson's on-screen presence and the souring musical score make Respect a classy and polished powerhouse movie.
Like many stars on this list, Aretha Franklin grappled with the pressures of her career by turning to drugs and alcohol, giving us a peek into the reality of being famous.
17. The Runaways (2010)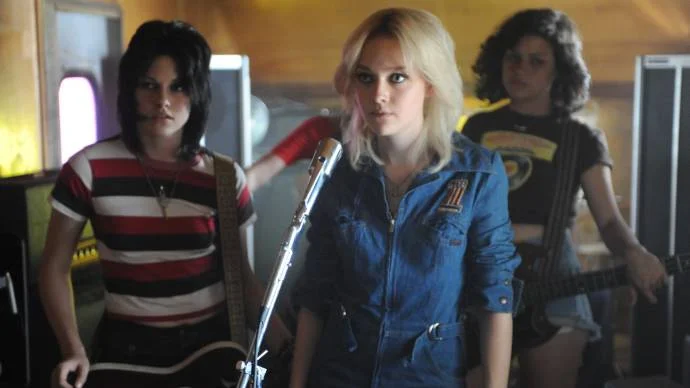 Who doesn't love a good all-girl rock band? The hardcore, leather-wearing 70s band The Runaways made a whole bunch of hits, with the lead singer Cherie Currie (played by Dakota Fanning) having been inspired by David Bowie as a teenager.
Floria Sigismondi's punky drama mainly focuses on the formation of the band with an emphasis on Cherie, who suffered with addiction and mental health issues.
The girls originally met at a club in California, all dreaming of life as a rock star. Then: the dream came true.
The Runaways is based on Cherie's own accounts in Neon Angel: A Memoir of a Runaway, balancing out its electric energy with that of desperation. Kristen Stewart and Michael Shannon also star.
16. Straight Outta Compton (2015)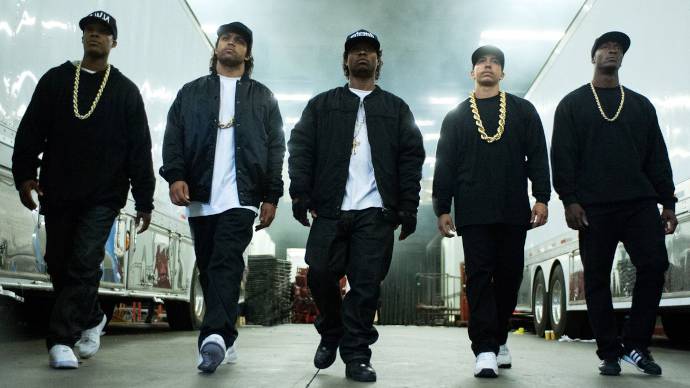 Straight Outta Compton may not look like your usual Oscar-nominated movie by its poster, but it was one of the top movies of 2015.
A musical crime drama directed by F. Gary Gray, the film shows your typical rise-and-fall journey with a unique and memorable zeal.
O'Shea Jackson Jr., Corey Hawkins, Jason Mitchell, Neil Brown Jr. and Aldis Hodge star as the members of gangsta rap band N.W.A, alongside Paul Giamatti as their controversial manager.
The Californian hip-hop group practically triggered a culture war, which Gray hones in on as an allegory for police brutality and gang violence.
15. The Doors (1991)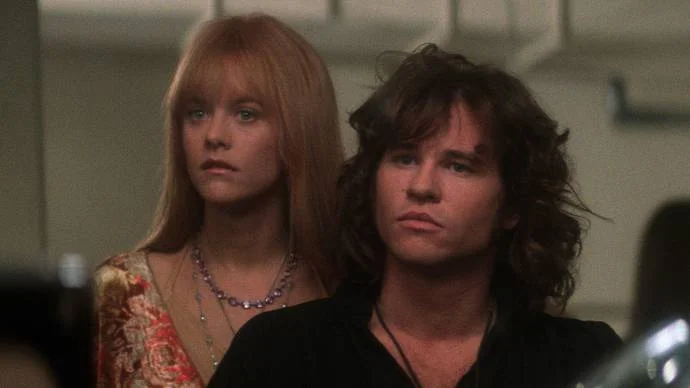 We're not sure what planet Jim Morrison was on, but it wasn't Earth. The lead singer of The Doors was always elusive, spending most of his time on acid, flirting with death, and improvising nonsensical poetry.
It's a surprise he ever managed to produce six world-famous albums while hallucinating all day! In The Doors, Val Kilmer perfectly encapsulates Jim Morrison's edgy, rebellious, and unpredictable reputation as the ultimate bad boy.
Oliver Stone directs us through the formation of The Doors and the impact of Jim Morrison's hectic lifestyle with psychedelic flair—one that perfectly manages Morrison's personality.
14. Crazy Heart (2009)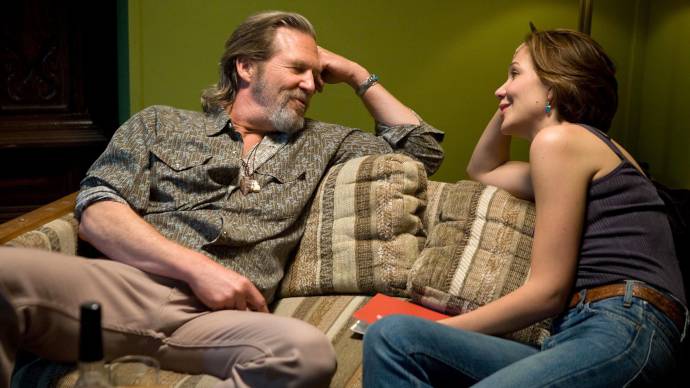 A faded country star who boozes in country pubs while singing sad country songs. It's a familiar character archetype that never fails to tug at our heartstrings and put us in a meditative state about our own lives, past, habits, and heartbreaks.
In Crazy Heart, Scott Cooper directs Jeff Bridges as the gruff-talking, beer-drinking cowboy singer Bad Blake who makes his living in dive bars across the American Southwest.
Bad Blake doesn't see the point in getting his life back together—until he meets the young, divorced journalist Jean Craddock (Maggie Gyllenhaal).
Crazy Heart is an intimate and earnest portrait of a man who's lost in the desert but brought back by love. Bridges's performance is so good, you'll forget you've heard this story many times before!
13. Yesterday (2019)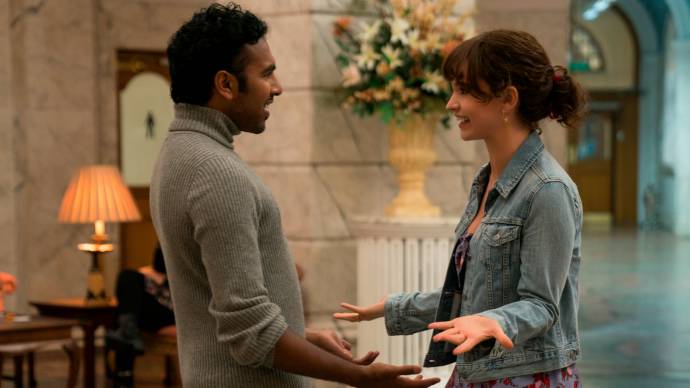 There are few movies with a plot as bold and original as Yesterday. Auteur director Danny Boyle poses the question: What if there was no such thing as The Beatles?
The British rock band had one of the biggest impacts on the music industry, with Beatlemania sending shock waves throughout the UK and US during the 1960s. But what would happen if one day you woke up and, suddenly, they never existed?
Well, that's exactly what happens to wannabe musician Jack Malik, played by Himesh Patel. As the only person who remembers the legendary band, Jack decides to use their songs as a way of claiming their forgotten fame for himself.
Yesterday is a funny, heart-warming tale that showcases the spirit and influence of The Beatles on the world.
12. Wild Rose (2018)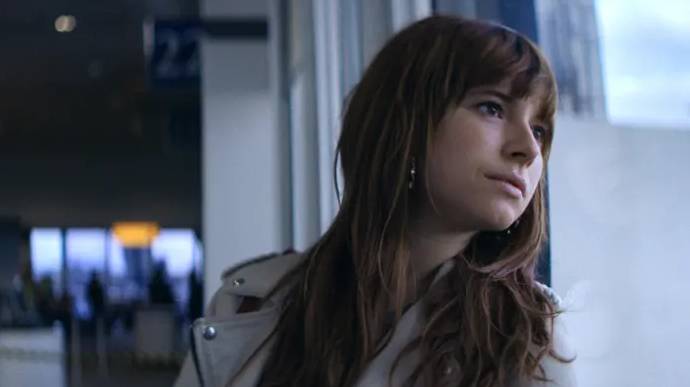 Wild Rose follows Rose-Lynn Harlan, a Scottish single mum who's fresh out of prison. Fed up with her demoralizing cleaning job, she decides to pursue her dream of becoming a country singer.
Jessie Buckley shines and inspires as the lead of Tom Harper's musical drama. Wild Rose is more grounded than some of our other showy Hollywood picks on this list, adopting a (much needed) female focus in a male-dominated industry.
11. Judy (2019)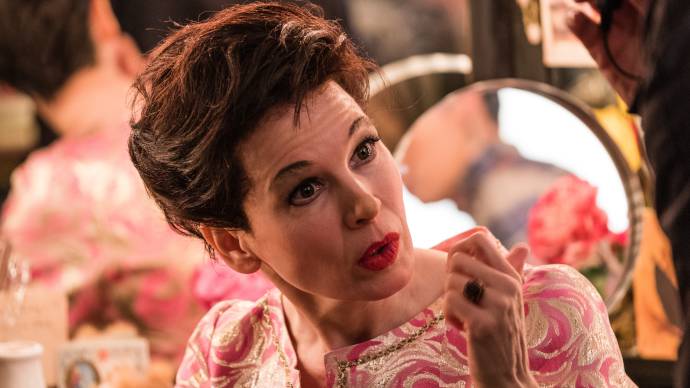 It's public knowledge that Judy Garland—Hollywood's number one starlet of the Golden Age—had a less-than-easy life. A myriad conspiracy theories and YouTube documentaries have explored the dark underside to the production of The Wizard of Oz.
However, the extent of Judy Garland's trauma comes as a tragic surprise in Rupert Goold's biopic Judy. Renee Zellweger gives an unrecognizably stellar performance as the troubled singer, winning the Academy Award for Best Actress in a Leading Role.
Taking place near the end of her life at the young age of 47, Garland reminisces on her career through a series of heart-breaking flashbacks. Despite her immense talent, Garland struggles to keep performances going due to sheer exhaustion and alcoholism.
10. Love & Mercy (2014)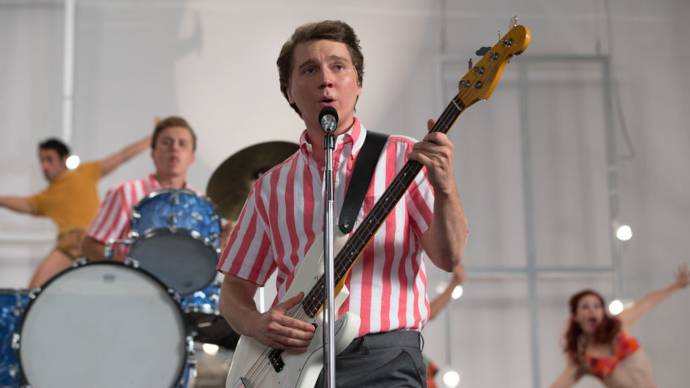 John Cusack and Paul Dano both star as Brian Wilson, lead singer of the surfer-pop band The Beach Boys.
When young Wilson (Dano) begins to suffer early stages of schizophrenia, he's forced to put his passion project "Smile" on hold. Director Bill Pohlad jumps between timelines, where 20 years later Wilson (Cusack) is controlled by his therapist and legal guardian.
The main plot of Love & Mercy is centered around Wilson's battle with mental illness—worsened by his repeated use of LSD during the 1960s—and the manipulation he suffered as a result.
That said, Pohlad doesn't forget to pay tribute to the visionary artist who paved the way for new experimental sounds.
9. 8 Mile (2002)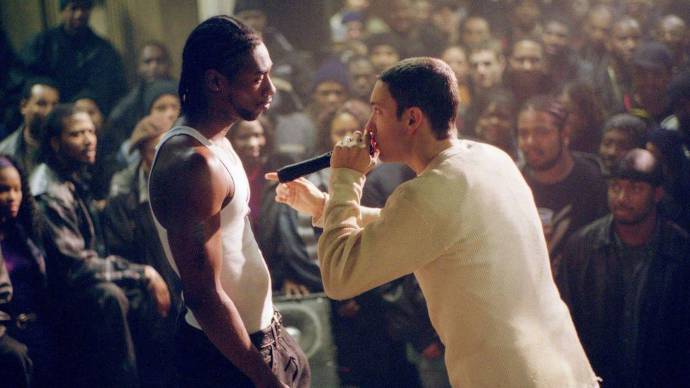 The best movies about musicians and bands often center on genres like rock, country, jazz, and blues. But how about some rap?
8 Mile is a semi-autobiographical exploration of world-famous rapper Eminem, who plays a fictionalized version of himself called B-Rabbit.
Although 8 Mile was controversial for its insinuation of reverse racism, it's still a hailed indie drama with a big cult following. It's a film that's grimy, violent, and covered in sweat, just like B-Rabbit himself as he belts out his lines to the now-famous "Lose Yourself" track.
Director Curtis Hanson shows us the two sides of 8 Mile Road, which is predominantly segregated by race—and is a road that B-Rabbit must dare to cross if he's to pursue his rapping career.
8. Walk the Line (2005)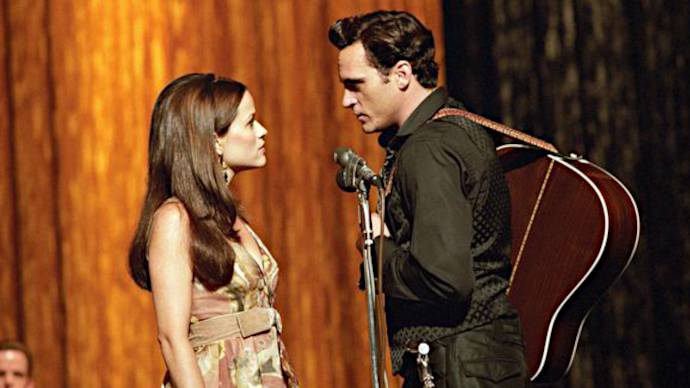 Another in a long list of music-related biopics (because who doesn't love a true story?), Walk the Line tells the surprisingly sad story of American country singer Johnny Cash.
The movie begins with the devastating death of Cash's brother during their childhood on a cotton farm, and his father furious that Satan "took the wrong son." From there, Cash enlists in the US Air Force, writing acoustic blues songs and eventually making a name for himself.
Joaquin Phoenix delivers a beautiful performance as the damaged and erratic singer, who became hooked on amphetamines and alcohol. Reese Witherspoon is equally wonderful as the bubbly June Carter, Cash's second wife.
James Mangold's drama is a searing portrait of the legendary 20th century musician, grappling with themes of faith and self-destruction.
7. Elvis (2022)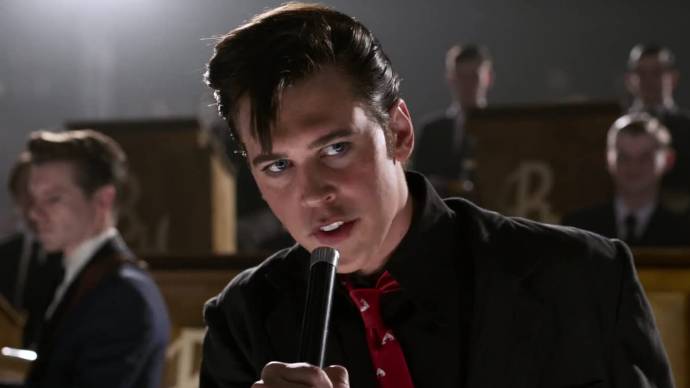 Austin Butler might not have nabbed the Oscar for Best Actor when Elvis dropped in 2022, but he did take home a BAFTA for his stunning portrayal of the King of Rock, Elvis Presley.
A figure as glamorous as Elvis needs a movie that's equally glamorous to match, so director Baz Luhrmann was the perfect choice to lead this project. It's a fast-paced, in-your-face melodrama that's swamped in diamonds but one that never loses its Memphis roots.
Tom Hanks stars alongside Austin Butler as the rock legend's manipulative manager. Baz Luhrmann takes us on a whirlwind ride from Presley's poor childhood to his glittering, amphetamine-fueled career.
6. Control (2007)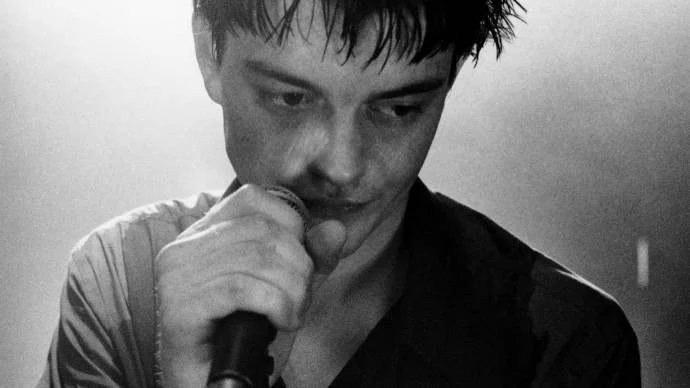 Black-and-white indie flick Control follows the rise and fall of Ian Curtis—singer of New Wave band Joy Division—who tragically committed suicide at just 23. A pioneering icon of post-punk rock, Joy Division remains one of the most influential English rock bands to date.
Sam Riley gives a brooding performance as the enigmatic singer suffering with both depression and epilepsy.
Control doesn't harbor the sort of flamboyant screen spectacle that Hollywood biopics use. Instead, it offers a quietly desperate glimpse into the troubled mind of a musical legend.
5. A Star Is Born (2018)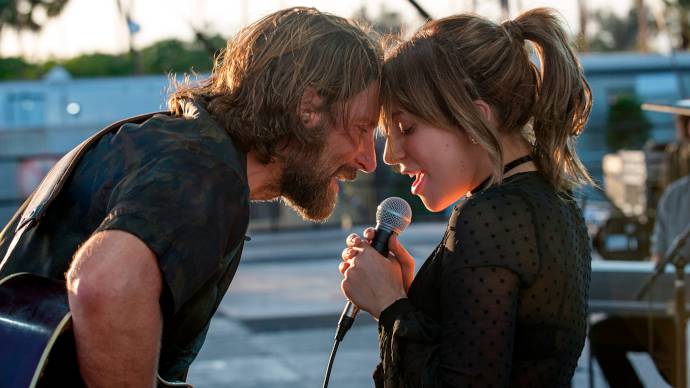 It's important to understand the context of A Star Is Born, which is the third edition in a cycle of remakes.
The original A Star Is Born from 1937 features Judy Garland. Then, Barbra Streisand stepped in for the 1976 version. This time around, it's Lady Gaga who comes in with incredible chemistry with co-star Bradley Cooper, who also directs the film.
Each installment reflects not only the music industry at the time, but greater society as a whole. It's become a sort of endearing Hollywood tradition to tell this story every 40 years or so.
The story follows wannabe artist Ally, who falls for alt-country star Jackson Maine and subsequently rockets to fame. However, Jackson's inner demons puts a strain on their relationship and her career.
4. Amadeus (1984)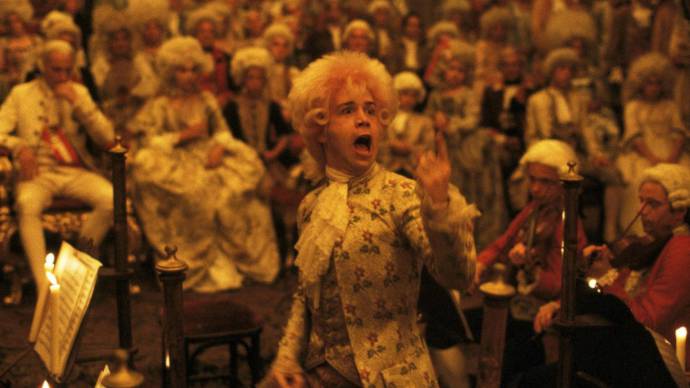 Miloš Forman is the director behind this beautiful period biopic, where grand costumes sweep through the opera house to hear Mozart play. Amadeus begins in the winter of 1823, when Italian composer Antonio Salieri is committed to a psychiatric hospital.
Envious of the great Mozart—who he considers an immature buffoon—Salieri renounces God and vows to destroy his competition.
Okay... this story might not be completely true, but it does have its roots in history. Nominated for 50 awards (of which it won 40, including 8 Oscars), we simply had to include it!
3. School of Rock (2003)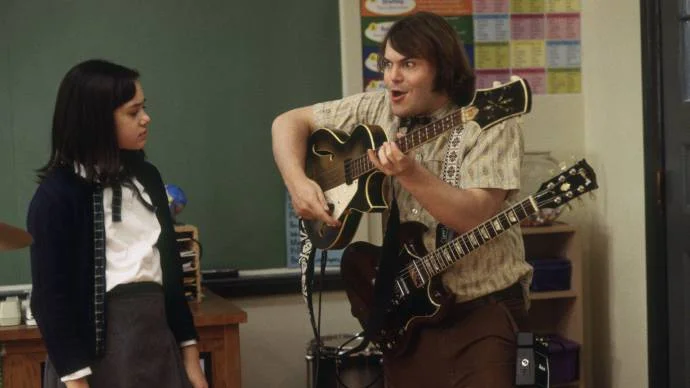 A family film that's just as much for adults as it is kids, School of Rock is now a cultural icon.
Jack Black gives an unforgettable performance as Dewey Finn, a failing rock artist who steals his best friend's identity. Kicked out of his band and unable to make rent, Dewey pretends to be a substitute teacher.
However, his plans to sit back and skive off soon turns into a unique opportunity to cash in: Dewey decides to secretly turn the class into one big rock band and enter them into Battle of the Bands. Of course, this is easier said than done.
School of Rock is a hilariously entertaining classic with a rocking soundtrack. You can tell how much fun the cast had making this movie!
2. Frank (2014)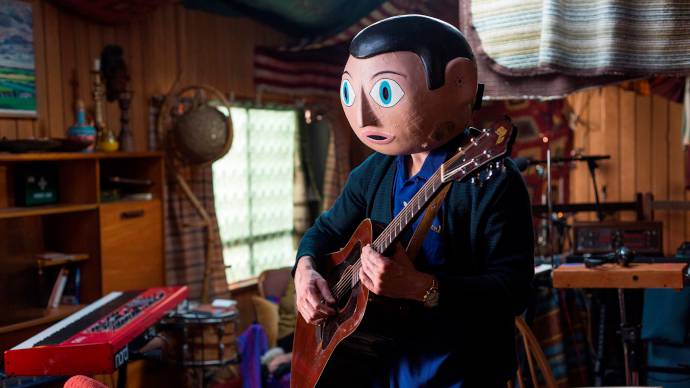 Frank ranks so highly on our list because, well, there's really no other film like it. Lenny Abrahamson's indie musical tells the bizarre tale of an obscure pop group, whose lead singer wears a papier-mâché head.
Aspiring songwriter Jon joins the group and spends a month in an isolated cabin in Ireland, preparing an album. Though things start off well, tensions soon begin to buckle.
Frank is a black-comedy like no other. It's eccentric, it's fun, and it's surprisingly heartfelt—prepare to shed some tears. Domhnall Gleeson and Maggie Gyllenhaal star, alongside (a mostly hidden yet still electrifying) Michael Fassbender.
1. Whiplash (2014)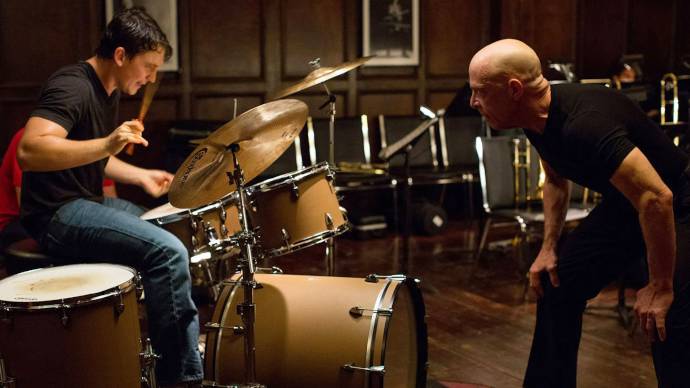 Academy Award-winning psychological drama Whiplash started life as a short film in 2013 that examined the dark side of musical obsession. Damien Chazelle then turned it into a full-length movie featuring knockout performances from Miles Teller and J. K. Simmons.
Young drummer Andrew enrolls in a New York music school, where he's tutored (or should we say, abused) into greatness by ruthless jazz conductor Terence Fletcher.
In Whiplash, the stage isn't a means of artistic self-expression—it's a battlefield for perfection, where student and teacher lock horns in a spectacular head-to-head finale.