Modern cinema has a massive influence over many people's lives. But you know what else does? Music.
According to a comprehensive study by Harvard University, music is the universal language of mankind that exists in all societies. It's core to the human experience.
Which is why there have been so many movies made about music, particularly the effect music can have on people—whether those characters are aspiring singers, teachers, or radio presenters.
Here are our favorite movies about music, where characters give their life and soul to music. (Note that we're steering clear of biopics about musicians... otherwise we'd be here forever!)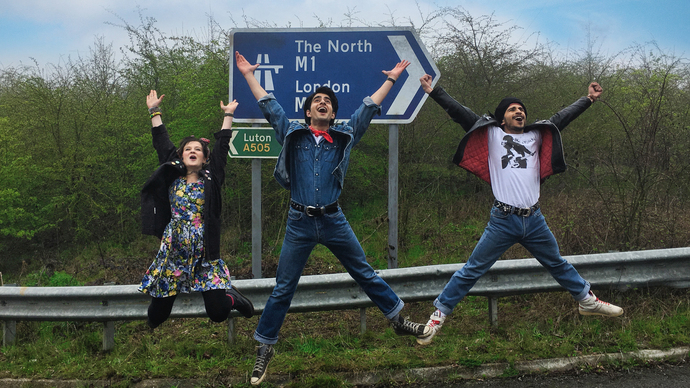 Javed (played by Viveik Kalra) is a Pakistani immigrant living in Luton, England, whose father disapproves of his love of rock music; in particular, Bruce Springsteen. Devoted to the arts, Javed writes lyrics and poetry, is challenged by his class, and the casual racism of the 80s.
Like (most) music itself, the themes can be a little depressing here, but it's overall enjoyable nonetheless. A feel-good British dramedy that treads the line between charming and cheesy, Blinded by the Light is a sweet little watch directed by Gurinder Chadha.
Although not technically a biopic, the story was inspired by the life of journalist Sarfraz Manzoor.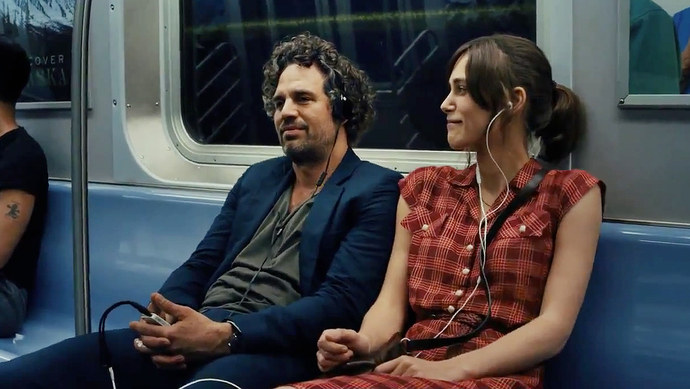 Gretta (played by Keira Knightley) has just been dumped by her long-term boyfriend. Dan (played by Mark Ruffalo) is estranged from his wife and failing to keep up with the rapidly changing music industry.
By chance, the budding songwriter and record label executive meet each other in a New York City bar, and the two end up busking down the streets to record a live album.
The city ends up being a character of itself, as director John Carney takes us on a ride through subways, taxis, and bars.
The way of filming in Begin Again has a documentary kind of feel to it, tugging on our heartstrings in a lowkey, down-to-earth style.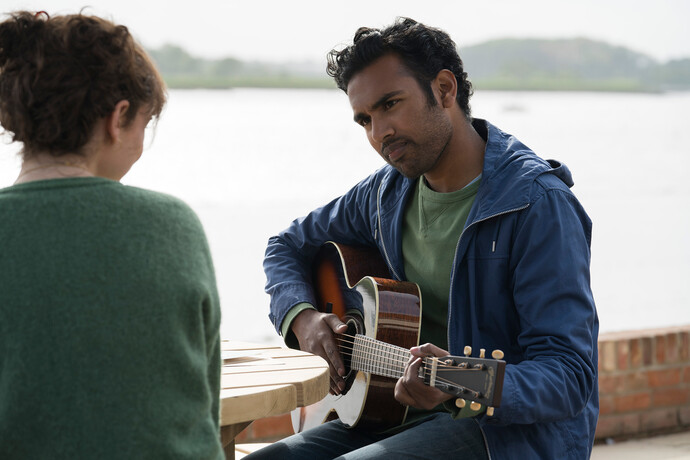 What if you woke up one day to find The Beatles had never existed? To find that "Hey Jude" and "Yellow Submarine" were nothing but fragments drifting through your memory, never to be heard again?
Well, that's exactly what happens to Jack Malik (played by Himesh Patel), which is a bit convenient since he's struggling to write his own songs. The aspiring musician decides to pass off The Beatles' music as his own, skyrocketing himself to fame—which comes with a price.
Yesterday is a lighter and more comical movie than some of Danny Boyle's other work. If you're a fan of The Beatles, Danny Boyle, or original story concepts, Yesterday is perfect for you.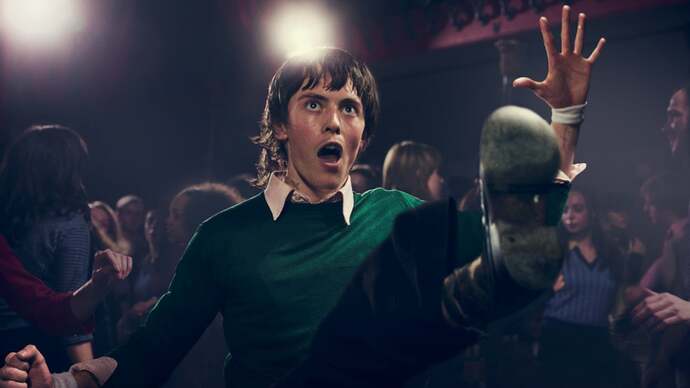 Northern Soul is a style of black American soul music that fled from the cities of Detroit and Chicago and into the British mod scene. Popular among kids back in the 60s and 70s, the north of England in particular buzzed with the sound of Edwin Starr.
For Matt and John in 1974 Lancashire, their whole life is about unearthing soul 45s and dancing drug-fueled into the dawn. Ditching school to become DJs, the two friends are pushed to the limits of what the culture has to offer.
Josh Whitehouse, James Langridge, Antonia Thomas, and Steve Coogan star in this toe-tapping indie drama, soulfully directed by Elaine Constantine.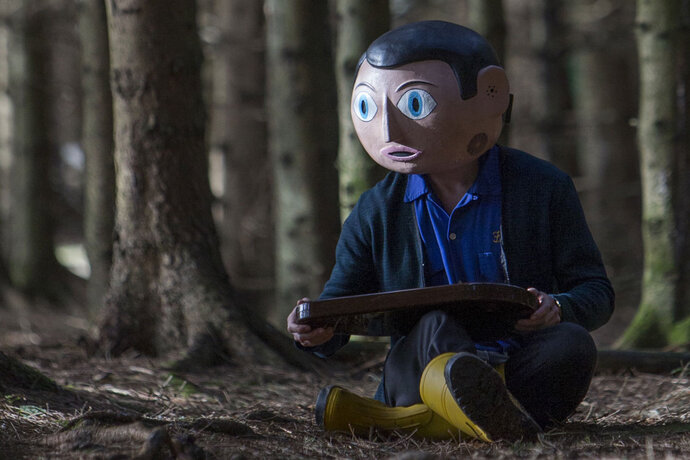 You may have seen the giant papier-mâché head of Frank before, worn by Chris Sievey in the 1970s punk band The Freshies. Here, we see Frank Sidebottom reincarnated as the lead vocalist of The Soronprfbs.
Aspiring songwriter Jon Burroughs (played by Domhnall Gleeson) unexpectedly joins the amateur band as a keyboardist, agreeing to spend a year in an isolated cabin in Ireland to work on their debut.
They end up with quite the fan following, but tensions rise among the band members—particularly around Frank, who refuses to unmask himself. Lenny Abrahamson's black comedy is pure indie gold; utterly original, well acted, and profoundly bonkers.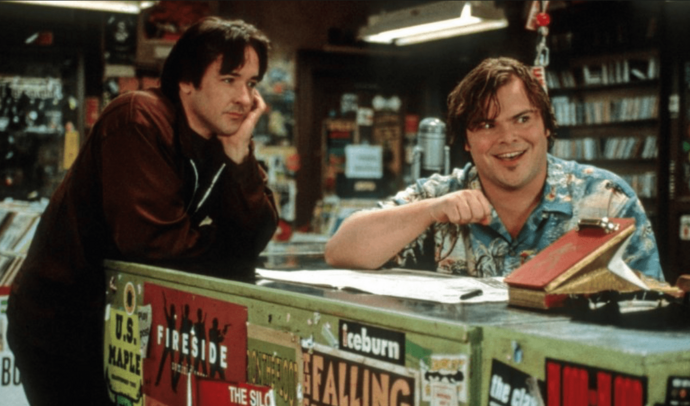 Before you watch the recent television remake starring Zoë Kravitz, you should seriously watch the cult classic movie first.
Based on the 1995 novel by Nick Hornby, High Fidelity follows the life of nerdy music lover Rob Gordon (played by John Cusack). Rob knows everything about vinyls and nothing about women, spending his days working at a record store and mocking his customers' tastes.
When Rob's girlfriend leaves him, he decides to refocus his energy on his love life, but can never fully commit since he's married to his records. Stephen Frears' rom-com not only boasts a banging soundtrack, but also employs an excellent use of fourth-wall breaks.
Nobody could have played the iconic substitute teacher Dewey Finn like Jack Black did—or, should we say, pretend substitute teacher.
Struggling to pay rent and recently kicked out of his band, Dewey fakes a name to temp at a prestigious prep school and earn some cash. Lazy, hungover, and underqualified, Dewey wiles the days away in recess before discovering his students' immense musical talents.
Of course, his immediate reaction is to secretly enter them in the Battle of the Bands competition. What could possibly go wrong?
Richard Linklater's family favorite was the highest grossing music-themed comedy ever until 2015, opening its own Broadway show that same year.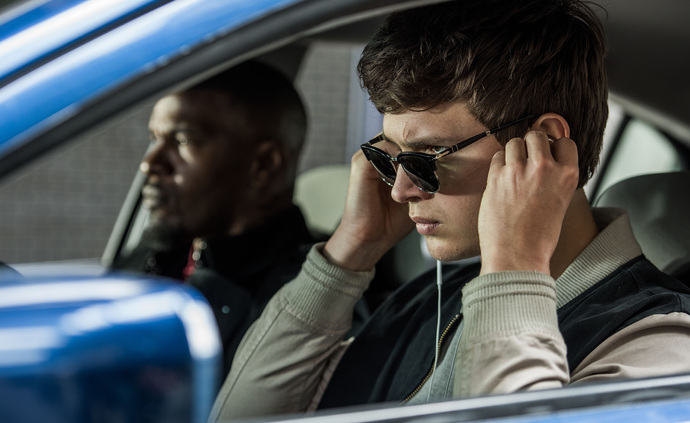 Edgar Wright has a very specific style of filmmaking, which Baby Driver put a new spin on. Moving away from quick-cut comedies starring Simon Pegg, Wright took a dive into the world of action movies, with Baby Driver replying heavily on its soundtrack as part of the plot.
Ansel Elgort plays skilled getaway driver Baby, who suffers with tinnitus following a car crash. To drown out the ringing, Baby constantly listens to music on his headphones—even during robberies with criminal masterminds.
The heist genre is given a musical twist thanks to its intrusive score, amplifying every plot point and emotion.
Though we tried to avoid straight-up musicals for this list, we simply have to include La La Land for Seb's love of jazz. Played by Ryan Gosling, Seb is truly obsessed with the world of jazz bars, improv, and records. He himself plays the piano, but is fired for not sticking to the sheet music.
After meeting aspiring actress Mia (played by Emma Stone), their passions collide in a wistful-but-conflicting romance.
Following the success of Whiplash (see below), director Damien Chazelle went on to make another brilliantly made musical hit, wowing viewers with catchy songs and creative cinematography.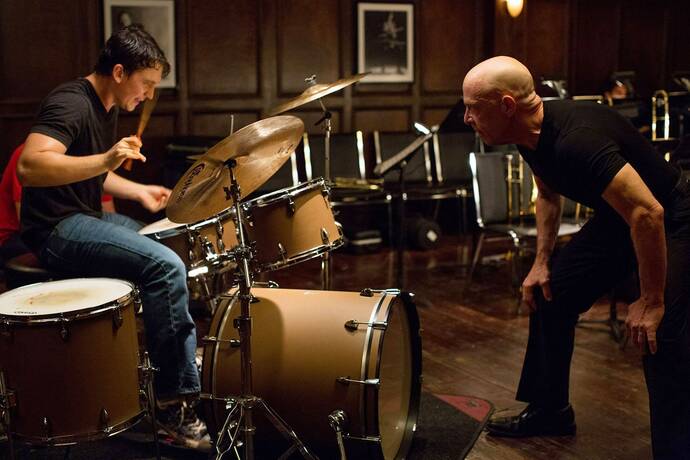 Unlike La La Land and its starry sing-along numbers, Whiplash is a tense psychological drama that leaves the drum set literally dripping with blood. Never has a movie drum solo been so intense!
Miles Teller stars as the determined first-year student Andrew Neiman who'll do anything to match his drummer idol Buddy Rich—and that includes taking all kinds of abuse from his screaming and chair-throwing mentor Terence Fletcher (played by J.K. Simmons).
A legend in the orchestra world, Fletcher torments the members of the Shaffer Conservatory studio band, tearing into them with verbal bullets at the slightest hint of a bum note. Damien Chazelle's dark movie is knotted with tension and won multiple Academy Awards.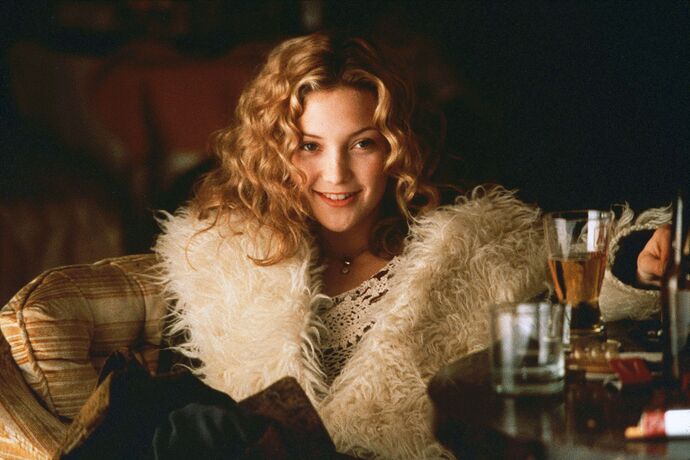 This critically acclaimed semi-autobiographical comedy-drama won a whole bunch of awards—many of which were for its soundtrack.
Directed by Cameron Crowe, Almost Famous tells the story of teen music journalist William Miller (played by Patrick Fugit), who goes on tour on behalf of Rolling Stone magazine.
A 70s road movie that plays out to the sound of Elton John, Almost Famous is bursting with the nostalgic culture of hippies, rockers, and roadies. Kate Hudson's career was launched by her starring role as the young groupie Penny Lane, who takes William under her wing.
Get ready for some Led Zeppelin, David Bowie, and Beach Boys with this poignant coming-of-age tale—one that certainly stood the test of time.
Set in 1966, Pirate Radio (originally released in the UK as The Boat That Rocked) is overflowing with rock, pop, and soul classics from one of the best decades in music, broadcasted by an illegal pirate station.
When 17-year-old Carl (played by Tom Sturridge) is expelled from school, he's sent to stay with his eccentric uncle on the "Radio Rock" boat, stationed in international waters to avoid broadcasting restrictions.
A true gem of classic British comedy by Richard Curtis, Pirate Radio features an ensemble cast that will have you laughing and dancing in no time: Philip Seymour Hoffman, Bill Nighy, Rhys Ifans, Nick Frost, Kenneth Branagh... the list goes on and on.