The blues originated in the American South, back when slaves sang out their woes as they worked the plantations, and then later when they began plucking their songs with makeshift instruments.
Distinct somber tones and techniques like guitar choking were the champions of this grassroots music genre, which eventually evolved into classics like jazz, rock, soul, and R&B.
From dramas to biopics to documentaries, here are our picks for the best movies about blues music that pay tribute to the genre's roots and most famous musicians.
12. Who Do You Love (2008)
The 1940s and 1950s were the pinnacle time for blues music, especially in places like Memphis and New Orleans. Far from the dirt roads, the blues flourished in urban bars and clubs—most notably in Chicago.
Leonard Chess was the co-founder of Chess Records in Chicago, which propelled both electric blues and Chicago blues.
Chess worked with legendary names like Muddy Waters, Sonny Boy Williamson, Bo Diddley, Chuck Berry, Etta James, Howlin' Wolf... basically everyone. They all make an appearance in Jerry Zaks's glossy biopic, starring Alessandro Nivola as Chess.
You can tell a lot of love went into this film, but it struggled to compete with Cadillac Records, another film also released in 2008... which was literally about the same topic.
11. Black Snake Moan (2006)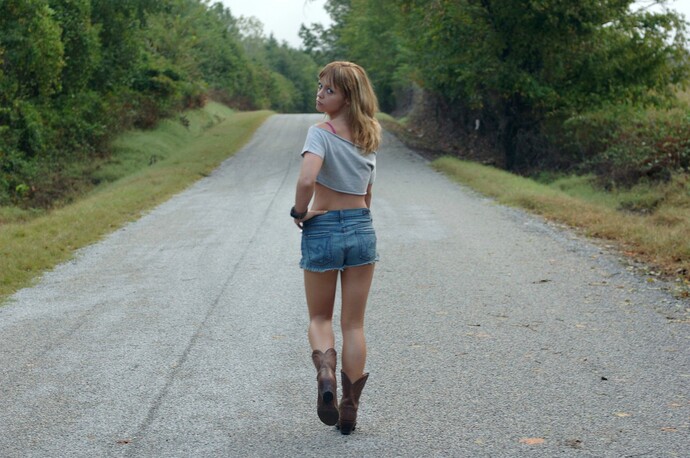 The title Black Snake Moan is a reference to a song by Blind Lemon Jefferson, who was "Father of the Texas Blues." But the title isn't the only nod that director Craig Brewer makes to the Mississippi Blues movement (more commonly known as the Delta blues).
Samuel L. Jackson is low-key terrifying as Lazarus Redd, a former blues guitarist and religious fanatic. When Lazarus finds a drug-addicted nymphomaniac dumped on the side of the road, he takes it upon himself to "cure" her—by chaining her to a radiator.
Portrayed by Christina Ricci, Rae tries to escape, but Lazarus forces her into conservatism in a misguided attempt to save her. (To prepare for the role, Ricci stuck to a nutrient-deficient diet and wore a real, 40-pound chain on set. Now that's dedication!)
10. Born to Be Blue (2015)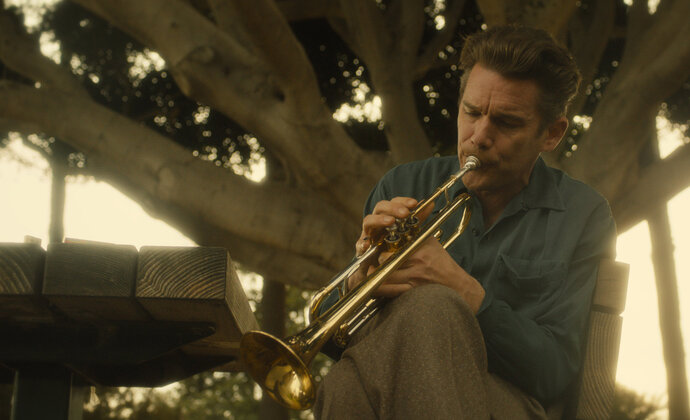 Robert Budreau took liberties with history for his semi-biographical drama about Chet Baker. Although Baker was primarily a jazz trumpeter, he played a fair amount of blues compositions, as the two genres often overlap. Hence, blues in the title!
Like many famous blues and jazz musicians, Baker was a renowned heroin addict who flittered in and out of prison. In the same way that jazz is built on improvisation, Born to Be Blue meanders between Baker's true life story and fictionalized events.
Ethan Hawke portrays Baker in the 1960s, where he's hired to play his younger self in a movie when his drug habit began. Flicking between black-and-white and color, Born to Be Blue is a creative, jazzy little number streaked with blues notes.
9. The Blues (2003)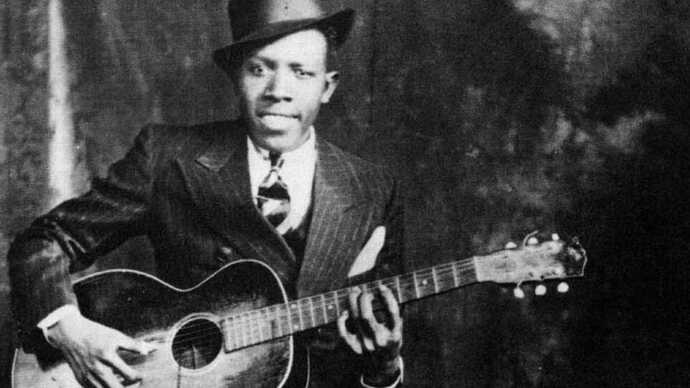 Martin Scorsese Presents The Blues: A Musical Journey is the soundtrack to his PBS documentary film series that's dedicated to everything blues.
Across the seven episodes, various directors give us snapshots into the history of the genre and its different artists, from Beale Street to Muddy Waters to the aforementioned Chess Records.
Martin Scorsese is, of course, at the heart of this blues odyssey, venturing through Mississippi with Corey Harris and even into West Africa. The other directors include Wim Wenders, Richard Pearce, Charles Burnett, Marc Levin, Mike Figgis, and even Clint Eastwood.
The Blues also includes interviews with musicians like Ray Charles and Jeff Beck. This documentary is certainly one for established blues fans, but also for anyone interested in musical history.
8. Honeydripper (2007)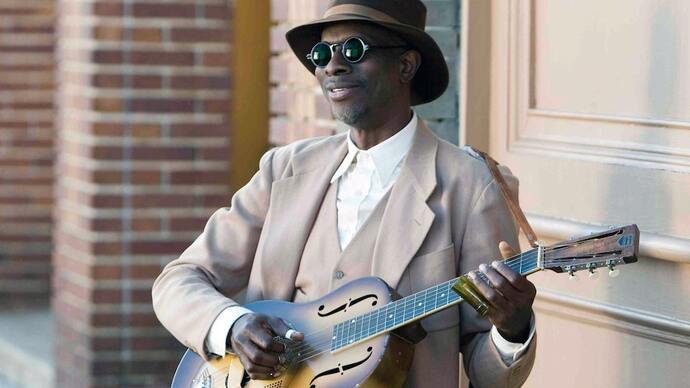 Why were there so many blind bluesmen? Blind Willie Johnson, Blind Lemon Jefferson, Blind Willie McTell... Strange, isn't it?
Well, the blues genre was born in poverty, where malnutrition often led to declined health and eyesight. Unable to work the fields, many blind men turned to sitting at a piano to earn a few bucks.
In John Sayles's Honeydripper, the Grammy Award-winning Keb' Mo' stars as an elusive blind guitarist shrouded in mystery.
Alongside him in 1950s Alabama, Tyrone "Pine Top" Purvis (Danny Glover) is the owner of an old-school blues bar that requires a fresh spin to stay in business. How does Tyrone do this? By making it electric.
The "Queen of R&B" Ruth Brown was also to appear in the musical drama, but sadly passed away after recording only a few songs.
7. Ray (2004)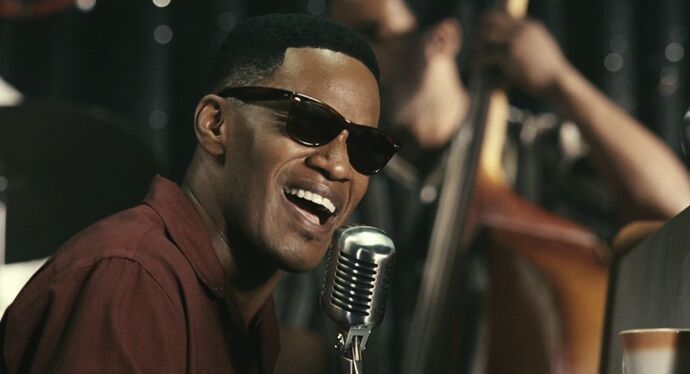 The most famous blind musician (maybe behind Stevie Wonder) is Ray Charles, who suffered with juvenile glaucoma at age seven.
Jamie Foxx went to the extremes when playing Ray Charles in Taylor Hackford's biopic, keeping his eyes glued shut for 14 hours a day, which actually induced a panic attack or two.
Foxx also chipped his tooth and went on a mega-diet to take on Ray's heroin-addicted physique, to which he was introduced on the Chitlin' Circuit (home to many African-American performers during segregation, including Ella Fitzgerald, Aretha Franklin, and Jimi Hendrix).
Foxx's depiction of Ray—from being raised poor in Florida to touring the world—bagged him an Oscar in 2005. The legendary pianist spent most of his life in sunglasses to hide his disability, which didn't seem to disable his talent one bit.
6. Crossroads (1986)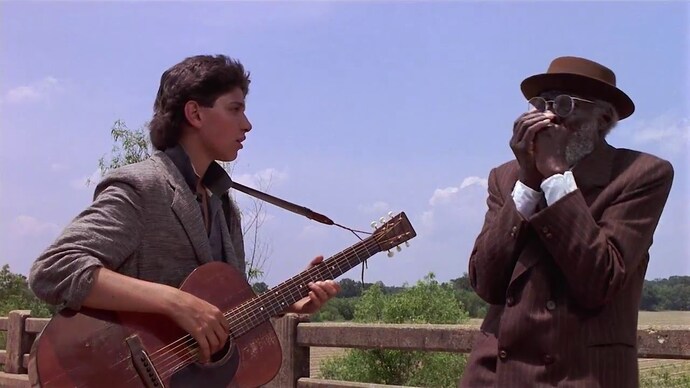 After mastering karate, Ralph Macchio moved onto music in Walter Hill's Robert Johnson-inspired movie Crossroads. Johnson was arguably the first-ever rock star—and early member of The 27 Club—whose life is surrounded by intrigue and urban myths.
Apparently, Johnson sold his soul to the Devil at a crossroads in exchange for fame, and this tale is one that young, classical guitarist Eugene (Ralph Macchio) finds enchanting.
The Juilliard School student heads to the crossroads on a quest to find Johnson's "lost" recordings, which includes breaking his old friend Willie Brown (Joe Seneca) out of prison.
John Fusco originally wrote the screenplay as a college assignment, drawing from his own life busking as a traveling bluesman himself before studying. You can tell from the richness of Crossroads that it's written from real, personal experience.
5. Ma Rainey's Black Bottom (2020)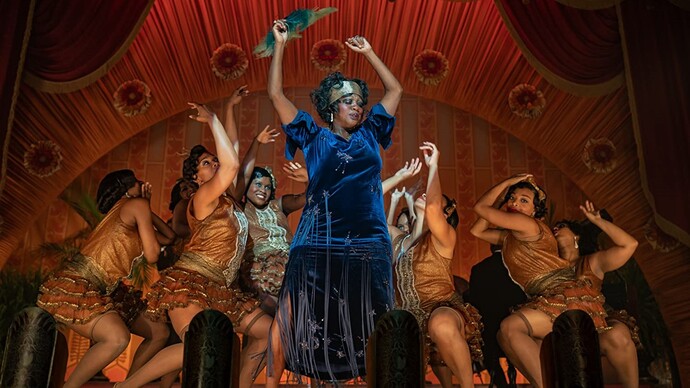 August Wilson's 1982 play Ma Rainey's Black Bottom was included as part of a ten-play cycle that celebrated the black experience. Ma Rainey herself was a real-life blues singer, known as the "Mother of the Blues" for her early, vaudeville-inspired influences.
The voice of the South, Ma Rainey was renowned for her strong-willed personality that no one could (or would dare to) mess with.
George C. Wolfe's Netflix adaptation of the play features Viola Davis as the powerhouse vocalist, who demands her way through difficult recording sessions in Chicago, 1927.
Between the blocking, the pacing, and the dialogue, it's obvious that Ma Rainey's Black Bottom originated in theater. It's also home to Chadwick Boseman's final on-screen appearance before he tragically passed away.
4. Cadillac Records (2008)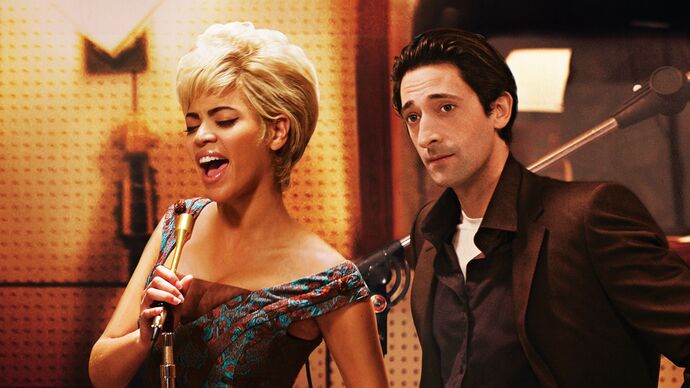 Remember the aforementioned Who Do You Love from earlier in this article? That film was overshadowed by this one, Darnell Martin's Cadillac Records, which released the same year.
This time, it's Adrien Brody playing the Polish-American founder of Chess Records, Leonard Chess.
Set between the 1940s and 1960s, Cadillac Records documents the rise of infamous bluesmen—like Muddy Waters (Jeffrey Wright)—whose careers were launched by Chess in the early days.
Cadillac Records is a captivating homage to the blues during its heyday, and though some critics thought the script was a little clumsy, everyone's really there for Beyoncé's dazzling portrayal of the great Etta James.
Fun fact: Why is it called Cadillac Records and not Chess Records? Well, as it turns out, Leonard Chess used to sell records out of the back of his Cadillac before he could afford a studio!
3. Leadbelly (1976)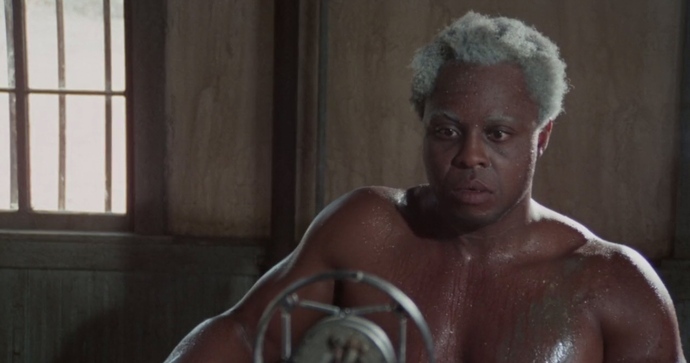 Huddie Leadbetter (a.k.a. Leadbelly) was a virtuoso American bluesman who could play several instruments—sometimes even at once.
His favorite instrument, though, was his 12-string guitar, which he strummed while stomping his feet and singing about racism, love, liquor, and crime. You know, the usual folk topics.
Leadbelly spent a fair amount of time in prison, forced to work in a chain gang, never successfully bailed out. After eventually singing himself to freedom, another brawl got Leadbelly slung back behind bars, with only his 12-string guitar to get back out.
Roger E. Mosley stars as the natural storyteller and singer, fighting for his life in the segregated South. Gordon Parks directs this intense, sweat-soaked drama you don't want to miss.
2. Jammin' the Blues (1944)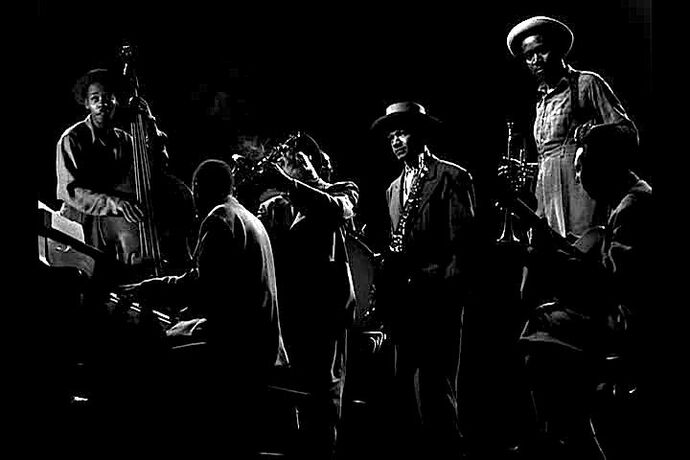 I don't usually include short films in movie roundups like this, but Jammin' the Blues was basically the first-ever blues movie and a crucial part of the genre's cinematic history.
Available to watch for free on YouTube, Jammin' the Blues is a 10-minute succession of performances where jazz and blues musicians gathered on-screen to recreate the atmosphere of after-hour nightclubs.
Gjon Mili (an Albanian photographer who worked for Life magazine) directed the short in 1944, capturing the talented saxophonist Lester Young as he led three songs: "Midnight Symphony," "On the Sunny Side of the Street," and, of course, "Jammin' the Blues."
1. The Blues Brothers (1980)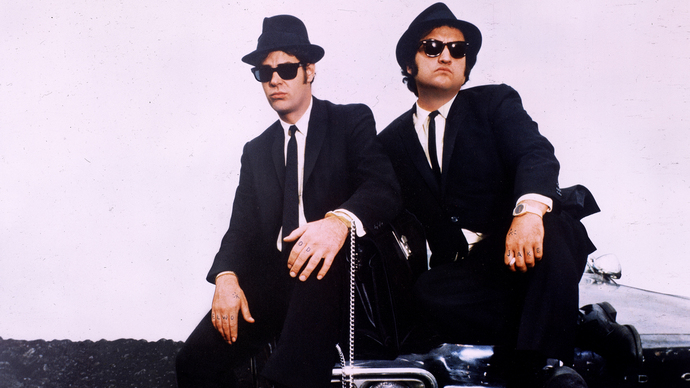 If you search for blues movies, The Blues Brothers will always appear somewhere in the results.
Unlike the dramatic biopics of poverty, crime, and addiction that pervade lists like this one, The Blues Brothers is an iconic buddy-comedy that's continually referenced in pop culture to this day.
The soul revivalist duo first appeared on Saturday Night Live in 1976 as part of a recurring sketch, which John Landis then turned into a beloved cult movie. John Belushi and Dan Aykroyd play the bumbling brothers, who set out to raise $5,000 to save their orphanage.
The thing is, they're also being chased by neo-Nazis, a country band, a "mystery" woman, and even the police. The soundtrack is great, the comedy is great... everything in this movie is great!