Father-daughter duos are pretty sparse in the cinema world, and the ones that exist are usually part of a wider family portrait.
Which is a shame, because the (oftentimes rocky) relationship between father and daughter is truly unique and starkly different from the more common relationships we see—like mother and daughter.
But just because there aren't a whole lot of them doesn't mean there aren't any father-daughter movies out there. There are actually quite a few worth checking out!
15. On The Rocks (2020)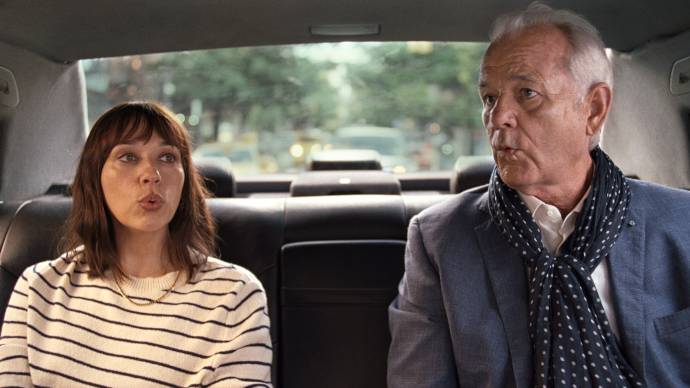 On The Rocks is one of Sofia Coppola's less dewy-looking movies in comparison to The Virgin Suicides or Marie Antoinette, but it still has that Coppola feminist essence.
Laura (Rashida Jones) is a working novelist and mother in Manhattan, who could've turned out terrible given her misogynistic playboy father. Somehow, Bill Murray still makes the wealthy old white man likable (in his usual Bill Murray way).
While catching up over olives and rocks, Laura's father convinces her that her husband is cheating, mainly because he thinks all men are "wired" to dominate women.
On The Rocks is essentially a lighthearted look into how daddy issues can carry poison into other relationships. That said, we do have to admit: Laura's husband does act pretty sus...
14. On Golden Pond (1981)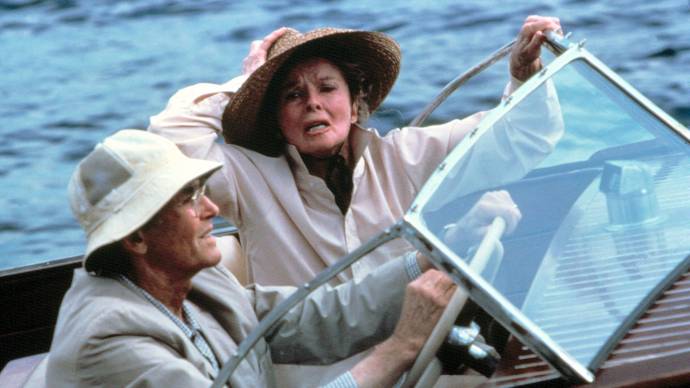 Director Mark Rydell's 1980s family drama stars real-life father and daughter, Henry Fonda and Jane Fonda.
Norman (played by Henry Fonda) and his wife spend their retirement summers at an idyllic vacation home by Golden Pond. One year, their daughter Chelsea (played by Jane Fonda) comes to stay, bringing her son and new fiancée with her.
While residing in the beautiful New England countryside, Norman is forced to face the strained relationship he has with his only daughter. He's a grumpy and brusque old man, but Chelsea eventually uncovers his sweet side in a touching—perhaps even a little soppy—third act.
On Golden Pond will lift your spirits and soon have you reaching for the phone to call your own loved ones.
13. The Parent Trap (1998)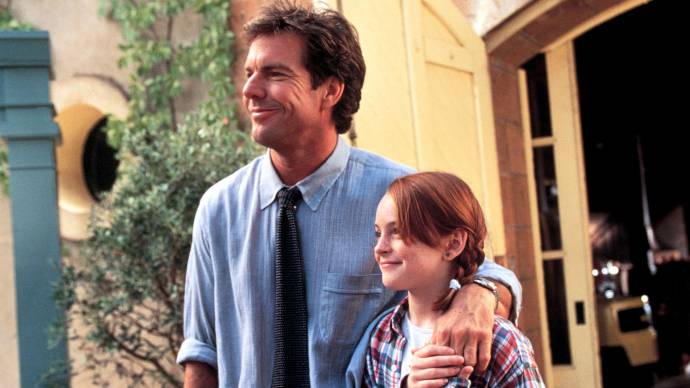 This movie isn't just about a father and daughter, but that relationship does play a huge role in the overall narrative.
Estranged twins Hallie and Annie James (both played by Lindsay Lohan) have spent their whole lives believing they're only children—that is, until they accidently meet at summer camp.
Hallie has grown up with her father in California while Annie lived in London with her mother. As the end of camp approaches, they decide to secretly swap families and experience how the other half lives.
"For my whole life... I was never able to say the word 'dad'... and if you ask me, a dad is an irreplaceable person in a girl's life," Annie proclaims, ecstatic to finally have a father figure.
But, of course, the lie can't go on forever. Nancy Meyers' The Parent Trap is a warming remake of the 1961 film directed by David Swift, which itself was an adaptation of the 1949 German novel Lottie and Lisa.
12. Father of the Bride (1991)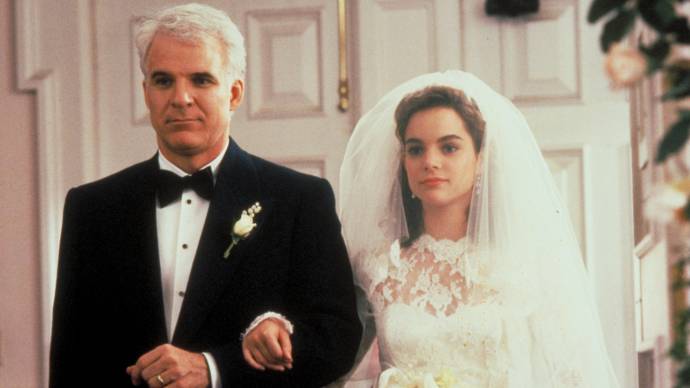 Father of the Bride was originally made in 1950 by Vincente Minnelli, then remade in 1991 by Charles Shyer), then given a sequel in 1995. For this entry, we're focusing on the 1991 romantic comedy classic starring Steve Martin as said father-of-the-bride.
Dads can have a notoriously hard time letting go of their daughters, and Martin's George Banks is no exception. As the owner of a shoe company in California, George doesn't take the news well that his recently graduated daughter is engaged to a near-stranger.
George narrates to us the horrors and trials he faces throughout the whole wedding planning process, which includes getting arrested for stealing hot dog buns.
Shyer's lighthearted comedy was an immediate box office success, perfect for those nights you just need a good old-fashioned chuckle.
11. The Descendants (2011)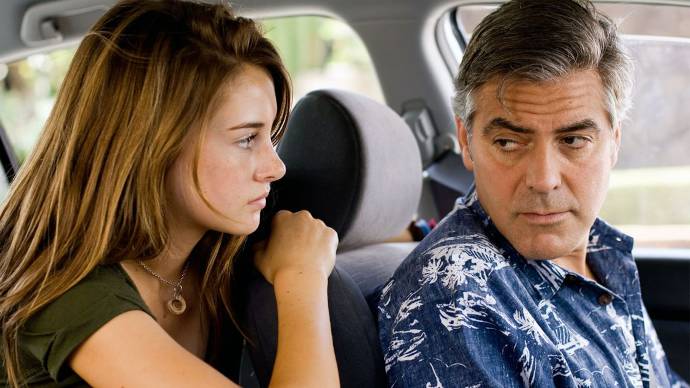 The looming death of a parent isn't an easy thing to deal with. Somehow, director Alexander Payne manages to eloquently—even poetically—translate this grievous time while keeping a subtle comedic streak in tact.
Matt King (played by George Clooney) is an attorney in Hawaii with a huge family trust of beautiful land. But it's not all sunshine and beaches for the King family. When Matt's wife gets into a boating accident, she's made comatose, leaving Matt alone with his two angsty daughters.
The Descendants is based on the 2007 novel by Kaui Hart Hemmings, diligently adapted for the screen by Alexander Payne. Strong performances by Clooney and Shailene Woodley make for affecting comedy-drama, even if the plot is somewhat depressing.
10. Southpaw (2015)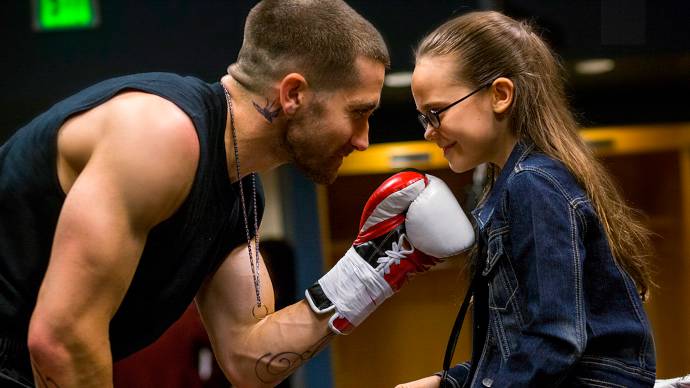 At first glance, Southpaw looks like nothing more than a good old-fashioned boxing movie. But beneath the gritty fights and impeccable acting from Jake Gyllenhaal, Oona Laurence, and Rachel McAdams, Southpaw is essentially a movie about a father and his daughter.
After his wife is unexpectedly shot at a fundraiser ball, Billy "The Great" Hope (played by Jake Gyllenhaal) is left to deal with his young daughter Leila and his worsening drug habit.
When Leila finds her dad on the bathroom, she has no choice but to call 911, which leaves her put into care—and Billy does everything he can to win his daughter's love (and custody) back.
A punchy sports flick packed with melodrama, Antoine Fuqua's Southpaw relies more on its fleshed-out characters and their relationships to each other than it does on predictable boxing tropes.
9. Logan (2017)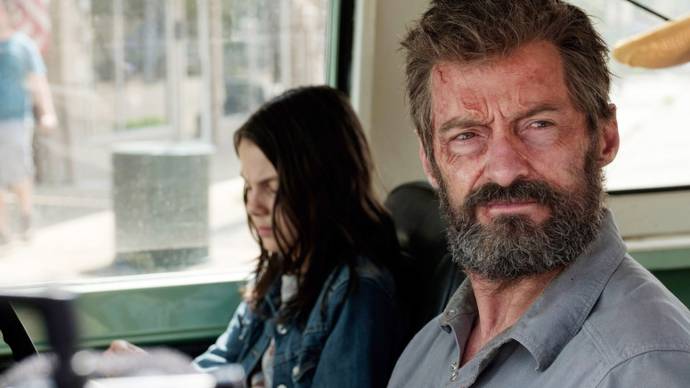 Logan stands out from the rest of the X-Men franchise as a more sophisticated, minimalistic dystopian film with an R rating.
Instead of flashy special effects, complicated time travel, and tons of superhero powers, Logan mainly just has a troubled guy who drinks himself away in a desert wasteland to sad country music.
The guy in question is Wolverine, but one who's significantly older and marginally less chiseled. His hair is graying, his healing powers are failing, and his friends are dwindling. He's working as a limo driver in Texas when, suddenly, he finds out he has a daughter.
Laura is only 12 years old but already akin to her father—quiet, mysterious, angry—and she's perfectly embodied by Dafne Keen in a powerfully emotional performance.
8. King Richard (2021)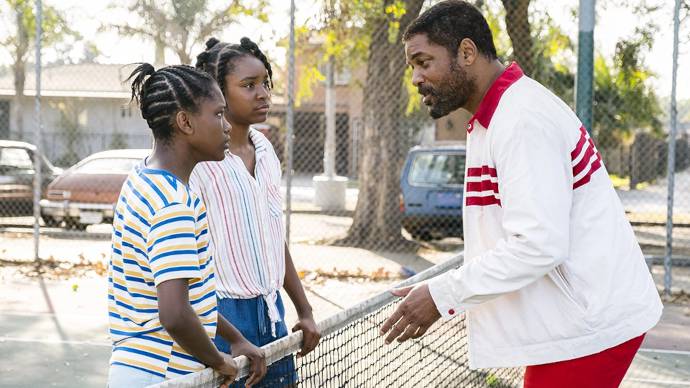 King Richard is based on a true story with two sides, and director Reinaldo Marcus Green lets us see both of those sides.
On the one hand, Richard's strict parenting is well-intentioned as he wishes to ensure a safe, successful future for his kids, away from their dangerous neighborhood.
On the other hand, childhood is meant to be enjoyed. It's a time of freedom, love, and play before the end of innocence and the start of lifelong work. Childhood is not for training in the rain and studying all night, steamrolling towards burnout by the age of 15.
Will Smith plays the real father/coach of Venus and Serena Williams, two highly successful tennis players (who co-produced this biopic).
Their influence on production makes King Richard a very honest portrayal of father-daughter relationships, which they took as a "great opportunity to see how amazing African-American fathers are."
7. To Kill a Mockingbird (1962)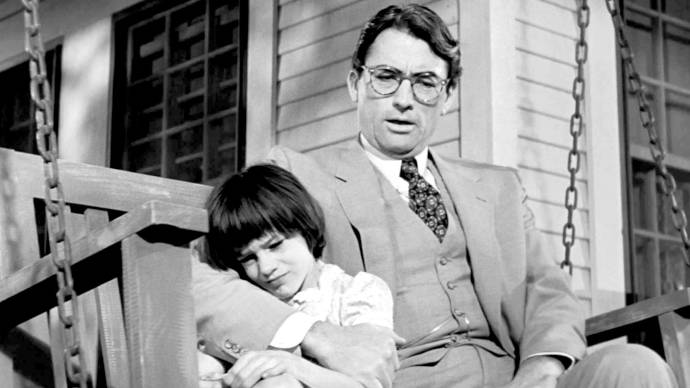 Atticus Finch is the beloved lawyer protagonist of Harper Lee's Pulitzer Prize-winning novel To Kill a Mockingbird.
Finch sets out to defend a young black man against a racist court in 1930s Alabama. Tenderly portrayed by Gregory Peck, Finch is also the only parental figure to six-year-old daughter Scout Finch.
Robert Mulligan's adaptation of the infamous novel is mesmerizing, using the backdrop of the Great Depression to probe into ever-present issues around racial prejudice.
As the narrative unfolds from court-drama to coming-of-age tale, Scout's unbreakable bond with her widowed father remains at the core of the story. Atticus teaches his daughter about the values of love and integrity toward every human being—something we can all learn from.
6. Toni Erdmann (2016)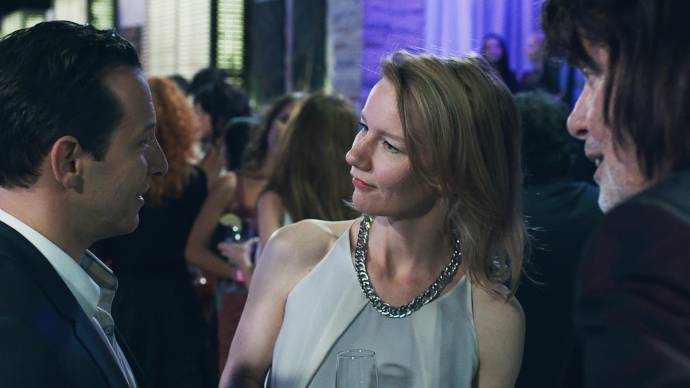 A fast-paced comedy-drama hybrid that never goes quite where you're expecting, Toni Erdmann is a surprising hit from 2016 with universal acclaim. It was even named best film of the year by multiple respected magazines, including Cahiers du cinéma and Sight & Sound.
Directed by German filmmaker Maren Ade, Toni Erdmann is a black-comedy masterpiece that runs wild from start to finish.
Winfried Conradi (played by Peter Simonischek) is eccentric, pranking his way through life with several bizarre personas. And then there's Ines (played by Sandra Hüller), his deeply serious and workaholic daughter.
Having been estranged for many years, Ines reluctantly agrees to spend time with Winfried, who pretends to be her CEO's life coach. Toni Erdmann is completely bonkers and original, taking us through the broad spectrum of human emotions.
5. Train to Busan (2016)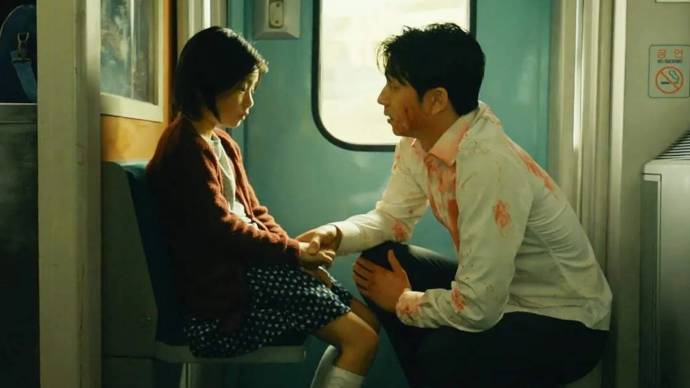 Train to Busan is far from your typical zombie film—it's one of the best zombie films ever made, and also one of the best modern films to come out of South Korea.
Sure, it's an action-packed horror flick full of explosions, crashes, and fight scenes, but what's it really about? Dig down and you'll find that Train to Busan is the study of a father and a daughter who just happen to be brought together by a zombie epidemic.
Seok-woo (Gong Yoo) is a grumpy, divorced workaholic who never turns up for his daughter's recitals. While on the train to her mother in Busan, flesh-eating mutants start chasing them through the carriages.
Seok-woo's character development—and the subsequent bond he forms with Su-an (Kim Su-an)—is at the heart of Yeon Sang-ho's thriller. All the action is just a bonus to the social commentary!
4. Taken (2008)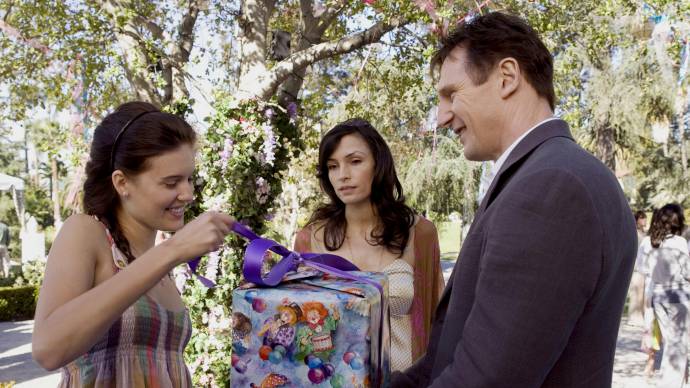 Although the daughter in Taken doesn't get a lot of screen time, it's her relationship with her father that forms the basis of the entire story.
You know the line: "If you let my daughter go now, that will be the end of it. I will not look for you, I will not pursue you. But if you don't, I will look for you, I will find you, and I will kill you."
In case you've been living under a rock, the film stars Liam Neeson as Bryan, a former CIA officer whose teenage daughter is kidnapped in Paris. Bryan uses his skills to track the kidnappers down, knowing he only has 96 hours before she's dead.
The success of Taken (directed by Pierre Morel) spawned two sequels, becoming one of the most popular action movies ever made.
3. Leave No Trace (2018)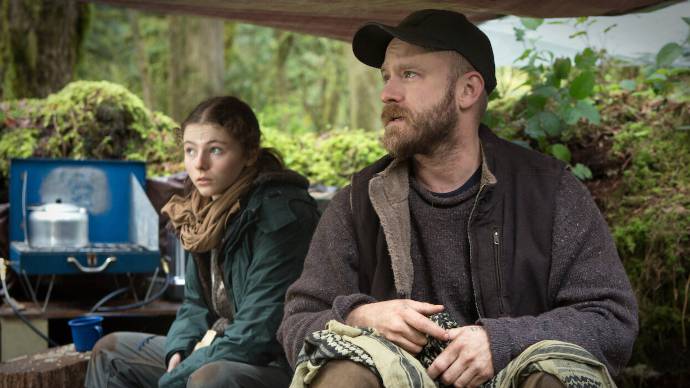 Debra Granik's adaptation of the 2009 novel My Abandonment by Peter Rock received high-key praise for a relatively low-key production.
The nuanced indie drama follows an Iraq War veteran who lives in the forest with his 13-year-old daughter to escape his PTSD triggers. They live alone, surrounded by nature, existing off nothing but their sharpened survival skills, strong bond, and painkillers.
Oh, and Will (played by Ben Foster) sells those painkillers to other veterans. When a jogger spots the two among shrubbery, Tom (played by Thomasin McKenzie) is detained by social services.
Their relationship takes a toll when Tom is given a choice: the off-grid nature-loving life, or a normal adolescence among friends.
Leave No Trace is a rebellious and open-minded movie, inviting viewers to step into an alternative style of living (but one that's not without its woes). If you watch this gem of a movie, prepare for your heart to break.
2. Aftersun (2022)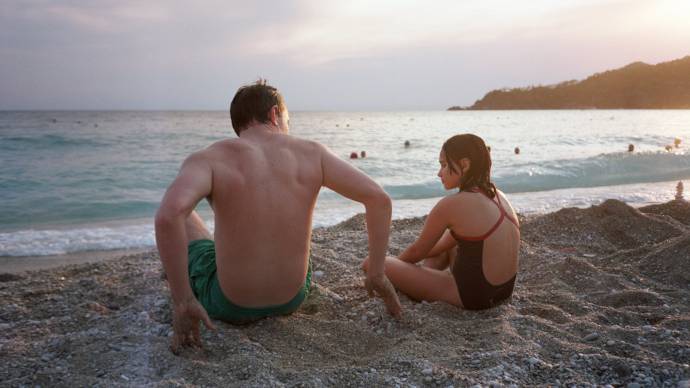 Aftersun was a critical favorite to come out of 2022, which is why its lack of Oscar wins was so disappointing. It's one of those films that makes you cry without even trying—a cry that turns into a sob when you find out it's all based on a real person.
Director Charlotte Wells wrote the script about her own father, who's called Calum here and beautifully played by Paul Mescal (who got the sole Oscar nomination). Frankie Corio matches Mescal's performance as a fictionalized version of Wells called Sophie.
The young girl Sophie is holidaying in Turkey with her father, who's separated from her mother. While her mother is an incredibly gentle soul, she suffers with mental illness.
Sandwiched between glitchy VHS shots and dreamy vintage cinematography are clips of Calum dancing amid strobe lights. It's all very abstract and vague, but the inference is tragic.
1. Interstellar (2014)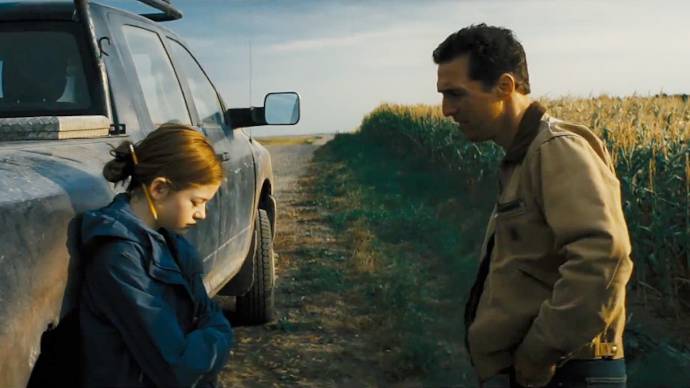 Interstellar is packed with heartbreak. We definitely weren't weeping alongside Matthew McConaughey in that video message scene... or the car scene... or the hospital scene. (OK, we were.)
When Joseph (played by Matthew McConaughey) is sent to find a new habitable planet for the human race, he must leave his young daughter Murph (played by Mackenzie Foy) behind.
Time moves differently for Joseph and Murph from across the universe, so as Murph grows up into a successful scientist (played by Jessica Chastain), Joseph remains a young man as his daughter's childhood slips through his fingertips.
Basically, Christopher Nolan will have you simultaneously in awe at the views of space as you work out the plot's puzzle pieces while tearing up over Joseph's lost relationship with his daughter Murph.
This sci-fi drama won an Oscar for its visual effects, but it's the heart-wrenching story of a family torn apart that sticks with you.