Poetry is one of the longest-standing art forms in the world, transcending technology and preceding science—and so, of course, there have been plenty of movies made about the subject.
For as long as language has been around, artists have naturally translated thoughts and emotions into rhymes and stories that express the deepest aspects of humanity: love, hate, fear, gratitude, anger, faith.
Back in the day, a poet only needed one thing—their voice—to bring these all to life. Nowadays, we have the magic of cinema to capture the brilliance of poetry for modern audiences.
Here are my picks for the best movies about poetry, which explore the world's best and most famous poets, whether real or fictional.
20. Mary Shelley (2017)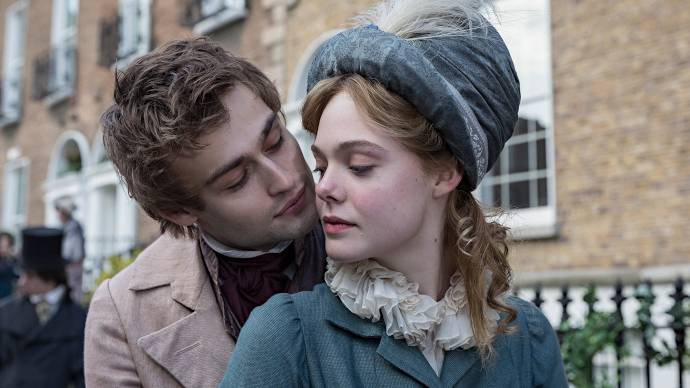 You've heard of Mary Shelley, right? She's the creator of Frankenstein and essentially pioneered what would become the sci-fi genre.
Which means a Mary Shelley biopic film was bound to be made at some point—in this case, by Haifaa al-Mansour in 2017.
Elle Fanning was the perfect casting for the young Gothic feminist figure, who starred alongside Douglas Booth as fellow writer and partner Percy Shelly (author of "Ozymandias").
Although al-Mansour did gloss over some of the complexities in Mary Shelley's life, Mary Shelley is still an all-around solid historical drama with fine period detail and strong performances.
19. Howl (2010)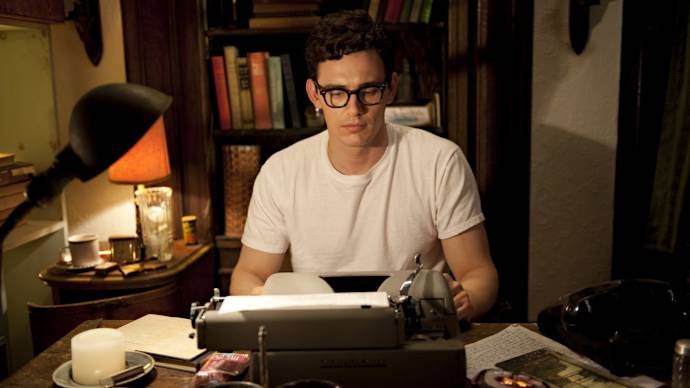 Allen Ginsberg was the defining poet of the Beat Generation. He frequently spoke out against homophobia and the destructiveness of capitalism, usually in rhythmic form.
Rob Epstein and Jeffrey Friedman's drama Howl centers on Ginsberg's most notable poem ("Howl"), exposing how the greatest artists of his generation were driven mad by such an oppressive system.
James Franco stars as the Beat poet, tapping away on his typewriter in preparation for The Six Gallery reading in 1955.
Using a blend of flashbacks, black-and-white, and animation, Howl has fun with its cinematography while celebrating the artist, activist, and pioneer, making it one of the best movies about Beat poets.
18. Set Fire to the Stars (2014)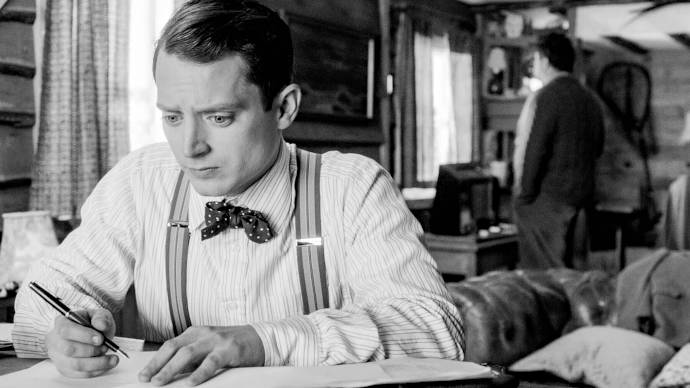 There's something about poetry and black-and-white that just goes so well together—especially when the film is set in the 1950s, playing on that old-school vintage feel.
Since his days leading the big-budget, Oscar-winning blockbuster trilogy The Lord of the Rings came to an end, Elijah Wood has been embracing the indie side of cinema. One of Wood's many small-scale projects is Set Fire to the Stars.
In Andy Goddard's semi-biographical debut, Wood plays the real-life poet John Malcolm Brinnin, who's tasked with taming the alcoholic madman and genius writer Dylan Thomas during the boomer years of New York.
17. Cyrano (2021)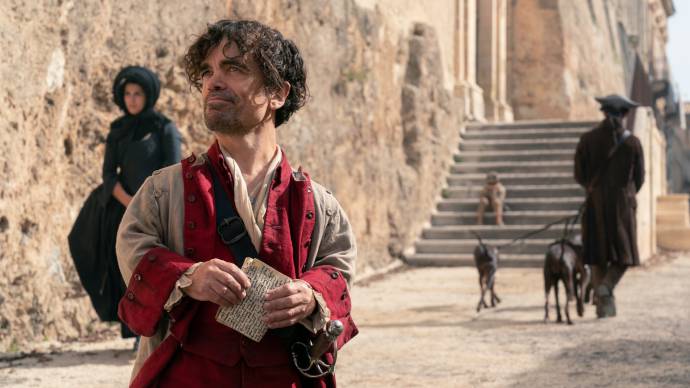 Cyrano de Bergerac, the 1897 play by Edmond Rostand, got a cinematic revival with Joe Wright's Cyrano in 2021.
It takes place in 17th century Paris, where a gifted cadet falls for his (distant) cousin. The only trouble is, he's got a huge nose—or, in the case of this adaptation, he's far too short for her liking.
Peter Dinklage stars as the small-statured Cyrano, who's too self-conscious to even think of winning the heart of Roxanne (Haley Bennett), so he helps Christian (Kelvin Harrison Jr.) win her instead by writing love letters on his behalf.
Fun fact: The plot alteration—from big nose to diminutive height—was originally written as a stage musical by none other than Erica Schmidt, Peter Dinklage's wife!
16. A Quiet Passion (2016)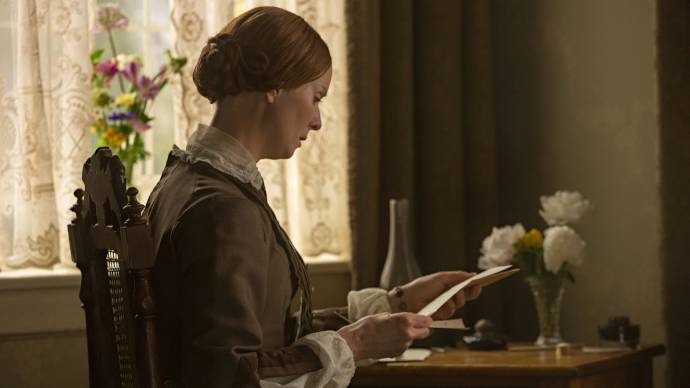 You've heard of Emily Dickinson, right? Most of us know that she was a bit of an oddball person, a reclusive poet who lived most of her life in isolation and often refused to leave her bedroom.
Somehow, this woman who forever changed the face of American poetry found all sorts of inspiration while holed up within four tight walls. From her mind alone, poetic magic was born.
Terence Davies' biographical film A Quiet Passion didn't make a huge splash amongst mainstream audiences, but critics were in awe of it, especially Cynthia Nixon's performance as Emily Dickinson.
15. Bright Star (2009)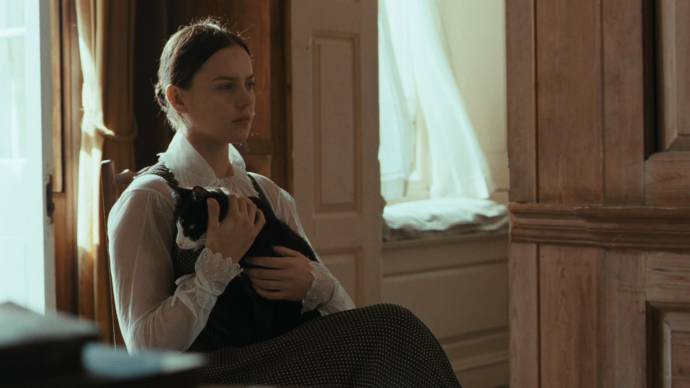 John Keats—one of the most prolific poets of the Romantic era—spent the last three years of his life falling in love before dying of tuberculosis at the young age of 25.
The apple of his eye was the fashionable muse Fanny Brawne, who lived as Keats' neighbor in Hampstead, London.
Ben Whishaw and Abbie Cornish star as the secretly engaged couple, under the direction of Jane Campion, who wrote the script alongside Poet Laureate Andrew Motion.
A refined tale of two lovers torn apart by tragedy, Bright Star is a tender homage to Keats's life and talent. There aren't many better movies about romantic British poets than this one.
14. Roxanne (1987)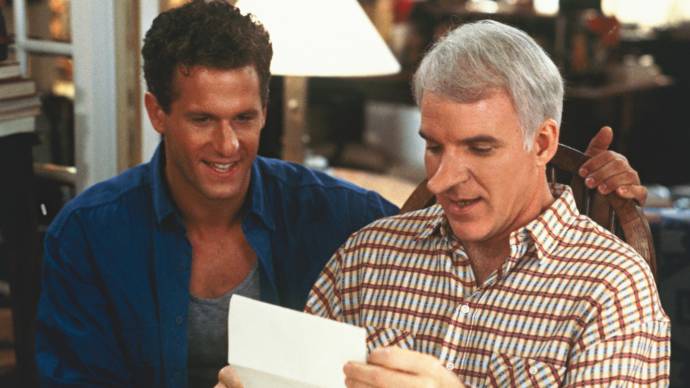 Roxanne is a creative, modernized, and liberal adaptation of Cyrano de Bergerac. It stars Steve Martin as Charlie "C. D." Bales, the big-nosed poet who has all the makings of a ladies' man—except for the looks.
Fred Schepisi's breezy retelling unfolds in a small American town, where C. D. is drawn to the beautiful new woman on the block, Roxanne Kowalski (Daryl Hannah).
If dated French plays aren't really your thing, you should definitely check out Roxanne. It transforms its dusty old source material into a humorous tale of irony, optimism, and misadventure.
13. Total Eclipse (1995)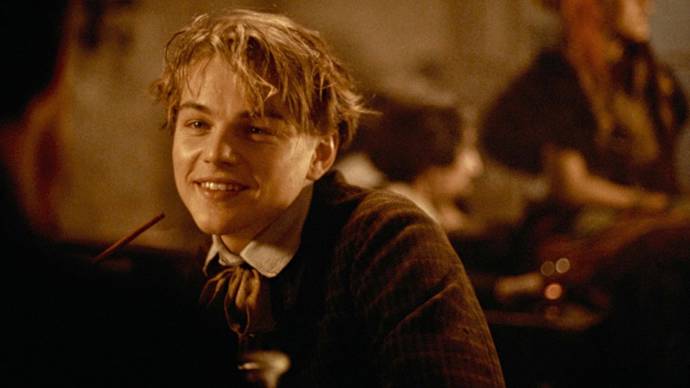 Christopher Hampton penned his erotic historical drama back in 1967, originally performed on stage until film director Agnieszka Holland got hold of it three decades later.
Total Eclipse follows yet-another absinthe-drinking poet, this time played by David Thewlis in 19th century Paris.
After he neglects his wife, a younger poet shows up and wreaks havoc on their marriage. Then again, who wouldn't be seduced by Leonardo DiCaprio with a pipe and quill?
Despite its strong cast list, Total Eclipse isn't too well-known of a film (making it hard to find a copy). But if you're looking for a daring and sensuous tale of love and betrayal, this one's for you.
12. The Hours (2002)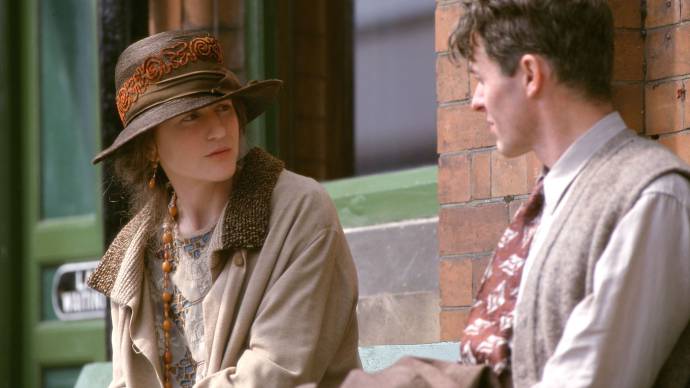 One of the best movies about poets and poetry ever made, Stephen Daldry's psychological drama The Hours takes us across three different time periods in the span of one day:
First, we take a step back into 1923, where infamous writer Virginia Woolf struggles to complete her latest novel Mrs. Dalloway due to severe mental illness.
Second, we fast-forward to Laura Brown in 1951, who escapes her mundane life through Virginia Woolf's transcendent pages.
Third, we're in the more familiar era of 2001, where Clarissa Vaughan is preparing a party to honor her moody, ex-lover poet.
Based on Michael Cunningham's skillful 1998 novel, The Hours is an Oscar-winning peek into the human condition, starring Meryl Streep, Julianne Moore, and Nicole Kidman.
11. The Happy Prince (2018)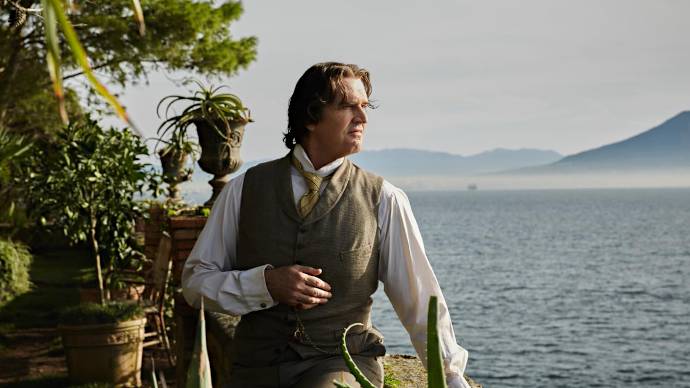 The film industry sure does love biopics, doesn't it? The Happy Prince was screened at the 2018 BFI Flare: London LGBT Film Festival, painting the portrait of Oscar Wilde's final days.
It's 1897 and the Irish poet/playwright has just been released from prison for "gross indecency." He's on his last legs... Where will he go now? Wherever the men and alcohol is, probably.
Director, writer, and star Rupert Everett distills the wild (no pun intended) writer's passion and turmoil through this affecting cinematic tribute, also starring Colin Firth, Colin Morgan, and Emily Watson.
10. Neruda (2016)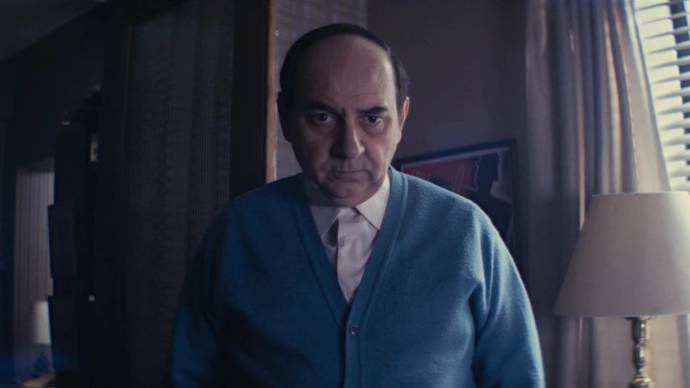 Pablo Larraín exercises a lot of artistic license in Neruda, a half-true and half-fictional depiction of Communist Chile in 1948.
Around this time, Senator Pablo Neruda had spoken out against his government's oppression, resulting in him going on the run.
Neruda used poetry to revolutionize and reform his country. History has shown us the power of speech, which isn't always wielded by the best hands but it certainly is here.
Luis Gnecco stars as the free-thinking diplomat, putting in a full-force performance that elevates this semi-biographical film to transcendent heights. (Neruda would eventually win the Nobel Prize for Literature.)
9. Paterson (2016)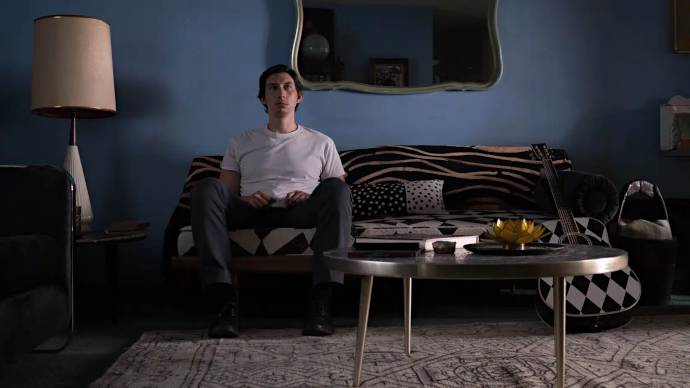 In his outstanding drama film Paterson, Jim Jarmusch shows us how anyone can be a poet.
Brilliantly portrayed by Adam Driver, Paterson is a New Jersey bus driver who scribbles down poems in his spare time.
His days are unlike the lavish lifestyles of many iconic poets. In fact, his life is quite monotonous: wake up early, drive the same bus route, walk the dog, and drink a quick beer before sleep.
The archetype of the diva poet is put to rest in Jarmusch's nuanced indie flick, where less is more. The director finds profound beauty in the quiet, everyday parts of life, just like Paterson himself.
8. Benediction (2021)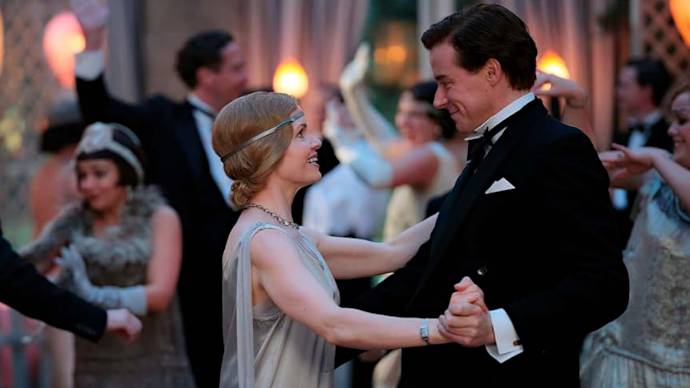 War isn't often associated with art, poetry, and imagination. But humans are creative beings, and people will find time to create even in the harshest of places—like on a battlefield.
In the anti-war drama film Benediction, director Terence Davies shows us that creativity is deeply embedded in human nature.
Siegfried Sassoon wasn't just decorated for his courage on the Western Front; he was also a leading poet of the First World War, putting the horror of the trenches to paper for all to read.
In Benediction, Jack Lowden delivers a profound performance as the veteran who refused to paint war as a noble and patriotic pursuit, instead depicting it as the nightmare that it really is.
He was so adamant about it that he was eventually sent to a mental institution! Which lends even more power to his words, doesn't it?
7. Anonymous (2011)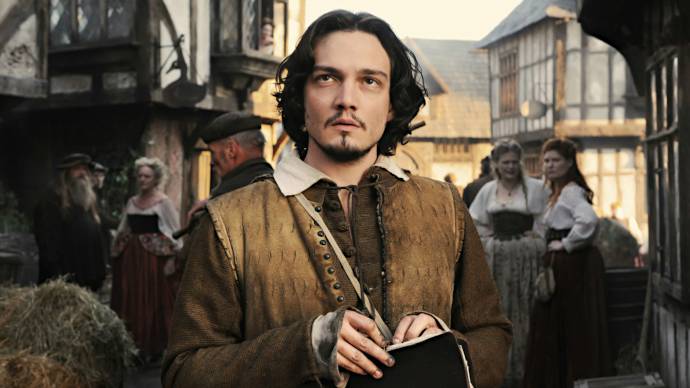 A good chunk of English slang and everyday sayings were born from Shakespeare's infamous plays and sonnets, who remains the most famous English writer in history.
His material has been adapted into all kinds of great movies, but Anonymous is different than your usual biographical film. This one is happy to muddle fiction with fact, myth with history.
In Anonymous, director Roland Emmerich asks: "What if Shakespeare had a ghostwriter?" Rhys Ifans stars as the Earl of Oxford, who Emmerich proposes was the real genius behind the quill.
If you're looking for something that's off the beaten track, you'll probably enjoy Anonymous. It's one of the best movies about famous poets—the world's most famous poet, in fact.
6. The Kindergarten Teacher (2018)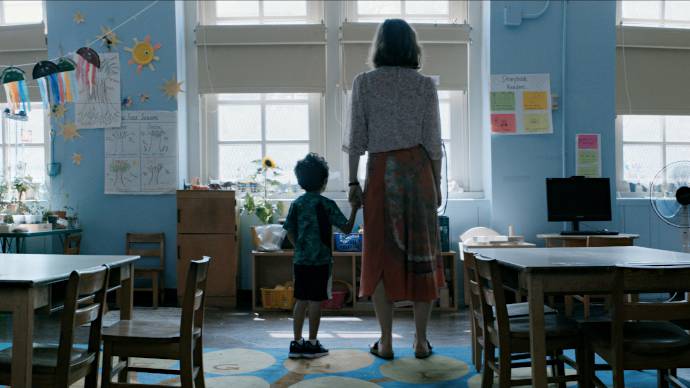 Nadav Lapid's 2014 Israeli film was reinvented by Sara Colangelo in 2018 to cater to mainstream Western tastes.
The Kindergarten Teacher was met with universal praise and continues to stand tall as one of the few American remakes of a foreign film that keeps the original story's sparkle intact.
Most of that is due to Colangelo's award-winning direction and Maggie Gyllenhaal's impactful performance as the dissatisfied kindergarten teacher, who nurtures one of her five-year-old students when he shows promise as a future poet.
5. The Color of Pomegranates (1969)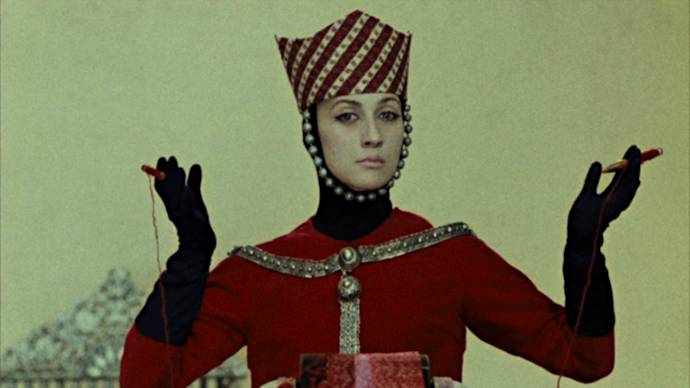 As a Soviet Armenian art film made in the 60s, The Color of Pomegranates won't be everyone's cup of tea. But if you're open-minded and can enjoy the world of avant-garde cinema, give it a shot!
Sergei Parajanov's elusive tale about the real-life Armenian artist Sayat-Nova is considered a landmark treasure.
In The Color of Pomegranates, Parajanov takes an abstract approach to telling Sayat-Nova's life story, presenting it like a poem itself. Looking for a truly unusual movie about a real-life poet? This is the one!
Fun fact: Given its legacy, you probably wouldn't expect The Color of Pomegranates to appear in a Madonna music video... but it did! (The one for "Bedtime Story.")
4. The Basketball Diaries (1995)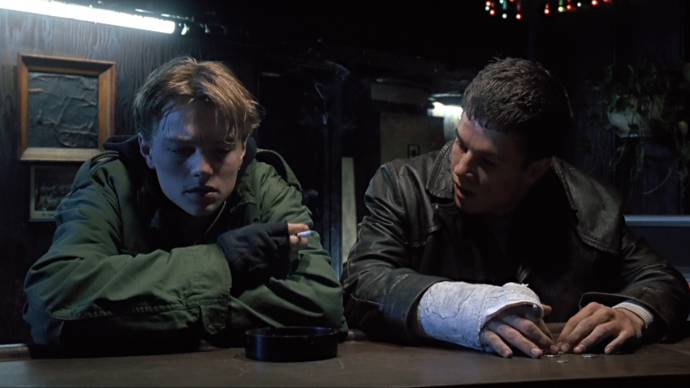 Scott Kalvert's The Basketball Diaries takes an unusual candidate for a poet and allows them to shine. In this instance, it's Jim Carroll: the real-life writer, punk musician, and drug addict.
A baby-faced Leonardo DiCaprio graces our screens while reciting poetry, but it isn't so smooth. Living a rough life on the streets of New York City, Jim turns to heroin as his only other outlet besides writing.
In this true and heart-wrenching story of genius wasted by drug addiction, director Scott Kalvert offers a glimmer of hope at the end. The Basketball Diaries is undoubtedly one of DiCaprio's best and most underappreciated performances.
3. Kill Your Darlings (2013)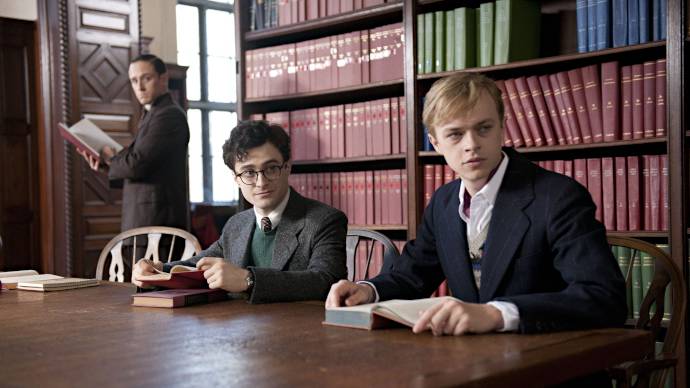 Vinyls, typewriters, drugs, and jazz music... the poetic dream.
Kill Your Darlings hauls us into a frenzied vintage world of smoking bars and reckless free-loving writers in New York City. This account of Allen Ginsberg's influence on the anti-establishment movement of the 1950s takes us back to Ginsberg's college days.
Played by Daniel Radcliffe, Ginsberg befriends the oddball freshman Lucien Carr (played by Dane DeHaan) and together they write for revolution.
Directed by John Krokidas, Kill Your Darlings plays out like a poem itself, matching its grainy film aesthetics with lyrical monologues. Just bear in mind Krokidas' liberal use of artistic license!
2. Orpheus (1950)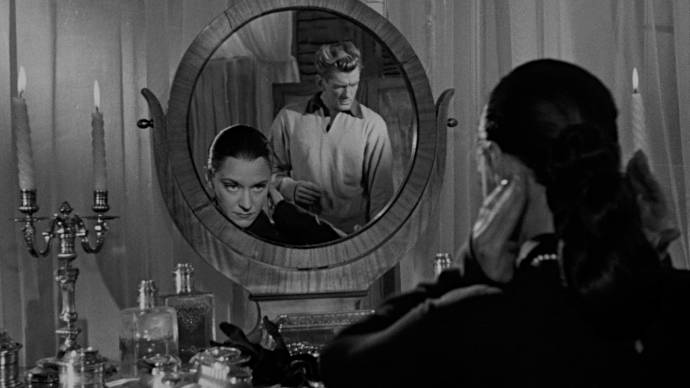 Orpheus is the centerpiece of Jean Cocteau's Orphic Trilogy, right between The Blood of a Poet (1930) and Testament of Orpheus (1960).
The black-and-white classic film takes place in Paris, where Jean Marais plays a famous poet who falls in love with Death.
That might seem like a random premise, but the story actually comes from a classical Greek legend about Orpheus (a poet and son of Apollo) and Eurydice (his lost wife).
Despite the grand mythological plot, Orpheus takes a simple and minimalistic approach to filming that effectively conveys the poetic brilliance at the heart of its story.
Fun fact: American poet Allen Ginsberg loved this film and it even inspired much of his work! Which, by extension, means that it would indirectly inspire several films on this list.
1. Dead Poets Society (1989)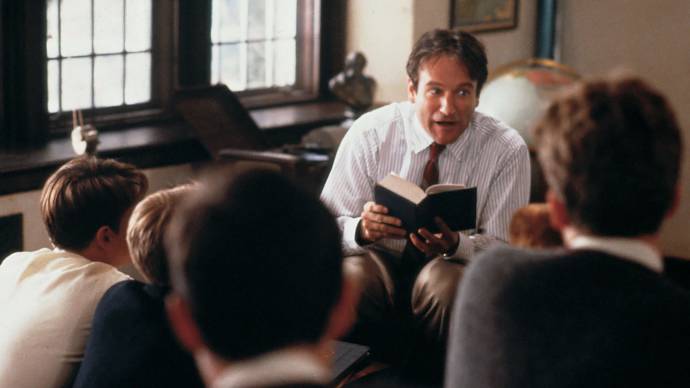 "O Captain! My Captain!" exclaim the voices of preppy high school juniors at Welton Academy in Vermont, 1959. They speak the words of Walt Whitman in praising their quirky and esteemed English poetry teacher for all that he's taught them.
We're talking about Dead Poets Society, of course, in which Robin Williams plays the iconic teacher who ingrained in his uptight students a newfound lust for life and art.
A handful of those kids would go on to revive his old poetry club, secretly meeting in a cave after dark to recite lines.
Everything about Dead Poets Society is honest, inspiriting, and sentimental (in a good way). What more could you want from a film about poetry? It's a beloved cult classic, directed by Peter Weir.