A good chunk of human history was spent living in caves, foraging for wild food, and fighting each other with sticks and stones. But when we developed science and technology, we evolved rapidly.
Our path through history has been mapped by inventors and discoverers, to whom we owe all kinds of thanks. One way to recognize and appreciate them? Telling their stories through cinema.
From forgotten geniuses to social media founders, here are my picks for the best movies about inventions and discoveries that explore the difficulties and ramifications of bringing forth something new.
15. Tesla (2020)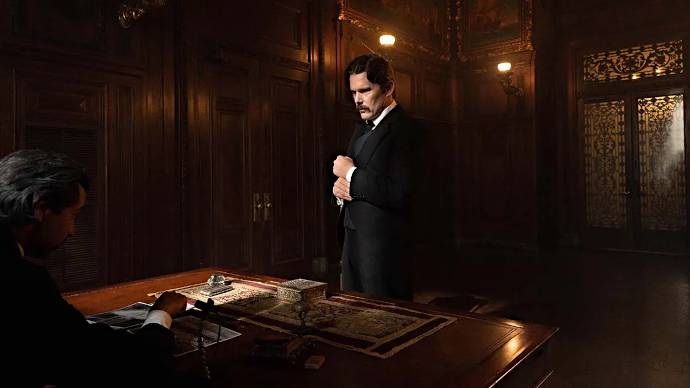 It's a shame that the name Nikola Tesla is nowhere near as ubiquitous as, say, Thomas Edison or Albert Einstein.
Nikola Tesla basically invented wireless electricity and cemented his status as one of the most heralded scientists in all of history.
Not only does his famous Tesla Coil looks immensely cool, it was Tesla's work that paved the way for things like radio, television, Wi-Fi, and more—all from his harnessing of electrical currents.
Sadly, like many historical figures, the Serbian-American scientist died penniless and alone in a tiny hotel room. His story is explored in Michael Almereyda's Tesla where he's brought to life by Ethan Hawke.
14. Joy (2015)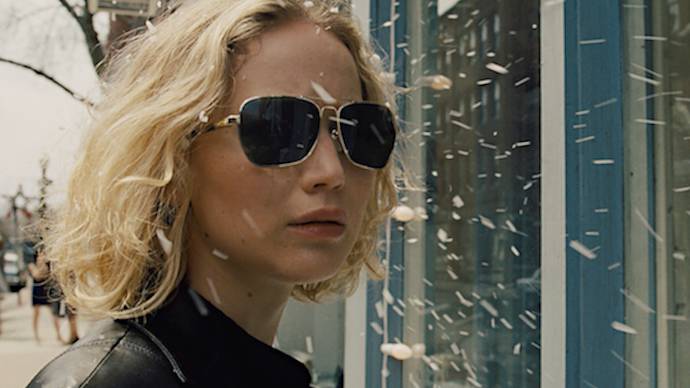 Joy Mangano shows us the meaning of a strong independent woman, fiercely portrayed by Jennifer Lawrence. She's a real-life entrepreneur who got rich off mops. Specifically, the Miracle Mop.
Most millionaires are born to other millionaires, only able to succeed by being spoon-fed handouts from their parents. Joy isn't like them. She knows that the world doesn't owe her anything—that it's up to her to go and get it. So, that's exactly what she does.
If you look past the uneven pacing, Joy is a sparky and inspiring biopic studded with comedy. David O. Russell directs the Hollywood cast list, which includes the likes of Robert De Niro and Bradley Cooper.
13. Radioactive (2019)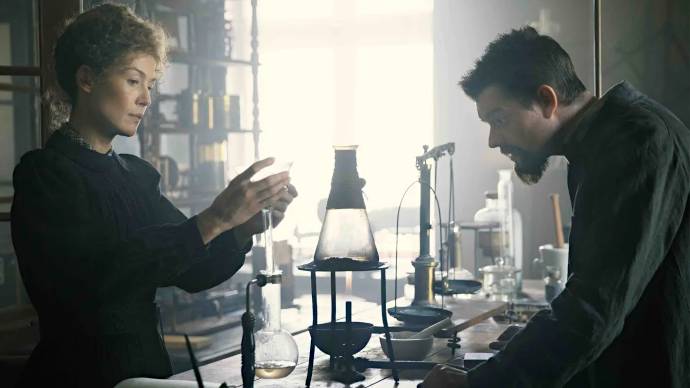 Until recently, most industries have been dominated by men—and that includes all the various scientific fields. For a long time, women weren't even allowed access to laboratories or education, so it was always men winning the Nobel Prizes.
The first woman to win a Nobel Prize was Marie Curie, but it didn't come without a fight. It's hard to say whether her fiery attitude helped or hindered, but it's one she shared with husband Pierre Curie.
Marie Curie discovered polonium, radium, and radioactivity. Her research went on to save lives (with radiation therapy) and take lives (with nuclear bombs). Together, they were awarded the Nobel Prize in Physics in 1903, even if it was mainly Marie who did the work.
Marie herself died of radiation at age 66, and Rosamund Pike retells her life story in Marjane Satrapi's sincere period drama Radioactive.
12. Little Joe (2019)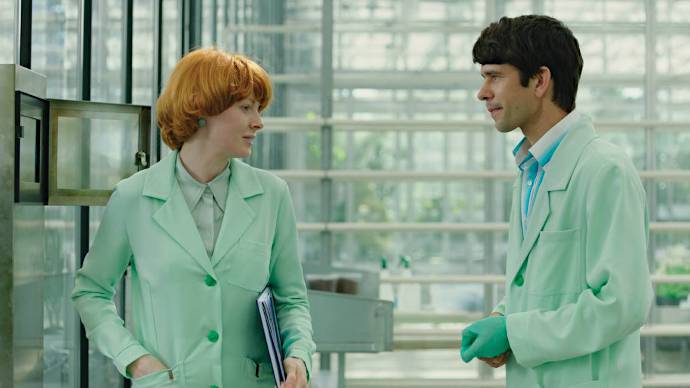 This one's geared towards the indie kids who aren't averse to a touch of horror. Little Joe is more creepy than scary, luring viewers in with a minimalist arthouse look that cinephiles often adore.
Jessica Hausner's international drama is about an invention-gone-wrong, centering on a plant breeder who creates a flower that's better than any antidepressant.
The more you care for this plant, the more it cares for you, pollinating the air with happy chemicals that soon turn into angry ones.
Alice (played by Emily Beecham) comes to regret smuggling one of these "Little Joe" plants home for her son, who slowly turns against her. Ben Whishaw also stars in this nuanced horror that was good enough to compete for the Palme d'Or.
11. Honey, I Shrunk the Kids (1989)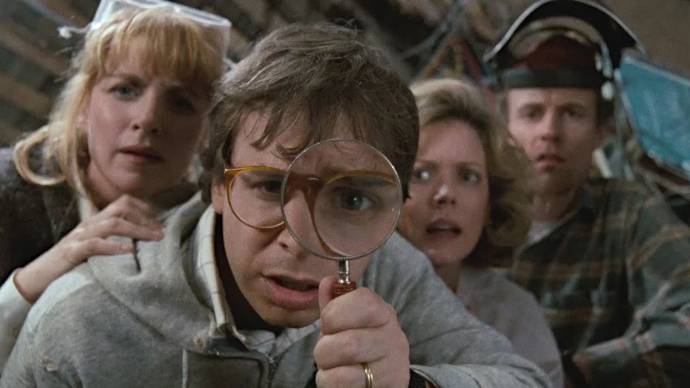 The tone of Honey, I Shrunk the Kids is perfectly encapsulated by its title. But this silly film has more heart to it than you'd expect!
Wayne Szalinski (played by Rick Moranis) is your stereotypical eccentric scientist. He's a lot like Dr. Frankenstein, except he lives in a suburban family home and isn't surrounded by all the usual horrors.
When Wayne's son and the neighbor's kid enter the attic to retrieve a baseball, Wayne's latest ray gun accidentally shrinks the both of them. As you can imagine, a whole range of funny stuff can be made from this basic plotline, including giant killer ants.
Joe Johnston's wholesome sci-fi flick is filled with family fun, equally enjoyable by kids and adults. It's nostalgic, it's original, and it was followed by a sequel (Honey, I Blew Up the Kid) in 1992.
10. Primer (2004)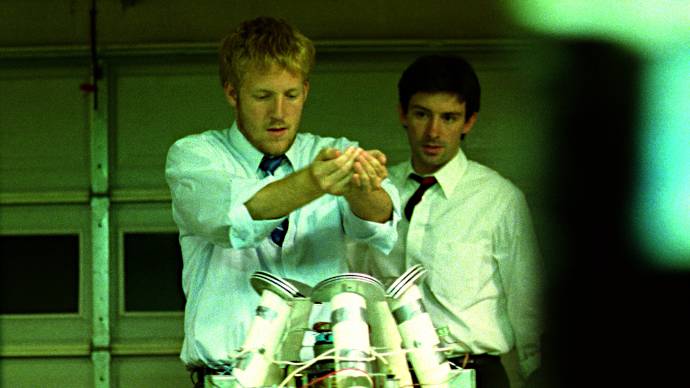 Time travel has been tackled many different ways throughout cinema. I could have easily put The Time Machine on this list, but I'm giving the spot to a lesser-known indie movie that'll warp your mind.
Shane Carruth wrote, directed, produced, and starred in his psychological sci-fi flick where two engineers accidentally discover time travel.
This little time machine of theirs ends up putting them in a pickle as they face the issues that arise when interfering with the historical timeline.
Carruth explores the outlandish idea of time travel in a grounded way, hence two guys in a dingy room with shirts on. The science behind it is surprisingly solid, adding layers to Carruth's realist slice of sci-fi.
9. The Professor and the Madman (2019)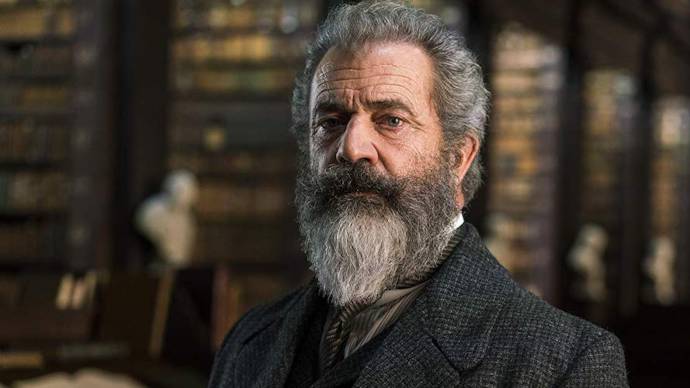 Everything had to come from somewhere, and that includes the dictionary. What you might not know is that the first English dictionary took 70 years to write, much of which was done by a schizophrenic murderer in a prison cell. At least, that's how everyone saw him.
Dr. William Chester Minor was actually a troubled genius hell-bent on atoning for his sins. Sean Penn portrays the "madman" with grit and honor, encapsulating his guilt at having killed a man out of delusion.
Eventually, the guards at Broadmoor come to respect William, as does the linguistics professor he converses with.
James Murray (played by Mel Gibson) took lead of the Oxford English Dictionary project when everything came to a halt, and he took on the dual challenge of publishing it and setting William free.
8. The Current War (2017)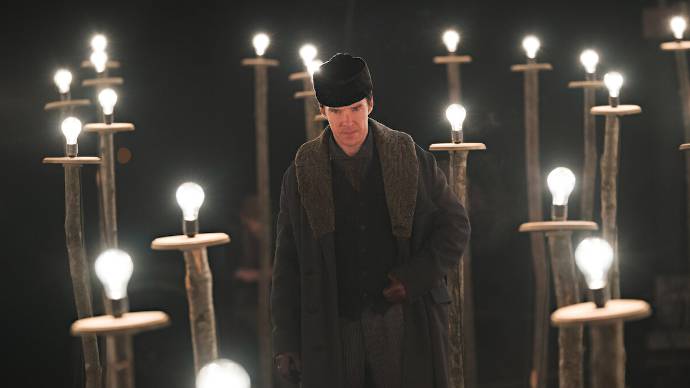 Thomas Edison and George Westinghouse are two huge names in history—both inventors, businessmen, and electrical pioneers. Edison is particularly famous for giving us the lightbulb, and then cinema itself with the first motion picture camera!
But whereas Edison promoted the Direct Current to be used across America, engineer/entrepreneur Westinghouse believed it should be the Alternating Current. Thus, their famous conflict began.
Benedict Cumberbatch and Michael Shannon star as the feuding men, alongside Nicholas Hoult who makes an appearance as Nikola Tesla. Alfonso Gomez-Rejon directs this crowd-pleasing period drama that boasts a cast list as dazzling as their characters' inventions.
7. Tucker: The Man and His Dream (1988)
In Tucker: The Man and His Dream, Francis Ford Coppola delights us with a kitschy, all-American historical comedy about Preston Tucker, the automobile man who released the Tucker 48 sedan in 1948.
The charismatic innovator only saw 51 models hit the ground before he declared bankruptcy. As loved as he was, Tucker was also a bit of a sleaze—and after manufacturing problems, he faced fraud accusations.
Coppola takes us through a whirlwind of scandals and corruption until Tucker is eventually acquitted, but dies of cancer not long after his trial.
Many features of the Tucker 48 are now found in modern cars, so we have a lot to thank him for! Coppola's biopic is condensed but keeps with the spirit of Tucker, vividly portrayed by Jeff Bridges.
6. Steve Jobs (2015)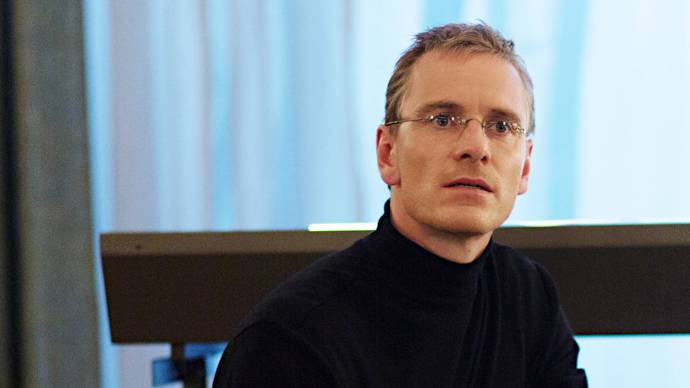 "You can't write code. You're not an engineer. You're not a designer. You can't put a hammer to a nail."

Steve Wozniak to Steve Jobs
Co-founder Steve Wozniak was the brain behind Apple, which is now the biggest tech company on Earth. So, why does Jobs get all the credit?
Danny Boyle exposes Jobs for having less to do with the making of Apple than many think he did. However, when Mac was in trouble, it was Jobs who returned as CEO to save the company and subsequently launch it into domination.
Boyle's slick biopic shows us a 14-year chunk of Jobs's life. The notoriously spearheaded business tycoon is perfectly embodied by Michael Fassbender—cold to the touch and sometimes a little cruel.
5. Back to the Future (1985)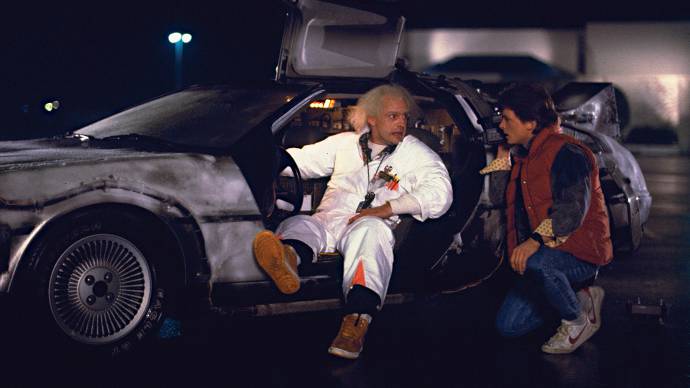 Doc Brown didn't just invent a time machine—he made one out of a DeLorean! The gull-winged sportscar was a famously terrible vehicle, but the Back to the Future trilogy gave it a new legacy.
Directed by Robert Zemeckis, Back to the Future stars Michael J. Fox as Marty McFly, a skateboarding teen who's friends with the crazy local scientist Doc Brown (played by Christopher Lloyd).
Nobody approves of this friendship—and if Marty listened to them, he wouldn't end up fighting the space-time continuum across timelines!
In the first film, Marty is sent back to 1955, where his mother accidentally falls in love with him. A bit disturbing, but Back to the Future is actually a heartwarming 80s classic, forever referenced in pop culture.
4. The Imitation Game (2014)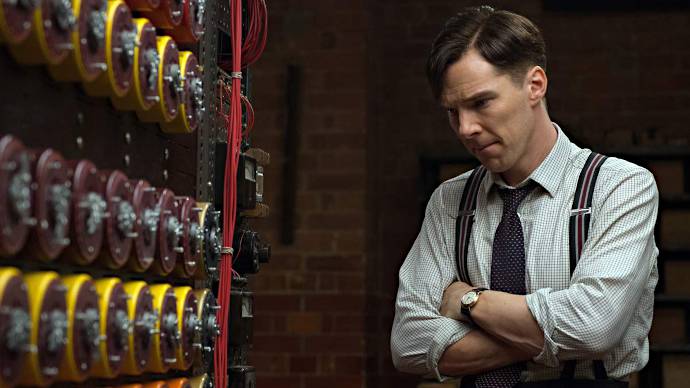 The Imitation Game managed to take one of the most important but overlooked figures in modern history and make him known by the public.
Alan Turing's Enigma machine didn't just help defeat the Nazis and win the Second World War—it was a prototype for the first computer!
Sadly, Turing was treated poorly during his short life. He was a homosexual (illegal at the time) who had undiagnosed autism, plus all his heroism was kept secret by the government.
After he was arrested and forced into hormonal therapy, Alan Turing eventually committed suicide at age 41.
Benedict Cumberbatch was perfectly cast to play the misunderstood genius. Morten Tyldum's very British biopic has us alternate between marveling and crying, told with sympathy and prestige.
3. The Aviator (2004)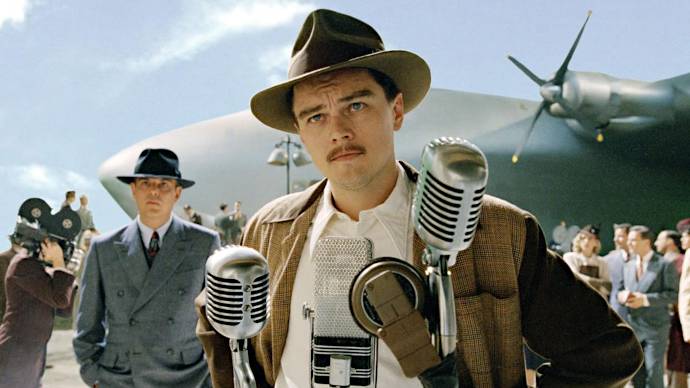 Howard Hughes showed a knack for engineering at a young age, and he used it to become one of the richest people in the world.
Hughes's biggest interests were in the film and aviation industries. Not only did he make the most expensive film ever made (at the time), he helped build the H-4 Hercules airlift flying boat.
The Aviator shows us just how finnicky Hughes was—a perfectionist who spent three years directing Hell's Angels and didn't actually complete the H-4 Hercules until after the war was over.
Leonardo DiCaprio gives a stunning performance as the headstrong magnate whose mind gradually unravels. The Aviator is one of the best films by Martin Scorsese, who color grades the biopic with only the shades that were available back in the 1930s.
2. The Prestige (2006)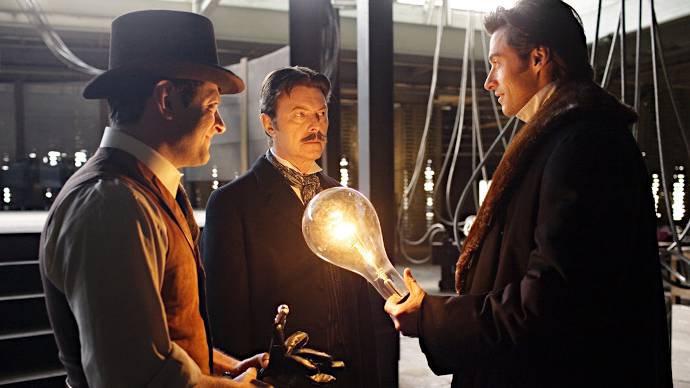 Nikola Tesla makes another appearance on this list—albeit a relatively small one—in Christopher Nolan's The Prestige.
Played by glam rock icon David Bowie, Tesla helps a magician build a teleportation device. Annoyingly for him, it doesn't actually transport objects (or people) away. Instead, it doubles them.
The Prestige is centered on a feud between two rival magicians in Edwardian London, who compete to perform the ultimate trick. And with Nolan being Nolan, the movie itself turns out to be a trick.
1. The Social Network (2010)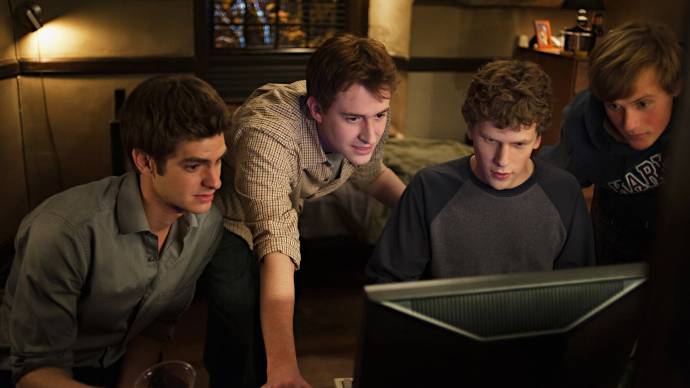 If you aren't a fan of dialogue-heavy drama and prefer action-packed blockbusters, you might disagree with my top pick—but when it comes to movies about inventions, The Social Network is one of the best.
The Social Network is the kind of film where you can really feel the presence of its script. Written by Aaron Sorkin, we're treated to a fast-talking Jesse Eisenberg as Mark Zuckerberg, who goes on to invent Facebook and ends up in a big mess afterwards.
Mark Zuckerberg isn't nearly as unlikable as he's depicted to be in The Social Network, as David Fincher leans heavily on artistic license to direct such a masterful, compelling movie. That aside, it's truly one of the best movies about inventions ever made.