Most of us associate—whether rightly or wrongly—the hood with gangs. Movies set in the ghetto tend to feature street fights, drugs, and shootouts. However, that isn't always the case.
Hood movies exploded during the 90s, carving out their own "ghetto-centric" corner of urban cinema, then evolving into something greater after the turn of the millennium.
From buddy cop movies like End of Watch (2012) to cult classics like The Warriors (1979), the hood movie genre is brimming with different stories and perspectives that go beyond gangs and guns.
Here are our picks for the best hood movies that show all the depth and poignancy the hood truly has to offer.
12. Friday (1995)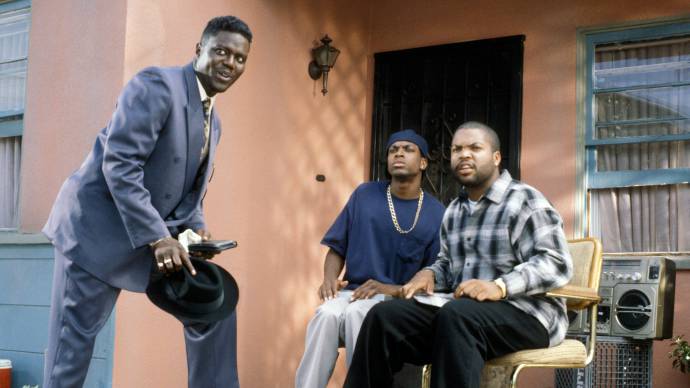 Ice Cube is a name you'll be seeing a lot throughout this article. He's king of the proverbial cinematic streets, who landed his first acting role in 1991 for Boyz N the Hood (which we'll get to later).
Four years after that, he showed up in Friday as a Los Angeles slacker who spends his Fridays chilling with his low-level drug dealer pal Smokey (played by Chris Tucker).
Ice Cube openly expressed his dislike for how hood films negatively portrayed the environment he grew up in. So, when he wrote the script with DJ Pooh, they decided give Friday a lighthearted—if crude—humor and energy.
Steve Carr and Marcus Raboy went on to direct the following two installments, such was the film's success. Bye Felisha!
11. Hustle & Flow (2005)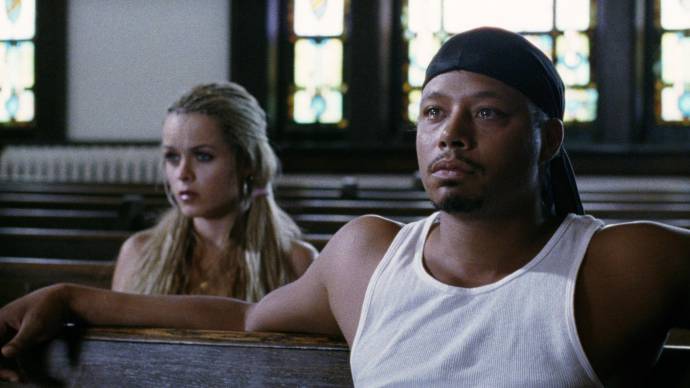 In the same way most people associate the hood with gangsters, we tend to also associate gangsters with rap.
In Hustle & Flow, DJay (played by Terrence Howard) is both a pimp and a dealer who—inspired by the pounding beat in his head—decides to become a hip hop artist.
DJay's biggest song "It's Hard Out Here for a Pimp" becomes a successful outlet for venting about the hardships of urban poverty. It's also the second rap song to win an Academy Award, right behind Eminem's "Lose Yourself."
Craig Brewer writes and directs this grimy, gritty ghetto flick, pumped with music that speaks from the soul and harks back to the blaxploitation era of the 1970s.
You can feel the blood, sweat, and tears dripping off the screen, yet somehow the force seems to make it flow effortlessly.
10. 8 Mile (2002)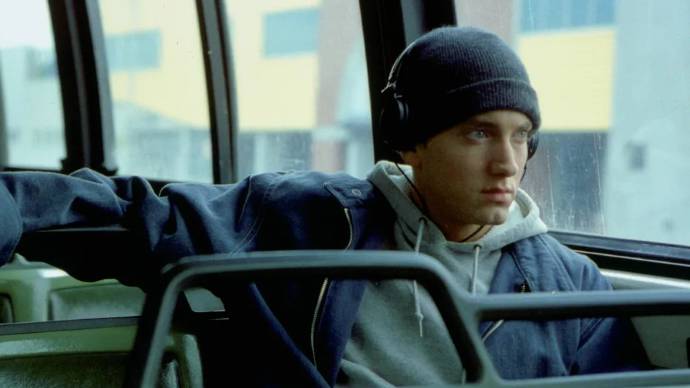 In 2002, Eminem took audiences by storm with his world-renowned track "Lose Yourself." The song is a reflection of both himself and his 8 Mile character Jimmy, who's semi-autobiographical.
Jimmy (or "B-Rabbit") lives in a trailer park in Detroit and struggles to make ends meet, both as a factory worker by day and as an apprehensive rapper by night.
Jimmy's "palms are sweaty, knees weak, arms are heavy" before re-entering the very same rap battle he previously choked on—the rap battle on which his whole future hangs.
Scott Silver based parts of the script on Eminem's real life, who starred in the film as his acting debut. Curtis Hanson's coarse musical drama currently has a TV adaptation in the works by Eminem and 50 Cent.
9. Juice (1992)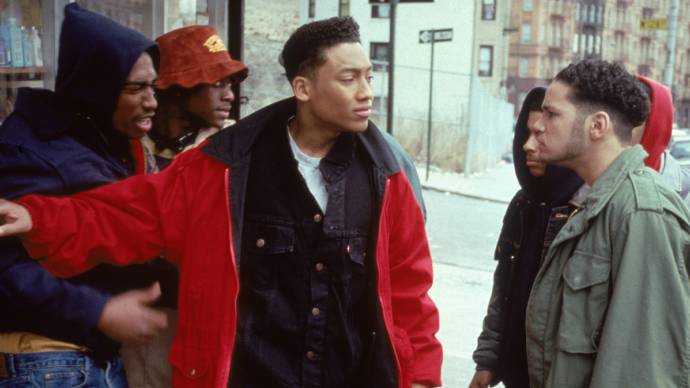 Juice is an impressive hood classic for two big reasons: it was the writing and directorial debut for Ernest R. Dickerson, and it was the acting debut for Tupac Shakur.
For a film full of first-timers, Juice doesn't just hit its target—it demolishes it. Just one of many in a new wave of black film directors, Dickerson points the camera at Harlem and doesn't look away.
Juice follows four teenagers who are accustomed to shoplifting and want to level up... to robbing a convenience store. It doesn't go to plan.
When the owner is shot dead, the four friends find themselves pulling in different directions. Some are eager to get out of the ghetto while others double down and champion their environment.
Juice is a headstrong crime drama that evaluates that fundamental question in its own way: Is nature or nurture to blame?
8. Straight Outta Compton (2015)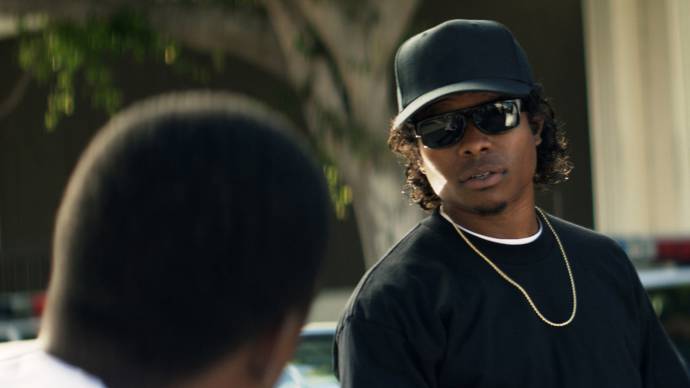 Before Ice Cube was a movie star, he was part of the biggest hip hop group in the world: N.W.A. Their music was controversial for their explicit lyrics, misogynistic themes, and political commentary.
Sure, we can say that sex, drugs, and crime are the pillars of gangsta rap today—but it was N.W.A who practically made it that way with numerous tracks inspired by their own experiences with racist policing.
Two decades after directing Friday, F. Gary Gray reunited with Ice Cube to make the musician's N.W.A biopic Straight Outta Compton.
The award-winning drama depicts the U.S. culture war of the 1990s, where debris from the Civil Rights Movement collided with the streets of California. Ice Cube himself is played by his son, O'Shea Jackson Jr.
7. Menace II Society (1993)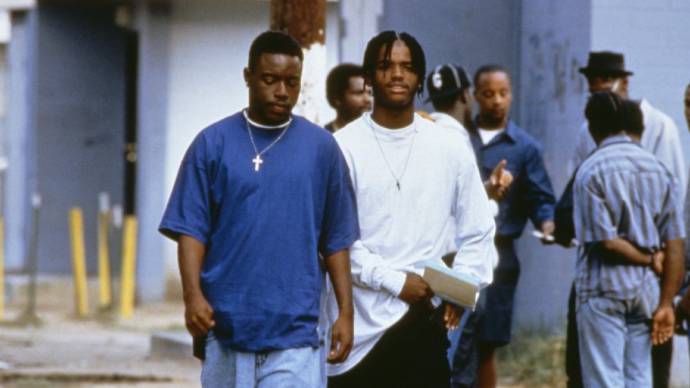 Albert and Allen Hughes—known as the Hughes brothers—made their directorial debut with their unsparing and thought-provoking teen drama Menace II Society.
In a gangland ravaged by poverty and drug addiction, it's hard to place the film's resident characters as simply good or bad. Grand theft auto, robberies, drug dealing, and pistol-whipping pervade the movie in its brutally honest depiction of urban Los Angeles.
Protagonist Caine Lawson (played by Tyrin Turner) is a carjacking killer, yet from his voiceover we know it's not completely his fault.
When his grandparents warn him about the dark road ahead, his angsty young mind doesn't take heed—much to everyone's regret.
6. Training Day (2001)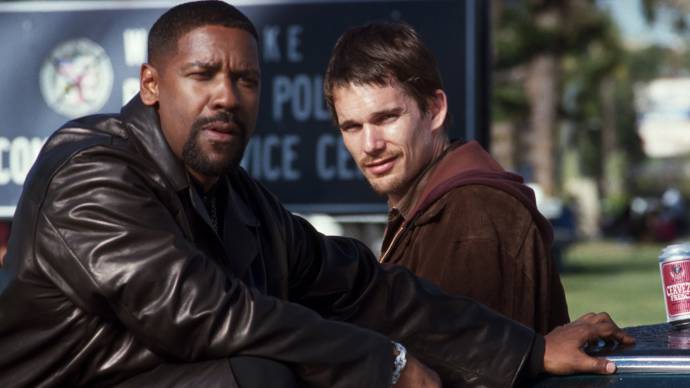 Training Day takes place on the other side of the law from gangs and criminals. Newly promoted Officer Jake Hoyt (played by Ethan Hawke) is taken under the wing of an established narcotics officer for training.
At least, it's supposed to take place on the other side of the law. As it turns out, Detective Alonzo Harris (played by Denzel Washington) is only so high up because he's corrupt! No surprise there.
The first red flag comes when Alonzo forces Jake to smoke the weed they just confiscated, which he knew was laced with PCP. Why? Because Alonzo needed Jake's blood dirty for his trump card later.
Training Day unfolds over just one day, but director Antoine Fuqua keeps us on the edge of our seats the entire time.
5. Moonlight (2016)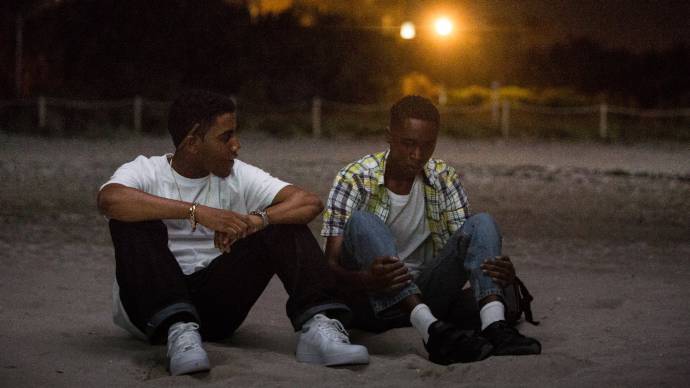 The most recent hood movie on our list won three Academy Awards, including Best Picture. The purple-hued, blurry-edged A24 drama is a triptych of one mans life, from troubled child to drug-dealing adult.
Moonlight is a tender story told within a rough environment with even rougher themes. Chiron's life growing up on the streets of Miami is marked by a crack-addicted mother (who turns to prostitution), rampant homophobia, and savage beatings.
Trevante Rhodes, Ashton Sanders, and Alex Hibbert all star as Chiron across his life in A24's greatest film to date.
Barry Jenkins based the coming-of-age tale on Tarell Alvin McCraney's unpublished play In Moonlight Black Boys Look Blue, which was partially based on himself.
4. La Haine (1995)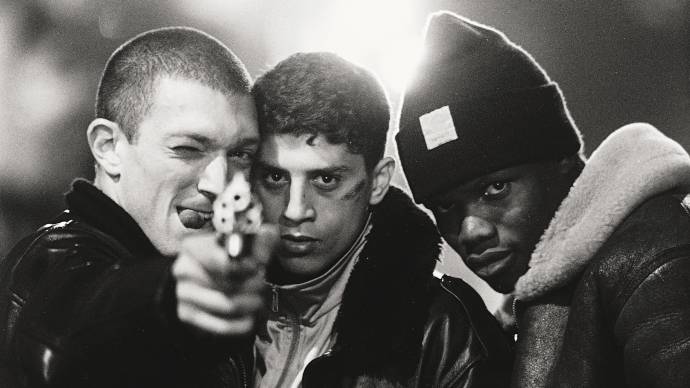 The title La Haine translates to "hatred" (released in the US as Hate) and is in reference to a line spoken in the movie: "hatred breeds hatred." That pretty much sums up every movie on this list.
Written and directed by Mathieu Kassovitz, La Haine is one of the biggest French films to filter into the US market.
Like a modern Les Misérables, La Haine is all about civil unrest in the banlieues, where three friends argue about what to do with a gun they found (and the power and danger that comes with it).
Kassovitz won the prize for Best Director at Cannes for his punchy black-and-white hood film, set in ghettos of Paris. You could cut the dynamic cinematography in half and find all the film's rage spilling out.
3. Do the Right Thing (1989)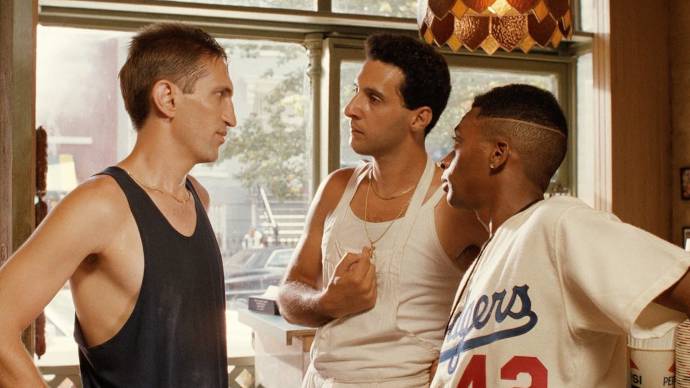 Hood movies aren't just summed up by "hatred breeds hatred"—they can also be founded on "do the right thing."
Spike Lee's most famous joint remains his third feature film, Do the Right Thing, which consolidates his signature dolly shots, race relation themes, and urban New York settings.
Do the Right Thing is archetypal of all Lee's major trademarks, which work together to make a cult classic that has since triggered controversy. (When dealing with controversial political topics, it's inevitable that controversial opinions will pop up!)
Do the Right Thing is boldly colored in pops of blue and red compared to the other grungy picks on this list. It's also set in Brooklyn, where cultures clash and tensions inevitably unfurl.
2. Boyz N the Hood (1991)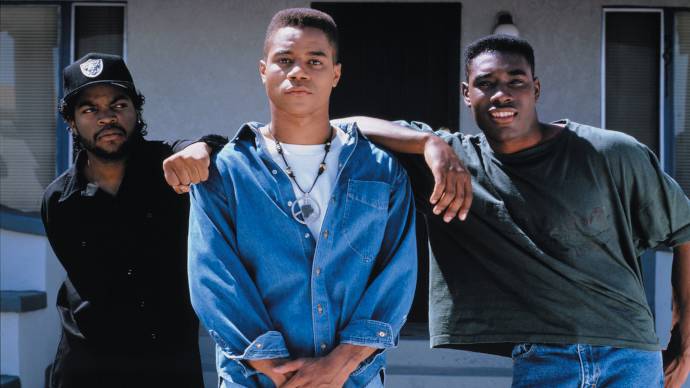 One of the earliest hood movies—and the trigger for the genre's boom in the 1990s—conveniently has the word "hood" in its title.
The play on the word "boyhood" is a nod to the film's subject about young boys entering manhood in South Central LA.
John Singleton originally wrote Boyz N the Hood to meet the entry requirements for film school before he turned into an Oscar-nominated movie that's now preserved in the National Film Registry.
Singleton was both the youngest and first African-American nominee for Best Director. A well-deserved title for presenting a true picture of urban America that isn't devoid of love or soul, which was inspired by the complete opposite of a hood film: Stand by Me.
1. City of God (2002)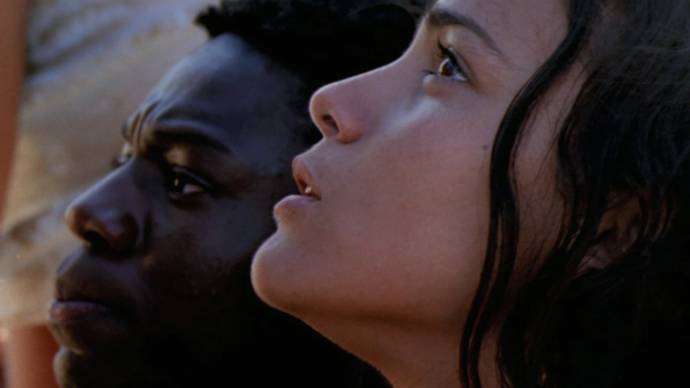 In City of God, Fernando Meirelles and Kátia Lund show us the true horrors of the Brazillian favela. There's truly nowhere to hide in the City of God slums, a suburb of Rio de Janeiro devoid of wealthy tourists.
While it's not exactly a true story, the warfare depicted in this epic crime drama is very real, which was at its height in the 1960s and 1970s.
Based on Paulo Lins's semi-autobiographical book, City of God depicts the guerrilla feud between gang leaders (based on real gangsters).
City of God gets its raw authentic feel from filming on-location with actual favela inhabitants. One of the extras has even been wanted for murder since the film's release. Does it get any more real?