Coined by NAACP member Junius Griffin in 1972, blaxploitation is a portmanteau of black and exploitation.
The term refers to a trend in cinema involving independent movies made for, made by, and made about the African-American community—usually in urban settings but also occasionally the rural South.
Since the 1970s, blaxploitation evolved into a much bigger ethnic subgenre than the original low-budget filmmakers expected. Today, it's an entire political movement and film language that even Hollywood sometimes adopts (which, ironically, goes against the point).
Black filmmakers carved out a space just for themselves, and often jabbed at the whitewashed film industry with parodies like Blacula (1972) and Blackenstein (1973).
You'll see some recurring elements throughout blaxploitation films, including crime, sex, action, and racial tension. It all falls somewhere within the grindhouse era that some black critics condemned for being crass and perpetuating stereotypes.
All in all, the blaxploitation genre aims to shock and entertain. Here are our picks for the best blaxploitation movies of all time!
15. The Mack (1973)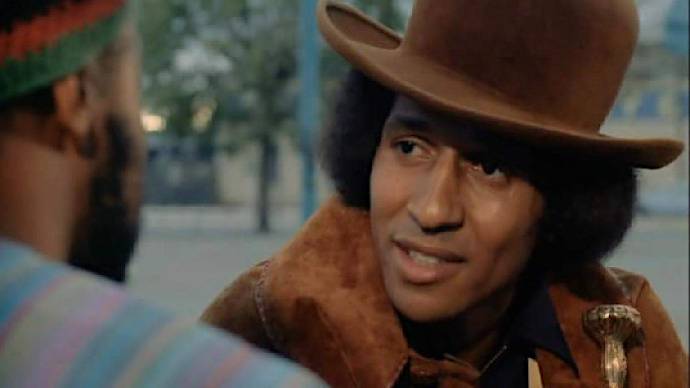 The Mack is a blaxploitation classic that somehow manages to rank among the greatest of the genre while receiving awful reviews.
Despite being dubbed trashy, flawed, and illogical, The Mack actually out-grossed The Godfather—itself considered the best film ever made—in the few places it actually screened.
Directed by Michael Campus, The Mack stars Max Julien as Goldie, who goes in the opposite direction of his Black nationalist brother (played by Roger E. Mosley) to become Oakland's biggest pimp.
Richard Pryor, Juanita Moore, and Dick Anthony Williams also feature as Goldie's criminal acquaintances.
14. Cotton Comes to Harlem (1970)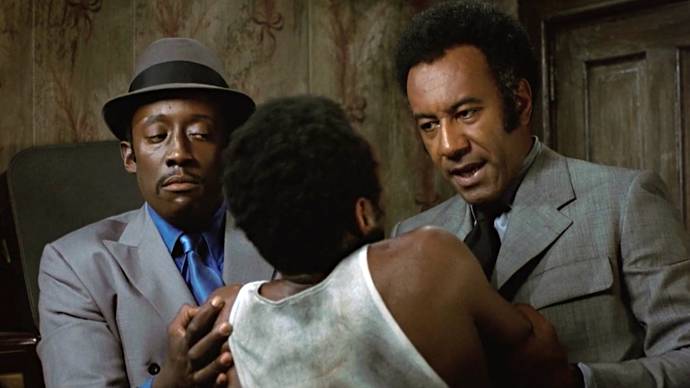 Adapted from Chester Himes's 1965 novel, Cotton Comes to Harlem was essentially the first blaxploitation film (even though that acknowledgment is usually credited to Sweet Sweetback's Baadasssss Song, which released the following year).
Harlem is a central place in African-American history, what with the Great Migration and the Harlem Renaissance of the early 20th century. The hard-boiled crime story was gilded in "balloons, fans, feathers" by director in his stylish overnight hit.
The 1970 neo-noir flick is full of fights, laughs, and thrills. The chase, banter, and self-determination of Cotton Comes to Harlem was later followed by a sequel in 1972.
13. Cooley High (1975)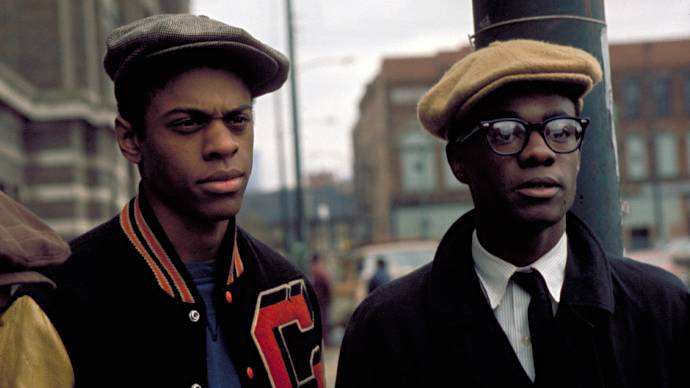 Cooley High was a coming-of-age blaxploitation movie that inspired the likes of Spike Lee and John Singleton, who would also go on to make their own milestones in black cinema.
This film stars Glynn Turman and Lawrence Hilton-Jacobs as two best friends in their senior year of high school, who dream big before a single moment changes their life trajectories forever.
A bit of comedy, a bit of melodrama, and even a bit of tragedy make for a more sophisticated entry than some of the other pimps and gangs often we find in the genre.
Michael Schultz (who also directed the martial arts-infused blaxploitation comedy The Last Dragon in 1985) gave this "black American Graffiti" more depth than critics anticipated.
12. Black Dynamite (2009)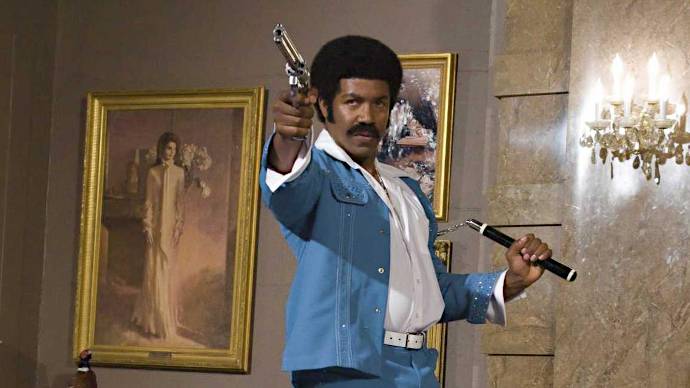 On the surface, it might seem like Black Dynamite is making fun of the blaxploitation genre—but it's actually a smart and nostalgic homage to the movement as a whole.
Its gimmicks are executed with a self-consciousness that speaks of cinema's history, and filmmaker Scott Sanders clearly paints his love for its hyperbolic 1970s style.
Scott Sanders directs Michael Jai White as an ex-CIA agent out for revenge. In ode to the low-budgets of its predecessors, Black Dynamite was shot in just 20 days on a Super 16mm camera in Los Angeles—before a script was even written! A risk that paid off.
11. Jackie Brown (1997)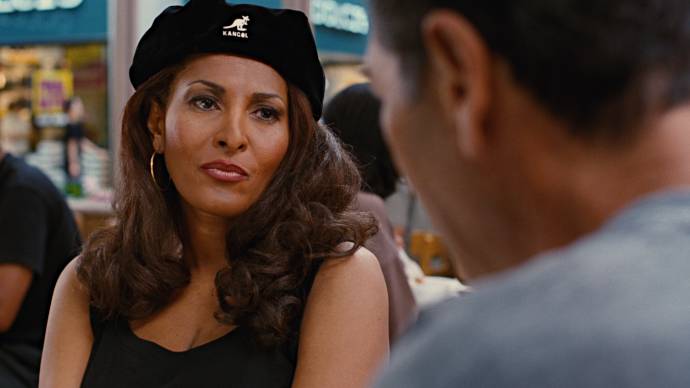 Quentin Tarantino has caught a lot of flak over the years for being a white guy who makes modern blaxploitation movies—or, at least, movies that are partially blaxploitation.
Spike Lee in particular has a long-running grudge against the auteur director, refusing to watch Tarantino's films because it would be "disrespectful to my ancestors." Lee makes a valid point, but that doesn't make Jackie Brown any less of a great movie.
Based on the 1992 novel Rum Punch by Elmore Leonard, Jackie Brown follows a flight attendant who attempts to smuggle money into the US from Mexico. The title is a direct reference to Foxy Brown (1974), a classic blaxploitation film that Tarantino nods to.
10. Ganja & Hess (1973)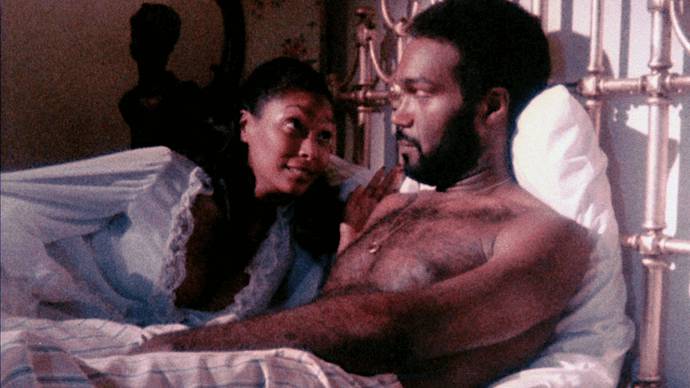 Five years prior to Ganja & Hess, Duane Jones appeared as the lead in George A. Romero's infamous indie horror Night of the Living Dead. They're the only two movies with Jones as a protagonist, and both became cult classic horror landmarks.
Hess (played by Duane Jones) is a wealthy anthropologist who turns into a vampire after his crazy assistant (played by Bill Gunn) stabs him before committing suicide.
The vampiric Hess then falls in love with his assistant's widow Ganja (played by Marlene Clark), but tries to hide his bloodsucking ways.
It might sound silly, but Ganja & Hess cleverly employs the vampire trope as a metaphor for cultural imperialism and assimilation.
9. Dolemite (1975)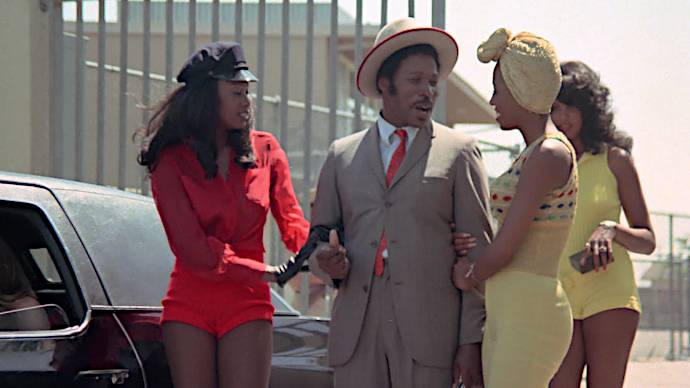 Dolemite is a blaxploitation movie about a big-city pimp (played by Rudy Ray Moore, who adopted the alter-ego for his comedy shows).
Moore's script was inspired by an urban legend he heard while working at a Los Angeles record store. He then decided to make this "Dolemite" figure a character in his stand-up comedy acts, which D'Urville Martin then turned into a movie.
Dolemite lives his life underground as a pimp, comedian, and nightclub owner until he's thrown in jail. He's freed on the condition that he go incognito and crack down on the city's drug problem.
As is the nature of blaxploitation, a lot of crazy stuff continues to happen... including ninja prostitutes.
8. Black Caesar (1973)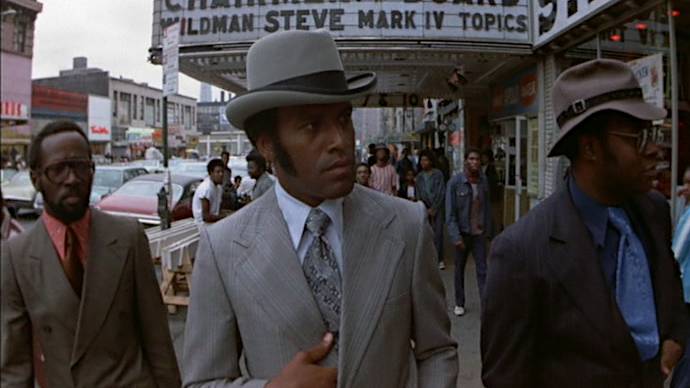 Black Caesar (also known as Godfather of Harlem) is another movie set in the city of jazz clubs and soul food, where Tommy Gibbs (played by Fred Williamson) grows up crippled after a cop breaks his legs.
Rather than wallow in pity, Tommy decides to become top dog and vengefully rule over Harlem once and for all (like Julius Caesar).
The mob-versus-Mafia plot is an urban conflict as old as time, and here Larry Cohen gives it a blaxploitation twist.
The soulful soundtrack is courtesy of James Brown in his first-ever endeavor to make music for film. Both the movie and the score were hits, and many rappers have sampled it since.
7. Django Unchained (2012)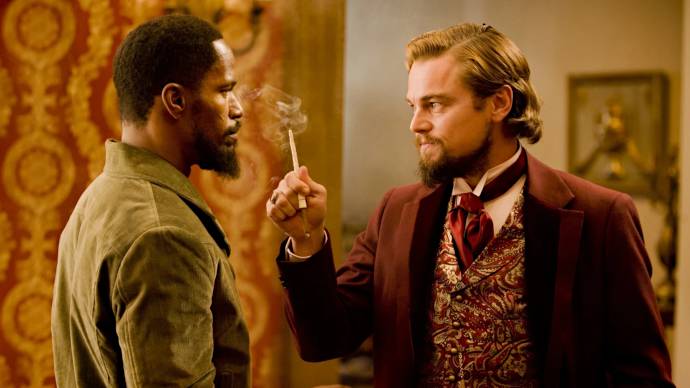 Quentin Tarantino is a controversial filmmaker, chiefly because of his excessive use of violence and racial slurs.
Django Unchained remains Tarantino's second-most controversial film after The Hateful Eight (which isn't nearly as good). Django Unchained is a "slavesploitation" movie by a white man that sensationalizes slavery, hence why it's so scrutinized.
Nonetheless, Django Unchained sits among Tarantino's most-hailed films for its strong performances, masterful cinematography, and unflinching take on the brutality of the 19th century South.
The Spaghetti Western epic follows a slave named Django (played by Jamie Foxx) on his quest for revenge, alongside Christoph Waltz, Leonardo DiCaprio, Samuel L. Jackson, and Kerry Washington.
6. Trouble Man (1972)
Ivan Dixon suffuses blaxploitation with film noir in his cult crime thriller Trouble Man. Robert Hooks stars as Mr. T—no, not that one!—who's a hard-boiled private detective in Los Angeles.
Out on the streets with his suit and gun, Mr. T echoes the shady noir investigator who works with both police and criminals to get his work done... but in blaxploitation style.
Mr. T (or simply "T") takes up a standard case that turns out to be a trap. Framed for murder, T uses his sharp intuition and street smarts to outwit both sides of the law.
As is the blaxploitation way, Trouble Man was considered a terrible film overall yet is remembered as an amazing entry in the blaxploitation catalog. Using a refined actor like Hooks (rather than amateurs and sports stars) also helped strengthen the movie.
5. Sweet Sweetback's Baadasssss Song (1971)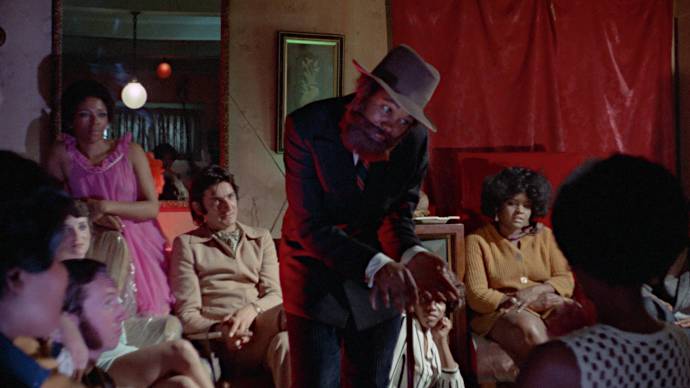 Who could forget a wild title like this? No wonder it became such an icon of this cinematic (and political) movement!
Black power ideology is woven throughout Sweet Sweetback's Baadasssss Song, so much so that it even became mandatory viewing for new members of the Black Panther Party.
Melvin Van Peebles is the man behind this film that arguably created blaxploitation itself. Peebles wrote, directed, edited, funded, produced, starred in, and marketed the movie, filming the entire thing in 19 days with a loan from Bill Cosby.
It follows a young towel boy who runs from corrupt white police in Los Angeles, 1940s. Peebles's use of montage and quick cuts were still pretty new in cinema, and even though it only screened in two theaters (initially), it grossed high at the box office.
4. Three the Hard Way (1974)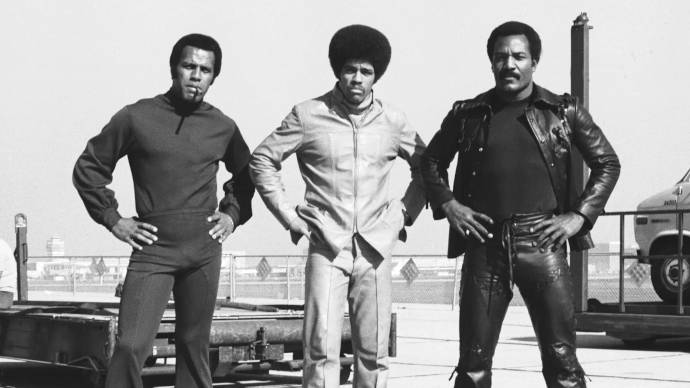 A producer, a PR guy, and a karate kid walk into a bar, and together they decide to take down neo-Nazis. What results is a wild movie that proved blaxploitation can tell grand stories beyond street fighting.
In response to white guys always being the Hollywood hero, Three the Hard Way puts them in the hot seat—not just as baddies, but as white-supremist-Nazi-cult baddies.
Gordon Parks Jr. directs Jim Brown, Fred Williamson, and Jim Kelly as the unlikely gang out to stop a secret medical facility from spiking the US water system with a poison that only harms African-Americans.
Compared to today's Marvel movies, Three the Hard Way isn't as far-fetched as it seemed back in the 1970s.
3. Coffy (1973)
Quentin Tarantino's references to Coffy and Foxy Brown in Jackie Brown are all tied together by actress Pam Grier, who iconically starred in all three movies.
In Coffy, she headlines as a vigilante getting revenge on her sister's drug dealer for getting her hooked and ruining her life (along with the lives of all the other addicts in Los Angeles).
Coffy established Grier as the go-to femme fatale of blaxploitation—"the godmother of them all."
Deemed too obscene for audiences of the time, Coffy is now revered for its depiction of a strong and believable black female lead who follows her own moral compass while kicking ass.
2. Super Fly (1972)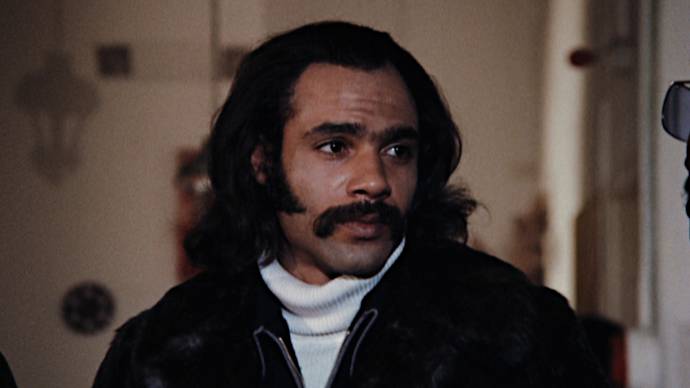 Super Fly utilized the neo-noir genre to become a streetwise, surprisingly allegorical movie that African-American audiences of the time either loved or hated.
Whereas most viewers welcomed the strong-headed marmite movie, some felt it encouraged real-life crime (which it technically did, as various drug dealers claimed Super Fly as inspiration).
Like a blaxploitation Walter White, Priest (played by Ron O'Neal) vows to leave the crime business, but he's going to make one final score before he leaves for good: he plans to sell 30 kilograms of cocaine for $1 million, and then retire. Oh, if only it were that simple!
Super Fly is Gordon Parks Jr.'s most famous film and one of the last blaxploitation movies that had real strength and soul before the genre declined into becoming a B-movie conveyer belt.
1. Shaft (1971)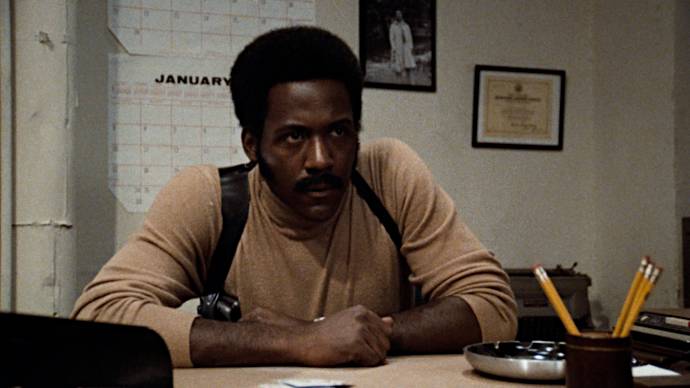 You've probably heard the theme song to Shaft without realizing it. The tune captures that funky 1970s disco sound as Isaac Hayes asks: "Who's the black private dick that's a sex machine to all the chicks?"
The track was so popular it went on to win an Oscar. And while that sort of goes against the entire point of the blaxploitation genre, it does show just how good Shaft was!
Richard Roundtree plays detective John Shaft, who works for (and against) mobsters in Harlem across five films and seven TV movies.
The sheer success of Shaft is controversial, as it's based on a novel by white author Ernest Tidyman. But Shaft did signify a shift in Hollywood with more authority given to black casts and crew members.
Blaxploitation Honorable Mentions
If you've seen all of the above movies and you're still looking for more blaxploitation films with cool wit and Motown, here are some honorable mentions worth checking out:
Trick Baby (1972)
Cleopatra Jones (1974)
Truck Turner (1974)
Coonskin (1975)
Penitentiary (1979)
I'm Gonna Git You Sucka (1988)
Pootie Tang (2001)