Conspiracy movies with secret plots and shadowy organizations are some of the best to watch when you're itching for a good mystery but want something more epic than a focused whodunit.
In cinema, the genre of conspiracy films involve characters who pull at little threads only to unravel deeper machinations, inadvertently exposing a grand conspiracy that's influencing everything.
And the people scheming these conspiracies are often powerful, which leads to paranoia as lives are threatened.
Here are our picks for the best movies about conspiracies, whether for money, power, ideology, or something else. And remember: just because you're paranoid doesn't mean they're not after you...
10. Enemy of the State (1998)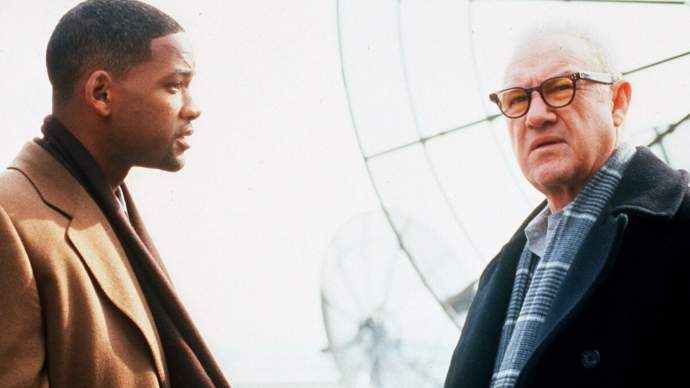 Starring 90s darling Will Smith and the celebrated Gene Hackman, Enemy of the State came out at the perfect time to be a hit.
The story follows Robert Clayton Dean (Will Smith), a lawyer who's sent a videotape of the murder of Congressman Philip Hammersley (Jason Robards).
However, as soon as he's given this evidence, he finds himself the target of a relentless government conspiracy that goes all the way up.
Directed by Tony Scott, Enemy of the State features all of the action director's trademark techniques and is one of his best films.
9. The Report (2019)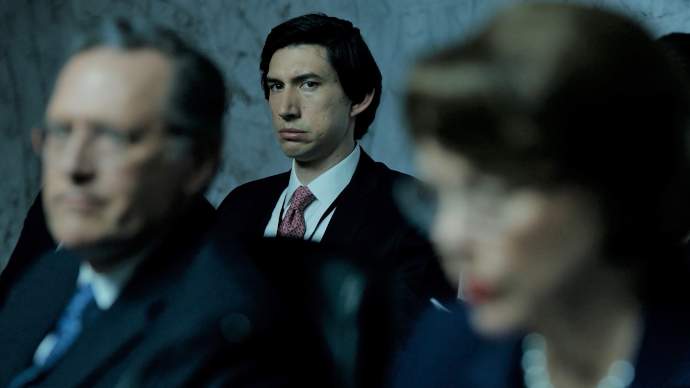 In the same year that Adam Driver starred in Noah Baumbach's critically acclaimed Marriage Story (2019), he also helmed the fantastic The Report directed by Scott Z. Burns.
The plot focuses on Daniel Jones (Adam Driver), a young staffer who stumbles across a startling report. Detailing the circumstances following the 9/11 attacks, it documents how the CIA conducted a torture campaign against persons of interest.
Shocked by this, Jones finds himself caught in the middle of a warzone. The Report is a star-studded conspiracy drama that delivers.
8. The Manchurian Candidate (1962)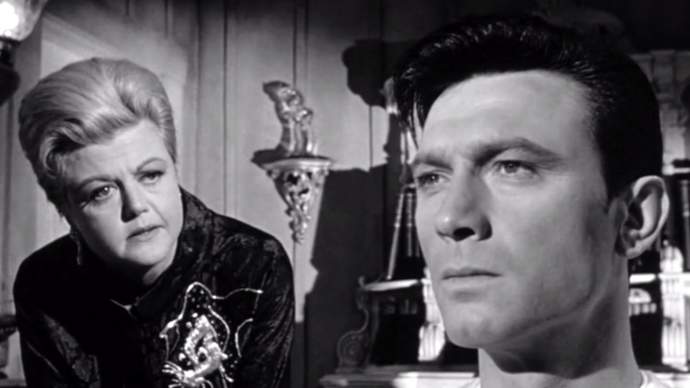 The Manchurian Candidate is the oldest film on this list, and it has "classic" written all over it. In fact, its inclusion on our list isn't just for its greatness, but also for its lasting influence.
The story follows a Korean War veteran (Laurence Harvey) who's brainwashed by communists to assassinate an American politician. Of course, there are several people on home soil who are eager for the mission to be a success as well...
The Manchurian Candidate was released at the height of the Cold War, making it massively important—not just as a slice of cinema, but as a propaganda film that helped shape public perception.
7. JFK (1991)
Oliver Stone has actually made two conspiracy movies. But whereas Snowden (2016) was just good, JFK remains incredible.
This film's winding narrative follows district attorney Jim Garrison (Kevin Costner), who's determined to solve the murder of John F. Kennedy. He feels that the powers-that-be aren't doing enough to crack the case, and he believes he smells a rat.
Very impactful at the time of its release, JFK is a must-watch conspiracy movie with phenomenal performances by Kevin Costner, Gary Oldman, Tommy Lee Jones, and Kevin Bacon.
6. Soylent Green (1973)
Conspiracies are pretty common in dystopian sci-fi films, but perhaps the most terrifying conspiracy is found in Soylent Green.
Set in the then-distant future of 2022, the city of New York now consists of over 40 million inhabitants. Poverty runs amok. Crimes occur daily. There isn't enough housing or clean water.
It seems as though civilization is on the brink of collapse. Fortunately, those too poor to afford a basic meal can now rely on the flavorful and nutritious Soylent Green, which is distributed to end hunger.
Of course, when Detective Robert Thorn (Charlton Heston) discovers what's actually in this new food product, he suddenly realizes that he knows too much. He's right in the middle of a conspiracy.
5. The Parallax View (1974)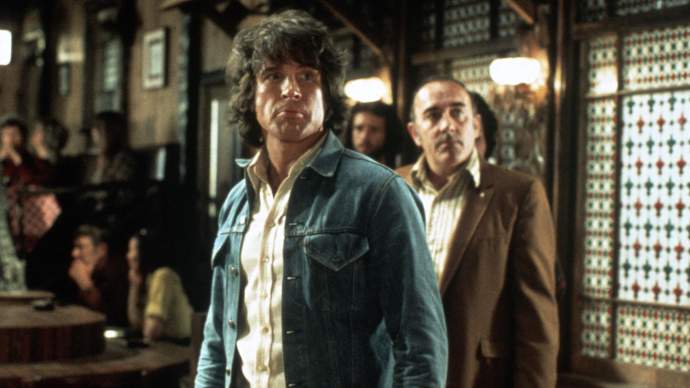 Directed by Alan J. Pakula, The Parallax View is a product of its time that skillfully blends 70s paranoia with utter uncertainty.
The plot follows a reporter by the name of Joe Frady (Warren Beatty), a journalist who's contacted by his ex-girlfriend when she fears that people are coming after her because she reported on the assassination of a prominent politician.
When Joe Frady finds her dead of an overdose, he knows something is wrong—and soon he finds himself wishing he'd never gotten caught up with the Parallax Organization.
4. Marathon Man (1976)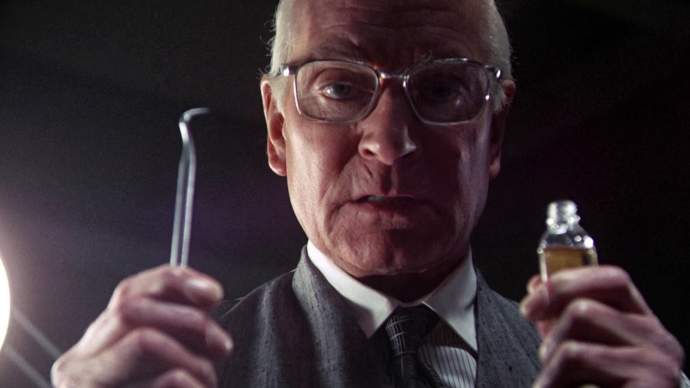 Starring Dustin Hoffman, Roy Scheider, Laurence Olivier, and William Devane, Marathon Man is a conspiracy movie that has all bases covered as far as great acting is concerned.
And, fortunately, the story is just as good! A history PhD candidate named Thomas Levy (Dustin Hoffman) finds himself embroiled in a plot involving Nazis, diamonds, and safe deposit boxes.
Not only that, but this film includes one of the most stomach-churning scenes set in a dentist's office. Truly the stuff of nightmares that'll really make you paranoid in all the worst ways.
3. Three Days of the Condor (1975)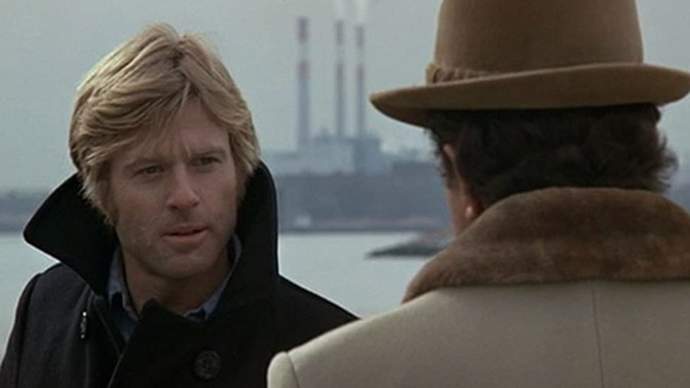 Three Days of the Condor is the quintessential conspiracy movie. With iconic performances from Robert Redford, Faye Dunaway, and Max von Sydow, it's a classic of the New Hollywood era.
The story centers on Joe Turner (Robert Redford), a CIA analyst who goes out on a lunch break and returns to the office to find that everyone has been murdered.
With him now in the unique position of being the only one able to solve this heinous crime, he sets out to find whoever's responsible. The thing is, they're also looking for him.
Three Days of the Condor is a cat-and-mouse political thriller where it's only a matter of time before someone makes the first wrong move. Directed by Sydney Pollack, it's one of his best films—and one of his most unsettling.
2. Sneakers (1992)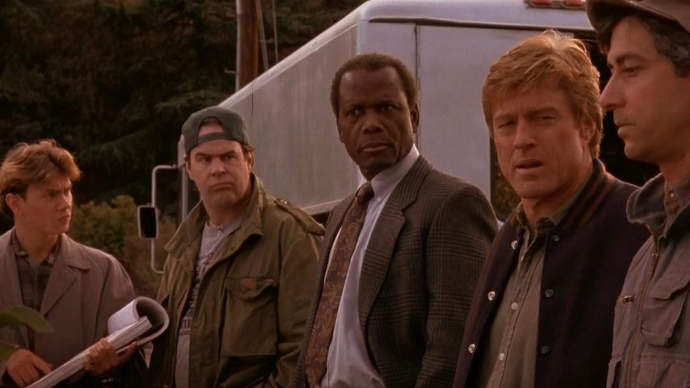 One of the coolest films of the 1990s, Sneakers isn't just an awesome conspiracy movie, but a fantastic heist movie as well.
The plot follows Martin Bishop (Robert Redford), a security expert and former hacker who's approached by the NSA and asked to recover a "black box"—an item of unknowable importance.
Unsurprisingly, Bishop finds himself in way over his head.
Directed by Phil Alden Robinson and starring an ensemble cast of Robert Redford, River Phoenix, Dan Aykroyd, Mary McDonnell, Ben Kingsley, and Sidney Poitier, this film has it all.
Sneakers is fun, exciting, funny, spooky, and unnerving, meaning it has everything that makes a conspiracy movie worth watching.
1. All the President's Men (1976)
As it turns out, Robert Redford is the king of conspiracy movies. He's starred in several of the films on this list, including our top pick: All the President's Men, directed by Alan J. Pakula.
When Bob Woodward (Robert Redford) is assigned to write about a break-in at the Watergate complex, it initially seems like a non-story.
But as more evidence is revealed and piled up, Woodward and his new associate Carl Bernstein (Dustin Hoffman) begin to suspect there's more to the story than they thought at first.
With a superlative screenplay by William Goldman and a standout directorial effort from Alan J. Pakula, All the President's Men is a must-watch conspiracy thriller that still holds up today.
But the fact that this film documents a real-life American conspiracy—and the efforts that people took to stop it—is what makes All the President's Men the greatest conspiracy movie of all time.