Being on the road is a great way to manifest a character's spiritual or emotional journey into the physical, as a way to symbolize the obstacles and lessons that come with pursing some goal or dream.
From offbeat comedies to allegorical dramas, here are the best road movies that use the road to teach, challenge, and unite their characters.
20. Planes, Trains and Automobiles (1987)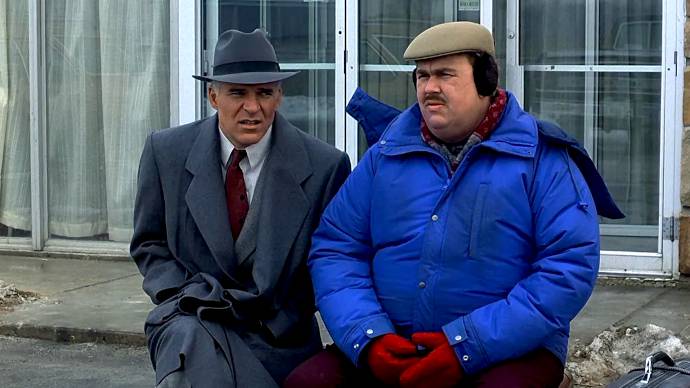 As you might guess from the title, Planes, Trains and Automobiles isn't exactly confined to the road—it also takes to train tracks and even the skies at one point.
Still, at its core, the film centers on the journey shared by two bickering strangers who spend three days wrestling their way to Chicago for Thanksgiving Day.
Steve Martin and John Candy star as the tightly wound marketing exec and his irritating-but-lovable travel mate, for whom just about everything goes wrong.
Planes, Trains and Automobiles is a feel-good comedy classic, directed by the renowned John Hughes. If you enjoyed his other hits like The Breakfast Club and Ferris Bueller's Day Off, you'll like this one!
19. Queen & Slim (2019)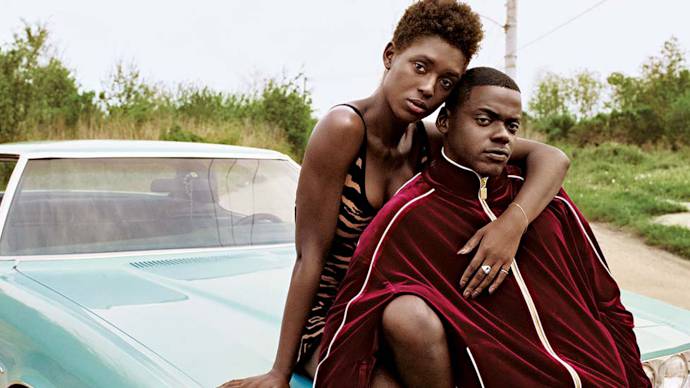 Queen & Slim may not itself be a true story, but it's certainly inspired by all kinds of real news headlines, including the tragic 2012 shooting of Trayvon Martin in Florida.
Released at an important moment—just prior to the Black Lives Matter protests that broke out across the globe in 2020—Queen & Slim tells the gritty story of a Tinder date gone awry.
Starring Daniel Kaluuya and Jodie Turner-Smith, their Tinder date is intercepted by a white cop and... well... you can probably guess the rest.
Melina Matsoukas's glossy directorial debut isn't simply a matter of style or substance, because it's dripping with both.
18. The Rover (2014)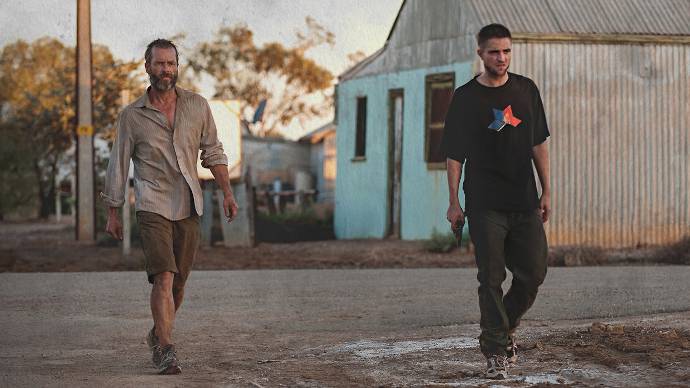 An Australian Western set in the near-future, The Rover hums with an eerie atmosphere of desertion.
Ten years after economic collapse, the Australian outback becomes a lawless space for a rugged drifter (played by Guy Pearce) to hunt down a gang of thieves. Left behind with him is an injured, simple-minded young American (brilliantly played by Robert Pattinson).
Robberies and shootouts interrupt the tensely quiet landscape of David Michôd's road drama, in which everybody is only out for themselves.
17. On the Road (2012)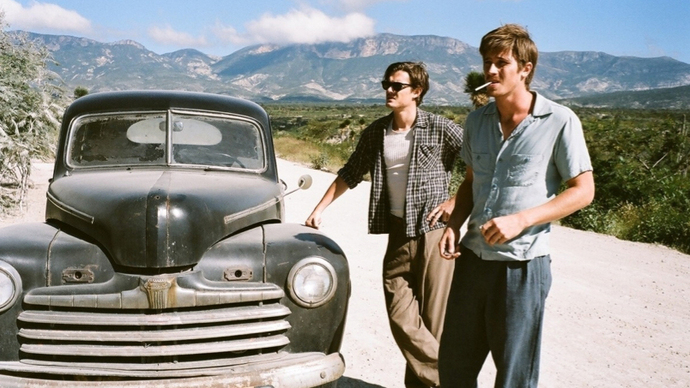 Jack Kerouac's On the Road is the be-all and end-all road trip novel, inspired by the Beat author's own skint, boozy, and spontaneous life during the 1940s.
It encompasses everything that being "on the road" means, going beyond just the physical to explore a "road that must eventually lead to the whole world." Walter Salles's film adaptation tries to capture all of that.
For Sal Paradise (played by Sam Riley) and Dean Moriarty (played by Garrett Hedlund), life on the move means: scribbling on diner napkins between highs, psychedelic mind expansion, winking, drinking, and getting dizzy with dancing.
It's endless horizons and endless rampages, all across an America that's steeped in twilight, moonshine, or golden hour.
16. Bones and All (2022)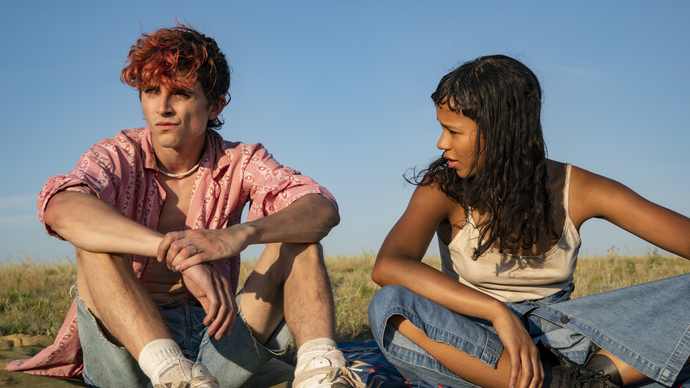 Lee (played by Timothée Chalamet) might look like a grungy teen runaway who just gets stoned and preaches Marxism for fun, but he's actually rugged-looking by necessity.
As it turns out, being a cannibal (or "eater") isn't easy to pull off in normal society, so Lee has no choice but to live loose and streetwise.
Maren (played by Taylor Russell), having recently figured out that she's also an eater, is new to this environment. When the two collide in a Indiana store, they decide to go cross-country in search for Maren's estranged mother.
Luca Guadagnino nonchalantly combines cannibalism with artsy, coming-of-age romance in his one-of-a-kind horror, where everything seems foreground to a perfect dusk.
15. Rain Man (1988)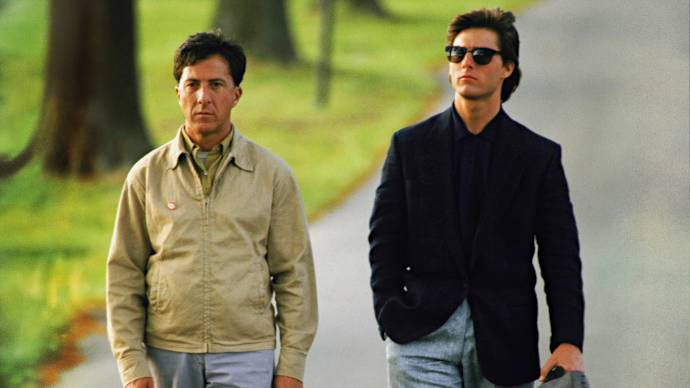 Materialistic businessman Charlie Babbitt (played by Tom Cruise) is in the midst of importing Lamborghinis to Los Angeles when his father dies. After driving over to Cincinnati, he finds his inheritance has gone to an unnamed trustee—who turns out to be an estranged older brother.
Charlie decides to take full custody of Raymond (played by Dustin Hoffman)—who has autism and savant syndrome—but it turns out a lot trickier than Charlie imagined.
Raymond refuses to fly, so they're forced to drive towards their deadline, all while juggling Raymond's demanding routines. Rain Man is a touching and iconic drama from Barry Levinson.
14. Nebraska (2013)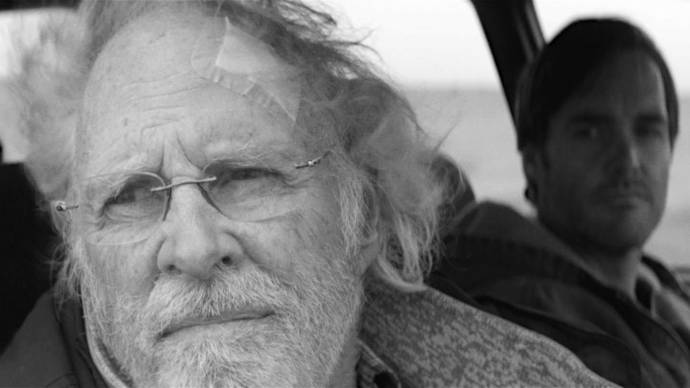 Alexander Payne's Oscar-nominated comedy-drama Nebraska was the final film to be released by Paramount Vantage, the "art cinema" sector of Paramount Pictures that closed down in 2014.
Shot in black-and-white, Nebraska follows a cantankerous old man who believes he's won a million-dollar sweepstakes prize. Of course, the whole thing is a scam.
Nonetheless, Woody (played by Bruce Dern) takes his disgruntled son David (played by Will Forte) and embarks on a road trip to Nebraska, during which David finally uncovers the man beneath the hardened alcoholic that is his father.
13. American Honey (2016)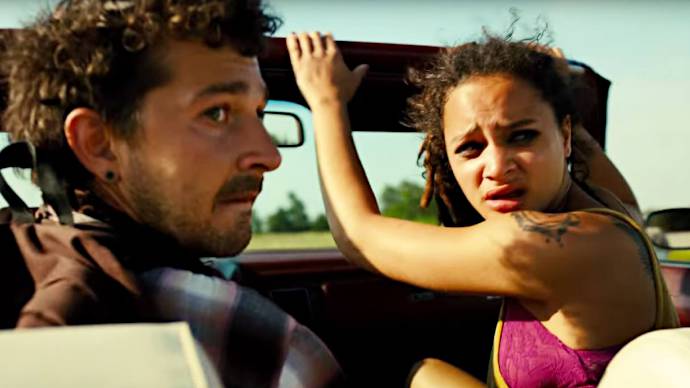 In order to find an actress for the starring role of her next troubled teen drama, filmmaker Andrea Arnold took to the streets and carnivals during spring break rather than relying on professional casting calls.
This approach perfectly matches the rugged and spontaneous tone of American Honey, in which a gang of hitchhikers and criminals surf the roads as a traveling sales crew.
The brilliant Sasha Lane stars as Star (no pun intended), who ditches her abusive father after she spots Jake (played by Shia LaBeouf) in a van full of misfits and decides to join them.
12. The Darjeeling Limited (2007)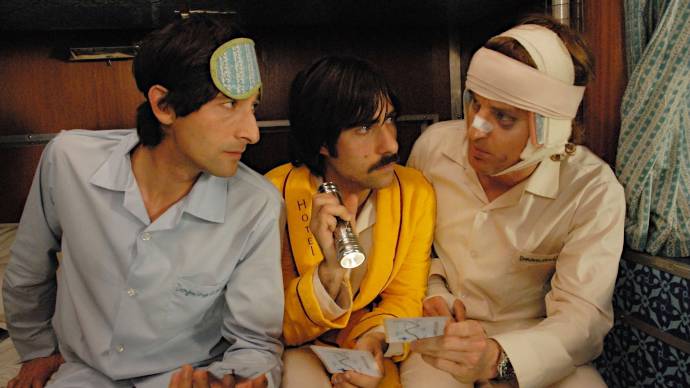 Okay, we're cheating a little bit with this one. The Darjeeling Limited is technically a train movie, but it shares a lot in common with road movies when you step back and look at what it is.
The Darjeeling Limited is a unique and elevated take on road movies, following the same principles but sprinkled with all kinds of Wes Anderson fun, including his trademark aesthetics.
Owen Wilson, Adrien Brody, and Jason Schwartzman star as three brothers who are reunited one year after their father's funeral. Bold colors saturate the screen as Anderson litters the brothers' journey of self-discovery with funny gags, cool camera angles, and touching moments.
11. Into the Wild (2007)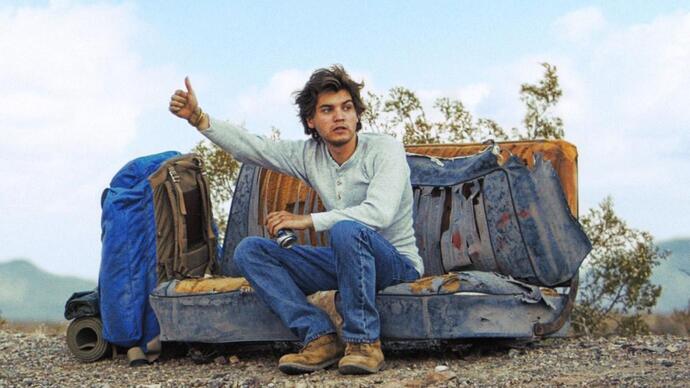 After graduating college, Christopher McCandless snips his credit cards and donates all his belongings to Oxfam, then hits the road without the approval of his parents.
What begins on the wheels of his rundown Datsun 210 turns into hitchhiking, kayaking, swimming, walking, railroading, camping, and occasionally working his way towards Alaska: his dream destination, hidden in the wild.
Played by Emile Hirsch, Christopher "Alexander Supertramp" McCandless yearns to break free from the suburbs of a materialistic society, but ends up flying too close to the sun and getting burnt. Sean Penn poetically directs this true story for the big screen.
10. Bonnie and Clyde (1967)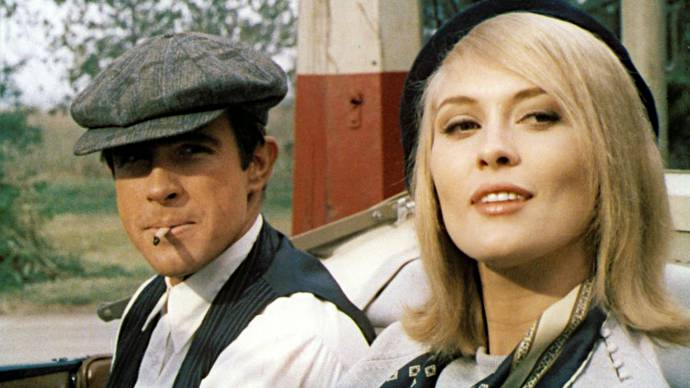 A 1960s cult classic that broke many cinematic taboos, Bonnie and Clyde went down as one of the most iconic (and bloodiest for the time) films in history. We all know the legend about this couple who went on an infamous 21-month crime spree during the 1930s, right?
Director Arthur Penn breathes life into the myth by combining elements of slapstick comedy with gory violence and experimental filmmaking techniques, heavily influenced by the French New Wave.
Warren Beatty and Faye Dunaway star as the robbing couple, who decide to steal their way out of the Great Depression.
9. Badlands (1973)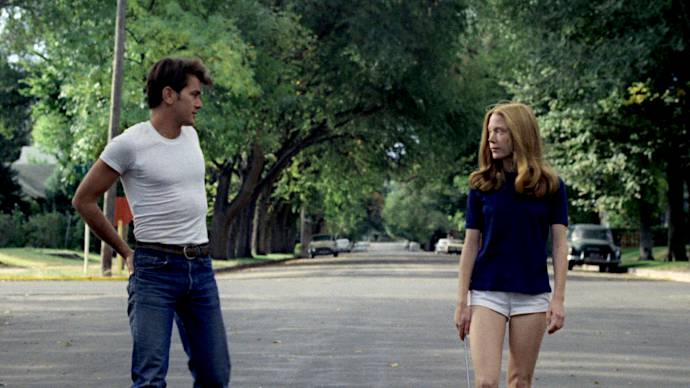 Terrence Malick's neo-noir film Badlands doesn't just follow a crime spree—it kicks things up to another level.
Instead of robbing banks, young couple Holly (played by Sissy Spacek) and Kit (played by Martin Sheen) become serial killers. Spacek narrates the movie as the duo are chased by the law across the Midwest.
Malick's directorial debut received widespread critical acclaim and is loosely based on the real-life 1958 murder spree of Charles Starkweather and Caril Ann Fugate.
8. Stranger Than Paradise (1984)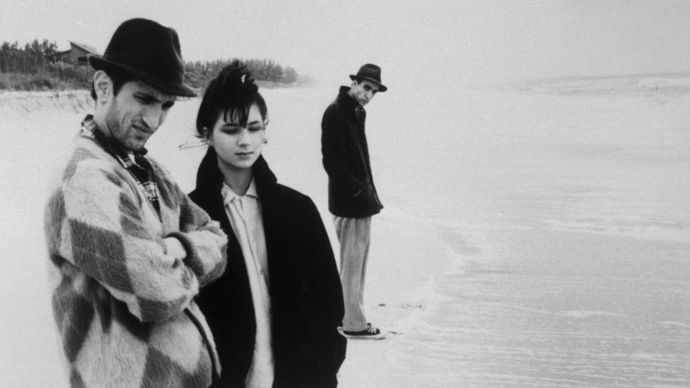 Jim Jarmusch is a big name in independent circles, and he put himself on the map with Stranger Than Paradise back in the 1980s.
At first glance, Stranger Than Paradise could easily be mistaken for a French New Wave drama, but really it's an American absurdist comedy that just happens to be shot in grainy black-and-white.
Jarmusch's debut film also follows the French New Wave's tendency to meander through an indescribable plot.
In a loose sense, it's about Willie (played by John Lurie), his Hungarian cousin (played by Eszter Balint), and his friend (played by Richard Edson) as they bounce from Brooklyn to Cleveland to Florida.
Stranger Than Paradise is comprised of long, naturalistic takes that dawdle on the mundane and search beyond it—in a funny way.
7. Paris, Texas (1984)
Co-produced by French and West German companies, the award-winning film Paris, Texas paints a European portrait of the American Southwest.
Wim Wenders's indie drama, which won the Palme d'Or, follows a mysterious vagabond (played by Harry Dean Stanton) who's found dissociated in the desert.
His estranged brother agrees to pick him up from Texas and soon ends up driving him to find his long-missing wife.
Stills of the sparse Texan outback are woven throughout Wenders's slow-burning drama, which relies on visuals more than heavy dialogue.
6. Nomadland (2020)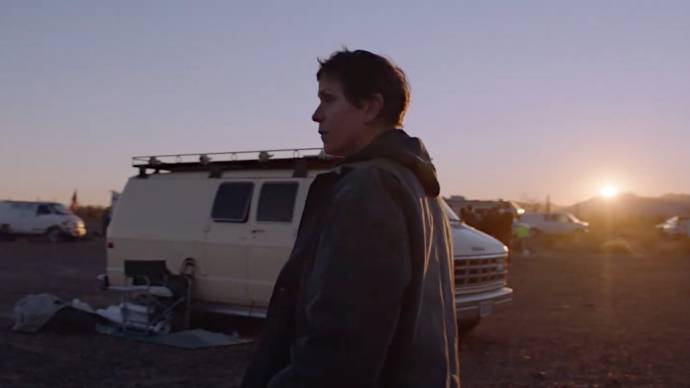 Based on Jessica Bruder's 2017 book Nomadland: Surviving America in the Twenty-First Century, Chloé Zhao's Nomadland won multiple Academy Awards, including Best Picture, Best Director, and Best Actress.
Frances McDormand's award-winning performance as a widow who lives an itinerate lifestyle is painted against the sweeping backdrop of the Arizonian desert.
Nomadland is a poetic, restless, and beautifully shot drama that will have you yearning for the van life where home isn't just a static place or word but "something you carry with you."
5. Almost Famous (2000)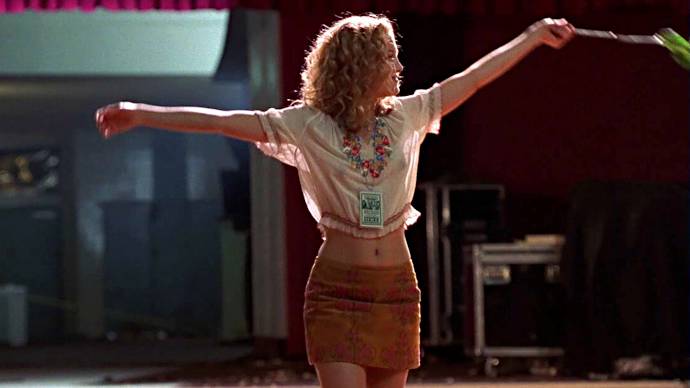 Almost Famous is the semi-autobiographical tale of a young music journalist who goes on tour with fictitious rock band Stillwater.
On behalf of Rolling Stone magazine, William Miller (played by Patrick Fugit) joins the motley crew of rockers and groupies to write an article on the band.
Take a peek behind the curtain of the 70s music scene, where tensions rise between fans and musicians, between the people who live music and the people who watch from the sidelines.
Directed by Cameron Crowe and starring Kate Hudson, Almost Famous is your classic coming-of-age tale.
4. Y Tu Mamá También (2002)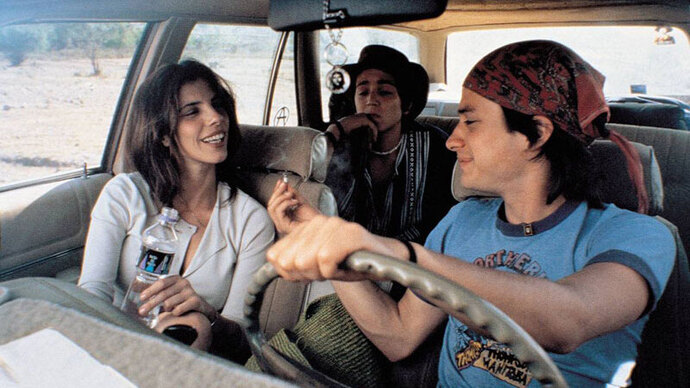 Alfonso Cuarón is best-known for directing Children of Men, Roma, and the best Harry Potter movie. Yet, despite his Westernized filmography, Cuarón is a Mexican filmmaker, and Y Tu Mamá También is his greatest native movie to date.
Gael García Bernal and Diego Luna star as two fidgety teen boys who are itching to explore the world, themselves, and the opposite sex. They find all of these things at Boca del Cielo ("Heaven's Mouth"), a beach they visit with an older woman (played by Maribel Verdú).
Cuarón shows us the dusty roads of rural Mexico, where the trio set off with no idea how to reach this supposed Heaven. Drunk and excitable on the road there, the three return home in silence...
3. Little Miss Sunshine (2006)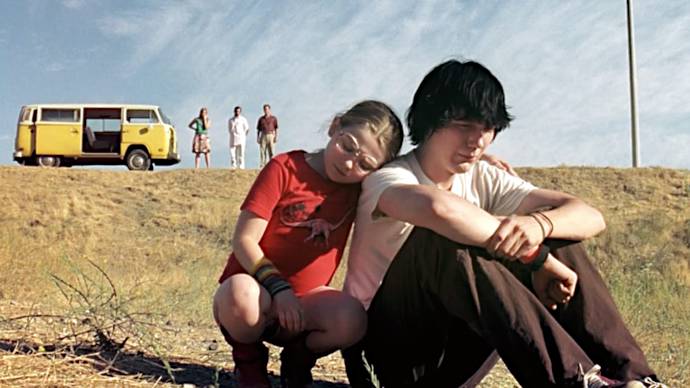 Husband-and-wife collaborations are rare for film directors, but Jonathan Dayton and Valerie Faris showed that it can be successful with their stunning feature film directorial debut, Little Miss Sunshine.
Greg Kinnear, Steve Carell, Toni Collette, Paul Dano, and Abigail Breslin star in this sprightly colored tragicomedy, which plonks us in a bright yellow Microbus for a trip from New Mexico to California.
A mute son, a suicidal brother, a heroin-addicted father-in-law, and a failed life coach husband all make Sheryl Hoover's life more than chaotic. And when her young daughter earns a spot in the Little Miss Sunshine pageant, all hell breaks loose.
2. Thelma & Louise (1991)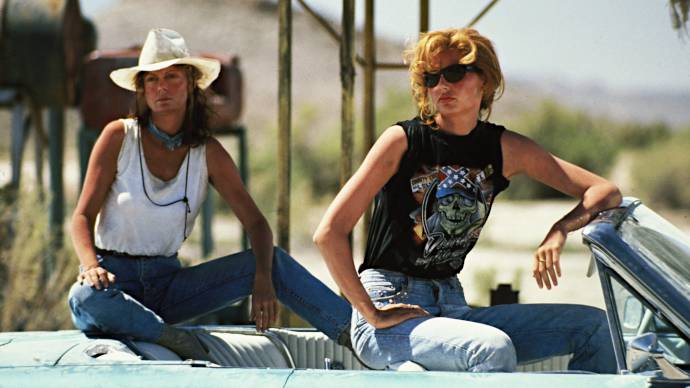 The fact that Thelma & Louise was initially criticized for its "negative portrayal of men" speaks volumes about it as a heralded feminist flick.
A female buddy movie that echoes the legend of Bonnie and Clyde, Thelma & Louise tracks two best friends as they drive toward the mountains for a much-needed vacation.
Susan Sarandon, Geena Davis, Brad Pitt, and Harvey Keitel make up the cast in this cat-and-mouse chase across the American Southwest, in which the FBI tails the polar-opposite, store-robbing besties.
1. Easy Rider (1969)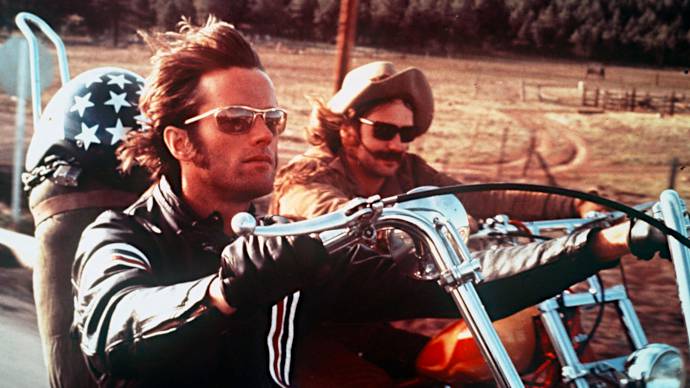 Easy Rider isn't just a great movie—it's an emblem of 1960s counterculture. It marks the dawn of New Hollywood, when filmmakers started moving away from the studio system and started stepping into more radical and experimental independence.
Simply put, Easy Rider made a huge impact on the world of Western cinema, despite being made on a tiny budget.
Peter Fonda and Dennis Hopper (who also directs) bolt around on their motorbikes as they smuggle cocaine from Mexico into Los Angeles. Hippy communes and bad acid trips punctuate their journey, which is all set to a groovy Jimi Hendrix soundtrack.