Who doesn't love a good treasure hunt? From swashbuckling pirate adventures to gritty war dramas, these films are all about the long and risky journeys people take to find riches.
Here are our picks for the best treasure hunting adventure movies worth watching! They're perfect for when you're looking for a little cinematic escapism—whether by sea, jungle, or desert.
15. Uncharted (2022)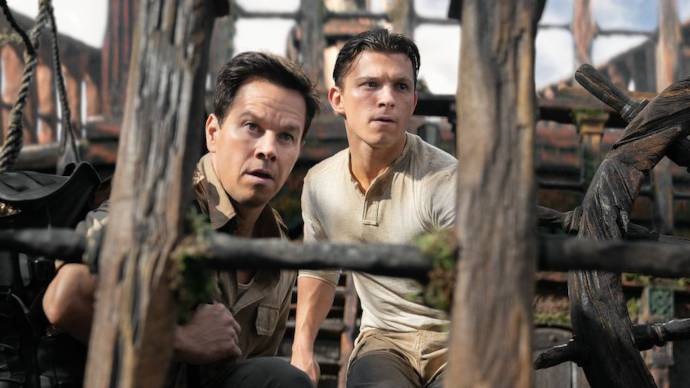 More and more, the film industry is churning video games into movies. Uncharted is just one of many examples—but while most video-game-to-movie adaptations are lackluster, this one's actually good!
Famed real-life explorer Ferdinand Magellan never actually set out to find gold. He just wanted to be the first person to circumnavigate the globe, which he achieved back in 1522.
But for the sake of Uncharted's story, Magellan's expedition did leave behind untold riches—now lost in uncharted territory.
Tom Holland stars as young Nate (a descendant of a 16th century explorer), who's recruited by Mark Wahlberg to find those ships.
14. Gold (2016)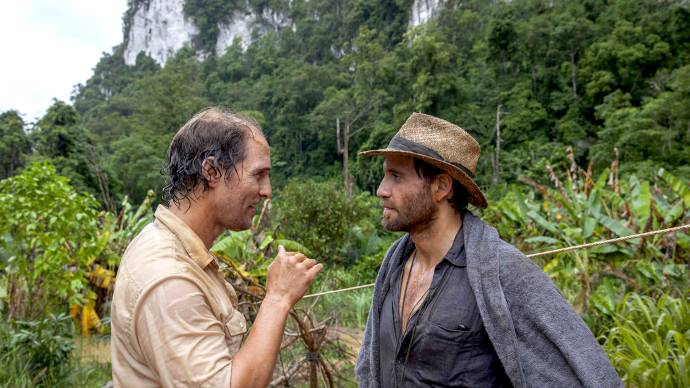 Gold isn't the first time Matthew McConaughey tracked down treasure—he did something similar in 2005's Sahara and 2008's Fool's Gold. But whereas those two films weren't particularly successful, Gold was proof that the third time's a charm for McConaughey.
Directed by Stephen Gaghan, Gold follows McConaughey through the jungle on a quest to find—you guessed it—gold.
The crime-drama is loosely based on the Bre-X mining scandal in 1993, where the gold samples discovered by Bre-X Minerals Ltd. in Indonesia turned out to be a fraud.
When Kenny (Matthew McConaughey) loses the family business, he treks out to the Asian jungle in search of a way out.
13. Armour of God (1986)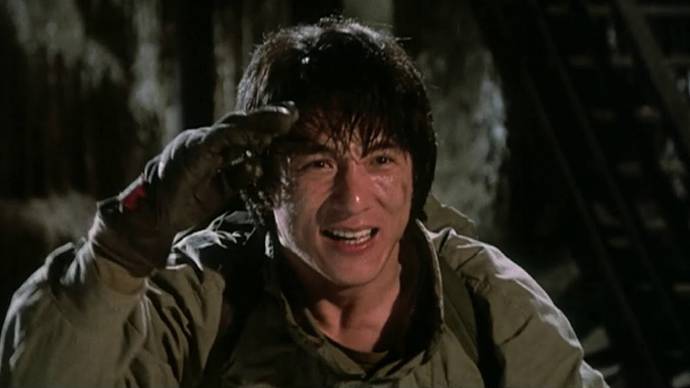 Jackie Chan and Eric Tsang's Armour of God is deemed a cult classic nowadays, featuring some of Chan's early stunts and battle heroics.
Chan stars as "Asian Hawk," a former musician-turned-treasure-hunter. The highest-grossing film in Hong Kong at the time, Armour of God tracks Asian Hawk and his buddy Alan (Alan Tam) as they set out to save a kidnapped woman.
The kidnapping cultists are after pieces of a legendary armor that was written about in the Bible. Think Indiana Jones meets kung fu. Chan is known for his amazing stunt work, and Armour of God is reportedly the closest he's ever come to death from doing them!
12. The Hobbit: The Desolation of Smaug (2013)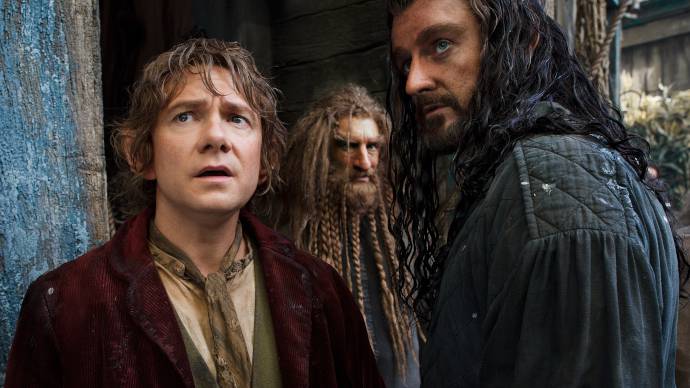 Fans of Peter Jackson's The Lord of the Rings films probably won't appreciate this CGI-heavy prequel. It's triple the necessary runtime and lacks the heart, precision, and marvel of the director's previous work.
Still, it's one of the OG treasure hunting stories in literature! And Martin Freeman is the perfect choice to play Bilbo Baggins, the grumpy little hobbit who's reluctant to leave his simple, cozy life.
When a wizard and twelve dwarves give him no choice, Bilbo is carted off to help reclaim Erebor from Smaug's hold. Smaug is a dragon, and what do dragons love to hoard? Gold, of course!
11. Three Kings (1999)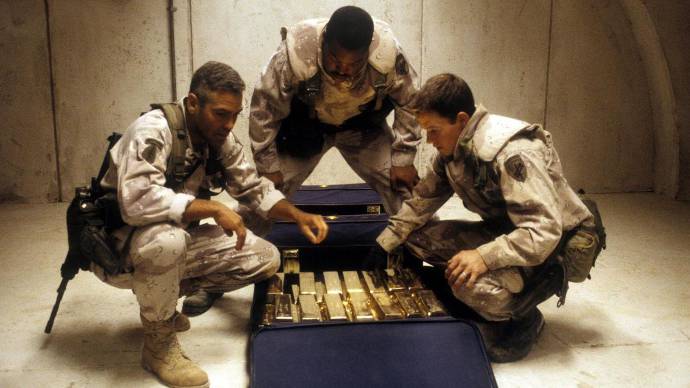 We assume returned soldiers would be relieved to be home and excited to see their loved ones, even if they find it difficult to adjust to everyday life. These guys, however, are just plain bored.
Three Kings isn't your usual caper film. George Clooney isn't robbing a casino and Mark Wahlberg isn't cracking a safe. Instead, they're soldiers looking for thrills—in the form of a gold heist.
Ice Cube and Spike Jonze also star in David O. Russell's black comedy take on war, resulting in one of the most interesting treasure hunt movies we've ever seen.
10. Romancing the Stone (1984)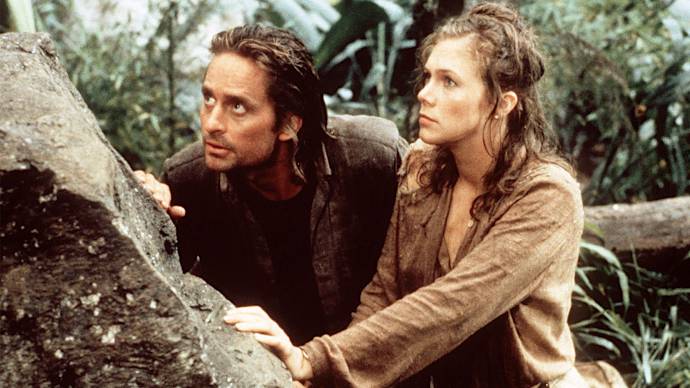 Joan Wilder (Kathleen Turner) spends her whole life writing whimsical fantasy novels, lost in a world of adventure and romance.
Although successful, being an author leaves her pretty lonely—that is, until she's hurled into her own wild exploits.
Joan's recently murdered brother-in-law leaves her a letter and a map, leading her to the Colombian coastal city of Cartagena. There, she meets the rugged American hunter Jack T. Colton (Michael Douglas).
Directed by Robert Zemeckis, Romancing the Stone was followed by an equally successful sequel called The Jewel of the Nile in 1985.
9. The Mummy (1999)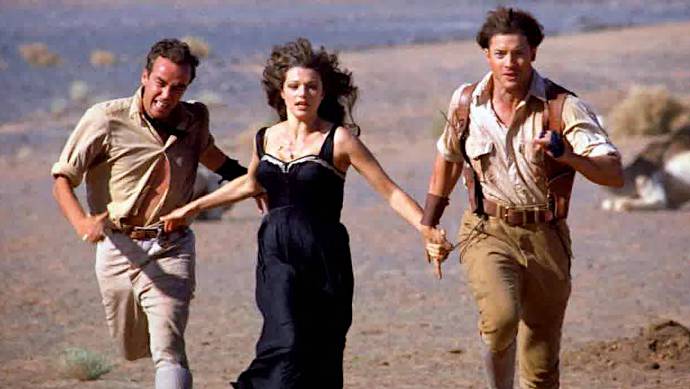 A three-part franchise that began in 1999, The Mummy features your typical tanned American adventurer riding through the sands in search of treasure. Brendan Fraser stars as said-hero Rick O'Connell, who served as captain in the French Foreign Legion.
Set in 1925, Rick guides aspiring Egyptologist Evelyn (Rachel Weisz) and her brother across the Sahara desert to the ancient lost city Hamunaptra. En route, the gang accidently sets free the reincarnation of a 3,000-year-old vengeful Egyptian priest. Good one, guys!
Stephen Sommers directs the first (and best) installment, as well as the second before Rob Cohen took over in 2008.
8. National Treasure (2004)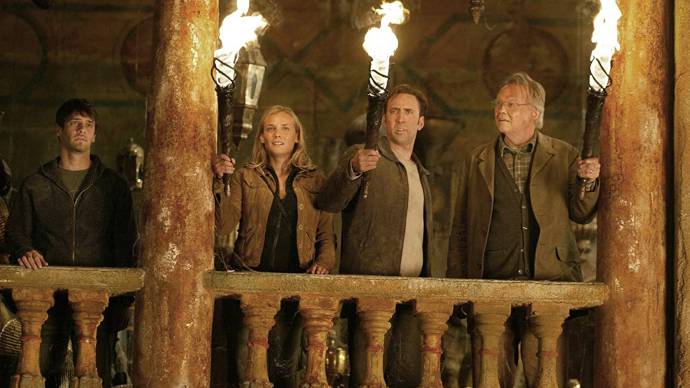 Jon Turteltaub's two-part Disney adventure is a bit of a guilty pleasure. While the kids will enjoy the action-packed trail of clues and boobytraps, adults can tune into the dry sarcastic humor and... well... Nicolas Cage.
Cage stars as Benjamin Franklin Gates: cryptographer, historian, and modern-day treasure hunter. His tech-savvy sidekick Riley (Justin Bartha) helps him to decipher the secret that "lies with Charlotte."
The duo hope Charlotte will lead to the legendary treasure hidden by the Knights Templar, Founding Fathers, and Freemasons.
Sean Bean stars as the main antagonist in the first movie, followed by Ed Harris in the second. Rumors of a third installment are currently in circulation, but no details or confirmation.
7. O Brother, Where Art Thou? (2000)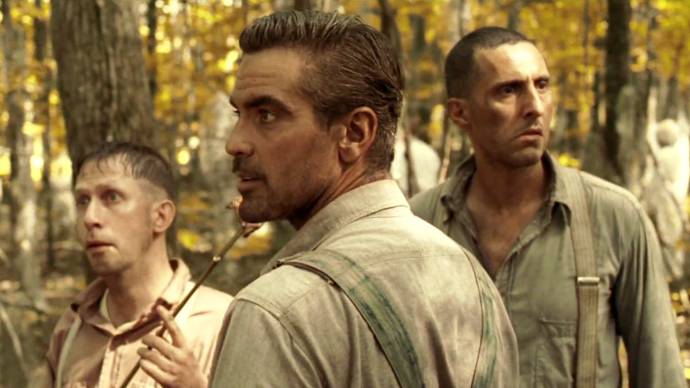 Joel Coen and Ethan Coen have proven their mastery over both comedy and drama. From No Country for Old Men to The Big Lebowski, there's nothing this auteur duo can't do!
And in O Brother, Where Art Thou?, they do both! This one's a sort of satire comedy that's infused with pathos. Think Homer's classical poem Odyssey except set in 1930s America.
George Clooney, John Turturro, and Tim Blake Nelson star as three convicts who break free from their chain gang and search for hidden treasure (while being chased by police).
Fun fact: O Brother, Where Art Thou? is a reference to Sullivan's Travels (which was also set during the Great Depression).
6. Monty Python and the Holy Grail (1975)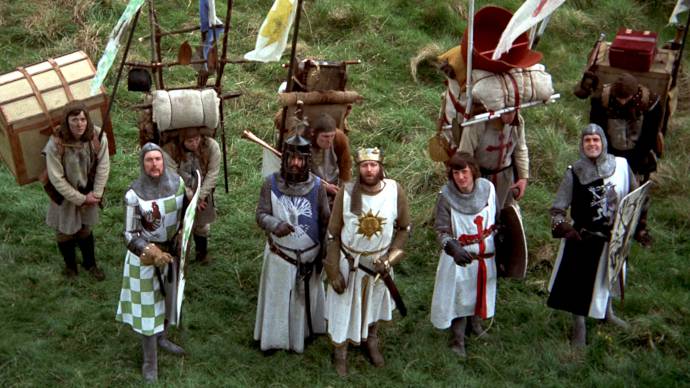 The Holy Grail is, like, the treasure of all treasures. To Christians, it's the cup that Jesus Christ drank from during the Last Supper. In Arthurian legend, it has magical powers of healing and youthfulness.
In the real world, it's generally agreed upon that the Holy Grail is more of a symbol than a literal object to be found. But in cinema? The Holy Grail is an actual treasure—and it's priceless.
Before Indiana Jones was hunting for it in Last Crusade, the Monty Python comedy troupe were fighting off virgins and rude Frenchmen to find it themselves.
Monty Python and the Holy Grail is the first (and best) of the Monty Python film series, and it's 90 minutes of old-school, slapstick British humor.
5. Indiana Jones and the Raiders of the Lost Ark (1981)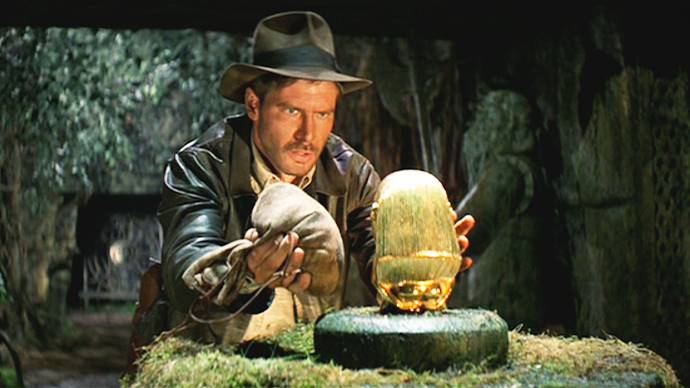 Depending on who you ask, Indiana Jones and the Raiders of the Lost Ark is the adventure flick to end all adventure flicks.
The 80s dream team of Harrison Ford and Steven Spielberg brought us Raiders of the Lost Ark, where archaeologist Indiana Jones seeks out the Ark of the Covenant to defeat the Nazis in 1936. This film was followed by Indiana Jones and the Temple of Doom in 1984.
The Indiana Jones series is perfect for all audiences: families, nerds, film scholars... anyone with a TV screen and sense of adventure! This is another franchise that should probably stop while it's ahead.
4. The Goonies (1985)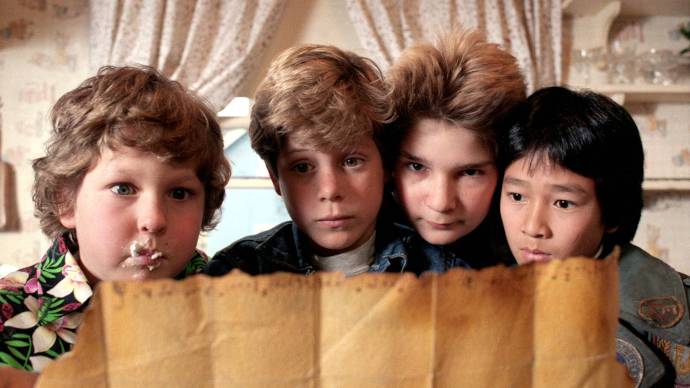 Who doesn't love The Goonies? Before Sean Astin was voyaging out barefoot to help Frodo destroy the One Ring, he was trying to uncover treasure with his three best friends.
Mikey (Sean Astin), Chunk (Jeff Cohen), Mouth (Corey Feldman), and Data (Jonathan Ke Quan) have all grown up together, but are forced to say goodbye when their town undergoes foreclosure.
Following the discovery of a treasure map in Mikey's attic, the gang decides to spend their last weekend treasure hunting.
This fun-but-dangerous mission gets them into a whole bunch of trouble, not just from deadly booby-traps but also the involvement of the Fratelli crime family.
3. The Good, The Bad and The Ugly (1966)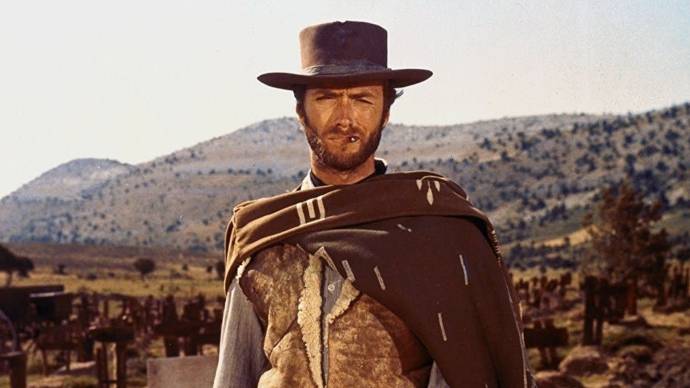 When you see The Good, The Bad and The Ugly, you immediately think of it as a spaghetti Western—which, of course, is true. But it's also a treasure-hunting adventure!
The Italian epic was directed by Sergio Leone, starring Clint Eastwood in his prime cowboy days.
Blondie (Eastwood) is a mysterious and talented bounty hunter, who teams up with a Mexican outlaw to uncover $20,000 that a soldier buried in the desert. It might not be a pirate's chest of jewels, but it still counts as treasure nonetheless.
The Good, The Bad and The Ugly spawned many of the famous Western film trademarks we love today, such as the long shot and eye close-up.
2. Pirates of the Caribbean: The Curse of the Black Pearl (2003)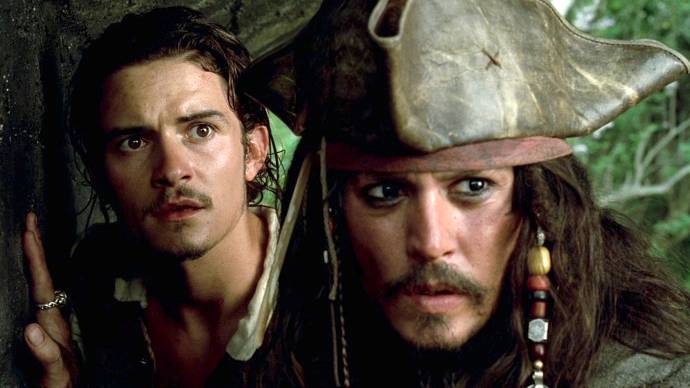 We can all agree that Pirates of the Caribbean should stop with the sequels now, which haven't been particularly great since Jack sailed to the edge of the world.
But the first three movies (directed by Gore Verbinski) are swash-buckling classics that deserve to come third place on this list.
Johnny Depp stars as the iconic drunken English pirate, Jack Sparrow. He cares about nothing but himself, his treasure, and his rum, which lands Jack in many dodgy situations.
Whether it's dealing with the immortal dead or a crew made of murderous fish-people, Jack's always one step away from death thanks to always having a witty, slurred remark at hand.
1. Blood Diamond (2006)
Blood Diamond is a treasure-hunting tale from a different angle, taking place in a war-ravaged Sierra Leone of 1999.
The not-so-family-friendly film stars Leonardo DiCaprio as Danny Archer, a Rhodesian smuggler and mercenary who sets out to find a rare pink diamond. But he's not the only one who wants it...
Directed by Edward Zwick, Blood Diamond is a gritty political thriller that doesn't shy away from the guts and gore of war. Though DiCaprio's South African accent has its holes, his performance is spot-on alongside Djimon Hounsou and Jennifer Connelly.