Magical realism is a movie genre that pulls us in like no other. As they blend fantasy with the real world, we're whisked away to fantastical possibilities even while remaining grounded and firm.
Why are franchises like Harry Potter so popular? It goes beyond the glitz and glam of magic and flying cars. For all its magic and mythology, there's something deeply real about J. K. Rowling's universe.
While Harry Potter is out-and-out fantasy, there are many other movies that are just as fantastical, whimsical, and wondrous without explicitly bringing "magic" into the picture.
They're called magical realism films, and their blending of reality with fantasy is just lovely to watch.
Here are the best magical realism movies worth watching if this sounds like your kind of thing!
15. Enchanted (2007)
Nestled amidst Amy Adams's high-caliber filmography is Enchanted, a modern fairy tale in which a Cinderella-like princess is banished from her magical realm and sent to Manhattan.
If you've never seen Enchanted, you might be surprised by its high score on Rotten Tomatoes, given that it looks like a cheesy kids film. And, in some ways, it is a kids film! But definitely not the cheesy kind.
Director Kevin Lima doesn't try to present Enchanted as anything more than what it is, giving the film a special charm. Plus, Amy Adams in the starring role as the naively optimistic young princess is a treat for kids and adults alike. The movie is just pure fun.
While children can enjoy the idea of magic in their own familiar world, adults can laugh at its witty innuendos.
14. Birdman (2014)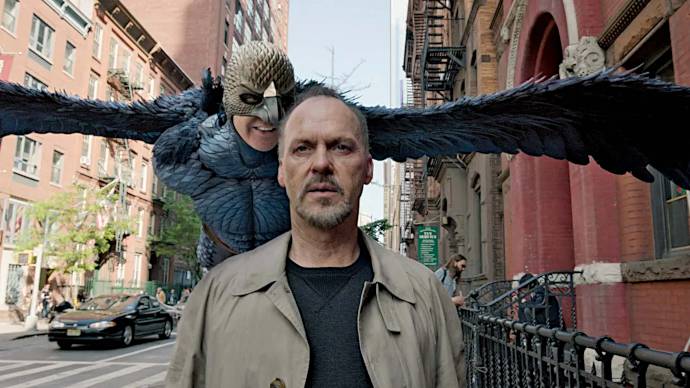 Birdman boasts one huge selling point, which was more unique back when it released than it is now: the entire film is shot in one take (or, at least, it's made to look like it was).
But beyond that marketing gimmick, Birdman is a very smart black-comedy about a dwindling actor's mid-life crisis.
Michael Keaton plays fading star Riggan Thompson, whose superhero days are behind him so he turns to theater to claw back his fame. ("Birdman" is a meta reference to "Batman," played by Keaton in 1989.)
As Alejandro González Iñárritu weaves us between the stage and New York City streets, the voice of Birdman in the back of his mind frequently taunts and torments Riggan.
He hallucinates all kinds of stuff: the feathered hero flying around him, himself floating above the ground, or even performing telekinesis. It's hard to tell apart what's real, fantasy, and Riggan's imagination.
13. A Monster Calls (2016)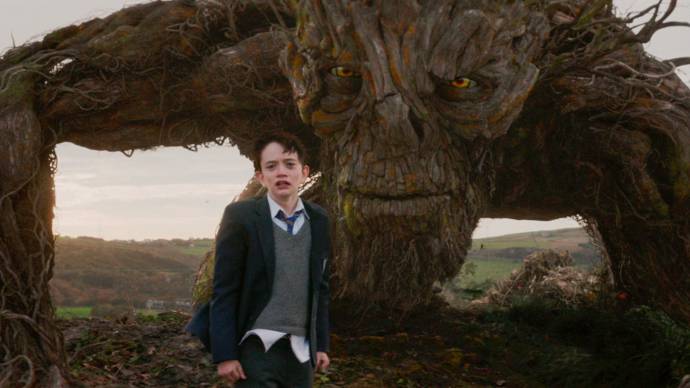 Based on the 2011 low-fantasy novel by Patrick Ness, A Monster Calls drops an ancient tree creature into present-day England. (What does "low fantasy" mean for novels?)
Grappling with the grief and pain of his terminally ill mother, 12-year-old Conor O'Malley (played by Lewis MacDougall) is plagued by nightmares. One night, the gnarled yew tree outside his window is brought to life, telling Conor he has three stories for him.
Liam Neeson voices the scary-but-friendly anthropomorphic tree, who guides Conor onto a better path than he was headed. He's huge and wildly, yet extremely kind.
J. A. Bayona's dark fantasy uses ancient mythology to incite useful wisdom in the modern day world. "Stories are important. They can be more important than anything, if they carry the truth."
12. Scott Pilgrim Vs. The World (2010)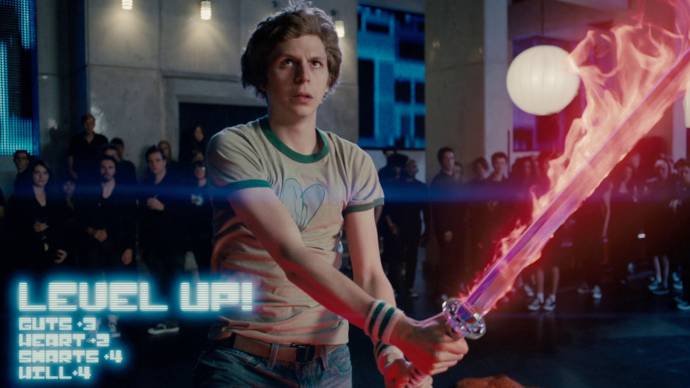 Scott Pilgrim Vs. The World isn't your average comic book movie. In fact, it's easily one of the best comic book movies ever made.
The film bends the rules of reality to give us hilariously clever fun. And we couldn't imagine anyone but Michael Cera playing Scott, the awkward, eccentric nerd who plays bass for his unsuccessful indie garage band.
The mixture of reality with fantasy means Scott Pilgrim Vs. The World isn't exactly true-to-real-life. In trying to defeat the Seven Evil Exes of his love interest Ramona Flowers (Mary Elizabeth Winstead), Scott loses and gains lives as if he were in a video game.
A sword called the Power of Self-Respect and super-powered vegans are just a few of the funny elements that give the movie an imaginative spin, which is otherwise set in everyday Toronto.
It's not just the writing of Edgar Wright's comedy that defies all notion of realism, but also the editing and cinematography. Scott Pilgrim Vs. The World is crafted together like a live-action comic—not in the way Marvel does, but literally like a comic book. Blam! Kapow!
11. Edward Scissorhands (1990)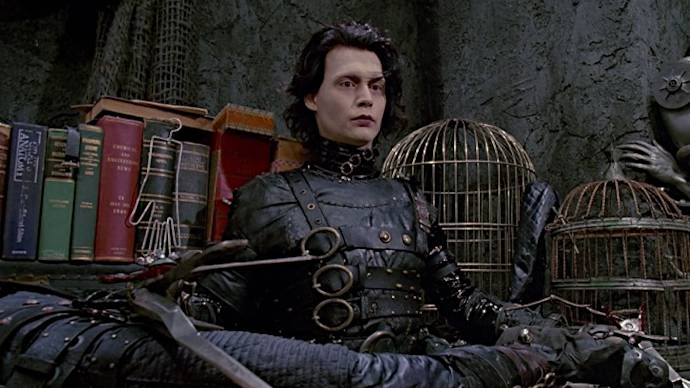 Tim Burton is known for his Gothic fantasy dreamscapes. Some of these are entirely fictional—like the worlds of Corpse Bride and The Nightmare Before Christmas—but many are actually anchored in present-day Earth.
We had to choose carefully, otherwise this list could've ended up entirely dedicated to Burton! Yet as much as we love Beetlejuice, we picked a movie with a slightly more suburban setting.
Edward Scissorhands is a haunting classic with a plot like no other. Johnny Depp stars as the pale outcast Edward, who has scissors for hands.
His blank eyes and crazy black hair and blades for fingers make him a scary sight to behold, but deep down, Edward is a sweetheart who repays his neighbors by trimming their hedges (and hair).
Peg Boggs (played by Dianne Wiest) is a typical woman of 90s suburban America. She sells Avon from one white-picket-fence house to the next. The pastel-colored houses, evenly spread across freshly mowed lawns, are uncannily perfect.
Scarring the landscape is the Gothic mansion where Edward lives—Burton's eerie fantasy trademark seeping into the landscape.
10. Pleasantville (1998)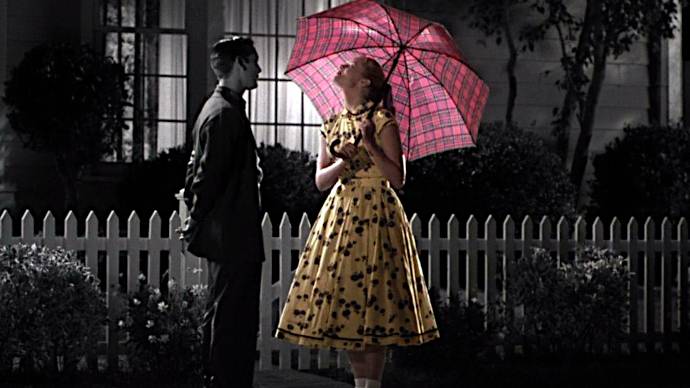 David (Tobey Maguire) and Jennifer (Reese Witherspoon) are your typical American teenagers who are attending a typical American high school. David's favorite show, Pleasantville, depicts your typical 1950s nuclear family.
However, things take a strange turn when the two are transported—literally—into the black-and-white sitcom. Devoid of all color, Pleasantville is an idyllic but dull town. Social rules are strict, students keep to the rules, and everything runs on time.
The familiar 90s setting is swapped out for a more distant vision of the 50s. It's still a reality that we know and understand—apart from the fact that they're living inside a TV show without any color.
Gary Ross directs this original fantasy-comedy, where the brother and sister try to teach people what it truly is to live. Breaking the rules and making art might seem taboo at first, but when colors start to appear in their fake world, the sitcom starts to feel more like real-life.
9. The Green Mile (1999)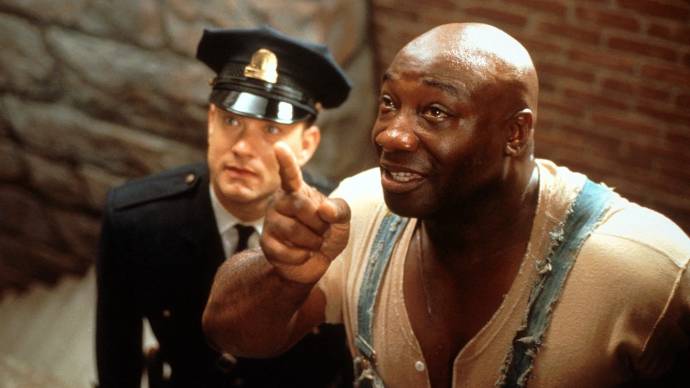 The vast majority of The Green Mile is grounded in reality, harboring a similar tone to The Shawshank Redemption (1995).
Both films are adaptations of Stephen King novels, directed by Frank Darabont. Both are American prison dramas that meditate on ideas of life and freedom. The main difference is that flies swarm out of the prisoner's mouth in The Green Mile!
While all the characters in The Green Mile are ordinary humans, John Coffey has supernatural healing powers. This, coupled with his mild-mannered kindness, doesn't prevent him being on death row—mainly on account of being a poor, African-American man in the 1930s.
Played by Michael Clarke Duncan, John can do things like healing infections and resurrecting the dead. Few seem to appreciate him, though, save for the kindly prison guard Paul Edgecomb (Tom Hanks).
8. Midnight in Paris (2011)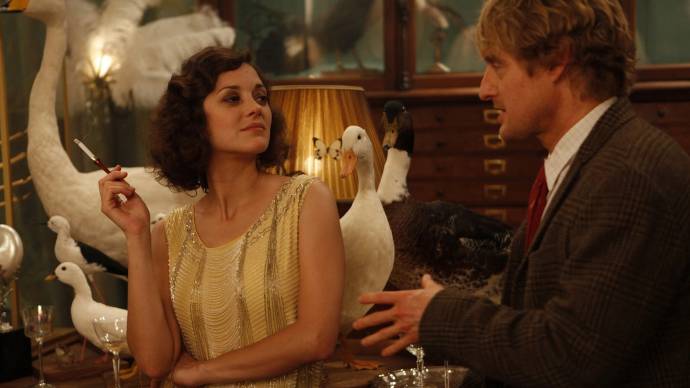 Midnight in Paris is a lighthearted romance-comedy with a twist. Woody Allen directs Owen Wilson as the wannabe author Gil Pender who's pining for a past he never experienced.
The nostalgic writer loves to walk around Paris in the rain, but his materialistic girlfriend isn't so keen. One fateful midnight, Gil is whisked away to the past and meets all the famous artists of the 1920s: Fitzgerald, Hemingway, Dali, and more.
Gil has really transported back in time to meet his idols. He strolls between the bars and parties, living the romantic Parisian dream. Unfortunately, Gil always wakes up back in the present day, desperate for the clock to strike midnight once more.
Midnight in Paris is a charming and vibrant tale, letting viewers indulge in their sentimental imagination for a few blissful hours.
7. Labyrinth (1986)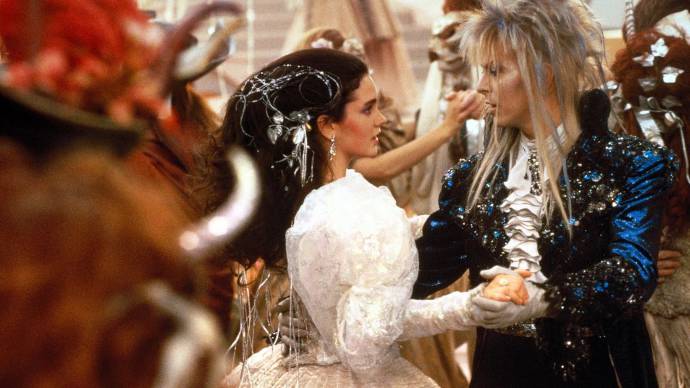 David Bowie appeared in a handful of movies, but his most prominent was Labyrinth. This offbeat 80s classic matched the musician's glam-rock image, where he stars as the Goblin King in tights and glitter.
Jennifer Connelly headlines alongside Bowie as 16-year-old Sarah Williams, who accidentally wishes away her baby brother when reciting the words of her book The Labyrinth. The novel comes to life, and she's given 13 hours to solve the maze and rescue her brother.
The aesthetics of Labyrinth's fantasy world is a key part of the movie, created by conceptual designer Brian Froud. Viewers are carried away from the setting (unspecified but reminiscent of New York) and plunged into the weird and wonderful world of Henson goblins.
As expected from the creator of The Muppets, director Jim Henson cast puppets for most of the film's characters. The musical did poorly at the box office, but has since gathered quite a cult following.
6. About Time (2013)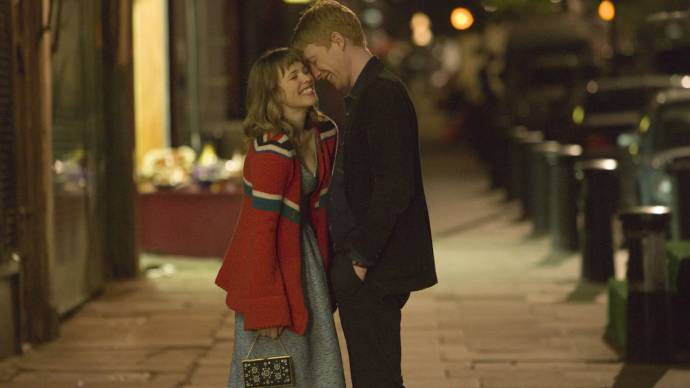 It might feel like a bit of a cheat to include time travel as magic on this list, but the time travel in About Time is quite magical. It isn't derived from futuristic technology, but rather the protagonist's bloodline.
Remember when the 1990s gave us a boom in heartwarming romcoms where a girl stands in front of a boy, asking him to love her? About Time is a late addition to that trend, but also one of the best!
Set primarily on the idyllic Cornwall coast, Tim Lake (Domhnall Gleeson) is a hopeless romantic who always seems to finish last.
When his father (Bill Nighy) delivers the news that he can reverse time to some degree, Tim thinks he's hit the jackpot. However, like with all things, this gift must be used wisely.
About Time features one of the best love stories in cinema, and it's a perfect comfort movie that doesn't suffer from saccharine sappiness.
5. The Shape of Water (2017)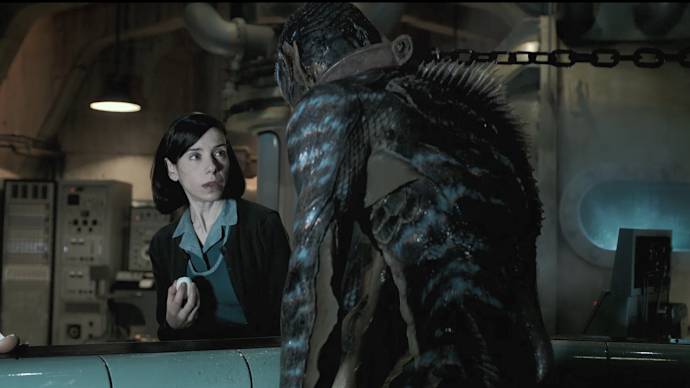 Guillermo del Toro has a distinct vision for his films—one that encompasses both the real and the imaginary. If you took away the giant amphibian man, The Shape of Water would seem very much like a normal Cold War drama.
Elisa Esposito (played by Sally Hawkins) is a mute cleaner for a secret government lab, where scientists are eager to win the Space Race. The lab coats and government uniforms are familiar to us—the most unusual bit is the aforementioned humanoid amphibian.
Del Toro has a brilliant eye for color, using a range of green tones to create an mise-en-scene that marries the aquatic and scientific themes. Del Toro is known for his use of dark fantasy to explore real-world issues, like exploitation and the duties of humanity.
4. Amélie (2001)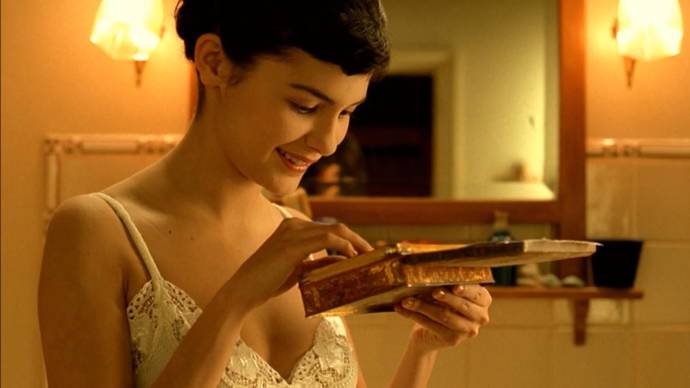 Amélie is an aesthetically pleasing example of nuanced surrealism, with a color-coded mise en scène worth studying. In fact, many have tried to decipher the movie's metaphors, but I think the best way to enjoy it is to just sit back and appreciate it with an open mind.
Also known as The Fabulous Destiny of Amélie Poulain, this film is one that's all about spreading happiness. Amélie (Audrey Tautou) is an idealist who takes great interest in the lives of those around her in Montmartre, Paris.
The fantastical elements derive from Amélie's private world in which she whimsically lives, refusing to have an ordinary existence. The quirky cinematography mirrors Amélie's decision to make up her own fantasy life as a lonely child rather than become a bitter cynic.
"I believe every shot should be like a painting," director Jean-Pierre Jeunet once said. He certainly took that to heart when shooting Amélie!
3. Black Swan (2010)
Black Swan is a psychological horror that treads on the toes of fantasy. Natalie Portman delivers an exceptional performance in her grueling role as an overworked ballerina.
Despite how dainty and elegant it looks, ballet is known to be an incredibly difficult dance—both physically and mentally. Darren Aronofsky uses this to explore how the mind can crack in unpredictable ways, breaking down under immense pressure.
The mythology of the doppelgänger plays a pivotal role in Black Swan, where Nina Sayers (played by Natalie Portman) finds herself literally turning into the black swan. As she strives for artistic perfection, Nina begins to hallucinate and spiral into madness.
Aronofsky blurs the lines between the literal and the psychological. This not only serves as a metaphor for how physically demanding ballet (or any form of art) is, but how we're really our own worst enemies.
2. Pan's Labyrinth (2006)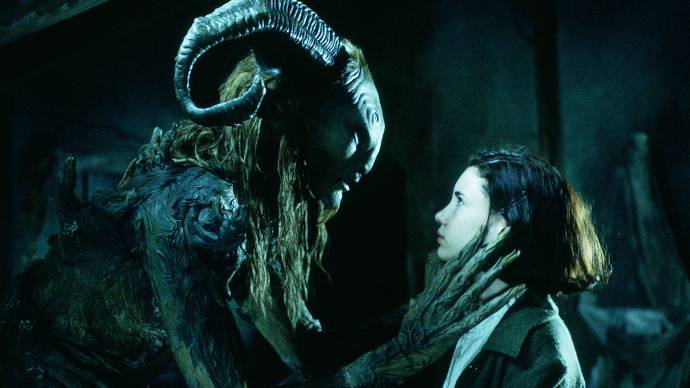 It's Guillermo del Toro again, and this time with the most famous film in his filmography: Pan's Labyrinth. This legendary Spanish movie is highly regarded by critics, featuring a whole host of bizarre—and sometimes horrifying—creatures.
Eleven-year-old Ophelia (played by Ivana Baquero) is led into the mythical world of Pan's Labyrinth after stumbling upon an ancient stone opening. Sort of like a dark version of Narnia, Ophelia must navigate this secret world using the book given to her by a faun.
Undercutting the fairy tale themes of princesses, fairies, and immortality are themes of murder and war. The Spanish Civil War is the backdrop, where Ophelia's step-father is an abusive Falangist Captain, that fastens the fantasy world to the appallingly real world.
Ophelia's reality is actually more frightening than the beasts of the labyrinth—even the nightmarish Pale Man. Del Toro uses fantasy as an escape route for Ophelia, as well as a timely message for viewers.
1. Big Fish (2003)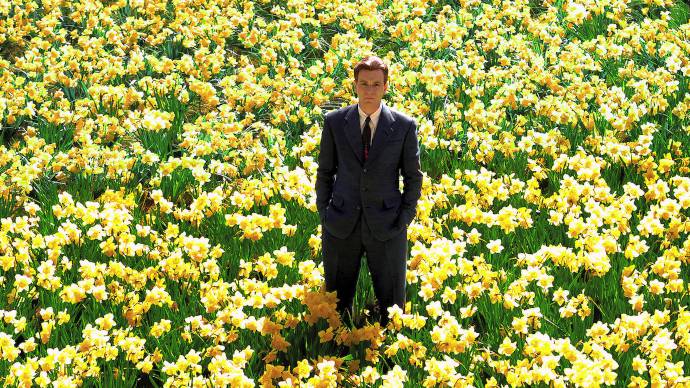 Father-son relationships are a popular topic in film, but Tim Burton explores it in a uniquely creative way here.
Big Fish follows a young Edward Bloom (played by Ewan McGregor) through the exaggerated life story he's always loved telling people. Witches, giants, and the Calloway Circus apparently litter his past, but his son Will (played by Billy Crudup) becomes frustrated with the lies.
Big Fish is a story about stories, and how all the best stories are dramatized versions of the truth. Though still harboring elements of the Gothic, Big Fish is distinctly less dark and cobwebby than most of Burton's other films.
It's sure to put a smile on your face, recounting the past through fairy tale vignettes that Will refuses to believe are true. What Will comes to learn, though, is that truth and fact aren't always the same thing.