Sometimes, the best character in a movie isn't even real. Or, at least, real to anyone but the protagonist. Sometimes, we don't even realize a character is imaginary until the very end!
But while a character being imaginary can be used as a plot twist, it isn't always done that way. In fact, some of the best movies feature characters who we know aren't real, and that itself brings tons of suspense and drama to the narrative.
Here are our picks for the best movies with imaginary friends and imaginary characters done right.
12. The Unbearable Weight of Massive Talent (2022)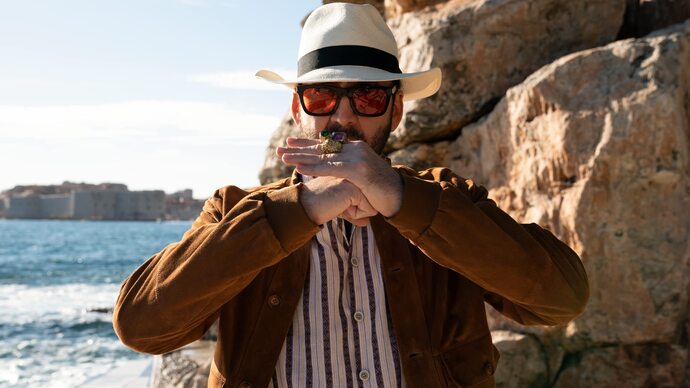 Nicolas Cage's imaginary alter-ego doesn't play a huge role in The Unbearable Weight of Massive Talent, but the part he does play adds a lot to the meta design of Tom Gormican's self-referential comedy.
The title's "massive talent" refers to Cage's acting skills, who plays himself in the movie. Despite his universal fame, Cage is going through your typical fading-starlet crisis, so he reluctantly accepts a job as guest-of-honor to a millionaire in Majorca.
A younger, hipper, more egotistical version of himself (nicknamed "Nicky Cage") rears his head throughout the film, attempting to pep-talk Cage into reclaiming his wealth and stardom.
Not only is this meta in its self-awareness of Cage as a real actor, it's also a nod to the 2002 film Adaptation, which was itself a meta-comedy where Cage played twins Charlie and Donald Kaufman.
11. Play It Again, Sam (1972)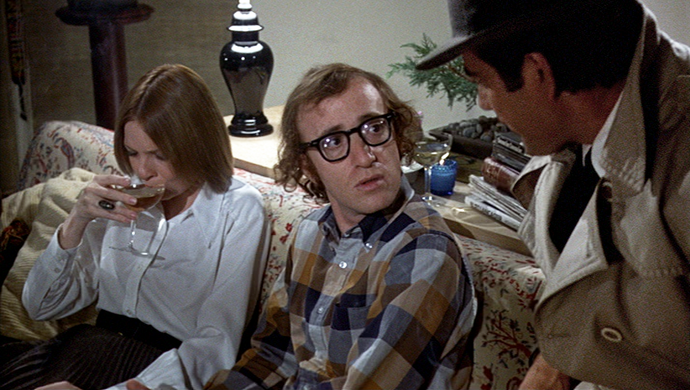 "Here's looking at you, kid." Hmm, where have we heard that one before? Casablanca, of course! The infamous war drama from 1942 gave us a whole bunch of famous quotes and cinematic moments.
One of the most quoted—or, should we say, misquoted—lines from Casablanca is "Play it again, Sam" (which is actually "Play it, Sam").
In the late 1960s, when Woody Allen was just emerging on the scene, this became the title to his 1969 Broadway play. Four years later, Herbert Ross adapted it for the big screen, featuring Diane Keaton alongside Woody Allen (of course).
At first glance, the romcom doesn't seem to have any relation to Casablanca. Allen is a depressed film critic who tries to play the field after his wife leaves him, but fails miserably. Keaton is his (married) best friend, urging him to go out more.
And Humphrey Bogart? Well, he's a hallucination, trying to teach Allen his brooding ways that get women swooning.
10. True Romance (1993)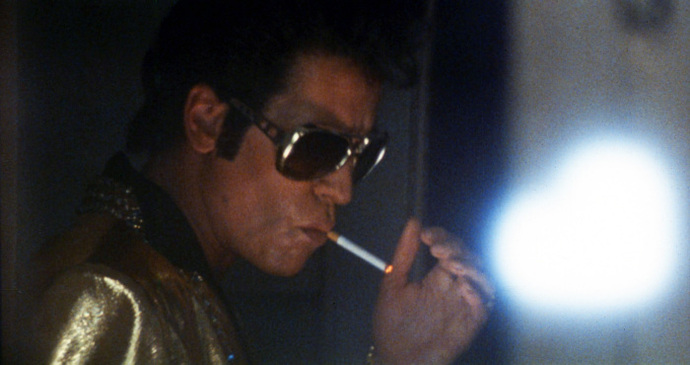 True Romance uses a famous figure to push and inspire its protagonist onwards, one who wears a glittery blazer and rocks over-gelled hair. Who is it? None other than the King of Rock himself!
Elvis Presley appears to superfan Clarence (played by Christian Slater) in his Las Vegas era, rather than the bluesy early stages of his career. His sunglasses and cigarette mark Elvis as the coolest cat in town, casually spurring Clarence on to commit murder.
Don't worry, it's not cold-blooded murder for no reason. True Romance isn't that kind of film. Clarence sets out to kill his wife's psycho ex-pimp Drexl, infamously portrayed by Gary Oldman.
Tony Scott's road-tripping cult crime classic is an early example of Quentin Tarantino's screenwriting, in which apparitions of Elvis are the least of Clarence's worries.
9. Drop Dead Fred (1991)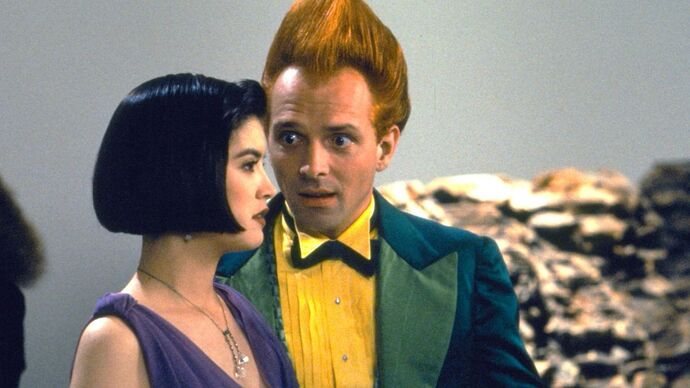 Rather than simply featuring an imaginary character, Drop Dead Fred is completely centered around one. His name is—you guessed it—Fred, and he's a zany, irritating, yet lovable imaginary friend whom Elizabeth doesn't outgrow from her childhood.
Sketch comedian Rik Mayall (who pioneered "alternative" British comedy in the 1980s) is the perfect casting for Fred. Decked out in green and yellow, Fred is the ultimate agency of mischief.
As a child, Elizabeth wreaked all sorts of havoc because of Fred. And when he returns to her as an adult, the same disruption resumes.
Being an imaginary friend, Fred must be spawned from some kind of subconscious, psychological need. And even though Elizabeth resents him, she understands how he provided her a fun escape from her strict mother when she was a child.
It all sounds deep and complex, but Drop Dead Fred is a gag-riddled joyride through the woes of growing up.
8. A Monster Calls (2016)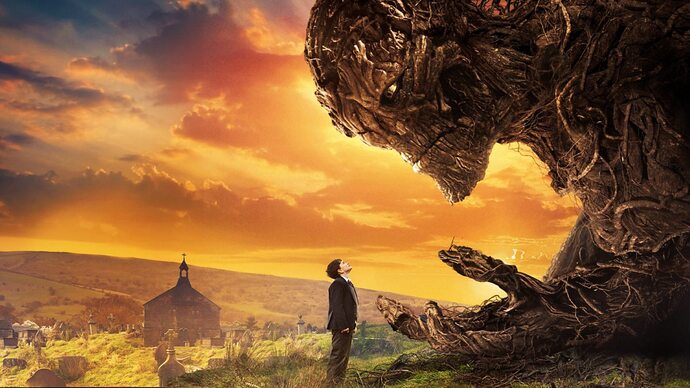 When children are lonely or lacking in parental guidance, they often turn to their imagination for comfort.
A Monster Calls, adapted from the 2011 novel by Patrick Ness (who credits the book idea to Siobhan Dowd), is a somewhat depressing but beautifully tender exploration of grief.
J. A. Bayona directs this dark, low-fantasy drama where the imaginary friend in question is a big, talking tree. No, not like the talking Ents from Middle Earth. This walking tree is even bigger, and it's only visible to 12-year-old Conor O'Malley (played by Lewis MacDougall).
Not only does Conor suffer bullies at school, but he also has to watch his terminally ill mother (played by Felicity Jones) slowly fade away.
At exactly seven-minutes-past-midnight, an anthropomorphic yew tree appears to Conor with one request: he will tell Conor three stories, and by the end Conor must respond with a fourth.
7. Tully (2018)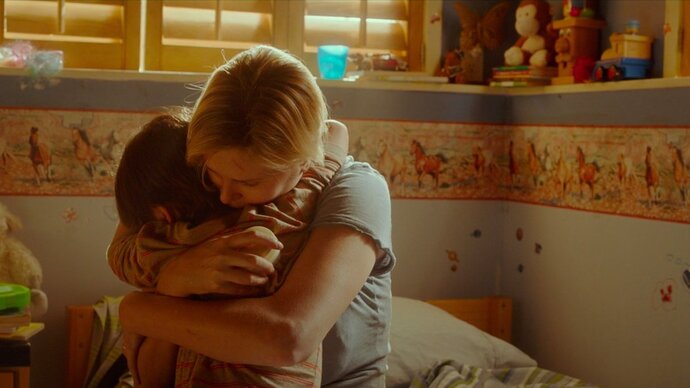 Tully, the third collaboration between director Jason Reitman and writer Diablo Cody, is a sharp, funny, and surprising movie.
Charlize Theron's depiction of a woman suffering with postpartum depression and psychosis was highly praised, even if Tully's handling (specifically it's "normalization") of these subjects were criticized.
Tully is your typical black comedy, in which Marlo (played by Charlize Theron) flounders under the demands of having children, so her wealthy brother hires a night nurse to care for Marlo's unplanned baby.
Overwhelmed with exhaustion, Marlo is thankful for the help, and they even become good friends. Maybe too good... Played by Mackenzie Davis, Tully becomes an intricate part of Marlo's life.
Marlo's husband apologizes for not recognizing her postpartum struggles, which comes to a head when Marlo falls asleep behind the wheel. At the hospital, Tully reappears in a twisty final act.
6. A Beautiful Mind (2001)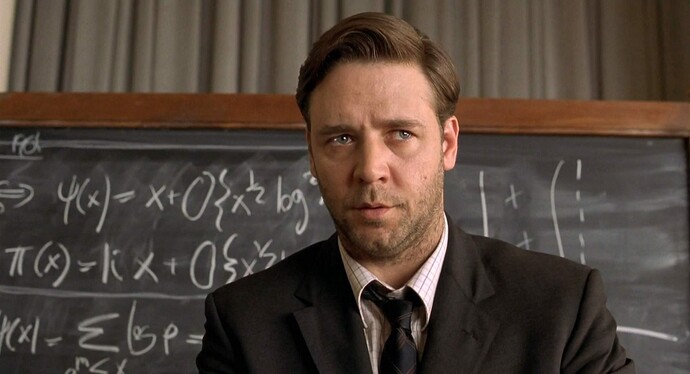 Imaginary friends can be a source of comedy or tragedy, depending on how you look at it. In A Beautiful Mind, it's the latter, stemming from a debilitating mental illness that many people must live with.
John Forbes Nash was a real-life mathematician who, like many geniuses, was troubled by his own mind. Diagnosed with paranoid schizophrenia at the age of 29, Nash had to take one of the hardest pills to swallow: that not everybody in his life is real.
We first meet Charles (played by Paul Bettany) at Princeton University in 1947, to which John (played by Russell Crowe) has a scholarship. John's roommate is the polar opposite of him: an extroverted, womanizing party animal who breezes through life.
Charles isn't the only person in John's life who turns out to be a hallucination, but in his old age he learns to live with them rather than fight against them.
Directed by Ron Howard, A Beautiful Mind stares straight in the face of mental illness to show both its difficulty and the person beneath it.
5. The Shining (1980)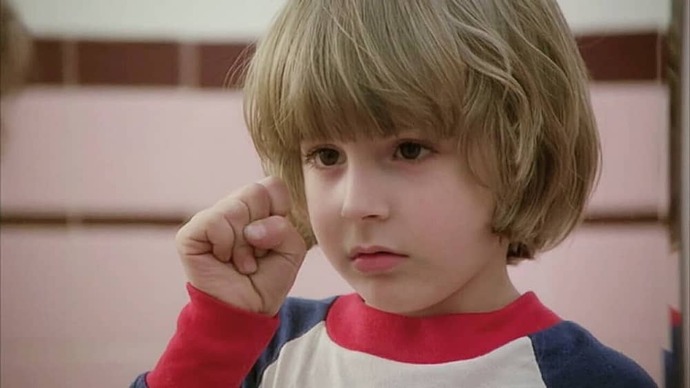 The imaginary character in The Shining is a little different from the rest of the movies on this list. "Tony" never appears in physical form in Stanley Kubrick's classic psychological horror, but is manifested through Danny (played by Danny Lloyd) waggling his finger.
Danny is the five-year-old son of Jack Torrance (played by Jack Nicholson), who moves his family to an isolated hotel for his new job. There, Jack goes insane and starts brandishing an axe around.
Danny apparently has telepathic abilities (after all, this is a Stephen King adaptation), which Tony accentuates through visions and premonitions. Tony is more present in the original book, starting off as Danny's imaginary playmate and evolving into something darker.
King eventually reveals that Tony is a part of Danny's psyche—a deep, hidden part of himself that acts as a mirror to his future self. It makes sense, considering Danny's middle name is Anthony... one detail that was bypassed altogether in the movie.
4. Harvey (1950)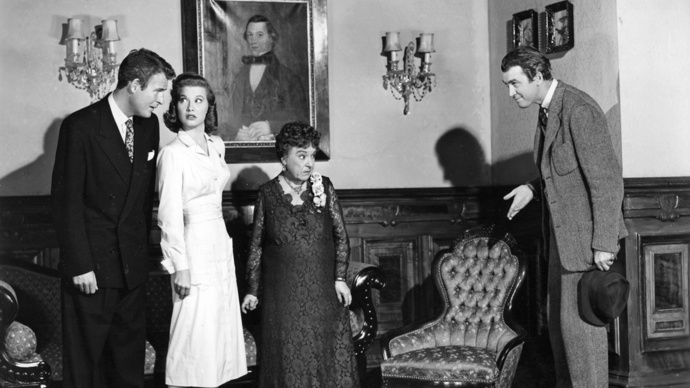 In Harvey, we never get to see Harvey; we're left to our own visual interpretations. Well, except for the one clue that Harvey is a giant bunny rabbit, plus the painting of him hugging his arm around best buddy Elwood (played by Jimmy Stewart).
Elwood skips merrily through life making no attempts to hide his imaginary friend. Much as a child openly talks to the air around them, Elwood introduces and makes room for Harvey as if he were really there.
Director Henry Koster doesn't make too big a deal about Elwood's psychosis, keeping his adaptation of Mary Chase's 1944 play light and funny in that old-movie sort of way.
To be more specific, Harvey is a pooka from Celtic folklore, appearing to Elwood as a rabbit. His mischievous influence on Elwood forces his family to commit him to a sanatorium, where his sister Veta (played by Josephine Hull) secretly admits to seeing Harvey too...
3. Jojo Rabbit (2019)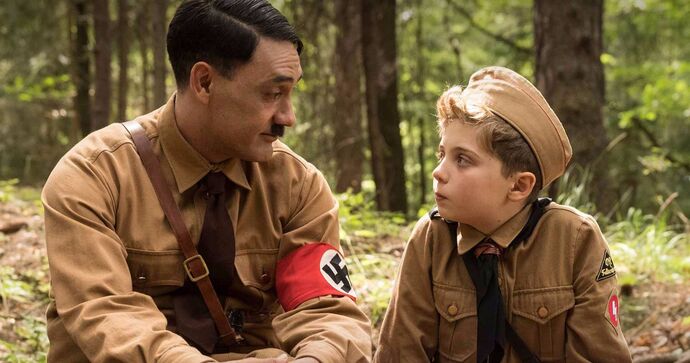 Adolf Hitler probably isn't in your first choice for an imaginary idol. However, in Jojo Rabbit, he's probably the funniest of them all. Of course, he's only a comical satire of Hitler, thankfully done in good taste and not to be taken too seriously!
Taika Waititi plays the Fascist dictator, who appears to 10-year-old Jojo (played by Roman Griffin Davis) during the collapse of Nazi Germany. He's part of the Hitler Youth but he isn't quite able to carry out the immoral demands of the Nazi Party.
A buffoonish Adolf ridicules Jojo for his growing infatuation with a Jewish girl, who he discovers hiding in the walls of his house.
Not only does Waititi appear on-screen in Hitler's famous toothbrush moustache, but he also wrote and directed the film, adapted from Christine Leunens' 2008 book Caging Skies.
2. Donnie Darko (2001)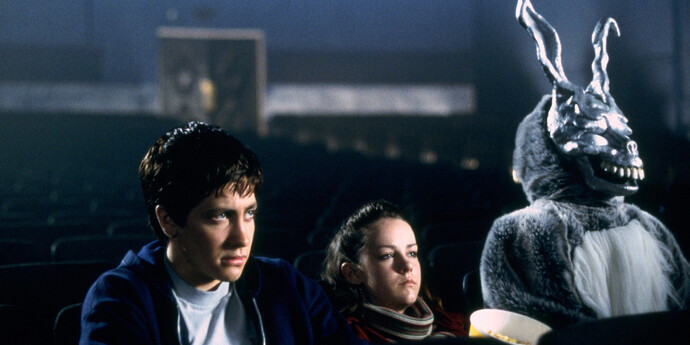 Like Harvey, Donnie Darko also features a giant bunny delusion, but this one is a little more sinister than Harvey. Donnie Darko was certainly influenced by Harvey, but it follows a much eerier dream logic than the straight-cut studio film of the 1950s.
In the role that essentially launched him to fame, Jake Gyllenhaal stars as the disturbed teenager Donnie, who commits crimes while sleepwalking. When awake, he's haunted by visions of a creepy rabbit named Frank, who warns Donnie that the world will end soon.
Richard Kelly is the director behind this not-quite-horror cult classic, offering a circular narrative that's still debated today. Is Frank right about the end of the world? Is Donnie even alive throughout the movie? Watch and find out! (Or maybe end up even more confused.)
1. Fight Club (1999)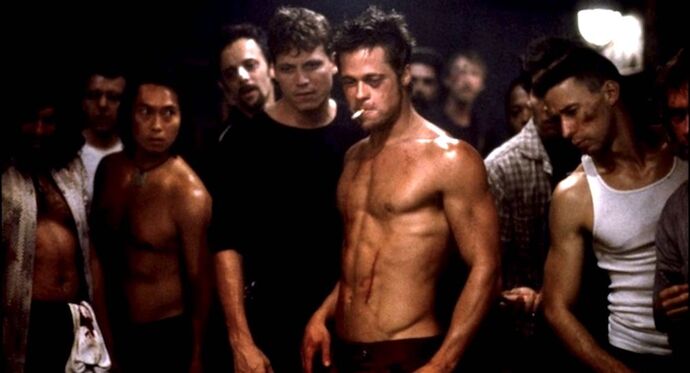 Ah, yes. Fight Club. The movie we all know is coming in any discussion about movies about imaginary friends and imaginary characters.
David Fincher's adaptation isn't famous for its grimy cinematography, unusual characters, or heavy anti-capitalist themes. It's mainly famous for the big plot twist at the end!
Specifically, Fight Club is hailed for its subtle clues of that final twist that become painfully obvious on second viewing. As it turns out, the protagonist's (played by Edward Norton) eccentric best friend Tyler Durden (played by Brad Pitt) isn't even real.
"All the ways you wish you could be? That's me," Tyler Durden explains. The insomnia-ridden protagonist turns to casual terrorism in his fight against IKEA. But it was Tyler who persuaded him to do it, right? Nope!
In the end, every time the protagonist blacked out, he was actually slipping into his alter-ego Tyler—who, if you look closely, can be seen flickering on screen long before his character is introduced.