From ye olde fantasy worlds to epic historical dramas with a bit of magic infused, these medieval fantasy films will take you back in time to worlds before modern technology.
You know, back to when sword fights, chivalrous knights, and royal power plays dominated the scene. It was a most intriguing time period, and it's no wonder why it's such a popular setting for stories.
Here are our picks for the best medieval fantasy movies of all time!
16. Excalibur (1981)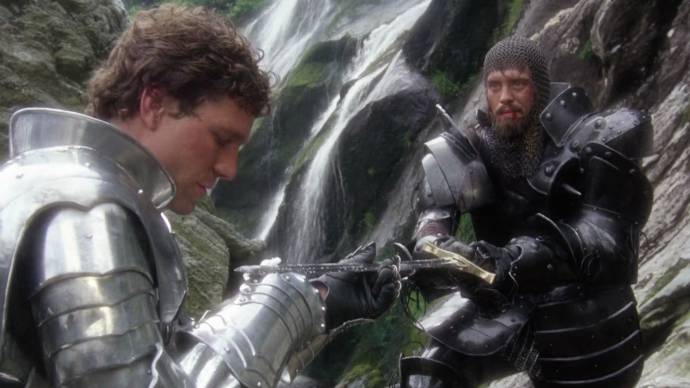 Contrary to popular belief, Excalibur is not the same sword that King Arthur supposedly pulled from a stone.
But to keep things simple, a lot of films and books pretend that the swords are one in the same—and that includes John Boorman's epic medieval fantasy flick Excalibur.
In this film, Boorman gives us his version of Arthurian romance. Nigel Terry stars as Arthur, who pulls the magical sword from the stone, which was enchanted by Merlin to only be retrieved by a future king.
You probably know the basics of the legend (the Round Table, Lancelot, the Holy Grail, etc) but here we get a deep dive into the details of Camelot's intriguing mythology, told with visual prowess.
15. The NeverEnding Story (1984)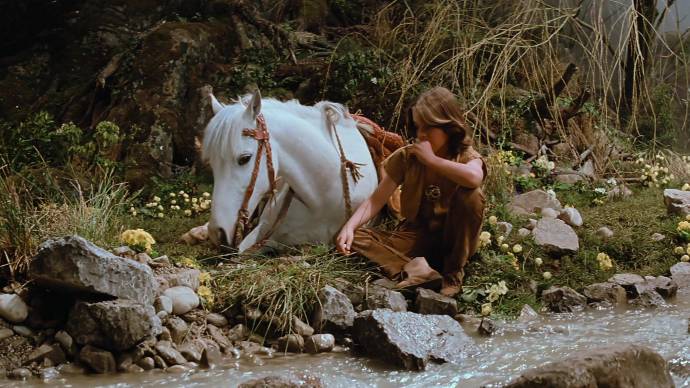 The special effects in this film might be outdated now, but there will always be a nostalgic place in our hearts for this melancholic kids classic.
The NeverEnding Story starts off in the 1980s, but when a 10-year-old bookworm finds a story that's "not safe" to read, he's transported to the magical land of Fantasia. And while Fantasia isn't set during a specific era, it's definitely not modern day!
Characters travel through the marshes on horseback and encounter dragons, goblins, gnomes, and wolves. Fantasia is also being devoured by "The Nothing" because the Empress is sick, and Bastian reads about a young hero who's adventuring to find a cure.
Wolfgang Petersen adapted the script from Michael Ende's 1979 novel, and—as touching as it is—directed a surprisingly sad and existential movie considering it was made for kids!
14. How to Train Your Dragon (2010)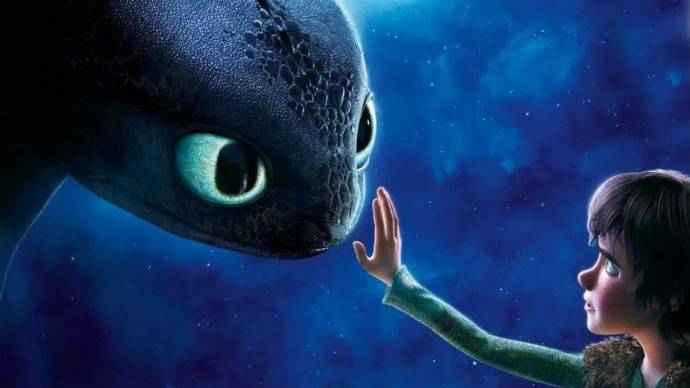 Who doesn't love a good animation? Whereas Pixar movies tend to deal with familiar everyday settings (as in Toy Story and Ratatouille), DreamWorks loves to turn the clocks back to Ancient China (Kung Fu Panda), the cavemen (The Croods), and more.
In How to Train Your Dragon, we're thrown back to the Viking era (specifically, the Isle of Berk). Although Vikings were real, we're pretty sure these dragons weren't—either way, they won't stop attacking the island and its inhabitants.
Naturally, the villagers try to kill them off, but young Hiccup just can't bring himself to slay Toothless. The result is a bond forged between humankind and dragonkind that warms our hearts.
13. The Princess Bride (1987)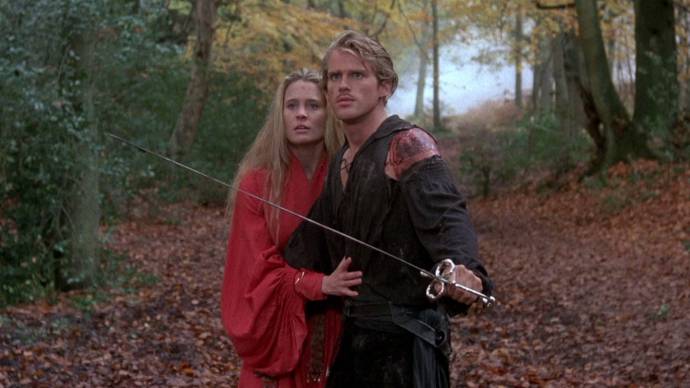 Rob Reiner doesn't take the Dark Ages too seriously in his adventure comedy, made to suit all ages. The Princess Bride is a story-within-a-story that's being read by an old man to his sick grandson.
The book follows your typical fairy tale setup: the hero must save his true love from marrying the wrong man.
The couple are torn apart when Westley (Cary Elwes) is presumed dead from a pirate attack at sea, so Princess Buttercup (Robin Wright) must marry somebody else—only to be kidnapped before the wedding.
The Princess Bride is a swashbuckling metanarrative that people only seemed to like after its home release. Today, it's an endlessly quotable comedy that ranks highly among classic fantasy movies.
12. King Arthur: Legend of the Sword (2017)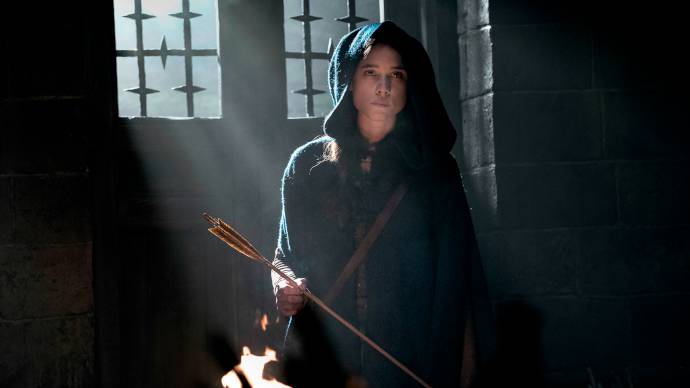 Guy Ritchie reimagines the myth of King Arthur in his playful and visually stunning fantasy drama King Arthur: The Legend of the Sword.
Although critics weren't overly impressed with the movie's campy gimmicks, we think it's a whole bunch of fun!
Video game logic meets cinematic fantasy in Ritchie's interpretation of Camelot. Charlie Hunnam stars as the young Arthur, unaware of his royal lineage.
But after pulling Excalibur from a stone (told you they like to merge them!), he embraces his true calling.
11. Brave (2012)
When Pixar reaches for history, they do so with style—not to mention that Brave was the first Pixar movie to feature a female protagonist.
Brave sweeps us back to medieval Scotland, centering on the tomboy Princess Merida (voiced by Kelly Macdonald) as she tries to wriggle out of marriage while embracing archery.
And somewhere along the way, Merida accidently turns her mother into a giant bear—fully conscious but unable to speak. It's just one of many elements that make Brave a great medieval fantasy movie.
Fun fact: If you like fan theories, keep your eyes peeled for a cave drawing of Sully in the background! The witch who gave Merida's mother a cursed cake is rumored to be Boo from Monsters, Inc.
10. Black Death (2010)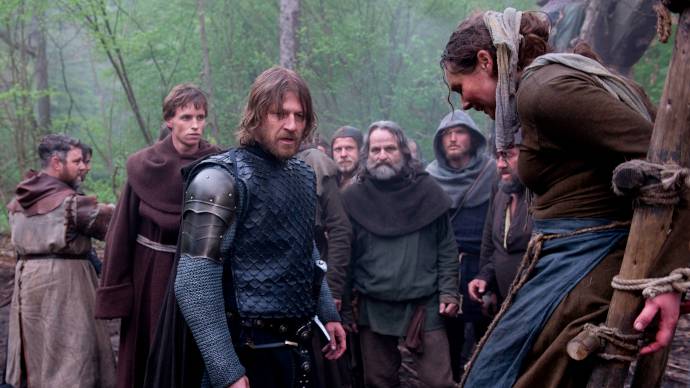 The bubonic plague was a particularly gruesome disease that marks a dark time in history. Commonly known as the "black death," the pandemic mercilessly swept through Europe during the 14th century.
Christopher Smith gives us a brutal look into this period of time with Black Death starring Sean Bean, king of historical fantasy. A young monk (Eddie Redmayne) is recruited by a knight (Bean) after rumors spread of victims rising from the dead.
These black magic claims lead the two into a strange village, where all kinds of terrors take place. Black Death is a slow burner that skirts the edges of the horror genre, giving us but a taste of the savage and violent world of medieval England.
9. The Chronicles of Narnia: The Lion, The Witch and The Wardrobe (2005)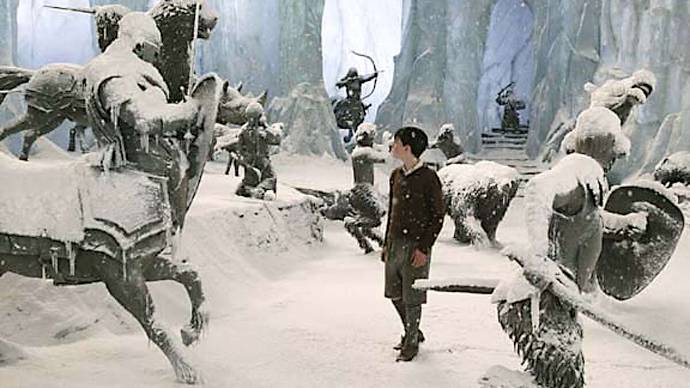 Only three of the original seven books by C. S. Lewis were adapted for the big screen. Of those three, the first one was the biggest hit.
The Lion, the Witch and the Wardrobe centers on the four Pevensie siblings who stumble upon the secret, magical world of Narnia.
After being evacuated from their London home, the kids discover a wardrobe that's actually a portal to Narnia. With World War II waging outside, the Pevensie children get lost in the snowy land of witches, fauns, and talking animals.
It's a heartwarming spectacle that feels simultaneously cozy yet cold (thanks to the Christmas-eating White Witch).
8. Macbeth (2015)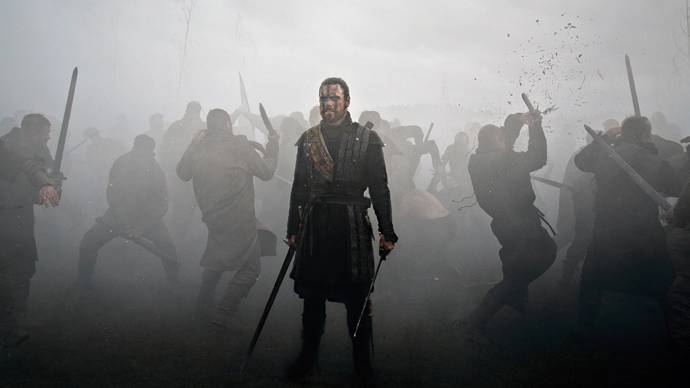 Haven't read a Shakespeare play since school? Don't worry! We've got you covered. Justin Kurzel's visceral Macbeth is one of the best movie versions of the story—and certainly the most aesthetically pleasing!
Clouded by smoke and rich color grading, Macbeth is as artistic as it is accurate to the original play. Set in 11th century Scotland, Macbeth stars Michael Fassbender as the guilt-ridden King.
Persuaded by his conniving wife Lady Macbeth (played by Marion Cotillard), Macbeth kills King Duncan to claim his crown, as was predicted by three creepy witches. It's tense, it's pretty, and it's sure to make you feel a little more cultured.
7. Monty Python and the Holy Grail (1975)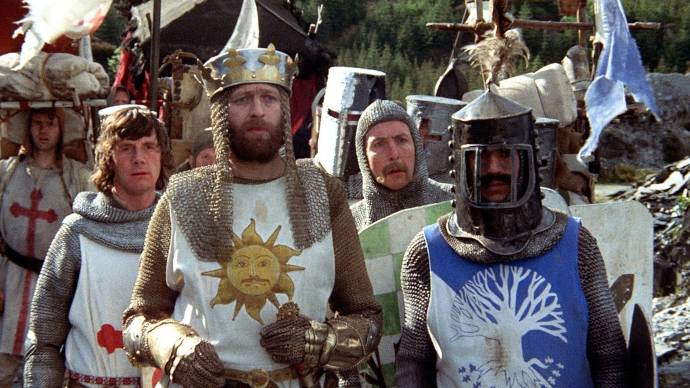 Monty Python and the Holy Grail is one of three feature films by Monty Python—a 1970s British comedy sketch troupe—which happens to be inspired by the legends of Camelot.
Terry Gilliam and Terry Jones direct the parody, which stars the familiar cast from the hit television series. It showcases the grim reality of the Middle Ages in hilarious and slapstick ways, framed as a modern murder investigation.
Giants, killer rabbits and knights make the quest for the Holy Grail a tedious one in this quintessentially British farce, where the same actors appear in different roles.
6. Pirates of the Caribbean: The Curse of the Black Pearl (2003)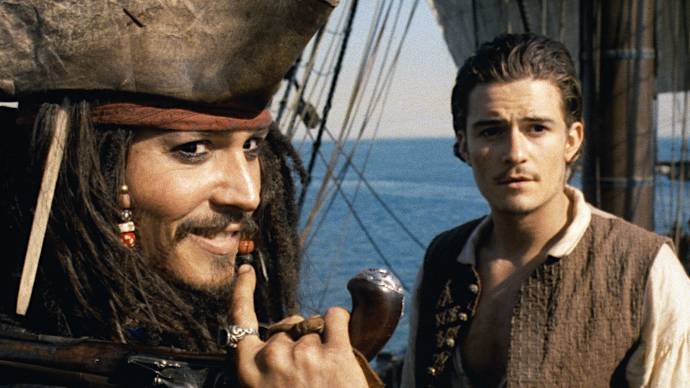 Pirates of the Caribbean is one of many film franchises that should've stopped while it was ahead, but I'm still including it because the first three movies remain iconic and packed with fun.
Johnny Depp gave his most famous performance as the sarcastic, selfish, and drunken Captain Jack Sparrow, sporting eyeliner and carrying his jar of dirt long after the original cast members had left.
Gore Verbinski's first movie (The Curse of the Black Pearl) follows Jack on a seaside adventure to rescue Elizabeth Swann (Keira Knightley) with the help of her lover Will Turner (Orlando Bloom), all while maintaining a healthy blood alcohol level of rum.
It may not be the first movie to come to mind when you think "medieval fantasy," but there's plenty of overlap with all the swashbuckling!
5. Shrek (2001)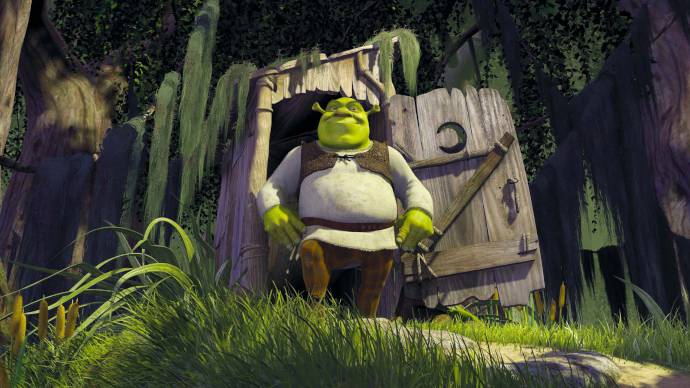 Shrek isn't just DreamWorks's best animated medieval fantasy movie—it's their most famous movie, period!
This surprise-hit movie became a classic by combining all kinds of fairy tales into a self-aware comedy propped up by its characters: a grumpy ogre (Mike Myers) who must save Princess Fiona (Cameron Diaz) with the help of his annoying sidekick donkey (Eddie Murphy).
Robin Hood, Pinocchio, the Three Blind Mice, the Wolf from Little Red Riding Hood all make an appearance with biting doses of dry humor that might trick you into thinking Shrek is a British film.
Shrek went on with three sequels, plus spin-offs in both Puss in Boots and Puss in Boots: The Last Wish. All together, the Shrek franchise really gave Pixar a run for their money.
4. Dungeons & Dragons: Honor Among Thieves (2023)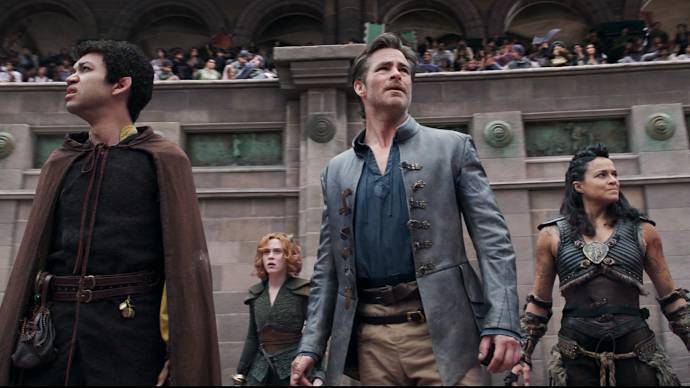 The Dungeons & Dragons tabletop RPG is, in many ways, the epitome of medieval fantasy. Sure, it was inspired by countless stories that came before it, but today's "medieval fantasy" is heavily rooted in the tropes and concepts popularized by D&D.
An official trilogy of Dungeons & Dragons movies were released between 2000 and 2012, which were all massive disappointments. But with the 2023 reboot, fans now have reason to rejoice.
Dungeons & Dragons: Honor Among Thieves doesn't just capture the silly fun of an actual D&D campaign, but ends up delivering a surprisingly heartfelt story with an ending that might even make you cry.
Chris Pine stars as Edgin Darvis, a thiefly bard who must work together with a ragtag group of adventurers to pull off a heist: stealing an ancient relic with the power to bring the dead back to life.
3. The Seventh Seal (1957)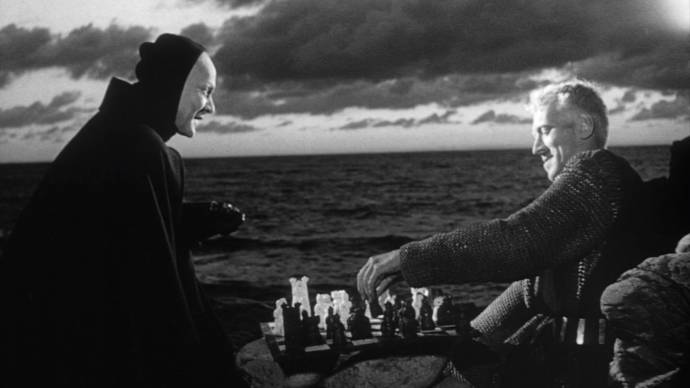 The Seventh Seal is a 1957 Swedish historical drama that happens to be one of the greatest films of 20th century—certainly regarded as one of Ingmar Bergman's best films.
A black-and-white cinephile classic, The Seventh Seal is set during the time of the "black death."
You've probably seen the infamous chess scene at some point or another, even if you didn't realize what you were watching.
The iconic scene shows a disillusioned knight playing against the personification of Death, only able to survive if he continues playing.
2. The Green Knight (2021)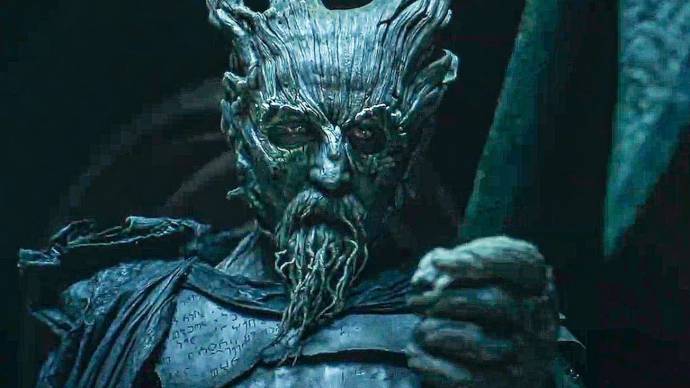 A stylistic A24-version of medieval history, The Green Knight puts an artistic spin on Arthurian lore. Blending the realistic with the mythical, The Green Knight takes us through all sorts of twists and turns.
Dev Patel is King Arthur's nephew, challenged to duel the strange Green Knight, who's a sort of Groot-like creature from old folklore. But here's the catch: any strike you give him, you'll get in return one year hence.
The following Christmas, Gawain embarks on a bizarre and grueling journey to the Green Chapel. The Green Knight is self-conscious, philosophical, and utterly original. Our advice is to watch it twice to fully digest everything...
1. The Lord of the Rings (2001–2003)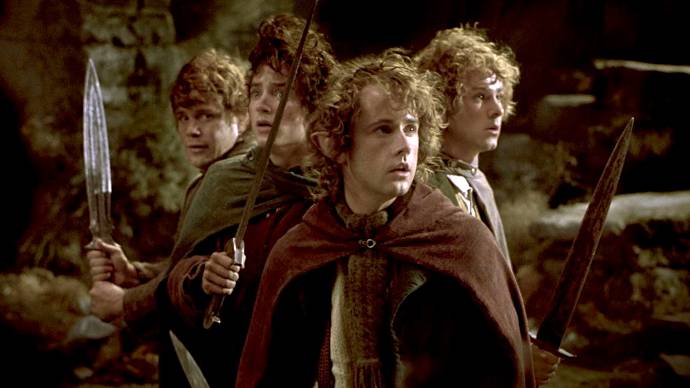 Middle Earth is one of the most detailed fantasy worlds in all of literature (and cinema). Director Peter Jackson remained painstakingly true to J. R. R. Tolkien's books, building a cinematic world that still astounds audiences today.
Heavily inspired by folklore, Tolkien's fictional landscape combines the familiarity of the medieval with the imagination of legend. It's thanks to this trilogy that many other fantasy worlds/films exist!
The trilogy follows a hobbit's quest to Mordor to destroy the (evil) One Ring of power. Meanwhile, his elf and wizard buddies are off fighting Orcs.
Middle-earth was a key influence on George R. R. Martin's Game of Thrones world (both of which give Sean Bean far too little screen time).